Polylactic Acid
Making a profound headway in healthcare cosmos, biodegradable bone graft polymers market is aptly carving an evolution tale from traditional allogenic and autologous bone grafting techniques to synthetic bone grafts. The appreciable popularity of the latter can be majorly credited to its biocompatibility and biodegradability properties, cite industry analysts.  Synthetic bone graft polymers have the credibility to efficiently mimic the physical and mechanical structure of a native tissue, which by extension makes them good fit for bone reconstruction purposes. In addition, these biodegradable polymers are also extensively employed in biometric scaffold designing, on account of its capability of releasing drugs in a spatial manner. Boasting of a portfolio of offering innovative and outcome based medical solutions, biodegradable bone graft polymers market size pegged a valuation of USD 350 million in 2016.
U.S. biodegradable bone graft polymers volume share, by application 2016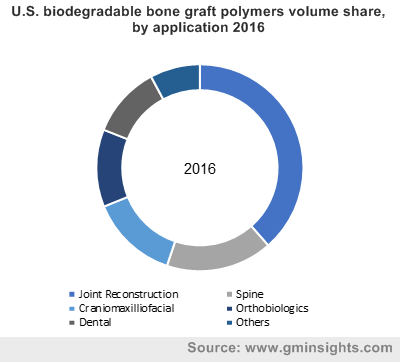 It come as no surprise that the rising incidence of bone disorders is set to unfold a plethora of lucrative opportunities for biodegradable bone graft polymers industry players, without any turbulent competition of sorts from rival business spheres.  According to one of the trusted reports of NCBI –worldwide, occurrence of bone disorders is slated to double by 2020, especially when aging is hinged with poor physical activity and obesity. In fact, for the records, close to one million Americans had undertaken hip and knee replacements in the year 2016. Statistics claimed by the American Academy of Orthopaedic Surgeons – approximately 50% of U.S. adults suffer from knee osteoarthritis in at least one knee. Against this grim scenario, healthcare giants and clinicians have been increasingly banking on alternative solutions that are comparatively more effective, thereby impelling biodegradable bone graft polymers market share.
Get a Sample Copy of this Report:@ https://www.gminsights.com/request-sample/detail/2283
The ongoing research initiatives that biodegradable bone graft polymers industry is replete with, mainly stems from the underlining fact that conventional bone grafting techniques still exhibit an array of challenges for reconstructive surgery. Citing a relevant instance, scientists of Mayo Clinic College of Medicine and Science have recently come up with an innovative spongy biodegradable polymer, which when implanted expands for filling the gap in the spinal column – the recent launch, as claimed by analysts, is overt to create much buzz in the biodegradable bone graft polymers market product spectrum.  Made from hydrogel, this state-of-the-art implant can be transplanted just like any other titanium rod, cite sources. It has been also reported that once the injection is completed, the graft would be anchored securely along with adjacent bone tissue growth. Experts have been already raving about this groundbreaking technology, claiming it to prove to be disruptive for overall biodegradable bone graft polymers market.
It is imperative to mention that robust technological interference in biomedical engineering has a pivotal role to play in proliferating biodegradable bone graft polymers market trends. Incorporation of 3D printing, in this regard, is aptly bringing a renewed dimension in the overall business space. As claimed by experts, biodegradable bone graft substitutes that are prepared from rapid prototyping or 3D printing enable fabrication of free-form biomaterials that are allegedly ideal for tissue regeneration – a factor validating their humongous application in biodegradable bone graft polymers industry over the coming years. Driven by the fact that 3D printing technology-based bone grafting materials feature hi-tech architecture, connective pores of suitable sizes, and additive organic as well as inorganic composition, which are ideal for vascularization and bone tissue growth, this particular trend is expected to retain in biodegradable bone graft polymers industry in many more years ahead. Endorsed with the advantage of a powerful competitive spectrum experimenting with continuous product development activities, biodegradable bone graft polymers market is forecast to exceed a valuation of USD 690 million by 2024.
Author Name : Satarupa De