Polymer Modified Bitumen
Endowed with a wide-ranging expanse of application domains, bitumen emulsifiers market has been witnessing commendable remuneration over the recent years. The ever-rising pace of road construction activities around the globe has been one of the most prominent factors that have propelled the demand for bitumen emulsions. Furthermore, it would be quite imperative to mention that there have been drastic changes in the construction and infrastructure industries over the recent times, however, the centrality of bitumen as the primary raw material in these industries has remained the same, which has eventually augmented the revenue graph of the overall bitumen emulsifiers market. To add to it, the growing significance of sustainability and environmental consciousness has necessitated the wide-scale utilization of bituminous asphalt in road repairing and maintenance activities, given that bitumen is recyclable and highly durable. Having recorded a remuneration portfolio in excess of USD 109 million in the year 2016, bitumen emulsifiers industry space is anticipated to register an impressive y-o-y growth rate of 4% over 2017-2024, as per a research report of Global Market Insights, Inc.
U.S. Bitumen Emulsifiers Market Size, by Application, 2013 – 2024 (USD Thousand)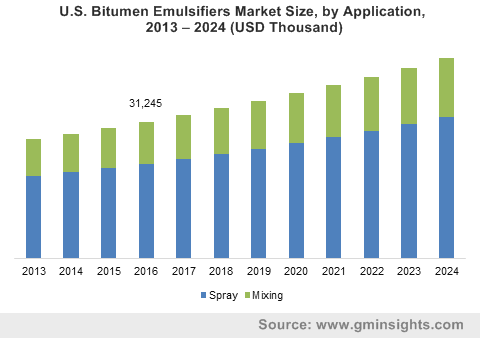 Bitumen emulsifiers have been increasingly preferred over conventional bitumen as it provides better coating and can be utilized in damp conditions, which has subsequently created a barrage of lucrative opportunities for bitumen emulsifiers industry players. In addition, the leading industry players, of late, have been aiming to expand the application spectrum of bitumen emulsions by enhancing the existing tech expertise. Apparently, the growth potential of the overall bitumen emulsifiers industry can be comprehended from the aforementioned factors, which further got reinforced by declarations made at the 10th Asia Bitumen Conference which was held in India. Industry analysts at the conference, which comprised of bitumen producers, key traders and renowned road contractors from Asia, claimed that the global demand for bitumen would reach 122 million tonnes by the year 2018. Apparently, these statistics go on to demonstrate the future growth outlook of the global bitumen emulsifiers industry, which can unarguably be termed as rather profound.
Get a Sample Copy of this Report:@  https://www.gminsights.com/request-sample/detail/2248
Elaborating further, the end-use segment of bitumen emulsifiers industry has continued to gain wide popularity as these emulsifiers are highly sought-after in the construction of pavements, high-speed roadways, and large buildings. Polymer Modified Bitumen (PMB), one of the prominent end-use products which are also known as cold emulsions, is now being commonly used to construct runways at airports for seamless take-off and landing of flights. For instance, touted to be the world's largest airport under-construction, Istanbul Yeni Havalimanı, has reportedly deployed six polymer modified bitumen manufacturing plants to build robust and heavy-stress enduring runways which would have a long service life. The facility reportedly produces high-quality asphalt at a rate of up to 1,680 tonnes each hour, which is then mixed with PMB to ensure surface course's resistance to deformation in the longer run. Apparently, the high usage of PMB across various business verticals would further accentuate the pace of bitumen emulsifiers market size expansion. Concurrently, PMB end-use segment was valued at over USD 18 million in 2016 which underlines its influence on the overall bitumen emulsifiers industry space.
Speaking of the regional growth outlook, the burgeoning road construction projects in the fast-growing economies across the Asia Pacific, particularly India and China, have proved to be the chief growth drivers of the APAC bitumen emulsifiers market. According to the official statistics released in 2015, India commanded a road infrastructure of 3.3 million kilometers, the second largest after the USA. The Indian government had earmarked investments of around USD 20 billion for road construction and maintenance projects during the 2012-2017 five-year plan, which roughly translates to about 10% of the total government spending in these five years. Based on the estimated demand from the upcoming projects, India's bitumen consumption is likely to outshine its domestic production capacity over the forthcoming years, which would undeniably propel the overall bitumen emulsifiers market share.
In such a scenario, bitumen emulsifiers industry is expected to be strongly characterized by product innovations and massive capacity expansion plans in the ensuing years. The global bitumen emulsifiers market is forecast to surpass a valuation of USD 150 million by 2024, as per estimates.
Author Name : Saif Ali Bepari
Polymer modified bitumen market is growing exponentially subject to the shifting focus of the infrastructural developers toward the adoption of PMB material to enhance the performance properties of road and pavement constructions. Superior binding capability and excellent cohesive characteristic of the material make it applicable for residential and commercial construction applications, which, in turn, will stimulate polymer modified bitumen industry size. Increasing per capita income and rising spending capability is also certain to propel the product demand over the years ahead. As per the report by Global Market Insights, Inc., "Worldwide Polymer Modified Bitumen (PMB) Market having had a revenue of USD 9.5 billion in 2016, is slated to witness an annual growth rate of above 4% over the coming seven years."
U.S. Polymer Modified Bitumen (PMB) Market size, by Application, 2013 – 2024 (USD Million)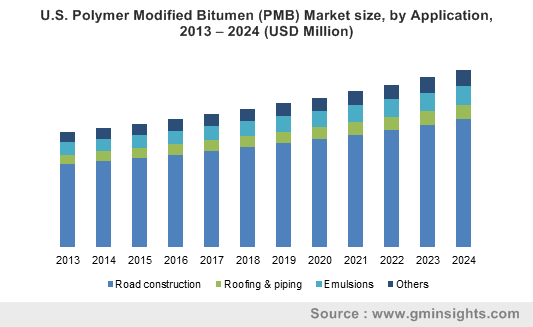 Increasing population is also a favoring factor toward the infrastructural developments. India and China are the major countries witnessing a rapid growth in population as well as GDP. This is bound to fuel the housing demand on large scale, which will stimulate polymer modified bitumen market share over the years ahead. To provide luxurious facilities to civilians, the governments across APAC have been investing heavily in new infrastructural development projects such as road construction, which will also favor polymer modified bitumen industry growth.
Get a Sample Copy of this Report@ https://www.gminsights.com/request-sample/detail/1804
Polymer modified bitumen industry share from road construction is likely to contribute considerably toward the overall market growth pertaining to the growing road construction activities mainly across North America and developing countries such as India and China. Emerging trends in the automotive sector such as autonomous cars will propel the product demand, as such cars require high-grade roads. PMB material helps to reduce deformation and cracks caused by gradual pressure applied on land, which supports the adoption of this product for road construction developments. The industry biggies across European countries are focusing on the commercialization of PMB material, which will also augment PMB industry size over the coming timeframe.
To prevent the hazardous impact of non-degradable products on the environment and increase the reusability of the material, manufacturers are giving preference to thermoplastic materials, which are chemically inert. Polymer modified bitumen industry size from thermoplastic elastomers will collect a sizable revenue by 2024, owing to the escalating use of this product pertaining to lower costs and superior quality. Shifting trends toward the development of eco-friendly residential buildings to reduce carbon footprints in the environment are expected to enhance the product demand. Apart from this, PMB material is extensively used to control the leakages of ceilings and walls, owing to its cohesion and waterproofing characteristics, which will stimulate PMB market share noticeably.
Industry giants are investing heavily in the R&D activities to explore alternative raw materials to manufacture PMB. IKA group, Tiki Tar Industries, AMT Techno, Space Petro Energy Pvt. Limited, Offshore Petrochem Pvt Ltd., Gulf Petrochem, MBD Industries, Marini S.P.A., L. N. Petro Chem Private Limited., MBD Industries, Ratnamani Industries, RoadStar, Allied Bitumen Complex, Bitumat Co. Ltd., Ooms Avenhorn Holding India Pvt Ltd., Allied Bitumen Complex, Veekay Industries, The Richmond Group, Royal Dutch Shell, Maruti Group, and Bitumat Co. Ltd., are the prominent players in polymer modified bitumen market.
Author Name : Sunil Hebbalkar