polymer
Owing to considerable rise in sustainable construction trend, the aerogel insulation market is slated to witness remarkable growth in the forthcoming years. Aerogels have apparently been in existence for more than 80 years now, however, it was only through recent advancements in production techniques that the material has been able to attain commercialization on a substantially higher scale. While changes in manufacturing processes have made the material easier to produce, a key factor endorsing the product is its unique structure, which is made up of approximately 99.9% air by volume. This characteristic allows aerogels to provide thermal insulation against the three heat-transfer methods- conduction, radiation and convection.
North America Aerogel Insulation Market, By End Use, 2018 & 2025, (USD Million)
Seemingly, NASA has long been using the material in its space exploration programs, with the most prominent example being its incorporation in the Mars Exploration Rover that was designed to withstand temperature fluctuations ranging from -96°C to 83°C. Driven by the insulating properties of the material and its increasing commercialization, the aerogel insulation market has gained immense traction across a plethora of industrial domains.
Impact of the expanding aerospace industry on the aerogel insulation market
In essence, aircrafts need both thermal and acoustical insulation to make the flight experience comfortable and safer for the passengers. When a commercial aircraft is flying at 35,000 feet, the outside temperature could drop to -51°C and without proper insulation, air travel would become a significantly more uncomfortable experience.
The Drivers: Traditionally, fiberglass batting filled in a plastic pillowcase had been used for insulation in aircrafts. However, since aerogel's insulation capabilities are so robust, as proven by their use in the Mars Exploration Rover, besides the material being light weight, aerogel insulation solutions hold a significant advantage over conventional solutions. Undeniably, the aerogel insulation market is projected to witness substantial gains from its application in the aerospace sector over the forecast timeframe.
The Advancements: In 2018, Aerogel Technologies LLC reportedly invented a new manufacturing technology that allowed aerogel panels to be manufactured with plastic-like durability and having much bigger dimensions. The material was 15 times lighter than plastics, exhibited 34% better insulating ability as compared to Styrofoam and provided soundproofing capabilities a thousand times more effective, making them ideal for insulation in aircrafts.
The Numbers: According to Aerogel Technologies, by replacing approximately 10% of the plastics utilized in a Boeing 737, aerogel insulation could save an airline company such as Southwest approximately $500 million to $1 billion annually in fuel costs alone. Evidently, the aviation industry will account for a sizable chunk of the aerogel insulation market revenues in the imminent future.
Get a Sample Copy of this Report:@ https://www.gminsights.com/request-sample/detail/3333
Impact of the growing sustainable construction trends on the aerogel insulation market
Encouraged by the goals set under the Paris Agreement, the sustainable development trend has gripped the global construction industry. Opportunities for growth in this sector are substantial, as construction and building maintenance accounts for a majority of the world's power consumption and carbon emissions.
The Necessity : As reported by American Ceramic Society, over three-quarters of the electricity used across the United States goes towards making the nation's commercial, residential as well as industrial areas functional and comfortable. With copious amounts of energy being expended on controlling the inside environment through heating and cooling applications, a significant amount of strain is being put on the outside environment as well.
The Solution: Insulation is one of the most effective ways to reduce the total energy consumption, allowing structures to maintain indoor temperatures more efficiently. To that end, researchers at the Swiss Federal Laboratories for Materials Science and Technology, Empa, have developed aerogel solutions like Aerobrick, which allegedly decrease thermal conductivity by nearly 35%.
The Projections: Prompted by the efficiency of aerogel products in reducing power consumption and their ability to boost sustainability across a rapidly expanding business vertical, the aerogel insulation market is projected to accrue over $950 million from the building and construction segment.
In a nutshell, fueled by the growing adoption in aircrafts and crucial applications in the construction sector, the aerogel insulation industry is anticipated to experience substantial demand over the next few years. Reports estimate that the global aerogel insulation market valuation would exceed the $2.5 billion renumeration mark by 2025.
Author Name : Akshay Kedari
Over the recent years, the global polyoxymethylene market share has been flourishing on the cusp of rapidly expanding automobile and transportation industry. Owing to its exceptional dimensional stability, low friction rate, excellent rigidity, a high degree of yield strength and stiffness, polyoxymethylene is being widely utilized in manufacturing advanced lightweight materials for automobiles. Speaking in the similar context, the unprecedented upsurge in environmental and economic concerns in the current era have compelled the automotive industry to produce fuel-efficient and lightweight vehicles. Elaborating further, this semi-crystalline thermoplastic material has gradually acquired a dominant position in the range of high-performance plastics, which has, in turn, propelled the growth prospects of polyoxymethylene market. In fact, as per a study report collated by Global Market Insights, Inc., the overall polyoxymethylene (POM) industry is set to register a commendable CAGR of about 8.8 percent over 2017-2024.
U.S. polyoxymethylene market size, by grade, 2013 – 2024 (USD Million)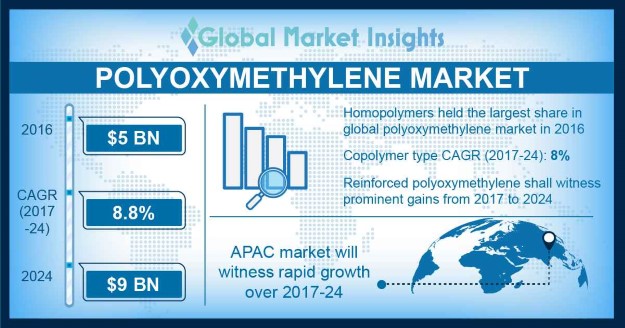 Concurrently, it would be prudent to mention that high-performance plastics have played a crucial role in lowering the weight of vehicles currently being manufactured by the global automotive sector. The significance of developing lightweight vehicles can be deciphered from the fact that a mere 10 percent reduction in vehicle weight culminates into almost 7 percent cut down in fuel usage, as per reliable estimates. Apparently, polyoxymethylene has been proved to be one such effective thermoplastic that has the potential to replace the vital metal components and parts in various applications-courtesy its striking features mentioned above. In addition to this, the recent boom being witnessed in automobile manufacturing has resulted in increased demand for polymers and engineered materials along the likes of POM. Subsequently, all these declarations clearly demonstrate the colossal commercialization prospects of the polyoxymethylene industry that are bound to materialize over the ensuing years.
Speaking on similar lines, the global POM market is fragmented into two prominent types namely copolymer polyoxymethylene and homopolymer polyoxymethylene. Out of these, homopolymer polyoxymethylene commanded the largest revenue share of the overall polyoxymethylene industry in the year 2016 and is anticipated to retain its dominant place in the forthcoming years. Commonly known as Delrin, this polyoxymethylene material is being chiefly deployed in manufacturing automotive parts owing to its superior room temperature tolerance and high tensile strength.
Get a Sample Copy of this Report:@ https://www.gminsights.com/request-sample/detail/1202
To cite an instance of the extensive efforts being undertaken by acclaimed POM market participants with regards to revamping the existing product range of homopolymers, DuPont and Regina have unveiled E-F.A.S.T. (ecological, friction abating sliding thermoplastic) in September 2017. Reports claim that the latest thermoplastic material has been strengthened with a new grade of DuPont's Delrin® acetal homopolymer, which is likely to favorably influence the environmental performance and productivity while minimizing the use of lubricants. Moreover, one of the key traits of DuPont's new homopolymer is its consistently low friction coefficient which assists automotive firms to design cost-efficient, eco-friendly, longer lifespan, and low maintenance auto components. Apparently, industry experts have been raving about this new homopolymer and have further stated that the launch of this homopolymer has been a major breakthrough of sorts in the overall POM market.
Additionally, the leading POM industry players are pooling expertise and resources to fortify their presence in this ever-evolving business space. Some of the other notable firms striving toward altering the POM market trends include Asahi Kasei Corporation, LG Chem, Mitsubishi Engineering Plastics Corporation, ChemChina, and A. Schulman Inc. In order to gain an edge over their competitors and expand their reach in myriad geographies, the aforementioned companies have also been involved in several R&D activities and collaborations, which would consequentially impel the polyoxymethylene industry size expansion.
The primary driving forces of POM industry are the swiftly progressing automotive sector and the growing involvement of firms in product innovation. Hence, it is quite obvious that the rapid pace of product penetration in myriad regions will further unlock lucrative growth opportunities for the stakeholders of this business space, eventually propelling the polyoxymethylene industry size over the forecast period. Apparently, it is undeniable that the overall POM market, which is projected to surpass a total valuation of USD 9 billion by 2024, is on its way to establishing itself as one of the most promising niche verticals of polymers and advanced materials industry.
Author Name : Saif Ali Bepari
The growth of polyphthalamide resin market has indeed been exponential in the recent years – a trend that has been made possible on account of polyphthalamide (PPA) being used widely as a high performance, cost effective polyamide. Needless to say, PPA excels in durability, strength, and ease of processing, qualities which contribute to its widespread application in under-the bonnet automotive parts and various electrical and electronic devices. Fueled by technological advancements, polyphthalamide resin products are heavily deployed by automakers, who primarily aim to achieve weight reduction, increased thermal performance, chemical resistance and simplified processing methods in vehicles. Gradually, as polyphthalamide resin is being extensively used to replace conventional vehicle metals parts with the ones that can withstand high temperatures, moisture exposure and abrasive chemicals, PPA resin size market will witness a major rise. The use of this product is also expected to facilitate effective cost reduction of vehicles and contribute toward the lowering of carbon levels in the atmosphere – factors that will further stimulate PPA resin industry trends in the years ahead.
U.S. polyphthalamide resin market by end user, 2013 – 2024 (USD Million)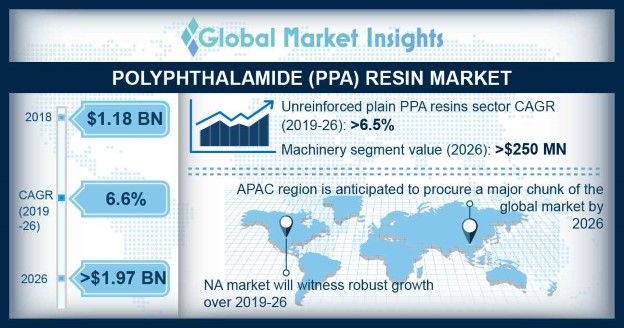 With initiatives such as the Paris Agreement battling against global warming and rising carbon emissions, the automotive industry has lately faced stringent challenge to reduce weight and increase fuel efficiency of vehicles. This has caused a paradigm shift from the use of metal parts to the use of high performance thermoplastics parts, gradually leading to a major upsurge in polyphthalamide resin market. Polyphthalamide has been observed to be very effective when constructing automotive parts like electronic connectors, lamp sockets, switches, and sensors, that have to withstand high temperatures. The application of this product across the automotive sector is indeed humongous – anti-lock braking components, fuel system components like fuel line connector, fuel rails and heating systems, components like turbo charger coolers, thermostat housing, and oil filter housings, are examples of automotive components manufactured from polyphthalamide. Inevitably, the massive demand for the aforementioned components is slated to heavily impel polyphthalamide resin market. Subject to the product's temperature deflection property, low thermal expansion coefficient, easily paintable surface and light weight, polyphthalamide resin industry size is expected to grow at a CAGR of 6.6% over 2017-2024.
Get a Sample Copy of this Report:@ https://www.gminsights.com/request-sample/detail/2361
The electronics sector is another profitable growth avenue for polyphthalamide resin market, since miniaturization of electronic components has emerged as the ongoing trend. Polyphthalamide resin is extensively used for stacking printed circuit boards where tighter tolerance and thinner walls are required, thus providing a boost to PPA resin market. With the increasing popularity of LEDs and growing demand for heat sinks, capacitors, chip carriers and switches, polyphthalamide resin market share from electronic applications has been forecast to witness a commendable rise in the years ahead. Polyphthalamide resin industry has also found a profitable impetus through the phenomenal surge of the cellular phone industry, as PPA resins are increasingly being used in cell phone connectors due to their compatibility to be injection molded in short cycle times and outstanding dimensional stability.
With the dwindling supply of fossil fuels and rise in waste products related to the use of oil derived plastics, extensive research and development activities are being carried out to develop more bio-based plastics. Arkema, one of the global leaders in the field of specialty chemistry, developed a bio-sourced polyphthalamide resin that finds application in under-the-hood automobile parts. The product's launch created quite a stir in the regional polyphthalamide resin industry and has been adopted by automotive industry giants like Volvo, Maserati, Mahindra, Daimler and Ferrari that are looking to reduce the weight of their vehicles by using ecofriendly plastic parts.
With leading automotive OEMs like Audi, BMW, Hyundai, Toyota, and Honda, already having incorporated polyphthalamide resin parts in their automobiles, PPA resin market is on the verge of traversing an extremely profitable growth map in the years ahead. As fuel efficiency and decrease in carbon emissions are being prioritized, polyphthalamide resin industry has been projected to emerge as one of the most prominent verticals of the polymer space. As per a study compiled by Global Market Insights, Inc., polyphthalamide resin market size is likely to cross USD 1.8 billion by 2024, essentially driven by a favorable regulatory spectrum and the urgent need to reduce carbon footprints across the globe.
Author Name : Paroma Bhattacharya
The swift emergence of masterbatch market on the global business landscape can primarily be attributed to the ever-rising demand for masterbatches in a host of end-user sectors including automotive, agriculture, consumer goods, construction, and packaging among others. The rapid expansion of these end-user industries has, in turn, vigorously augmented the pace at which the masterbatch industry has been progressing in the recent times.
U.S. Masterbatch Market Size, By End-user, 2013 – 2024 (USD Million)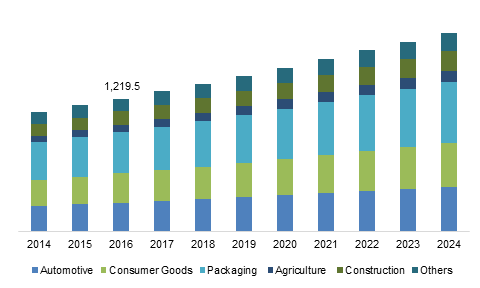 Moreover, in a bid to enhance the quality of the existing bio-degradable masterbatches, which are predominantly utilized to manufacture agricultural films, a range of prominent masterbatch industry participants have been initiating a sizeable number of research and development activities which has further embellished the growth potential of this business space. As a consequence of the aforementioned factors, the overall masterbatch market has, of late, been garnering considerable recognition as one of the most fledgling and promising verticals of the worldwide polymers and advanced materials industry.
The consistent research and development activities being undertaken to develop advanced tech has eventually improved the application of polymers as an alternative to traditional auto parts made of metal. This has necessitated the increased production of polymer auto parts in the automotive industry, given that they provide better durability and high strength. Moreover, the massive investments being made to develop electric vehicles would further drive the masterbatch market size expansion. Owing to the aforementioned factors, the automotive industry, out of all end-user industries, seized a commendable share of the masterbatch market revenue share in the year 2017. As per reliable reports, the masterbatch industry size from automotive sector is projected to record an appreciable y-o-y growth rate over 2018-2024.
Get a Sample Copy of this Report:@ https://www.gminsights.com/request-sample/detail/2362
Concurrently, it is rather imperative to take note of the fact that the leading industry participants appear to be optimistic pertaining to the prospective growth of the global masterbatch market size. Apparently, as a result of the increased optimism, it is being observed that a number of preeminent market players have been investing heavily to expand their current production capacities to cater the growing product demand from the diverse end-use industries arena. Following are a few instances which demonstrate the growing prominence of expansion strategies that are being undertaken across the globe:
The U.S. based plastics material and resin manufacturing firm A. Schulman, for instance, has recently made it to the headlines for expanding its current capacity for color masterbatch production in Europe. The firm, regarded as one of the major masterbatch industry players, has reportedly announced to add three additional extruders to its manufacturing plants in Italy, Hungary, and Poland. This expansion, according to industry analysts would complement the firm's existing manufacturing facilities and competence centers where customized color masterbatches are developed. Needless to say, this proactive move by A. Schulman would undoubtedly boost the masterbatch market size in Europe.
Switzerland headquartered specialty chemicals manufacturer, Clariant has recently inaugurated its new cutting-edge masterbatch production plant in Saudi Arabia. The facility, a joint venture between Clariant and the Kingdom's leading plastic products manufacturer Rowad, is being built in Yanbu Industrial Zone and would chiefly focus on white masterbatches production. The additional capability would allow the firm to accentuate its profitability quotient and extend its masterbatch market share in the Middle East and Africa region.
Owing to the vast expanse of end-user industries coupled with the efforts that are being employed by the foremost masterbatch industry giants to expand their reach across the globe, it is anticipated that this business space would undergo remarkable alterations in the immediate future. According to a report collated by Global Market Insights, Inc., masterbatch market size is anticipated to surpass a total remuneration portfolio of USD 13 billion by 2024.
Author Name : Saif Ali Bepari
Carbon fibre composites market is likely to carve out a successful growth path in the years to come, driven by the huge demand for these composites from the aerospace and automotive sectors. Carbon fibre composites are five times stronger than steel but only one third of its weight, making them viable candidates for building any structure that needs to be durable as well as lightweight. These composites are also used in robotics, defense instruments, race cars, aerospace vehicles, sports equipment and any other component that requires low weight combined with speed, thereby augmenting the already vast expanse of carbon fibre composites industry.
U.S. Carbon Fibre Composites Market, By End Use, 2016 & 2024, (USD Million)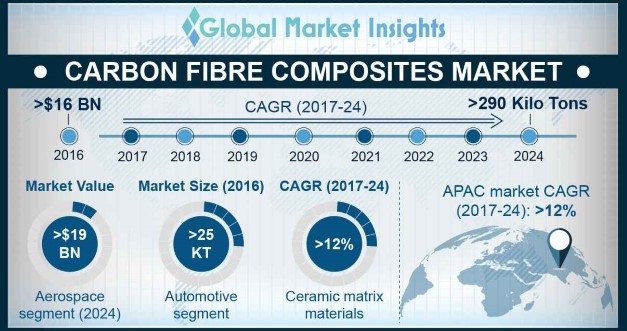 The growth in the aerospace domain is directly proportional to the carbon fibre market expansion, given the widespread use of carbon fibre composites in widebody aircrafts that has proven to be rather profitable in terms of revenue generation in commercial flights. In essence, the deployment of these composites has profoundly benefitted the airline manufacturing sector, since using these products in airplane bodies reduces fuel consumption as well as emissions, reduces maintenance costs, extends the lifespan of airplane parts, and brings down assembly and tooling costs. It also adds value to the passenger experience by damping engine noise and by creating favorable cabin atmosphere to prevent dehydration. It is estimated that carbon fibre composites will be used in the manufacturing of around 9,000 widebody aircrafts in the next 20 years, which is a direct growth indicator of carbon fibre composites market in the next few years. The demand for narrow-body aircrafts will also drive the carbon fibre composites industry, while simultaneously contributing toward making air travel more popular and affordable in the emerging economies of Asia and the Middle East.
The notion of reducing weight to achieve better fuel efficiency is expected to propel carbon fibre composites market from the automotive sector. Renowned automotive manufacturers like BMW have promptly taken note of the benefits of using carbon fibre composites in aircraft. BMW has also partnered with Boeing to tap into the latter's expertise in carbon fibre composites usage and is gearing up to become the largest carbon fibre reinforced plastics manufacturer in the automotive industry. It has been often argued that carbon fibre composites are too expensive to be produced and profitably used in the automotive industry. However, customers fond of high-end automobiles, it is observed, are willing enough to pay for the extended price, that can be mainly attributed to the use of carbon composites in automobiles. In consequence, this would have a commendable impact on carbon fibre composites industry share from the automotive domain. It is also prudent to mention that the use of carbon fibres can reduce the cost of production down the line, thus offsetting the upfront material cost of the raw material, which would prove to further provide an impetus to carbon fibre composites industry size.
Get a Sample Copy of this Report:@ https://www.gminsights.com/request-sample/detail/2180
North America and Europe, with their large aerospace and automobile industries will be the key regions massively driving the growth of the overall carbon fibre composites market. While North America is forecast to account for nearly 35% of the carbon fibre composites market share 2024, the presence of reputed automobile manufacturers in Italy and Germany will contribute to Europe carbon fibre composites market growth. Asia Pacific carbon fibre composites market on the other hand, will register a 12% growth over 2017-2024, driven by the fact that major manufacturers and suppliers of carbon fibre composites have their base established across countries like China, Japan and Taiwan.
Fluctuation in prices of raw material has been a major hindrance for the growth of the carbon fibre composite industry, though the expanding supply chain has stabilized the prices of raw materials in recent times. For instance, in 2005 the carbon fibre composites market was dominated only by 3 suppliers. But at present almost 20 competitors are vying for the top position, which affirms the profitable growth path carbon fibre composites industry has traversed until now.
High production cost and lack of recyclable qualities may also be attributed for a slight hindrance in the growth graph of carbon fibre composites market. But high production cost can be offset by the fact that carbon fibre composites are extremely resistant to corrosion related maintenance. For instance, Boeing 777 uses composite floor beams and in the last 10 years, none of the floor beams of the 565 commercial aircrafts required replacements. As the operational benefits of using carbon fibre composites are becoming more and more evident in aerospace, automotive and defense sectors, the growth path of the carbon fibre composites market is certain to depict a positive curve. As per estimates, carbon fibre composites industry size is expected to surpass USD 31 billion by 2024.
Author Name : Paroma Bhattacharya
Increasing preference for low weight, sustainable, bio-based alternatives for conventional raw material will impel Thermoplastic Elastomers Market size. Subject to the efficient thermoplastic and elastomeric properties and myriad other physical and chemical benefits provided by these products, they are used extensively as alternatives for metals, regular & engineered plastics, wood, and natural or synthetic rubber across the automotive, medical, electronics, construction, footwear, and industrial sectors. Thermoplastic elastomers (TPE) industry was worth USD 12 billion in 2015, and is anticipated to hit a revenue of USD 20 billion by 2023, growing at a CAGR of 6% over 2016-2023.
Germany Thermoplastic Elastomers Market size, by product, 2013-2024 (USD Million)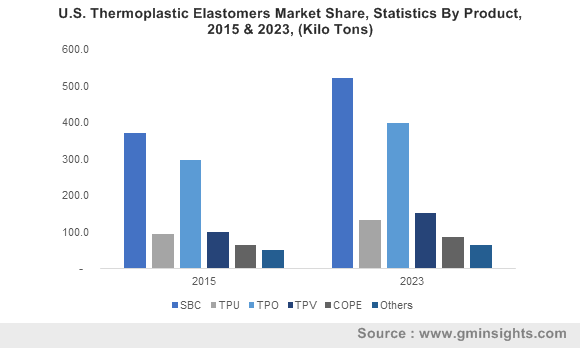 In 2015, global thermoplastic elastomers market was consolidated, with major players accounting for more than 40% of the overall share. Companies such as Nippon Polyurethane Industry, BASF, China Petroleum & Chemicals, Kraton Polymers, Arkema S.A., Dow Chemicals, Covestro, LyondellBasell, and EMS Group are chief participants in thermoplastic elastomers industry. Firms have been focusing on investing in R&D and enhancing the product offering to sustain the market position. In addition, expansion of production capacity and mergers & acquisitions are among the key growth strategies adopted by these companies. For instance, Arkema had introduced Pebax Rnew into its elastomer family in 2014, which is a plastic derived from castor oil. Dupont has also introduced Hytrel RS, a highly renewable elastomer. Recently, BASF has heavily diversified its product portfolio by developing multiple versions of TPEs to partner with HP for launching its new 3D Open Materials and Applications Lab. Similar efforts by other companies will boost thermoplastic elastomers market outlook.
The high demand for inexpensive, reliable, sustainable, and light weight SUV and MUV models coupled with consumer preferences toward comfort and aesthetics will propel thermoplastic elastomers industry from automotive sector. In addition, strict government norms to reduce carbon emissions have forced automakers to use TPE products such as thermoplastic polyurethanes (TPU) as an alternative to metals, which will further impel thermoplastic elastomers market from automotive applications.
Get a Sample Copy of this Report @ https://www.gminsights.com/request-sample/detail/472
TPUs are heavily deployed for tubing applications in the automotive sector, subject to which thermoplastic polyurethanes (TPU) industry, having had a valuation of USD 1.5 billion in 2015, will witness a growth of more than 5% over 2016-2023. Additionally, this product is also used to construct cables and wires for the construction sector, subject to its properties of high thermal insulation and heat resistance, which will propel thermoplastic elastomers market from construction applications.
Thermoplastic vulcanizates (TPV) products are used in the automotive sector for fluid handlings, bumpers, and other applications. Its high heat and oil resistance properties have also lead to its usage for engine components and car interiors, thereby propelling TPV industry, set to grow at a CAGR of 5.5% over 2016-2023.
These products, subject to their superior thermal insulation and acoustic properties are also used in the construction sector. Pressure from regulatory bodies as regards to energy efficiency codes mandated for buildings will drive TPV market from construction applications. The rapid growth of the construction and automotive sectors globally will also aid the expansion of the product landscape of thermoplastic elastomers market.
Speaking of the expansion of the automotive and construction sectors, it would be prudent to mention the emerging economies of the APAC region. Asia Pacific thermoplastic elastomers industry, worth USD 4 billion 2015, will grow significantly over 2016-2023, subject to the vast number of automotive manufacturing units and the rising number of construction projects in the region. Subject to their superior properties, TPU and TPV products are heavily deployed across both these sectors, which will drive APAC TPE market over the next few years. India and China are touted to be the key contributors, with China having accounted for more than 60% of the APAC thermoplastic elastomers industry in 2015.
Since TPU products are heavily used in the automotive sector, China thermoplastic polyurethanes market size is expected to cross USD 500 million by 2023, growing at a CAGR of more than 6% over 2016-2023. Of late, OEMs across the world have shifted their manufacturing base to India and China, subject to the presence of a skilled labor workforce and an abundance of raw material availability. This is a key factor contributing to China TPU industry expansion.
Copolyester elastomers products are extremely resilient, versatile, and highly durable, subject to which they find huge applications across the electronics sector. Owing to their superior qualities, copolyester elastomers market will be worth more than USD 1 billion valuation by 2023.
Another key product of thermoplastic elastomers market, styrenic block copolymers, are known to possess excellent elastomeric properties along with high tensile strength, which will drive styrenic block copolymer (SBC) industry over the next few years. Hydrogenated SBC products offer even better properties, subject to which they are used mainly in CASE applications. These products are used in the medical, consumer goods, and packaging sectors, owing to which styrenic block copolymer market will earn a significant revenue over 2016-2023, having had a valuation of more than USD 6 billion in 2015.
The high demand for TPU, SBC, COPE, and TPV products across numerous application domains will consequently impel global thermoplastic elastomers industry size. These products are viable alternatives to thermosets, lids, gaskets, and medical stoppers, subject to which thermoplastic elastomers market from the medical sector will witness a significant growth.
Geographically, North America contributed to more than 25% of the overall thermoplastic elastomers industry share in 2015. U.S. is a major revenue contributor, with a valuation of USD 1 billion in 2015. Subject to the growing usage of TPE products for medical equipment, sports equipment, and paving & roofing for construction, U.S. thermoplastic elastomers market will grow at a substantial rate over 2016-2023. In addition, increased EPA regulations to encourage the adoption of sustainable and bio-based products will stimulate the regional demand, thereby propelling North America thermoplastic elastomers industry.
TPE products have evolved as viable alternatives for ethylene propylene diene monomer (EPDM) and ethylene propylene rubber (EPR) in various industries, which will drive Europe thermoplastic elastomers market over the years to come. Subject to manufacturing low weight vehicles and achieving high fuel efficiency, Europe TPE market will witness significant gains over 2016-2023, with Germany, UK, and France being the key contributors.
Thermoplastic elastomer products are highly recyclable, and possess exceptional thermal insulation, molding, and heat resistance properties. They do not require compounding, and require no addition of stabilizers or reinforcing agents. Subject to these superior characteristics, these products find massive applications across numerous application sectors, thereby propelling global thermoplastic elastomers industry size.
Author Name :Saipriya Iyer
Growing awareness to use eco-friendly products has brought about a change in consumer preferences, which will push Biopolymer Films Market growth exponentially. The government has also been promoting the usage of environment-friendly products to reduce pollution. Industry giants are expected to invest heavily in research & development to enhance their product portfolio. Another key factor that will influence biopolymer films industry size is the rapid expansion of the food and beverage business across the globe, which. As per the report by Global Market Insights, Inc., "Biopolymer Films market was worth USD 3 billion in 2015 and is projected to grow at an annual growth rate of 7% over the period of 2016 to 2024."
Bio-based material comprises a vast spectrum of raw material such as pectin, starch, cellulose, protein, and chitosan, that are extensively used for biopolymer film production. The ample availability of these materials will lead bio-based biopolymer films market to record an annual growth rate of 6% over the coming seven years. Bio-based materials are extensively used for food packaging industry, which led the end-user segment to account for more than 35% of the total revenue contribution in 2015. The food packaging sector is predicted to earn significant revenue over the coming timeframe. The factors positively affecting biopolymer films industry growth are growing awareness among the consumers regarding the usage of biodegradable products along with the implementation of strict regulations by FDA and EPA.
U.S biopolymer films market size, by end-user, 2013-2024 (USD Million)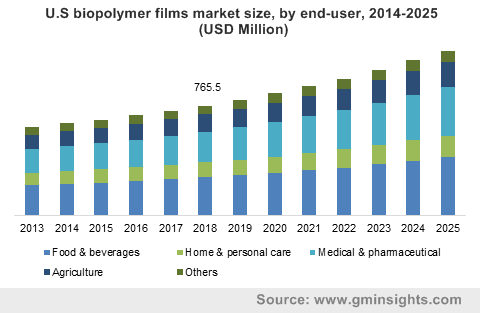 Agriculture end-user segment will exceed a CAGR of 5% over the years ahead, primarily driven by the surging product demand for greenhouse components, mulching, and irrigation purposes. In addition, biopolymer-based products are being used to reduce environmental hazards by replacing synthetic glass and plastics. This, in turn, will augment biopolymer films market size considerably. Medical & pharmaceutical and home & personal care are the other notable end-user segments, which will also garner significant revenue.
Get a Sample Copy of this Report @ https://www.gminsights.com/request-sample/detail/205
Taking into account the product trends, biopolymer films market is mainly divided into cellophane, polyamide, PHB, mulch, PVA, PLA, and PHA. PHB biopolymer films market is anticipated to register an annual growth rate of 5% over the period of 2016 to 2024. In addition to possessing the property of biodegradability, these products also offer the benefits of conventional petrochemical films. PLA biopolymer films market occupied about 25% of the overall share in 2015 and is predicted to collect noticeable revenue over the years ahead, primarily driven by the product's usage across the food packaging and agriculture sectors.
Based on the various technologies, atomic layer deposition will record a CAGR of 5.5% over the coming years of 2016 to 2024, owing to the extensive use of this technology in PHB and PLA films, pertaining to its capability to act as a water vapor barrier. Multilayer and sol-gel are the are other lucrative technology segments of biopolymer films industry.
Considering the regional landscape, Asia Pacific biopolymer films market will register maximum growth rate over the period of 2016 to 2024. The growth can be attributed to the growing product requirement for medical and food packaging applications. Shifting consumer trends along with growing expenditure on cosmetics and food items will also augment the regional industry growth.
The contribution of the U.S. toward the regional industry has indeed been noticeable, owing to which North America biopolymer films market share was USD 800 million in 2015. This region is expected to record a flourishing growth rate over the years ahead. The attributing factor toward biopolymer films industry growth across this geography is the surging demand for the product across the packaging sector. In addition, strict implementation of rules and regulations regarding food packaging by the FDA will favor the high product demand across the U.S.
Braskem, BASF, Avery Dennison, Plastic Union, Evonik Industries, Toray Industries, Mondi Group, Amcor, Innovia Films, Taghleef Industries Inc., Amcor, Industria Termoplastica Pavese, NatureWorks, Klöckner Pentaplast, BioBag International are the noteworthy participants in biopolymer films market.
Author Name :Sunil Hebbalkar