Polyolefins
Growing application in electrical & electronics appliances as well as in the textile industry will drive decabromodiphenyl ether market growth. Decabromodiphenyl ether (decaBDE) is an additive flame retardant that has wide applications in plastics, sealants, textiles, adhesives, coatings and many other products. It is used to protect items like electronic equipment, furniture cushions, upholstery textiles, mattresses, carpet backings, vehicles, aircrafts and building materials from the risk of fire.
U.S. 83% Purity Decabromodiphenyl Ether Market Size, By Material, 2018 & 2025, (Kilo Tons)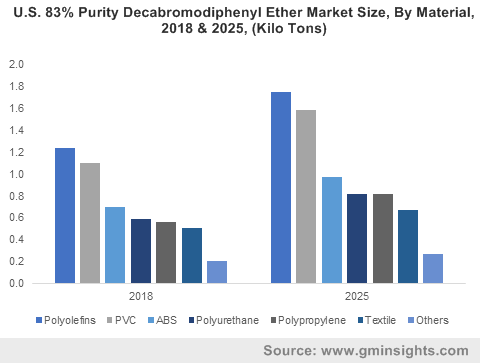 In the past, commercial decabromodiphenyl ether (decaBDE) constituted 75%-80% of the global production of PBDEs (Polybrominated diphenyl ethers), while the total production of c-decaBDE over  1970-2005 was recorded around 1.1 million to 1.25 million tons. DecaBDE consumption peaked in the early 2000's and continues to be used worldwide.
In the building industry, decaBDE is used to develop paper foil laminate, home insulation, hot melt adhesive and architectural foam. In the rubber industry, decaBDE powder is used to manufacture flame retardant rubber conveyor belts that are used in underground coal mines, and to manufacture ventilation bands used as air ducts sealants in mine ventilation systems.
DecaBDE is also found in plastics used in electrical appliances and equipment such as computers, circuit boards, cable insulations and casings. Other uses in the transportation sector include fabrics of automobiles and aircrafts. Driven by a widespread application spectrum, decabromodiphenyl ether industry size may register significant growth over the coming years.
Based on material, decabromodiphenyl ether market is segmented into acrylonitrile-butadiene-styrene (ABS), polyolefins, polyvinylchloride, polyurethane, polypropylene. ABS is often used in automotive and electrical equipment. It exhibits excellent mechanical properties, thus offering good impact strength.
ABS offers good electrical insulating properties, on account of which it finds applications in products like electrical connections, light switches, power points and more. Control housing covers are also made using ABS. Additionally, ABS resins are used in injection molding of parts for medical devices, domestic electrical appliances, and automotive casings. Rising inclination toward the product owing to its superior surface appearance and fire-retardant properties will impel ABS-based decabromodiphenyl ether market share.
Get a Sample Copy of this Report:@ https://www.gminsights.com/request-sample/detail/3414

Surging ABS demand in electrical & electronics appliances and in the construction industry will also fuel the overall acrylonitrile butadiene styrene (ABS) market, a marginal impact of which will be felt across decaBDE industry.
Decabromodiphenyl ether market has registered considerable growth from textile industry. DecaBDE is used to treat a wide range of synthetic, blended and natural fibers. It is used in products like upholstery, window blinds, curtains, mattress textiles and more. It may also be used in synthetic latex foam in protective clothing, carpets, upholstery fabric, tents, and interiors fabrics used in cars, trains and aircraft.
DecaBDE is commonly applied using back coating process in the textiles industry. Padding processes and printing processes are also used to apply this flame retardant chemical. Increasing disposable incomes along with changing lifestyles have enhanced consumer spending on household fabrics, which is anticipated to accelerate product demand in the textile industry.
APAC decabromodiphenyl ether industry is growing on account of high-production demand for flame retardant, especially across China and India. Indeed, the demand for flame retardants has increased exponentially in China, mainly as the country produces large volumes of electronic devices for global markets. According to reliable reports, China's electronics production volume grew from 10% in 2016 to 14.5% in April 2017.
Demand for improved fire retardant and durable plastics for consumer electronics should foster decaBDE demand. Moreover, rapid urbanization has led to increased demand for decaBDE in the residential and commercial building sectors, accelerating the APAC decabromodiphenyl ether market share.
Decabromodiphenyl ether is a flame retardant used to enhance the strength, durability and chemical resistance of numerous end-user products. Increasing application in the automotive, textile and construction industries has accelerated industry growth in recent times. Global Market Insights, Inc., estimates decaBDE market size to exceed USD 430 million by 2025.
Author Name : Mateen Dalal
The industrial protective fabrics market is slated to witness a prolific demand over the next few years owing to continuous rise in manufacturing, construction and oil and gas exploration activities worldwide. Numerous cases of chemical and industrial accidents occurring annually have prompted businesses and governments to enforce stringent safety regulations and process norms to protect employees in hazardous working environments. Subsequently, effective personal protective equipment (PPE) made using various materials are being deployed that meet the critical requirements of workplace safety, providing substantial growth opportunity to the industrial protective fabrics market. Frequent human errors during operations which lead to unpredictable mishaps make it necessary to adopt decisive protection strategies.
Germany Industrial Protective Fabrics Market Size, By application, 2018 & 2025, (Million Square Meter)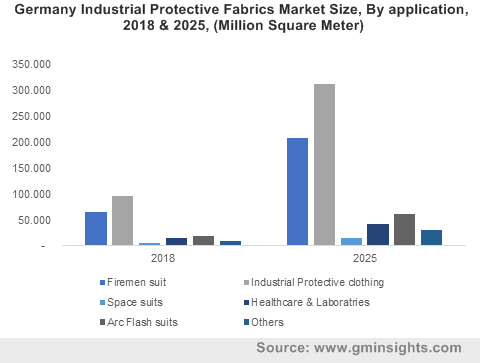 Innovative industrial fabrics such as polyester, polyolefins, polyamide, aramid and even cotton fibers help protect workers against fire, chemical hazard, electric sparks or biohazards they might encounter while performing everyday tasks. The oil and gas sector alone represents a crucial application area for the industrial protective fabrics market, since oil drilling and refinery operations entail considerable fire and injury risk. A small mistake could lead to fire in one part of an oil rig, which can quickly spread to other sections and cause fatalities, along with millions in damages. Flame resistant suits would be indispensable during these situations to help implement fire safety measures and avert major industrial disasters.
Apparently, electrocution is one of the leading causes of industrial accidents and results in several fatalities every year all over the world. It is believed that most of the electrical accidents which could take place in oil and gas facilities can be attributed to an arc flash, an extremely hazardous type of electrical shorting fault. The event occurs when a large electric current passes through ionized air or gases due to different reasons, including manual errors, equipment failure, gaps in insulation or surface impurities on the conductor. Today, the vast scale at which oil companies undertake exploration activities will generate extensive demand for arc flash suits and immensely propagate the industrial protective fabrics market.
Get a Sample Copy of this Report:@ https://www.gminsights.com/request-sample/detail/3264
In essence, arc flash suits are designed to safeguard a technician from arc flash heat exposures and minimize any burn injuries sustained, in addition to providing valuable time to escape a possible secondary explosion in the area. Considering the amount of flammable liquids and gases accompanying an oil and gas facility, occurrence of an arc flash can be catastrophic. Undoubtedly, arc flash clothing will be a vital component in a company's inventory for effectively protecting its employees and minimizing the extent of any burns or other injury. According to a long-term study conducted by Electricite de France, an estimated 77% of all electrical injuries taking place on the job are a result of arc flash incidents, demonstrating the broad scope of the industrial protective fabrics market.
A key driver for the consumption for arc flash suits is the growing awareness among enterprises about the prevention of industrial accidents and support from regulatory agencies who impose strict industrial standards. For instance, the U.S. Occupational Safety and Health Administration has directed businesses to provide necessary PPE to workers at no extra cost, including all types of protective clothing. The National Fire Protection Association's NFPA 70E article specifies the need for electrical hazard analysis for areas where high voltage systems are being operated, further helping to determine the use of industrial protective fabrics against arc flash.
Electrical installations play a prominent role in the operations of oil refineries and drilling rigs and warrant significant concentration of funds towards safety analysis and PPE allocation. With tremendous investments made for exploring new oil and gas fields as well as the growth of various other business verticals, the industrial protective fabrics market will exceed annual valuation of more than US$9 billion by 2025. Leading players outlining the industry's competitive hierarchy include Huntsman Corporation, DuPont, W. Barnet, Honeywell, Loyal Textiles Mills and Teijin, among others.
Author Name : Pankaj Singh
With immense application scope across the automotive sector,
Non-Halogenated Flame Retardants Market
is undoubtedly anticipated to carve a positive growth chart over the coming years. Polymeric materials have been experiencing massive demand in automobiles since the past few years, driven by the deployment of polymers in vehicles as a substitute of steel to increase their aesthetic appeal, function ability, and fuel efficiency. The use of polymers results in reduction of vehicle weight almost up to 10% which ultimately results in fuel optimization. However, various toxicity concerns associated with the product may hamper the non-halogenated flame retardants market expansion over the years. To combat these restraints, market players have been heavily investing in R&D activities to manufacture environmentally viable polymers
. As per a report by Global Market Insights Inc., "Non-halogenated flame retardants market is poised to exceed a revenue of USD 3.4 billion by the end of 2024, with a projected CAGR of 8% over 2016-2024."
Europe Non Halogenated Flame Retardants Market size, by end use, 2013-2024 (USD Million)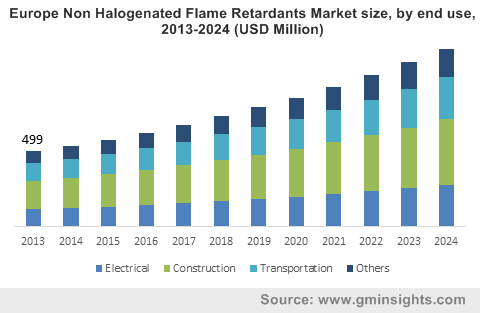 The construction industry is generating a substantial momentum worldwide. Statistics depict that the overall construction spending will cross over USD 13 trillion by 2023, a prime factor that will be responsible for non-halogenated flame retardants market growth, particularly across BRICS nations. Polymers amalgamated with chemically linked adhesives are extensively utilized as base materials in buildings, switchboard, wires, and cables to suppress fire.  With growing demand for fire safety materials in the building infrastructures, non-halogenated flame retardants market share from construction application is expected to hold a valuation of USD 1 billion by the end 2024.
Get a Sample Copy of this Report @ https://www.gminsights.com/request-sample/detail/730
Worldwide consumption of polyolefins has significantly increased lately, which is leaving a subsequent impact on non-halogenated flame retardants market. Halogen free polyolefins including LDPE, PE, PP, EVA, LLPE, and MDPE are widely deployed in the manufacturing of electric wires and cables and also in transportation and construction sector. On these grounds, polyolefins applications in the forthcoming years are projected to witness an appreciable growth at 7% CAGR over 2016-2024. Rapid industrial growth has led to an increasing demand for high-quality coatings, which substantially escalates non-halogenated flame retardants market demand from epoxy resin application. As per estimates, this application is forecast to witness gains at around 7% CAGR over 2016-2024.
Considering the geographical trends, Asia Pacific has always been a frontrunner in the global non-halogenated flame retardants industry. The expanding automotive production base is one of the prime factors responsible for the regional growth. In addition to this, the region is observing escalating spending across construction and packaging sectors, subject to the rise in disposable incomes in developing nations like India, China, and Japan. As per record, in 2015, 40% of APAC construction spending was centered around China. On these grounds, APAC global non-halogenated flame retardants market is predicted to grow at an annual rate of 8% over the coming seven years.
Worldwide non-halogenated flame retardants industry is highly consolidated with leading four companies covering 30% of the global share. Stringent regulatory compliance with regard to product toxicity and ecological effects enforced by renowned environmental agencies like REACH and WEEE is likely to add a renewed dynamism to non-halogenated flame retardants market in the years ahead. Industry players have been increasingly investing in research activities to broaden the product portfolio. Some of the key participants include Nabaltec, BASF Albermarle, Israel Chemicals, Chemtura, Clariant, and Italmatch Chemicals, and Huber.
Author Name : Satarupa De