Polyoxymethylene Market growth
Over the recent years, the global polyoxymethylene market share has been flourishing on the cusp of rapidly expanding automobile and transportation industry. Owing to its exceptional dimensional stability, low friction rate, excellent rigidity, a high degree of yield strength and stiffness, polyoxymethylene is being widely utilized in manufacturing advanced lightweight materials for automobiles. Speaking in the similar context, the unprecedented upsurge in environmental and economic concerns in the current era have compelled the automotive industry to produce fuel-efficient and lightweight vehicles. Elaborating further, this semi-crystalline thermoplastic material has gradually acquired a dominant position in the range of high-performance plastics, which has, in turn, propelled the growth prospects of polyoxymethylene market. In fact, as per a study report collated by Global Market Insights, Inc., the overall polyoxymethylene (POM) industry is set to register a commendable CAGR of about 8.8 percent over 2017-2024.
U.S. polyoxymethylene market size, by grade, 2013 – 2024 (USD Million)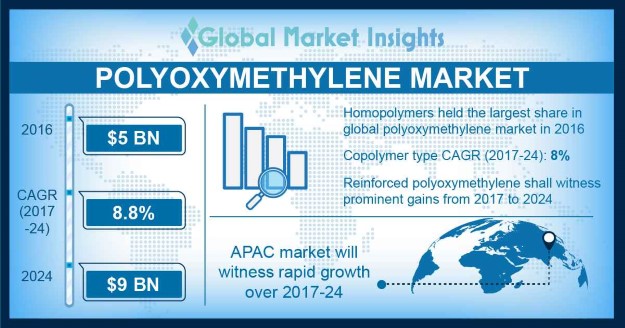 Concurrently, it would be prudent to mention that high-performance plastics have played a crucial role in lowering the weight of vehicles currently being manufactured by the global automotive sector. The significance of developing lightweight vehicles can be deciphered from the fact that a mere 10 percent reduction in vehicle weight culminates into almost 7 percent cut down in fuel usage, as per reliable estimates. Apparently, polyoxymethylene has been proved to be one such effective thermoplastic that has the potential to replace the vital metal components and parts in various applications-courtesy its striking features mentioned above. In addition to this, the recent boom being witnessed in automobile manufacturing has resulted in increased demand for polymers and engineered materials along the likes of POM. Subsequently, all these declarations clearly demonstrate the colossal commercialization prospects of the polyoxymethylene industry that are bound to materialize over the ensuing years.
Speaking on similar lines, the global POM market is fragmented into two prominent types namely copolymer polyoxymethylene and homopolymer polyoxymethylene. Out of these, homopolymer polyoxymethylene commanded the largest revenue share of the overall polyoxymethylene industry in the year 2016 and is anticipated to retain its dominant place in the forthcoming years. Commonly known as Delrin, this polyoxymethylene material is being chiefly deployed in manufacturing automotive parts owing to its superior room temperature tolerance and high tensile strength.
Get a Sample Copy of this Report:@ https://www.gminsights.com/request-sample/detail/1202
To cite an instance of the extensive efforts being undertaken by acclaimed POM market participants with regards to revamping the existing product range of homopolymers, DuPont and Regina have unveiled E-F.A.S.T. (ecological, friction abating sliding thermoplastic) in September 2017. Reports claim that the latest thermoplastic material has been strengthened with a new grade of DuPont's Delrin® acetal homopolymer, which is likely to favorably influence the environmental performance and productivity while minimizing the use of lubricants. Moreover, one of the key traits of DuPont's new homopolymer is its consistently low friction coefficient which assists automotive firms to design cost-efficient, eco-friendly, longer lifespan, and low maintenance auto components. Apparently, industry experts have been raving about this new homopolymer and have further stated that the launch of this homopolymer has been a major breakthrough of sorts in the overall POM market.
Additionally, the leading POM industry players are pooling expertise and resources to fortify their presence in this ever-evolving business space. Some of the other notable firms striving toward altering the POM market trends include Asahi Kasei Corporation, LG Chem, Mitsubishi Engineering Plastics Corporation, ChemChina, and A. Schulman Inc. In order to gain an edge over their competitors and expand their reach in myriad geographies, the aforementioned companies have also been involved in several R&D activities and collaborations, which would consequentially impel the polyoxymethylene industry size expansion.
The primary driving forces of POM industry are the swiftly progressing automotive sector and the growing involvement of firms in product innovation. Hence, it is quite obvious that the rapid pace of product penetration in myriad regions will further unlock lucrative growth opportunities for the stakeholders of this business space, eventually propelling the polyoxymethylene industry size over the forecast period. Apparently, it is undeniable that the overall POM market, which is projected to surpass a total valuation of USD 9 billion by 2024, is on its way to establishing itself as one of the most promising niche verticals of polymers and advanced materials industry.
Author Name : Saif Ali Bepari