Polyurethane
Highlighting the rapid developments across the global flexible foam market, it would be pivotal to state the mention the Germany-based global leader in flexible foams, Armacell. Apparently, the firm has recently opened its new manufacturing facility in Bahrain. According to news reports, the facility has an annual operational capacity of 60,000-cu m of technical insulation foam, in turn providing a wide range of insulation solution for the domestic market including elastomeric insulation & high-density materials for HVAC (heating, ventilation, and air conditioning) systems. Industry analysts deem that Armacell's move to open flexible foam manufacturing facility will not only cater to the strong product demand in the Gulf region, but will also strengthen its foothold in the global flexible foam industry space.
Asia Pacific flexible foam market, By Type, 2018 & 2025, (Million Tons)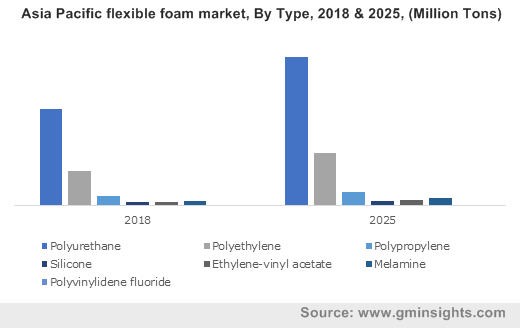 This German company, however, is not the only major flexible foam industry player that's seizing the growing product demand from myriad applications including packaging, construction, furniture & upholstery, bedding, pillows, carpet cushion, mattresses, consumer goods, and automotive interiors.  FRX Polymers Inc., recently for instance has introduced its Nofia non-halogenated polyphosphonates that will be used in UL 94 V-0 high-temp polyurethane flexible foams used in the transportation & electronic industries. For the record, Nofia phosphonate oligomers act as a flame retardant & heat stabilizer in polyurethane flexible foam products and retain mechanical performance.
A statement by FRX claims that the Nofia FR enabled the fire retardant polyurethane foam to conveniently handle higher temperatures – with respect to both, the continuous use temperature and peak temperature. FRX's launch of Nofia is an apt instance validating the significance of polyurethane as a vital type of flexible foam. The material apparently, is characterized by outstanding features such as light weight, lower installation time, enhanced resiliency, improved cushioning, lightweight, increased shelf life, and durability.
Get a Sample Copy of this Report @ https://www.gminsights.com/request-sample/detail/1735
Elaborating on the extensive deployment of polyurethane for introducing light weightiness in vehicles, it would be prudent to mention that high-density polyurethane foam components can be effectively coated to seem like the original product, and can be manufactured with a closed-cell structure that boasts of being water-tight. Ergo, the component is not susceptible to rotting, delaminating from water intrusion, or warping. PU foam is also equipped with exceptional self-skinning properties, making the product ready for painting or coating. This has consequently increased the deployment of PU foams in myriad automotive and aerospace applications, thereby driving the PU flexible foam market share.
Powered by its excellent characteristics, polyurethane foam is widely used across a spate of industry verticals. As a matter of fact, polyurethane dominated the overall flexible foam market in 2018, with a share of over 60% of the demand. Driven by its innumerable applications in lightweight automotive parts, as thermal insulation products in buildings, in automotive interior components, and as cushioning in beddings, upholstery, etc., polyurethane-based flexible foam industry is slated to traverse alongside a highly profitable growth path in the years ahead.
Speaking of the regional spectrum of flexible foam market, the APAC undeniably, has emerged as a forerunner, a feat that can be credited to the expanding automotive and consumer goods industries in the region. As a matter of fact, the continent boasts of increased expenditure on luxurious consumer goods coupled, thereby fueling the demand for memory foams in mattresses and beddings. The region's construction industry has also been undergoing a robust expansion of sorts, that has considerably increased the demand for flexible foams in the continent.
Powered by the expanding hospitality industry, specifically across the South-East Asian nations of Thailand, Singapore, Malaysia, Vietnam, and Indonesia, on account of supportive FDI policies, APAC flexible foam market share is anticipated to depict a commendable rise in the years ahead. Indeed, as per estimates, Asia Pacific led the overall flexible foam market share in 2018, accounting for more than 30% of the demand.
As the demand for flexible foams exhibit an incline across a slew of prominent industry verticals, the global flexible foam market is anticipated to gain quite some traction in the years ahead. The industry is also characterized by the launch of highly innovative products by numerous industry contenders. Say for instance, Deacom, Inc., the popular developer of a comprehensive ERP solution, recently concluded an implementation for an innovative PU foam chemical technology manufacturer, Foam Supplies, Inc., with Ecomate®, its patented blowing agent. The new system is expected to provide the technology foundation to manage Foam's production operations. Aided by a ferocious competitive spectrum and a widespread application landscape, the global flexible foam industry size is set to be pegged at USD 65 billion by 2025.
Author Name : Saipriya Iyer
3M, one of most renowned giants partaking in Marine Sealants Market share is reputed for consistently innovating new sealant systems for marine applications, pertaining to the vast expanse of shipbuilding activities across the globe. The multi-billion-dollar company recently formulated a new polishing compound designed to enhance surface glass fiber hulls. This innovation is a prime instance demonstrating the fact that the increasing introduction of advanced products in marine sealants industry is likely to help companies expand their consumer pool. Ship builders are known to use sealants and adhesives on a rather large scale, to increase the stability and performance of the ship amidst a harsh marine environment inclusive of salt water, high humidity, and strong UV radiations. Marine sealants also provide airtight and watertight seals between two surfaces by reducing use of metal fasteners, which aids the reduction of noise and vibration – a major factor that is likely to augment marine sealants market share. A research report compiled by Global Market Insights, Inc., in fact, claims marine sealants industry to have generated a revenue of USD 200 million in 2016.
U.S. Marine Sealants Market Size, By Material, 2016 & 2024 (Kilotons)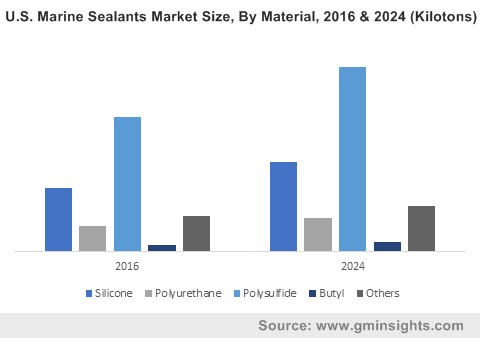 Marine sealants market players are bound to act in accordance with a strict regulatory framework that ensures the manufacture of highly efficient and superior quality products. Sealant manufacturers, it is observed, are consistently involved in the development of an advanced range of high quality products that suitably comply with industry standards. In addition, marine sealants industry has also been witnessing a slew of strategic partnerships with shipbuilders that would ensure the creation of a favorable growth path for this business space. The competitive hierarchy of marine sealants market is replete with notable biggies such as 3M, SABA, Henkel AG & Company, Bostik, Franklin International, H.B. Fuller, Dow Corning Corporation, Adshead Ratcliffe & Co Ltd., Illinois Tool Works, Sika, RPM International, and Avery Dennison.
Get a Sample Copy of this Report@ https://www.gminsights.com/request-sample/detail/375
Major geographies across the globe have been witnessing a robust increase in the number of shipbuilding factories, pertaining to the rapidly growing requirement of ships for commercial, defense, and general-purpose applications. Given that shipbuilders are increasingly seeking newer methodologies to enhance ship manufacturing and performance, the surging use of sealant and adhesive bonding methods for joint formation, sealing bulkhead, portholes, and trims is certain to massively influence marine sealants industry size. For the record, marine sealants market share from the shipbuilding sector was pegged at more than USD 140 million in 2016. Additionally, in a bid to promote tourism, government bodies and private companies have been looking out for reliable shipbuilding partners. Taking in account the growing demand for cruise ships and commercial fleets, the requirement of sealants is undeniably slated to escalate over the coming years – a factor that will dynamically stimulate marine sealants market trends. Speaking of tourism and the contribution of shipbuilding companies for the same, it is prudent to mention that recently, WIGHT Shipyard, a leading high-speed craft and aluminum ship builder in Europe, has won an order to manufacture a 21-meter passenger catamaran for promoting Scottish tourism.
The September of 2017 witnessed the British Parliament announcing a new National Shipbuilding Strategy to expand the marine industry in England. Through this strategy, it intends to procure 31e General Purpose Frigates, each costing lesser than USD 300 million. The shipbuilding operations are expected to be carried out at multiple shipyards. This designing approach of the British government to maximize exports is likely to have a marginal impact on Europe marine sealants industry size.
Government contributions toward marine sealants industry is not limited only to the UK, even the Indian government has been investing heavily to enhance the nation's marine infrastructure. Recently, a delegation from Ukraine met the Secretary, Ministry of Shipping in New Delhi, India, with an aim to discuss the possibilities of partnering with the country for potential shipbuilding projects. This is evidence enough to state that the shifting focusing of countries across the globe toward shipbuilding will lucratively impact the growth of marine sealants market.
Author Name : Sunil Hebbalkar
Hot Melt Adhesives (HMA) Market
is gaining considerable traction with growing need for high standard performance adhesives across various industries. HMA also known as hot glue, is a form of thermoplastic adhesive that provides optimal hold & superior manufacturing flexibility. In industrial applications, HMA provide several advantages over waterborne or solvent based adhesives. Some of the expectational benefits offered by HMA including longer shelf life, quick drying, increase throughput in production, and easy disposal have significantly driven the product demand. As of 2015, HMA industry stood at USD 5.5 billion and is projected to surpass USD 10 billion by 2024.
According to Global Market Insights, Inc., the global hot melt adhesives market is foreseen to record an annual growth rate of more than 6% over the period of 2016-2024.
U.S. Hot Melt Adhesives Market Share, By Application, 2015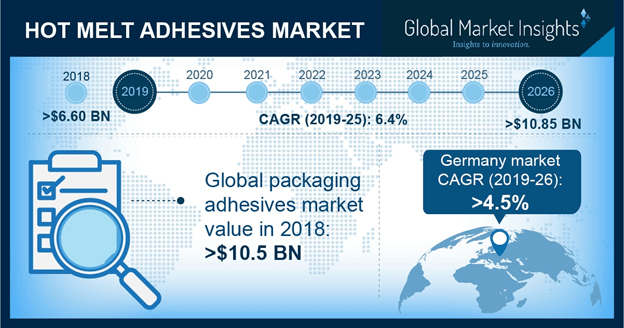 Hot melt adhesives market will continue to expand at a rapid pace, as these adhesives address the ever-growing environmental concerns. The usage of HMA are favored by regulatory bodies as they are categorized as eco-friendly, VOC free, and safe thermoplastics suitable for storage, transportation, and production. The global hot melt adhesives industry is gaining high prominence in North America and Europe, as the product usage has received a green signal from the regulatory bodies such as REACH and EPA. With almost all the industries seeking more smart and competent solutions to manufacture and package goods, boost line speed, and reduce operational time, the HMA industry is witnessing a plethora of application scopes across myriad industries.
Get a Sample Copy of this Report @ https://www.gminsights.com/request-sample/detail/263
Packaging represents a major end-use market for hot melt adhesives. Hot melt adhesives market share from the packaging application is expected to exceed USD 3 billion by 2024 and attain a CAGR of 5.5% over 2016-2024. The hot glues based with styrene block copolymer and amorphous poly-alpha olefins are widely used in hygiene products including adult incontinence, baby diapers, and female hygiene products. Hot melt adhesives industry size from disposable applications is projected to surpass a valuation of USD 1.6 million by 2024.  Apart from this, HMA also finds usage in footwear, furniture, textiles, automobiles, and pressure sensitive products.
APAC represents​ one of the fastest growing market for HMA. India and China are the prominent growth avenues in Asia Pacific, supported by robust infrastructure development and aggressive investments in the manufacturing sector. China hot melt adhesives industry share has witnessed a substantial raise, owing to strong demand from the furniture and the construction industry. This wide application scope has also stimulated the polyamide, EVA, and PUR based products. The EVA hot melt adhesives market is projected to generate revenue over USD 3.5 billion by 2024. Amorphous poly-alpha-olefin and EVA are two main product segments which are mainly used in automobile, paper industry, and woodworking applications. Amorphous poly-alpha-olefin hot melt adhesives industry is estimated to record a CAGR of 5% over 2016-2024. APAOs are used for repairing motorcycles, marine crafts, trucks, and cars on account of high resistance to moisture, chemical inertness, and UV protection.
Europe, led by Germany hot melt adhesives market, is expected to record highest gains at an annual growth rate of 4.5% over 2016-2024. Escalating automotive industry, packaging, electronics, and textile industries in the region has provided a positive outlook for regional hot melt adhesives industry to flourish. Moreover, stringent regulation by EPA and REACH pertaining  to the use of bio-based products has fueled HMA market growth.
Globally, hot melt adhesives industry is quite consolidated in nature with companies such as Dow Chemical, 3M Company, Avery Dennison, Henkel, Sika AG, and H.B. Fuller accumulating significant industry share.
Author Name : Ojaswita Kutepatil
Adhesives and sealants market is projected to surpass USD 40 billion and USD 9.5 billion from 2015 to 2023, respectively. Global Market Insights Inc. has published a new study based report on Adhesives and Sealants industry. The report talks about the market in terms of definition, classification, estimations in terms of value and volume. It features the current and future forecasts as per the parallel industrial and financial outlook. Furthermore, it covers current events and trends of leading global companies including important developments, mergers and acquisitions, partnerships and agreements, investments and expansions, etc. It also discusses about the key aspects like drivers, impediments, opportunities and challenges that influence the market.
View a summary of the "Adhesives and Sealants Market Size, Industry Analysis Report" @ https://www.gminsights.com/industry-analysis/adhesives-and-sealants-market-report
The need of higher performance characteristics has lead the adhesives market gradually to shift from the conventional solvent based adhesives towards the application of superior -performance products including pressure sensitive and reactive hot melts adhesives. This gradual and steady shift in segment is furthering the overall demand growth of hot melt adhesives. Waterborne adhesive market size is estimated to dominate the technology segment in adhesives and sealants market during the forecast period.
Growth in automobile production, infrastructure development is likely to have a positive impact on the demand growth. Growing use of polymer and plastic in light weight automobiles to improve efficiency is anticipated to impel market size, with expected growth of 4.9% and 5.9% during the expected timeframe.
Get a Free Sample Copy of this Report @ https://www.gminsights.com/request-sample/detail/372 
The report also covers the in-depth analysis of the industry segmented on the basis of key regions. Advent of technology focused on sustainable and smart products is driving demand for sealants in various regions including Europe and North America attributed to various innovations including reduced cure time, superior performance benefits including resistance to gas and chemicals, improved seals, superior adhesion to a range of substrates, etc. Escalation in construction expenses in Indonesia, China and India is poised to boost demand. European silicone sealants market demand is forecast to observe a substantial growth in next few years.
The key participants in the adhesives and sealants industry are analyzed thoroughly in the report. It features competitive scenario of the industry with company profiles, trends, business strategies, financial metrics, etc. top players include Dow Chemical, Henkel, 3M, and HB Fuller. Sika AG, Avery Dennison, Ashland, Eastman Chemical, Uniseal, Bostik, and N.D Industries are a few other important players in the industry.
Author Name : Dhananjay Punekar