Portable Oxygen Concentrators Market
Homecare oxygen concentrators market is witnessing a significant upsurge, driven by the rising number of chronic obstructive pulmonary disease (COPD) patients across the globe. A considerable increase in the number of cigarette smokers and rising exposure to pollution and dust will increase the prevalence of COPD among people. Moreover, the geriatric population is more susceptible to respiratory diseases such as asthma, pulmonary hypertension, fibrosis and are likely to push the growth of homecare oxygen concentrators industry over the years. According to Global Market Insights, Inc., Homecare Oxygen Concentrators Market is projected to witness a CAGR of 12% over the period of 2016-2023 with a revenue target of USD 1.5 billion by 2023.
Product innovation in this market is likely to gain considerable traction with the growing demand for flow technology. Portable oxygen concentrators, liquid oxygen, compressed gas oxygen cylinders are the three trending homecare oxygen concentrators product segments. Compressed gas oxygen cylinder is estimated to generate a revenue of over USD 57 million by 2023, owing to its availability in varied sizes based on the oxygen level requirements. However, the explosion risks associated with these devices coupled with their heavy weight may impede the device market expansion over the coming years.
Germany Homecare Oxygen Concentrators Market size, by product, 2012-2023 (USD Million)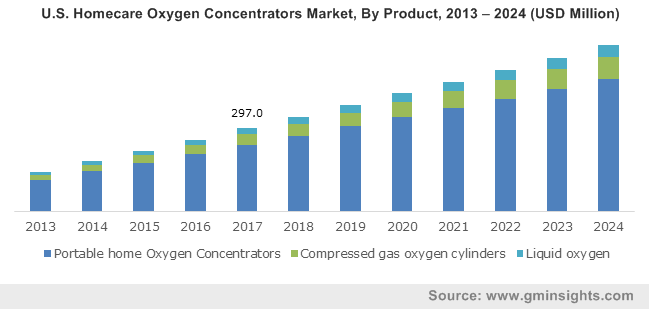 Combating the disadvantages such as heavyweight and complex designs, portable homecare oxygen concentrators are witnessing an appreciable adoption rate. Portable homecare oxygen concentrators industry held a major share of over 75% of the global product landscape, and is projected to register a CAGR of 10% over the period of 2016-2023. The compact size of this device and light weight are the complementing factors attracting major revenue for this market.
Get a Sample Copy of this Report @ https://www.gminsights.com/request-sample/detail/1205
U.S. almost covered 88% of North America's homecare oxygen concentrators industry share in 2015 and is slated to attain stupendous growth over the years ahead. Increasing incidence of pulmonary diseases, especially across the elderly population is driving the demand for home health care, which in turn is providing ample opportunities to the regional market. Additionally, favorable insurance policies which cover a large portion of device cost is further acting as a catalyst for the growth trajectory path of the homecare oxygen concentrators market.Huge geriatric base, upgraded living standards, and technologically advanced healthcare infrastructure are the key factors behind the rapid expansion of the APAC homecare oxygen concentrators market. China, India, and Japan are expected to be the major revenue pockets of the regional market.
Japan homecare oxygen concentrators industry generated a revenue of USD 52 million in 2015 and is estimated to cross over USD 138 million by 2023. With strategic collaborations and continuous product upgradation, Asia Pacific market is poised to record maximum growth rate in the coming time frame.
Germany dominated the Europe homecare oxygen concentrators market in 2015, accounting for almost 31% of the regional revenue with a market value of USD 54 million. In the coming time frame too, this country is estimated to experience a striking growth curve at a CAGR of 10% over 2016-2023. Sheer consumer demand for upgraded health care services along with a good number of market players' availability is stimulating the business expansion in this region.
Continuous efforts on improving the product portfolio and mergers & acquisitions are the major strategies adopted by the industry players to sustain their market position. Some of the prominent players of homecare oxygen concentrators market include Teijen, Covidien, Invacare, Precision Medical, and AirSep.
Author Name :Ojaswita Kutepatil
Advancements in healthcare system along with a strong desire to maintain good health will positively influence medical oxygen concentrators market outlook. The medical expenditure is observing a significant upsurge, one of the several reasons being the elderly population suffering from acute respiratory disorders. As per the UN report, aging population is expected to reach over 2 billion by 2050. The increasing geriatric population base is estimated to be a prime factor driving the medical oxygen concentrators industry trends over the coming years. As per Global Market Insights, Inc., "Medical oxygen concentrators market size is expected to hit USD 2.3 billion by 2023." Moreover, favorable medical insurance as well as reimbursement policies are expected to offer lucrative avenues for the global industry landscape.
U.S. Medical Oxygen Concentrators Market Size, by Product, 2012 – 2023 (USD Mn)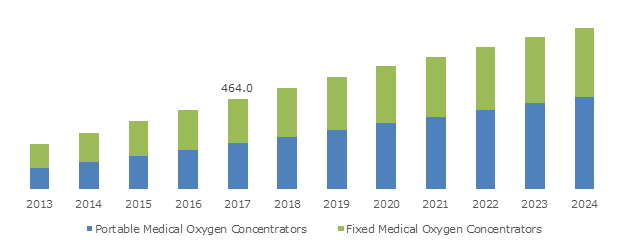 Portable and fixed medical oxygen concentrators are the two major product segments of the medical oxygen concentrators market. High popularity of lightweight and user friendly concentrators is expected to enhance portable medical oxygen concentrators market value over the coming six years. Furthermore, its prominent use across shopping malls, airports, and offices is projected to fuel the product demand. Favorable government initiatives encouraging the use of FAA (Federal Aviation Administration) compliant portable medical oxygen concentrators in aircraft is further expected to propel the portable medical oxygen concentrators industry growth over the period of 2016-2023.
Get a Sample Copy of this Report:@https://www.gminsights.com/request-sample/detail/449
Fixed medical oxygen concentrators industry, which made significant contributions towards the overall revenue in 2015, is expected to witness a noticeable growth over the next few years, driven by the rapid increase in the aging population susceptible to respiratory disorders.
Medical oxygen concentrators find wide applications in home care and non- home care sectors. Medical oxygen concentrators market is predicted to observe a lucrative growth in the home care sector over the coming six years. Increase in the number of severely affected COPD patients requiring oxygen therapy at home along with the affordability and efficiency of this system will propel the medical oxygen concentrators industry size in home care sector.
High demand for medical oxygen concentrations in non-home care sector due to rising elderly population base susceptible to the occurrence of chronic ailments such as asthma, respiratory ailments, lung disorders, and COPD is expected to push the industry revenue.
On account of the global trends, North America medical oxygen concentrators market, which contributed over 40% towards the overall revenue, is expected to grow significantly over the coming timeframe, driven by factors such as the high occurrence of respiratory ailments, beneficial reimbursement norms, and growing product demand across the home healthcare sector. Furthermore, the high occurrence of COPD due to irregular life patterns is expected to drive the regional growth. U.S. is forecast to be a key regional revenue contributor.
APAC medical oxygen concentrators industry will also observe significant growth over the coming years, owing to the high living standards, rapidly increasing older population base, and better healthcare facilities. China and India are anticipated to be the major regional revenue pockets.
Latin America medical oxygen concentrators market is slated to register a high growth over the next few years, driven by factors such as high investments in healthcare infrastructural expansion, rising awareness among the patients about early diagnosis, and growing popularity of portable medical oxygen concentrators. Brazil is expected to make significant contributions towards the regional share.
Heavy demand for medical oxygen concentrators in Europe, owing to inadequacy of pure oxygen supply accompanied by introduction of beneficial compensation policies by the government will drive the regional growth.UK and Germany are estimated to be the key growth drivers of the region.
Key industry participants include Advanced Technocracy Incorporation, Teijen, O2 Concepts, Philips Respironics, AirSep, Goodhealth Incorporation, DeVilbiss Healthcare, and Covidien Limited.
Author Name : Dhananjay Punekar