Powder
The global fluorinated ethylene propylene market is slated to experience immense growth prospects in the coming years owing to the product's extensive use across the automotive, electronics, food & beverage, and medical industries. In the automotive sector, FEPs are widely used in compact and small-sized cars, in the tubing, bellows, and pressure hoses. The increasing shift among car buyers from sedans to more compact cars, especially in emerging economies will thus propel the growth of FEP industry.
U.S. Granules Fluorinated Ethylene Propylene (FEP) Market Size, 2018 & 2025, (Kilo Tons)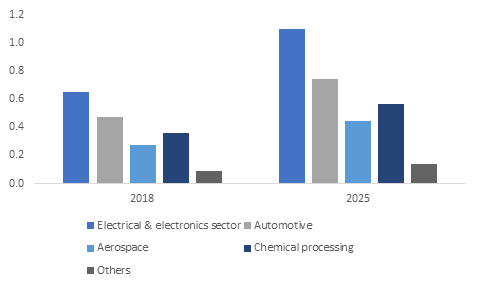 Small cars are also the most affordable vehicles to get on to the road and are easy to park as they don't take up much space. For a middle-class family in emerging nations, a compact car facilitates savings since they are more fuel-efficient compared to sedans and SUVs. Hatchbacks also serve as the best option, in terms of passenger and driver safety with advanced collision control at affordable prices. In 2018, car manufacturers in India invested heavily on small cars to enhance sales records in smaller parts of the country.
For instance, Hyundai, relaunched its most loved hatchback Santro to appeal to Tier 1 and 2 cities where per capita vehicle ownership is still significantly small. Therefore, increasing demand for small vehicles from emerging and low-to-middle income nations will boost the global FEP market outlook.
Growing product demand for automotive ball bearings, paints, and adhesives, and sealants from the construction sector will also help the global FEP market gain traction in the coming years. Latest data from The Bureau of Labor Statistics and Timetric's Construction Intelligence Center, estimates the construction industry to grow at a modest rate over the next several years. Industry professionals further predict one of the largest increase in real output for the construction space, with the business hitting the trillion-dollar remuneration space by 2020. This would remarkably surge the need for adhesives and sealants, driving FEP industry share.
Get a Sample Copy of this Report:@ https://www.gminsights.com/request-sample/detail/3263
Construction of residential housing will witness growth in the years to come owing to the rising population in the United States. Government spending to support homeownership, housing developments and a sustainable community in a bid to provide access to affordable housing will further increase the demand for construction projects. The development in the construction industry will massively boost the demand for paints, adhesives, and sealants, which will eventually drive the fluorinated ethylene propylene market in the coming years.
Fluorinated ethylene propylene tubing is a robust engineering fluoropolymer which offers excellent fluid visibility, low-temperature resistance, and low coefficient of friction and is perfect for flow control monitoring. Hence, the product finds significant use in chemical processing applications as well as the petroleum and oil & gas industry.
For instance, the Indian government has come out with new policy reforms, which makes drastic changes in the country's Hydrocarbon Exploration Licensing Policy and the Open Acreage Licensing Policy in a bid to garner more domestic and foreign investment for exploration of oil and gas, which if successfully implemented could drive the demand for FEP tubes. According to a report by Global Market Insights, Inc., FEP tubes market from chemical processing application is estimated to register more than 6% over 2019-2025.
These materials are also commonly used in solar panel applications. Fluorinated ethylene propylene films serve as the perfect protective front sheet for solar panels due to their smooth, flexible and light-weight features. The material also makes sheets stronger, thereby improving the durability and life span of solar panels, while enhancing its looks as compared to traditional glass. The adoption of these glasses will be fueled by growing energy consumption and issues concerning energy-efficiency.
Increasing efforts to generate energy from renewable sources, stringent government regulations and the benefits pertaining to efficient energy use and affordability of solar panels will further propel the solar power industry. Recently, in an effort to become America's leading rooftop solar company, automotive and energy giant Tesla, slashed prices of solar panels. Such moves will accelerate the adoption of solar energy, which will boost the demand for FEP films, thereby driving the global FEP market growth over 2019-2025.
Fluorinated ethylene propylene will continue to attract huge demand from numerous industries owing to its vast benefits. According to Global Market Insights, Inc., the fluorinated ethylene propylene market valuation is anticipated to reach $1.2 billion by 2025.
Author Name : Krithika Krishnan
The expansive consumer spending has encouraged rapid industrialization around the world, fueling the sodium hydrosulfide market size, with increased manufacturing activities giving rise to environmental concerns. Sodium hydrogen sulfide, chemically known as NaHS, has been found to be critical in treating industrial waste and is utilized for effective wastewater treatment to remove heavy metal contamination. Important uses in the leather tanning, chemical processing and mining sectors have been driving the sodium hydrosulfide market growth for many years. However, it is expected that industrial cleaning and waste management would be a considerable revenue source in the near future, owing to the escalating need to prevent river and soil pollution.
U.S. Sodium Hydrosulfide Market Size, By Application, 2017 & 2024, (Kilo Tons)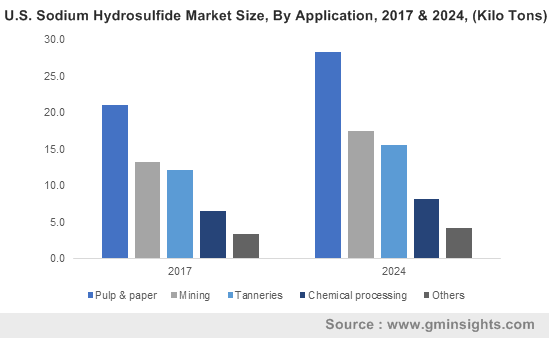 Individual heavy metals like nickel or chromium can be released from wastewater through precipitation process, an application that has transformed the sodium hydrosulfide industry tremendously. NaHS has gradually earned the position of an affordable alternative for water treatment in metal, glass, printing and ceramic industries. These industries generate large amounts of waste and if it reaches nearby lands or water bodies, it could end up polluting the ecosystem. As companies will look to adopt efficient treatment systems for managing their waste, with environmental agencies imposing stringent rules, the sodium hydrosulfide market is expected to garner immense momentum going forward.
In essence, meeting regulatory requirements and enhancing the overall community health can be a major driver for the sodium hydrosulfide industry. Asia-Pacific (APAC), in particular, would be needing a greater number of industrial and sewage waste treatment solutions over the next few years, as the region is immensely populated and promises to exhibit an incredible industrialization rate. It is estimated that over 2 billion people would be added to the world population before 2050, with a majority people living in APAC and creating enormous demand for food, consumables and automobiles.
Get a Sample Copy of this Report:@ https://www.gminsights.com/request-sample/detail/3004
A key source of heavy metal contamination in industrial waste is the automobile and associated segments such as glass and battery. Flat glass is commonly utilized across the automotive and construction industries as it can be easily adapted to doors, windows, mirrors, among other parts. Apparently, glass manufacturing and processing requires high purity water and various types of wastewater is generated from mirror production, polishing plants, and other areas. This waste mostly contains several pollutants, including heavy metals, indicating the need for water treatment and a lucrative potential for the APAC sodium hydrosulfide market.
Reports predict that by 2025, construction sector would be one of the biggest contributors to the global industrial output, accounting for nearly 13.5% share. China, India and Indonesia would be among the top seven countries in the world that will be responsible for up to 72% of the projected growth, underscoring the massive opportunities in APAC over the forecast period.  The region will also witness growing automobile production, a segment which also entails the progress of the glass production industry. Subsequently, the sodium hydrosulfide industry will take advantage of the mounting demand for glass and other products that release hazardous wastewater during production.
Worldwide, the speedy recovery of the chemical sector and the rising exports of specialty chemicals has also bolstered the sodium hydrosulfide industry, as NaHS is extensively used for chemical processing by manufacturers. APAC is a well-known chemicals market and China is the main driver of chemicals demand around the globe. In 2016, China had also exported chemicals worth more than USD 54.29 billion, demonstrating its prowess the critical segment, establishing itself as a viable target for the sodium hydrosulfide market.
On the whole, the accelerated growth of chemical, automobile and construction industries in APAC region will certainly propel the use of NaHS across the application spectrum, supported by the consistent demand for metals, paper and leather goods world over. Comprising key industry participants like AkzoNobel, Cayman, Genesis Energy, Henan Tianshui Chemical, Merck, Solvay and TCI Chemical, the sodium hydrosulfide market revenue is anticipated to surpass USD 350 million globally by 2024.
Author Name : Pankaj Singh
Sodium silicate market, an inherent vertical of the specialty chemicals space, has already established its name in the billion-dollar league, owing to the extensive demand of the chemical compound across myriad end-use domains. Pertaining to the product's low cost and ease of use, it has been deployed as a detergent, adhesive, cleaning compound, cement ingredient, binder, coagulating agent, and anticorrosive agent in numerous sectors, propelling sodium silicate market size. Indeed, the compound's widespread and almost all-encompassing presence has facilitated sodium silicate industry to maintain a steady growth graph. The compound is also used as a catalyst, thus generating another profitable growth avenue for sodium silicate market. With continuous research and development programs being conducted to expand the area of application of the compound, it is certain that sodium silicate industry will continue to uphold its profitable position over 2017-2024.Detergents are one of the prime application arenas of sodium silicate industry since decades. This chemical compound is rather to incorporate into the detergent paste and helps in maintaining the viscosity and desired density of the detergent. The product is highly effective in removing spots, neutralizing acidic stains, dispersing proteins and suspending greasy particles in the wash liquid, thus impelling sodium silicate industry size from the detergent manufacturing sector.
U.S. Sodium Silicate Market Size, by Application, 2013 – 2024 (USD Million)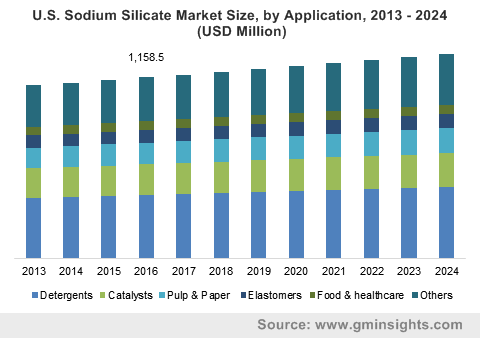 It has been observed that among the varied uses of sodium silicate, the compound is known to efficiently function as a good adhesive. The subsequent deployment of this product as an adhesive has led to a major impetus in the growth graph of sodium silicate market. Sodium silicate adhesives have the inherent ability to easily expand and make contact, forming a rigid layer that is permanent, resistant to tears, and even possesses the capacity to withstand water and heat. The compatibility of sodium silicate adhesives on a varied range of substances like paper, metal and wood besides other materials, has spurred the sodium silicate market share further.
Get a Sample Copy of this Report:@ https://www.gminsights.com/request-sample/detail/2396
Of late, sodium silicate has found extensive application as an effective catalyst for the synthesis of biodiesels that have gained popularity as a sustainable fuel. Currently, amidst the backdrop of a scenario where the lookout for alternative fuel sources has become a race against time, manufacturing biodiesels through the transesterification of organic materials has become rather commonplace. In a bid to simplify the process, sodium silicate is used as an effective catalyst, thereby stimulating sodium silicate industry outlook. The ease of procuring the chemical compound has reinforced its position as a catalyst in the transesterification process. As biodiesels will continue to attain increased application in energy generation and alternative fuel source, sodium silicate market trends will continue to witness a dynamic transformation in the ensuing years.
Sodium silicate is used widely in other application domains such as water treatment, casting, coating, textiles, agglomeration, chemical injection, paper treatment and more. In consequence, this would prove to be a rather beneficial for the commercialization graph of sodium silicate market over the next few years. With numerous chemical companies working toward expanding the application scope of this compound, in addition to innumerable research & development programs being conducted to unearth further prospective product uses, sodium silicate market has been forecast to garner commendable profits over 2017-2024.
Author Name : Paroma Bhattacharya
The rising requirement to maintain workplace & household cleanliness will stimulate sodium lauryl sulfate (SLS) market, pertaining to the fact that SLS is one of the main constituents of various detergents and cleaners. Of late, there has been a growing concern among consumers regarding environmental cleanliness and a healthy livelihood, which will undeniably enhance the product demand. Regional governments have also been undertaking initiatives regarding the same and have deployed strict regulations to maintain cleanliness, thereby propelling sodium lauryl sulfate industry share. The increasing requirement of household detergents and cleaners in various sectors is also slated to create lucrative opportunities for SLS industry giants.
China Sodium Lauryl Sulfate (SLS) Market size, by application, 2013 – 2024 (USD Million)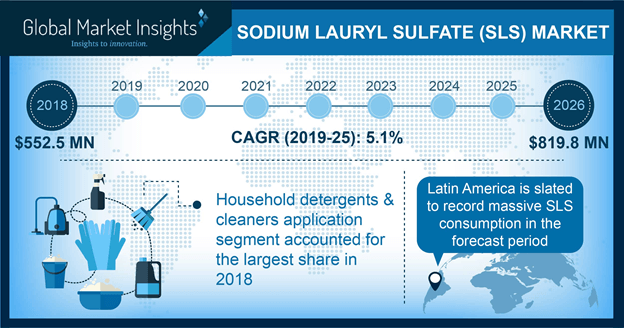 According to Global Market Insights, Inc. "Worldwide Sodium Lauryl Sulfate (SLS) Market, having had a revenue of USD 450 million in 2015, will generate a significant valuation by 2024, growing at a CAGR of more than 5% over 2016-2024." Emerging nations across the globe are fueling the requirement for personal care products and detergents on a large scale subject to the improving purchase parity of consumers. This factor will also impel Asia Pacific sodium lauryl sulfate industry size, which was worth more than USD 100 million in 2015. This regional business is anticipated to generate significant revenue by 2024, with an annual growth rate of 5% over 2016-2024, owing to the implementation of strict norms to maintain cleanliness and hygiene.
Get a Sample Copy of this Report@ https://www.gminsights.com/request-sample/detail/1396
Escalating commercialization of hair care and dermal products across the world will stimulate the demand for personal care products noticeably. Consumers have been giving preference to personal care products such as soaps, scrubs, shampoos, facial creams, bath bombs, which will augment SLS industry growth, owing to the fact that SLS is primarily used in various personal care products. As per estimates, sodium lauryl sulfate market share from personal care applications generated a revenue of USD 90 billion in 2015 and will register considerable annual growth rate over the coming timeframe. Moreover, growing consciousness among the people about their personal health and hygiene will influence the market share positively.
North America sodium lauryl sulfate market, with U.S. at the helm, covered over 15% of the business share in 2015 and will collect considerable revenue by 2024. The expanding personal care products and detergents sectors will stimulate the industry size. Shifting trends toward the usage of organic personal care products will also influence the regional SLS market share, and the U.S. is undoubtedly slated to be the major revenue pocket. It has been observed that industry giants prefer to manufacture liquid products rather dry products, due to the high miscibility factor of the former coupled with its cost-effectiveness. On that note, sodium lauryl sulfate industry size from liquid forms was valued at USD 200 million in 2015, and is slated to collect a revenue of more than USD 350 million by the end of 2024. The growth can be attributed to the prominent use of liquid products in personal care and detergents applications.
The noteworthy players in sodium lauryl sulfate (SLS) market are Huntsman Corporation, Dow Chemical Company, Sasol, BASF SE, Oxiteno, Solvay S.A., Galaxy Surfactants, Xiamen Ditai Chemicals Co. Ltd., Croda International, Godrej Industries, Taiwan NJC Corp., Stepan Company, Miwon Commercial Co. Ltd., Clariant Corp., Kao Corporation, and Melan Chemical Co., Limited.
Author Name : Sunil Hebbalkar