Power over Ethernet Solutions Market
The global PoE solutions market share is on the rise, a trend that is expected to continue over 2019-2025. PoE solutions industry outlook will be augmented by widespread adoption of VoIP solutions, IP cameras, smart office buildings, access control systems etc. PoE solutions are estimated to make huge strides in various sectors owing to the new wave of technology and digital advancements that are transforming security operations.
APAC Power over Ethernet (PoE) Solutions Market Share, By Region, 2018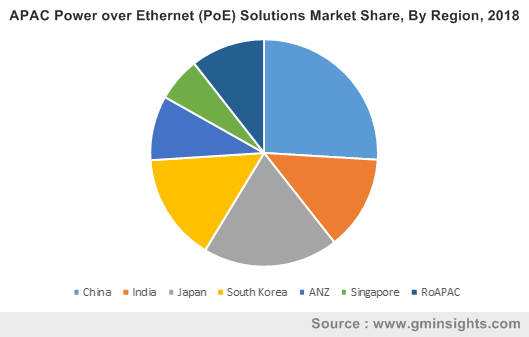 The healthcare ecosystem is increasingly coming to include smart technologies that will significantly contribute to Power over Ethernet solutions market growth in the forecast years. For instance, use of IP cameras in the hospitals and healthcare facilities is anticipated to become ubiquitous in the times to come. Hospitals have started deploying IP cameras to monitor when a patient sits up in bed, gets out of bed, or is tossing and turning in a restless effort to get to sleep. These cameras have enhanced patient care to a greater extent. Use of IP cameras has been growing in hospitals to observe high risk patients efficiently. Adoption of IP cameras will in turn augment PoE solutions market outlook in the coming years.
Another utilitarian device which will supplement growth of PoE solutions industry is increasing use of VoIP phones. By deploying VoIP phones, enterprises have been incessantly improving communication and collaborations among employees and remote users to increase business productivity. Leveraging the benefits of converged voice and data services, companies have enhanced their performance and communication. The convergence of unified communication services and enterprise VoIP to enable video-conferencing, live-chat, and other calling capabilities is expected to fuel VoIP market size and invariably expand PoE solutions industry trends.
Get a Sample Copy of this Report:@ https://www.gminsights.com/request-sample/detail/3346
Several technology companies have been toiling to develop PoE solutions and devices to support innovation. For instance, IP-COM has reportedly rolled out the G3210P, an 8-Port gigabit PoE switch with 2-Port SFP. The G3210P has been designed independently to satisfy the need of building a high-performance Gigabit Ethernet network. It can source electricity to high-power PDs and also can transmit data and supply electricity at the same time to IP Phone or IP Camera, AP via Cat.5e twisted-pair cables. Companies launching such devices in the market will remarkably contribute to foster PoE industry share by 2025.
Proliferation of Internet of Things (IoT) is among major drivers that will lead to PoE solutions market size expansion in the coming years. Adoption of IoT among enterprises has increased rapidly to support advancements in business infrastructure. Around 85 percent of organizations who acquire deep expertise with IoT have succeeded in propelling revenue share faster than rivals.
Nearly 68% of enterprises are using IoT to track security of physical assets, making this use case the most common across enterprises today. Approximately, 34% of global businesses are using IoT in daily operations, up from 29% in 2018, with 95% of IoT adopters already recording appreciable benefits. Rapid deployment of IoT among organizations is going to considerably increase PoE solutions market share as PoE has the potential to power the network ecosystem of the future that will enable global digital transformation.
Businesses have also increased focus on infrastructure security to protect sensitive data. Office spaces these days are being equipped with various security systems that require considerable investments. For instance, Euromicron AG has reportedly secured the contract for a major building technology project worth €3.6 million. The building will be completely equipped with access control. Transponder readers will be installed at all entrances and doors on floors, at the entrances to stairways, in the underground car park and basement, and at the doors to the IT technical rooms. PoE solutions industry outlook will be positively influenced by the rising deployment of security and access control systems throughout technologically advanced office spaces.
Smart lighting is yet another feature that is being widely integrated into the smart buildings of tomorrow. Typically, lighting is responsible for 40 percent of a building's electricity use. To develop smart office spaces with minimal electricity use, smart lighting industry players have been striving to adopt various strategies.
For instance, in the year 2015, Philips and Cisco had announced a global strategic alliance to create new value in energy savings, building efficiency and employee productivity by promoting connected lighting system. Both the companies had intended to deliver a consistent PoE-powered LED lighting solution utilizing a highly secure IT network. Close to 80% in energy savings and decreased building maintenance expenses can be achieved by operating, integrating and regulating a Philips LED connected lighting system via a network with Cisco. Instances of such efforts are in plenty and are anticipated to propel Power over Ethernet solutions market share.
Significantly, commercial sector has contributed to a market share of nearly 30% to PoE solutions industry in 2018 and the trend of integrating smart solution will help to maintain similar growth patterns over 2019-2025.
With growing adoption of smart solutions in office and commercial space, PoE solutions will be much in demand for enabling these smart solutions. Global Market Insights, Inc., has estimated that global PoE solutions market share is anticipated to exceed $2 billion by 2025.
Author Name : Anchal Solanki