Powertrain
The global automotive communication technology market has lately been emerging as a highly pivotal vertical of the overall automotive space, primarily owing to the robust innovations pertaining to automotive electronics. Incidentally, post the introduction of electronic control units (ECUs) in the automotive industry, vehicles had begun to come equipped with numerous wires, circuits with enormous dedicated wiring, which led to complex, bulky and expensive wiring equipment. However, with the deployment of noteworthy advancements, the technologies used in automobiles have transformed drastically, paving the way for the expansion of automotive communication technology industry.
Latin America Automotive Communication Technology Market Revenue, By Bus Module, 2017 & 2024 (USD Billion)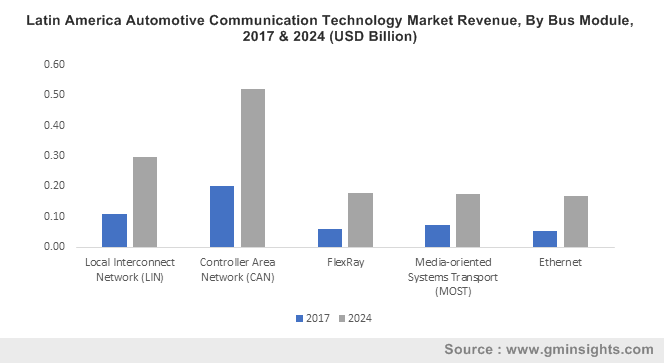 Some of the recent tech-based inventions in the auto space include anti-lock brakes, telematics, infotainment capabilities and automatic transmission, that are revolutionizing the automotive industry, further encouraging automotive communication technology market players. One of the most important factors that will drive the automotive communication technology market growth is the stringent regulatory landscape established by regional governments regarding safety standards. Automotive systems aligned with these regulations include blind spot detection, lane chase assist and adaptive cruise control, that are being incorporated by manufacturers in order to adhere to regulatory standards, that would further serve to impel automotive communication technology industry. A gist of the contribution of prominent vendors has been enumerated below:
Qualcomm Technologies
According to statistics, about 95% of automobile fatalities are caused by driver distractions. If all the cars could communicate their status with each other, automotive systems would ideally be able to alert the driver and respond on its own preventing any kind of collision. Having considered the plausibility, the California based chip maker Qualcomm Technologies had announced 9150 C-V2X cellular vehicle-to-everything (V2X) chip last year. This chip was able to send and receive information directly from the cars nearby about sudden braking, slippery roads, speed, signal and more.
Get a Sample Copy of this Report:@ https://www.gminsights.com/request-sample/detail/3008
The vehicle-to-everything (V2X) communicates directly with nearby cars, which includes vehicle-to-infrastructure (V2I), vehicle-to-pedestrian (V2P) and vehicle-to-vehicle (V2V). Qualcomm's product launch bears testimony to the fact that vehicles integrated with advanced technologies are likely to reduce automobile fatalities, which would further encourage automotive communication technology market players to work on their existing product portfolios.
Infineon Technologies
It is rather overt that advancements in automotive technology, such as ECUs sharing information and cars equipped with the ability of communicating with each other and the cloud, would raise the possibility of car-hacking. The threat of hackers invading any vehicle via a single ECU, and then taking control over the vehicle or stealing personal information is expected to be a crucial issue in the years to come. To tackle such issues, the second-largest Germany-based manufacturer of automotive chips, Infineon Technologies, introduced its trusted platform module (TPM) which is targeted at automotive ECUs. The Optiga TPM microcontroller would assist manufacturers in detecting manipulated software or faulty components running inside the vehicle.
Such efforts taken for increasing safety of the automotive systems would further drive their adoption paving way for the expansion of the automotive communication technology market. As of now, the circuit manufacturers are trying to make the infotainment systems more flexible to transport packet, stream and control content. Implementations that already exist are either complicated and costly, or quite limited in bandwidth with packet data capabilities for supporting internetworking requirements and system updates.
Microchip Technology Inc.
Owing to the aforementioned glitch, the leading provider of microcontrollers and circuits, Microchip Technology Inc., has recently launched an efficient automotive infotainment networking technology called 'Intelligent Network Interface Controller networking (INICnet) technology'. It is a scalable, synchronous solution which largely simplifies building audio and infotainment systems. Utilization of such features in the vehicles enhances the infotainment systems and their features as well as increases its demand.
To tap into this segment, a subsidiary company of NXP Semiconductors has surged its production of automotive and specialty chips in its Singapore facility, with an investment of S$300 million. The chipsets produced in this facility are used by the automotive manufacturers in car infotainment, vehicle to infrastructure communications and more.
With such efforts undertaken by key industry players, it is evident that automotive communication technology market would depict a notable growth rate in the upcoming years. Comprising prominent companies such as Intel, Vector Informatik, Rohm Semiconductor, Broadcom, Toshiba, Texas Instruments, Robert Bosch and more, the competitive spectrum of automotive communication technology market is quite diverse. For the record, Global Market Insights, Inc., anticipates this industry to exceed a valuation of $18 billion by 2024.
Author Name : Saurav Kumar
Powered by the rising concerns with regard to environmental degradability, global automotive composites market has gained a remarkable momentum over the recent years. The problem of exponentially increasing carbon dioxide emissions has been recognized as a matter of concern at a global level, in response to which, both the government as well as private entities are striving hard to combat this issue. Citing an instance with the regulatory frame of reference, The European Union (EU) has introduced norms that aim to limit the CO2 emission per vehicle to 95g/km by 2020. Reportedly, as of now, each vehicle in Europe emits approximately 133.3g/km of carbon dioxide. Yet another initiative being widely undertaken to curtail these emissions revolves around reducing the overall weight of the vehicles, subject to the fact that the lightweight automobiles depot a high fuel efficiency and a considerably lower rate of emission. The aforementioned fact can be validated by the recent trend of lightweight material adoption in the automotive sector spanning across the interior as well as exterior designs of the vehicles, that has led to a major revolution of sorts in automotive composites industry.
U.S. Automotive Composites Market, By Fiber, 2016 & 2024, (Kilo Tons)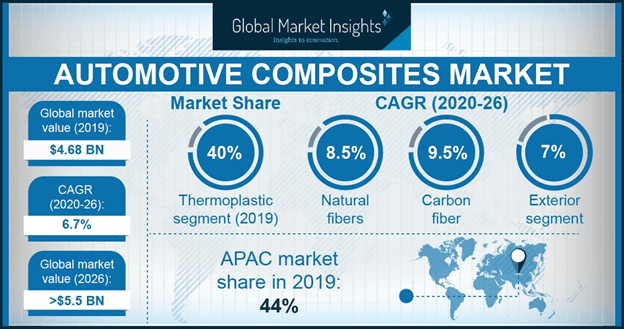 How McLaren Automotive took a step forward toward consolidating their position in automotive composites market
The demand for composite materials is expected to rise several notches higher in the years to come, on the grounds of which various educational research institutes and renowned players of the automotive composites market have been working diligently toward the development of novel composite materials through innovative technology. For instance, the British automotive composites industry player, McLaren Automotive, has recently constructed the McLaren Composites Technology Centre (MCTC) worth GBP 50 million, at Sheffield in UK, wherein the company plans to manufacture lightweight carbon fiber with advanced manufacturing processes. MCTC is also expected to commence the production of carbon fiber tubs for its automotive wings including supercars, sports and racing cars by 2019, further impelling the regional automotive composites market share. The UK government seems to be keenly encouraging education hubs to develop trained composite engineers and scientists in a bid to tackle any future challenges that might arise ahead, with regards to composite materials, that is certain to impel the regional automotive composites industry. Say for instance, the Higher Education Funding Council for England (HEFCE) has granted a fund of GBP 200,000 to the joint projects of the University of Bristol and the University of Plymouth to carry out research related to composite materials. This precedence indeed validates that the increasing involvement of research institutes and industry giants toward enhancing the product portfolio of this business space will stimulate UK automotive composites market size.
Get a Sample Copy of this Report:@ https://www.gminsights.com/request-sample/detail/338
The impact that the Trelleborg-Automated Dynamics deal may have on automotive composites market
It is imperative to state that automotive components manufactured with composites as a raw material have a longer shelf life that ordinary components and require lesser maintenance and less frequent replacements. These components can also be used as an alternative for metal bearings, owing to their massive endurance strength and eco-friendly features, that enable them to function without lubricants. Taking into account the diversified deployment scope of composites for automotive applications, major players in automotive composites market are looking forward to strengthening their position in this business space via mergers and acquisitions. For instance, in 2018, Sealing Solution unit of Trelleborg A.B. acquired the reputed advanced composite components manufacturer, Automated Dynamics, with an aim to improve its technology portfolio using Trelleborg's next-generation composites. It is also expected that the technological expertise that buyers would gain through strategic takeovers would leverage their presence in global automotive composites industry.
Currently, it has been observed that numerous governmental bodies, at the regional as well as international level, have been focusing on the deployment of renewable energy sources for overcoming the shortage of fossil fuel sources – a trend that is predicted to influence automotive components market. The prevalence of a strict regulatory frame of reference mandating specific norms encouraging the adoption of renewable resources will further enable the masses to incline toward electric vehicles. In consequence, this would increase the dependency on renewable energy sources in the future, which seems to be one of the pivotal strategies of the government to expedite the growth of automotive composites industry. In essence, the shifting trends toward green mobility and the elimination of carbon emissions are certain to have a considerable impact on automotive composites market outlook in the ensuing years.
Author Name : Sunil Hebbalkar
The automotive electronics control unit (ECU) market has witnessed incredible growth over the last two decades, owing to unparalleled expansion of the global automobile production sector and the influx of technology within vehicles. Continuously evolving knowledge and skills have enabled the integration of advanced electronic elements within automobiles such as fuel injection control and exclusive infotainment systems. Increase in spending power of the general population has encouraged automakers to pioneer connected systems and cutting-edge features, propelling the automotive ECU industry development. As ECUs are programmed to monitor and regulate safety features and vehicle performance, a shifting preference towards safer, more efficient cars will greatly strengthen the automotive ECU market, which boasted of a revenue of more than USD 65 billion in 2017.
China Automotive ECU Market size, by application, 2012-2023 (USD Billion)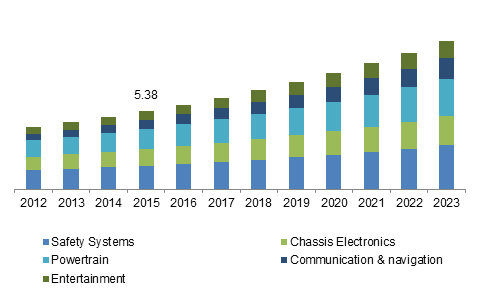 The International Organization of Motor Vehicle Manufacturers had revealed that a total of 97,302,534 cars and commercial vehicles had been manufactured across the globe in 2017. Practically, the number of ECUs in a car could be anywhere between 70 to more than 150, depending on the type of vehicles, indicating the massive demand that exists for the automotive ECU industry. The large number of ECUs have permitted enhanced safety features and external connectivity solutions to be installed in high-end as well as low-cost vehicles. Commercial vehicles have especially benefitted from the ECU's ability to regulate the fuel injection system, as increased fuel efficiency plays a vital role in achieving economical goods transportation.
Notable advancements in ECUs have stimulated auto manufacturers to find ways for reducing emissions through efficient control systems, ushering in a transformation of the automotive ECU industry and leading to the growth of smart technologies. The advent of electric vehicles has furthered the development of ECUs required for complex monitoring and operating of a vehicle. Considered to be a rapidly expanding source of remuneration for the automotive ECU market, the battery electric vehicles (BEVs or just EVs) are gaining increased momentum with each passing year. Worldwide environmental concerns have been the primary driver for the EV industry, coercing nations to invest heavily into boosting the adoption of EVs.
Get a Sample Copy of this Report @ https://www.gminsights.com/request-sample/detail/109
According to the U.S. government, a huge amount of greenhouse gas emissions in the country originates from the transportation sector and in 2016, almost 23% of it was contributed by medium and heavy duty commercial vehicles. As such, not only electric passenger and luxury cars but electric commercial vehicles have also started to attract demand from fleets and major corporations to cut down on their carbon footprint. Tesla, an innovator in the EV industry, has developed all electric Semis for the commercial sector, offering significant power and range to help customers maintain their bottom line while being environment-friendly. Representing a lucrative application scope for the automotive ECU market, the Tesla heavy duty tractor trailers can handle a weight of up to 80,000 pounds at full speed while giving a range of 300 to 500 miles.
Tesla has projected that by 2022, it would have received orders for about 100,000 Semis, with companies like UPS, Pepsi, Walmart, DHL and many others having already placed orders for the electric trucks. As other automobile manufacturers join the race for electric heavy duty vehicles, the automotive ECU market will experience considerable upsurge in investments to speed up productions. The International Energy Agency reported that in 2017 itself, the number of electric vehicles on roads had reached 3.1 million. In Europe, there was a 40% rise in the electric car sales in the first half of 2018, signifying that the EV industry is a budding customer base for the automotive ECU market, with growing inclination towards incorporating commercial EVs within fleets.
Although electric trucks have been used on the streets for many years now, the increased affordability of the technology has allowed vehicle makers to design and introduce new products. For instance, Piaggio Commercial Vehicles' electric power range has been providing customers with clean medium-duty commercial vehicles having, comfortable power delivery system and appreciable range, for over 20 years. The automotive ECU industry is thriving due to the efforts of companies who want to bring forward the transition towards a greener transport industry, like Daimler, who is developing 25 ton truck, and Proterra, which has designed an electric public transportation bus.
Poised to surpass USD 95 billion in earnings by 2024, the automotive ECU market is dominated by key industry participants like Bosch Group, Delphi Technologies, Hyundai MOBIS, Mitsubishi Electric Corp, Continental AG, besides others. Rising awareness about ADAS and other safety systems to prevent road accidents along with continuous research into designing powerful, more efficient ECUs will give significant propulsion to the automotive ECU industry over the coming years.
Author Name :Pankaj Singh