PPA resin market
The growth of polyphthalamide resin market has indeed been exponential in the recent years – a trend that has been made possible on account of polyphthalamide (PPA) being used widely as a high performance, cost effective polyamide. Needless to say, PPA excels in durability, strength, and ease of processing, qualities which contribute to its widespread application in under-the bonnet automotive parts and various electrical and electronic devices. Fueled by technological advancements, polyphthalamide resin products are heavily deployed by automakers, who primarily aim to achieve weight reduction, increased thermal performance, chemical resistance and simplified processing methods in vehicles. Gradually, as polyphthalamide resin is being extensively used to replace conventional vehicle metals parts with the ones that can withstand high temperatures, moisture exposure and abrasive chemicals, PPA resin size market will witness a major rise. The use of this product is also expected to facilitate effective cost reduction of vehicles and contribute toward the lowering of carbon levels in the atmosphere – factors that will further stimulate PPA resin industry trends in the years ahead.
U.S. polyphthalamide resin market by end user, 2013 – 2024 (USD Million)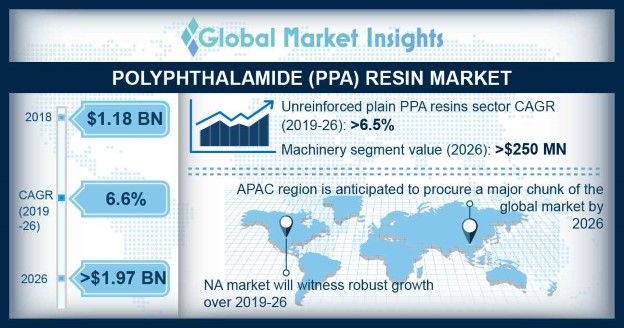 With initiatives such as the Paris Agreement battling against global warming and rising carbon emissions, the automotive industry has lately faced stringent challenge to reduce weight and increase fuel efficiency of vehicles. This has caused a paradigm shift from the use of metal parts to the use of high performance thermoplastics parts, gradually leading to a major upsurge in polyphthalamide resin market. Polyphthalamide has been observed to be very effective when constructing automotive parts like electronic connectors, lamp sockets, switches, and sensors, that have to withstand high temperatures. The application of this product across the automotive sector is indeed humongous – anti-lock braking components, fuel system components like fuel line connector, fuel rails and heating systems, components like turbo charger coolers, thermostat housing, and oil filter housings, are examples of automotive components manufactured from polyphthalamide. Inevitably, the massive demand for the aforementioned components is slated to heavily impel polyphthalamide resin market. Subject to the product's temperature deflection property, low thermal expansion coefficient, easily paintable surface and light weight, polyphthalamide resin industry size is expected to grow at a CAGR of 6.6% over 2017-2024.
Get a Sample Copy of this Report:@ https://www.gminsights.com/request-sample/detail/2361
The electronics sector is another profitable growth avenue for polyphthalamide resin market, since miniaturization of electronic components has emerged as the ongoing trend. Polyphthalamide resin is extensively used for stacking printed circuit boards where tighter tolerance and thinner walls are required, thus providing a boost to PPA resin market. With the increasing popularity of LEDs and growing demand for heat sinks, capacitors, chip carriers and switches, polyphthalamide resin market share from electronic applications has been forecast to witness a commendable rise in the years ahead. Polyphthalamide resin industry has also found a profitable impetus through the phenomenal surge of the cellular phone industry, as PPA resins are increasingly being used in cell phone connectors due to their compatibility to be injection molded in short cycle times and outstanding dimensional stability.
With the dwindling supply of fossil fuels and rise in waste products related to the use of oil derived plastics, extensive research and development activities are being carried out to develop more bio-based plastics. Arkema, one of the global leaders in the field of specialty chemistry, developed a bio-sourced polyphthalamide resin that finds application in under-the-hood automobile parts. The product's launch created quite a stir in the regional polyphthalamide resin industry and has been adopted by automotive industry giants like Volvo, Maserati, Mahindra, Daimler and Ferrari that are looking to reduce the weight of their vehicles by using ecofriendly plastic parts.
With leading automotive OEMs like Audi, BMW, Hyundai, Toyota, and Honda, already having incorporated polyphthalamide resin parts in their automobiles, PPA resin market is on the verge of traversing an extremely profitable growth map in the years ahead. As fuel efficiency and decrease in carbon emissions are being prioritized, polyphthalamide resin industry has been projected to emerge as one of the most prominent verticals of the polymer space. As per a study compiled by Global Market Insights, Inc., polyphthalamide resin market size is likely to cross USD 1.8 billion by 2024, essentially driven by a favorable regulatory spectrum and the urgent need to reduce carbon footprints across the globe.
Author Name : Paroma Bhattacharya