Primer
The proliferation of positive growth trends in the global automotive paints and coatings market has been rather evident from the recent acquisition of the Germany-based automotive coatings manufacturer Hemmelrath by U.S.-based global supplier of paints and coatings – PPG Industries. Hemmelrath is renowned for manufacturing coatings for automotive OEMS and supplies coating materials to automotive plants across the world with 7 million vehicles being coated with Hemmelrath products every year. Both PPG and Hemmelrath are looking to expand their operations with this acquisition that has been making the headlines recently.
U.S. Automotive Paints & Coatings Market, By Vehicle, 2018 & 2025, (USD Million)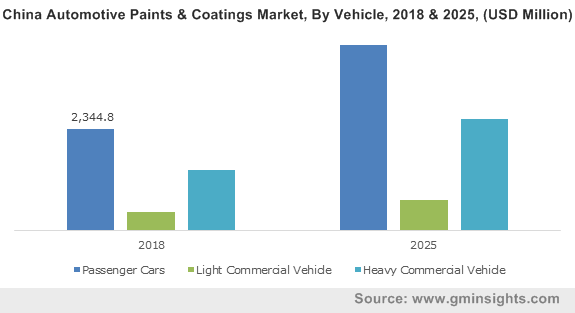 PPG Industries, one of the most recognized names in the automotive paints and coatings market, also recently announced that it is working on devising a new technology to coat a car's touchscreen infotainment systems that would reduce smudges and fingerprints. The new PPG coating is seemingly at par with what the latest smartphones like iPhone X use on their screens to remain smudge free and easy to clean. The difference is that the PPG coating is sprayed over the screen surface or the piano black interior finish of the vehicles rather than a coating film being applied. According to PPG, all major car makers will be using such smudge-resistant coatings in the near future.
On the other hand, Hemmelrath has been making further in-roads into the automotive paints and coatings market with plans to invest in expanding its subsidiaries in the U.S. and China. Hemmelrath produces waterborne primers in the USA and China but only in its own plants. However, the company is looking to be able to manufacture the entire range of products in these important automotive regions besides expanding in to the manufacturing of clearcoats, basecoats and primer-less systems.
Get a Sample Copy of this Report @ https://www.gminsights.com/request-sample/detail/3243
Since 2015 Hemmelrath has been producing its products at the Changchun site in China and has made the necessary preparations in 2018 for a much bigger production facility in north-east of China which is twice the size of Hemmelrath's main production plant in Klingenberg in Germany. Hemmelrath is also expanding its Duncan, South Carolina production facility with the aim of supplying customers in the NAFTA region. A production facility for primerless systems, basecoats and clearcoats is being built in Duncan besides expansion of laboratories, warehousing space and construction of an in-house application center. The move has been planned to make further expansion possible in parallel with customers' requirements indicating Hemmelrath's projection for consolidating its stance in the automotive paints and coatings market.
Robust innovation in coatings technologies is yet another driving factor for the automotive paints and coatings market. Rising awareness about the eco-friendliness of various materials has been a transformative factor for several industries and the automotive paints and coatings market has been no exception. Automobile coatings producers and their suppliers have become increasingly versatile innovators in order to stay competitive in a fast-evolving market. Paints have now transformed from being solvent borne to water borne to low volatile organic compounds (VOC). As market leaders move to waterborne and other solutions, the use of new complex molecules that can make thinner coatings, last longer, and need lower temperature to apply at lesser cost has also become more popular. Besides, waterborne, low VOC coatings have been found to be much more productive as they offer better color reproduction and color consistency.
The automobiles themselves are evolving, moving from being driven by fossil fuels to being powered by electricity, thus leading to a change in their paint and coating requirements. For instance, batteries and motors are the two most critical elements in EVs and the batteries have to be efficient for heat dissipation, cooling, longer battery and motor life. Coatings also play a significant part in ensuring that the batteries are able to insulate heat and withstand corrosion. Also, with the advent of autonomous vehicle, the automotive industry will be in the need of new types of paints and coatings that do not interfere with LIDARs or sensors but protect these sensitive devices just as well.
With paints and coatings industry giants like PPG, BASF, AkzoNobel, Nerolac, Axalta, 3M etc. gearing up to be competitive in an evolving automotive market landscape, the automotive paints and coatings market is expected to surpass $27.5 billion 2025.
Author Name : Paroma Bhattacharya
This entry was posted in Automotive & Transportation and tagged Acrylic, Aftermarket, Automotive Coatings Market, Automotive Paints & Coatings Market, Automotive Paints & Coatings Market Share, Automotive Paints & Coatings Market Size, Automotive Paints Market, Basecoat, Clearcoat, Electrocoat, Epoxy, Heavy Commercial Vehicles, Light Commercial vehicles, Matte, Metallic, OEM, Passenger Cars, Polyurethane, Powder, Primer, Solid, Solvent borne, UV Cured, Waterborne.