Printing Inks
Touted as an essential component across a slew of household and industrial applications, glycol ether market size has increased with concurrent expansion of the chemicals, cosmetics, personal care, paints and pharmaceutical sectors worldwide. As a vast number of products manufactured in these segments are water-based, effective solvents are needed to ensure their stability, shelf life and performance. Supposedly, a variety of product formulations and element combinations would not be possible without the presence of glycol ethers to support their reactions.
U.S. Ethylene Glycol Propyl Ether (EGPE) Market Size, By Application, 2018 & 2025, (Kilo Tons)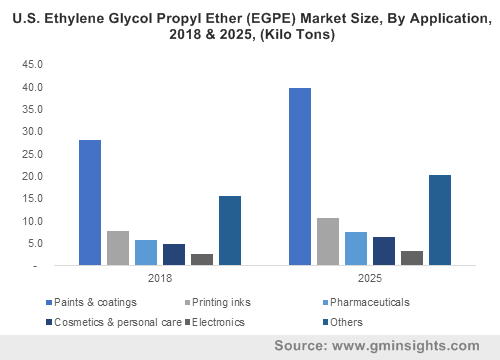 Glycol ethers are applicable in the production of electronics and rubber products, while paints and coatings utilized by automotive OEMs represent a vital segment where glycol ether industry share could witness steady expansion in the years to come. Painting of vehicles represents one of the most critical coating applications, with end products ranging from passenger cars and bikes to all kinds of trucks. Basecoats or clearcoats and topcoat enamel finishes are applied by OEMs during assembly using various paint systems, and glycol ether-based solvents are now being preferred due to their high solvency and evaporation rates.
Suitable coatings provide various aesthetic benefits like enhanced shine and color, along with protecting against UV rays which can fade the exterior paint of a vehicle. Considering few other advantages of these solvent-based coatings and the number of vehicles produced each year, glycol ether market is poised to witness steady demand over the coming years. Evolving automotive sector, which is highlighted by increased preference towards more eco-friendly production processes, will further strengthen the industry outlook.
Get a Sample Copy of this Report:@ https://www.gminsights.com/request-sample/detail/3269
Asia-Pacific (APAC) region boasts of the largest population base as well as some of the fastest growing economies in the world. Not only has the region produced many leading automakers, but car companies form Europe and North America have also established a significant operational presence in the area. Unsurprisingly, auto manufacturing has provided a major boost to the economic growth and created tremendous opportunities for other business verticals, including glycol ether industry.
Referring to data released by the OICA, in 2018 China, India and Indonesia had manufactured more than 34.3 million vehicles combined, indicating the vast prospects benefiting the supportive industries in the region. Driven by rising disposable incomes and the development of more fuel efficient vehicles, the automobile segment in the region can be expected to grow at a considerable pace, in turn generating increased demand for effective paints and coatings. Subsequently, the segment could lead to augmented consumption of glycol ether solvents in APAC over the forecast period.
China's state-owned automobile company, SAIC, had confirmed in late 2018 that a new $2.5 billion plant in Shanghai would be built under its joint venture with Volkswagen AG, where the German carmaker's Audi branded vehicles will be produced. Production at the facility, having a 300,000 annual capacity, is likely to commence from 2020. In addition, SAIC had unveiled recently that it could invest nearly $350 million in India for setting up another manufacturing unit in the country for its MG brand. Similar expansion plans will drive glycol ether market outlook favorably from the paints & coatings segment.
The advent and growing popularity of electric cars (EVs) could reinvigorate glycol ether industry trends, since these vehicles are fast replacing their combustion engine predecessors on assembly lines and on the roads. Accelerated production of EVs globally will simultaneously propel the demand for glycol ether-based solvents to ensure that high-performance and efficient coatings are applied to them, which additionally provide other chemical benefits. For instance, Chinese firm BYD recently signed a deal with an Australian company to build EVs in Adelaide by 2020.
Evidently, a broad application scope and a fast growing automotive sector will significantly foster the consumption of glycol ether based paints and coatings. Globally, glycol ether market size is predicted to exceed $8.5 billion in annual revenues by 2025, outlined by the presence of key industry participants like Exxon Mobil, BASF SE, Dow Chemical, SABIC, Shell and HanNong Chemicals.
Author Name : Pankaj Singh
In the past few years, lithopone market has observed remarkable growth, primarily fueled by the growing investments in the paint, leather, paper, and cosmetic industries. The proliferating industrialization and globalization trends worldwide will further help prominent companies strengthen their consumer base. In addition to this, heavy investment in infrastructural development projects and the automotive industry will also drive the product demand over the coming years.
U.S. Lithopone 28% Market Size, By Application, 2018 & 2025, (Kilo Tons)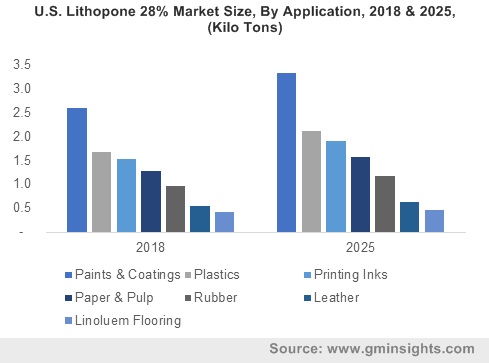 Leather is one of the most widely traded commodities across the globe. The leather industry is mainly driven by the increasing consumption of leather for footwear, interior design industries, and furniture. Owing to the sufficient availability of raw material along with huge population of cattle, India has emerged as one of the lucrative business destinations for leather trade globally. For instance, recently, it had been announced that the Punjab state government has been hoping to sign multiple agreements with French companies pertaining to various sectors, including leather industry. The substantial growth in synthetic leather market will have notable impact on lithopone industry share.
Environment concerns about the hazards caused to biodiversity due to extensive use of chemicals in the aforementioned industries have augmented the use of lithopone in leather, paint, and ink industries prominently. Before the development of lithopone, lead carbonate had been used as a pigment agent for various industrial applications, but due to its poor weathering, and toxic nature, lithopone is now preferred as an alternative. Shifting focus of regulatory bodies toward the deployment of stringent norms to reduce the impact of hazardous chemicals on the environment is slated to generate lucrative opportunities for lithopone manufacturers over the years ahead.
In the last few years, due to rapid urbanization and industrialization, soil pollution level has increased tremendously. The increasing use of plastic products and polythene bags are the prominent factors accelerating environmental hazards. In this regard, several countries have started framing laws for banning the use of plastic bags. As an alternative to the harmful plastic products, most of the companies have shifted their focus to manufacture paper bags, which would augment industry growth.
Get a Sample Copy of this Report @ https://www.gminsights.com/request-sample/detail/3518
As per the United Nations Environmental Program (UNEP), plastic packaging covers around half of all the plastic waste worldwide. The steps undertaken by regulators to control single-use plastic is likely to enhance requirement of lithopone in paper and pulp industry. According to Global Market Insights, Inc., lithopone industry share from paper and pulp application is estimated to surpass a revenue of USD 25 million by the end of 2025.
Countries like China have now banned the distribution of plastic bags, though the country has become one of the largest paper and paperboard producers and consumers. However, despite this, China has been importing raw material required across the paper making industry from the countries like UK, US, and Japan. In addition, now, China has become a hub for automotive manufacturers, that have been fueling the demand for paint, leather, and paper. Thus, it would be possible that China lithopone market thrives successfully over the years ahead.
It is to be noted that the exponentially growing automotive industry is one of the major consumers of leather, paints and coatings. The surge in the investment across automotive sector to meet consumers' requirement for several variants of vehicles comprising electric, hybrid, duel color will improve the industry trends noticeably. In line with the expanding automotive paints and coatings market size, lithopone market will also observe a remarkable rise in its revenue share.
Government policies deployed to maintain social and environmental health hazards will turn out be lucrative opportunity generators for lithopone manufacturers. Increasing awareness among the people about negative impact of plastic waste will further enhance the demand for lithopone over forecast years.
The involvement of international regulatory bodies like UNEP along with improved consumer living standards will majorly promote the use of lithopone for various applications. The global lithopone industry outlook, in the years to come, will be characterized by the impact of environment projects, transforming automotive industry trends, and changing lifestyles.
Author Name : Sunil Hebbalkar
The global fluoropolymer additives market is expected to amass considerable revenue over 2019-2025 due to the wide-ranging application scope for fluoropolymers in different types of coatings, printing inks, lubricants etc. The importance of fluoropolymer additives in the chemical industry is clearly vivid from the fact that the Trump administration, due to the ongoing tariff war between U.S. and China, wanted to impose 25% tariff on the import of fluoropolymer from China.
U.S. Fluoropolymer Additives Market Size, By Product, 2018 & 2025, (Kilo Tons)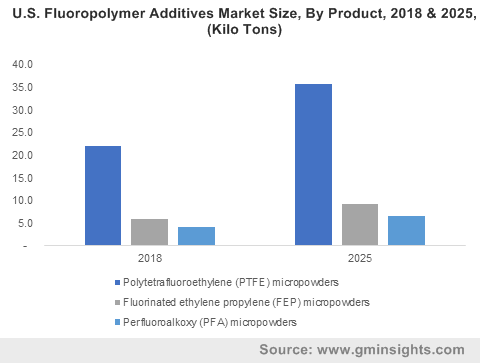 Consequently, there was an immense pushback from the U.S. fluoropolymers industry due to fears of disproportionately adverse impact of the move. Industry experts argued that the raising of tariff could force companies to move their business to other countries like Canada or Mexico to escape such tariff and therefore may have a broader impact on the American economy as workers will lose jobs and risk the trade surplus that the fluoropolymer industry has with China.
Such pressure from the industry experts and participants clearly underlines the prospects for the growth of fluoropolymer additives market, mainly due to the extensive application of the product and the far-reaching implications the shortage of supply of such a product can cause. Fluoropolymers have been used in various forms in numerous industrial and commercial applications ranging from consumer electronics to cookware and from industrial coatings to pharmaceutical processing equipment.
Usage of different forms of fluoropolymers such as Polytetrafluoroethylene or PTFE has been extended beyond industrial application and are being applied to the designing of innovative products. For instance, ePTFE, a strong, porous, adjustable membrane that is obtained by expanding PTFE can be used in the manufacturing of fabrics that can be used in clothes and athletics shoes. The material contains pores that are big enough to let water vapor molecules escape but not big enough to permit water molecules to pass through. Thus the material, trademarked as Gore-Tex, is used as an intermediate layer in athletic shoes and even to design fashionable raincoats that are breathable, lightweight and almost indestructible.
Get a Sample Copy of this Report:@ https://www.gminsights.com/request-sample/detail/3236
PTFE is possibly one of the most widely used fluoropolymers and is expected to act as one of the major driving forces in the growth of the fluoropolymer additives market due to its application in automotive, construction, semiconductor and consumer electronics. It is a potent coating material that is being increasingly deployed in architectural coatings. For instance, fluoropolymer coatings have recently come to be used for cool roofing. The very low surface energy of fluoropolymer coatings has proved to be excellent for dirt pickup resistance, a crucial factor for solar reflectance. Fluoropolymer coatings also withstand prolonged exposure to water, temperature extremes, humidity, oxygen, ultraviolet rays and atmospheric pollutants. Consequently, fluorinated cool-roof coatings are a weather-resistant choice when it comes to extended lifetime performance.
Fluoropolymer additives industry participants have also expressed increasing interest in the use of energy-efficient coatings on walls. It should be mentioned that fluoropolymer coating has been accredited by the American Architectural Manufacturers Association to have the highest standard for metal substrate architectural coatings. Due to this, R&D efforts by fluoropolymer coating manufacturers have become evident as they race to develop new fluoropolymer coating application scopes for fluoropolymer additives industry.
Fluoropolymer resins have low surface energy which makes them ideal for the formulation of anti-graffiti coatings. For instance, PPG Industries formulated an anti-graffiti coating that is specially designed to work with the chemistry of the company's graffiti remover. The anti-graffiti coating is applied to walls, window panels or roofing of high-end buildings and marks made with water-based house paints, aerosol paints, permanent marker or scuff marks can be easily removed from surfaces where the coating is used.
Fluoropolymer coatings like Teflon® or Xylan® are almost household names and due to their corrosion resistance, dry lubrication and non-stick properties have become the coatings of choice in various industries. With pervasive application of fluoropolymer, the fluoropolymer additives market is expected to amass a revenue of 1.9 billion by 2025.
Author Name : Paroma Bhattacharya
The global industrial solvents market is anticipated to make promising gains in the forthcoming years, on account of burgeoning demand for printing inks, paints & coatings, and cosmetics products across the globe. In addition to this, industrial solvents are also widely used in the pharmaceutical sector, impelling the industry share. For instance, pet shampoos utilize solvents to dissolve a medicinal drug for topical treatment, provide moisture, and soften animal hair & skin.
U.S. Oxygenated Solvents Market Size, By Application, 2017 & 2024, (Kilo Tons)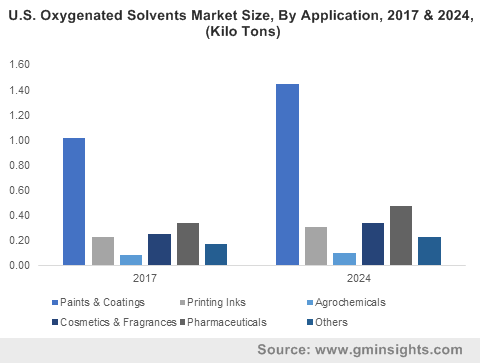 Industrial solvents are often used to dissolve ingredients and empower various solutions & manufacturing processes. They offer additional value in cosmetics, paints & coatings, adhesives, and lubricants because of their high solvency rate. For instance, Isopropyl alcohol is a multi-use solvent, which is often used as disinfectant in homes, and as an industrial solvent to dissolve substances, such as resins and oils, in production processes across various industries. The growth in manufacturing sector coupled with favorable regulatory outlook, especially in emerging economies, would positively favor industrial solvents market growth in the ensuing years.
The paragraphs below explore the growth prospects of the industrial solvents market with respect to the application landscape:
Paints & Coatings
The global paints & coatings market is anticipated to witness an upswing in terms of revenue in the approaching years, due to rising adoption across the building and construction sector. The paints & coatings industry is one of the biggest consumers of industrial solvents, attributable to the capability of solvents to disperse or dissolve the components in paint formation, to create paints of the desired consistency and eliminate globs or clumps. Apart from the construction sector, paints and coatings are widely used in the automobile industry. For instance, glycol ether esters are at times added to certain spray paints to avoid drying up in mid-air. The slow-paced evaporation of this powerful solvent group enables cars and other vehicles to get a smooth and flawless paint application for an appealing and durable finish.
Get a Sample Copy of this Report:@ https://www.gminsights.com/request-sample/detail/2706
In addition to the factors mentioned above, it is important to note that no single solvent has the capability of dissolving all of the film-forming ingredients employed in contemporary coatings. The application of optimal thinners and reducers is usually needed, which consists of blends of various solvents, wherein each can dissolve one or more ingredients within a given coating formula. This has been leading to increased product usage per application, thereby considerably contributing towards industrial solvents market growth.
Printing Inks
Numerous printing inks, used worldwide to print everything from books to food packs and labels, rely heavily on industrial solvents for accurate application to attain the vivid colors. In printing inks applications, solvents are implemented to regulate viscosity and permit flow without harming printing rollers. As with paints and coatings, solvents advance drying for contemporary fast-paced printing presses.
Printing inks applications have leveraged the potential of industrial solvents in a number of ways. For instance, the use of smudge-resistant ink in newspapers means no more finger staining and illegible print. Speaking of computer printer inks, they dry really very fast and are highly smudge resistant. Thus, the wide application spectrum of printing inks and brisk advancements in ink technology will create a powerful launch pad for industrial solvents market to reach new heights.
Cosmetic and Fragrances
The cosmetic industry relies heavily on industrial solvents to dissolve ingredients and increase the efficiency of products. Industrial solvents are widely used in lotions, shaving creams, face creams, and talcum powders to maintain the consistency of the product. For instance, Ethanol is hugely preferred by perfume companies as their solvent of choice due to its low odor. Indeed, the low boiling point of ethanol allows the solvent to evaporate rapidly and does not let it remain on the skin.
Likewise, acetone or Ethyl acetate is an important ingredient of nail paints and is especially looked upon for its fast-drying potential. Besides, it also finds applications in nail paint removal products, owing to its high solvency characteristic which enables the nail paint to be removed easily from the nail. Amidst this backdrop, it is prudent to mention that industrial solvents market share will soar high in the years to come, because of abundant product demand from cosmetic and fragrances applications.
Having realized the immense potential of the industrial solvents market, prominent companies such as Shell, Arkema, Honeywell, BASF, and Total have made considerable investments in R&D programs and product innovation to serve the evolving consumer demand better. Powered by the rapid expansion of the paints & coatings applications in tandem with growing infrastructure industry, the industrial solvents market is projected to attain commendable gains in the approaching years.
Author Name : Nikita Chaurasia
Pertaining to the surging importance of soybean pertaining to its many medicinal benefits, soy chemicals market has emerged as one of the most profitable spheres of the healthcare cosmos. Experts assert that the consumption of soy can lead to a reduction in cardiovascular diseases, breast cancer, as well as cosmetic and dermatological problems. In addition, soy injections help patients with diabetes mellitus to improve metabolism. Considering the nutritional benefits of soy, most of the nutritionists have been encouraging the consumption of soy and its food derivatives that has resulted in the demand upsurge for soy-based drugs and food products on a large scale. On these grounds, several medical companies have been developing soybean oil-based medicines, providing a push to soy chemicals market trends.
U.S. Soy Polyols Market Size, By Application, 2017 & 2024, (Kilo Tons)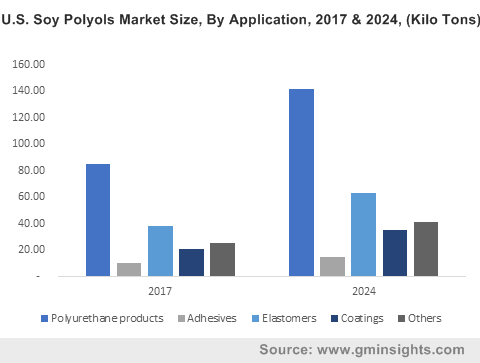 Nowadays, several restaurants and food companies have been making tall claims about having incorporated heart-healthy oils in their products such as dressings, bottled oils, baked goods, snacks, and dips to attract more consumers who have been trying to reduce the inclusion of saturated fat in their diet. The U.S. is one of the largest producers of soybean, accounting for more than 30 percent of worldwide production.  In America, soybean is one of the most used ingredients owing to its health potential. In this regard, the U.S. Food and Drug Administration (FDA) has been providing suitable support to pharmacies and biomedical companies that have been involved in the development of soybean oil-based medicines for reducing the risks associated with coronary heart disease and cancer.
Get a Sample Copy of this Report:@ https://www.gminsights.com/request-sample/detail/2973
Recently, the agribusiness and food ingredient company, Bunge North America received an approval from the U.S. FDA for its claim related to the consumption of soybean oil and its connection to coronary heart diseases. With its versatile portfolio, Bunge is continuously striving to disseminate the importance of soybean oil and its health benefits. Moreover, facilitated with in-depth scientific and clinical research, Bunge is looking forward to strengthening its business with strategic acquisitions and joint ventures. The growing North America soy chemicals industry is slated to generate such attractive business opportunities for players such as Bunge over the years ahead. Indeed, driven primarily by Canada, U.S., and Mexico, North America soy chemicals market, claim estimates, will register a CAGR of more than 5% over 2018-2024.
In order to target the leading consumers of soybean and its food products, globally renowned companies have been establishing suitable partnerships to commercialize their activities by reducing import costs. Validating the aforementioned fact, on February 2018, Cargill and Archer Daniels Midland company formed a JV to supply soybean meal and oil across Egypt. This JV has also acquired the crush plant of the Egypt based oil company located in Borg Al-Arab. In addition, Cargill also has been investing to expand its daily crush capacity from 3000 metric tons to 6000 metric tons with which it will decrease the soybean meal imports in Egypt. This strategy will help Cargill to expand its business across Egypt and North Africa to enhance its customer base by supplying affordable, safe, and healthy food. With the adoption of such business tactics, the players in the soy chemicals market are aiming to utilize their existing facilities and infrastructure in order to meet the growing regional product demand.
The increasing popularity of soybean oil and its byproducts among the manufacturers of consumer and industrial products over petroleum and other hazardous ingredients is slated to stimulate the industry trends over the years ahead. In addition to medicinal usage, the deployment of soybean products for manufacturing coatings, plastics, solvents, adhesives, rubber, and lubricants will also have a positive influence on business growth. Driven by the rising number of facility expansions, soy chemicals market size is anticipated to be pegged at USD 44.5 billion by the end of 2024.
Author Name : Sunil Hebbalkar
An exclusively discernible example of an industry famous among all and sundry, though not by its christened name, phosphorescent pigments market stands as one of most popularly reputed spheres at the grassroot level. Owing to their widespread popularity, phosphorescent pigments industry players have been continually involved in R&D programs that would enhance the application landscape of this business sphere. Say for instance, the Urban Redevelopment Authority (URA), as recent as early 2017, tested four different types of surface materials on a 1,300-foot stretch of Singapore's Rail Corridor behind a metro station in Bukit Panjang, in order to make the trial safer and more reliable for public use, without the necessity for street lighting. While the response to the luminous trail has been slightly underwhelming, it has been satisfying enough for the notion to gain weightage, prompting regional phosphorescent pigments market players to expand their R&D programs and explore the idea further with regards to practical implementation.
U.S. Phosphorescent Pigments Market Size, by End-user, 2013 – 2024 (USD Million)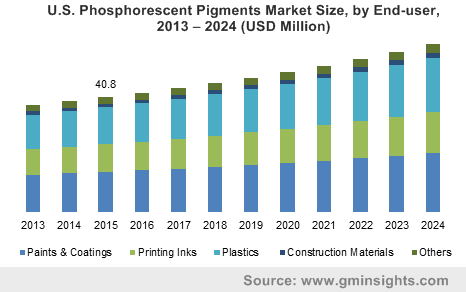 Phosphorescent pigments market may dynamically transform street lighting & energy consumption
These products, better known by their colloquial name – 'glow in the dark' paints, find tremendous applications across the paints and coatings, plastics, and construction sectors, pertaining to their exclusive property of light absorption and quick, controlled emission in a dark environment. Endowed with excellent temperature resistance and longer emission times, these pigments ensure the long-term appearance of a luminous effect, which can be aptly credited for the expansive end-use spectrum of phosphorescent pigments market that includes novelty toys, roads, military equipment, plastic sheets, automobile interiors, wheel coatings, fire exits, and emergency signboards. One of the domains however, that may extensively benefit from these pigments and prove to be a profitable avenue for phosphorescent pigments industry growth, is the energy sector. In recent years, in a bid to save energy and reduce expenditure on highway lighting, companies have been tapping the notion of using bright glow paint signs on roads that would guide the driver and eliminate the necessity of lighting, thereby providing a lucrative growth ground for phosphorescent pigments market players. The concept had been brought under the scanner by a Dutch company in 2014 – Studio Roosegaarde, that joined hands with a Dutch civil engineering firm called Heijmans, with the intention of developing a phosphorescent paint that can glow brightly in the dark, on the outside, creating sufficient luminescence for drivers to see the pathway ahead. Despite not being globally commercialized, the perception, back then, successfully debuted in phosphorescent pigments industry.
Get a Sample Copy of this Report:@  https://www.gminsights.com/request-sample/detail/2284
Phosphorescent pigments market outlook characterized by myriad R&D programs
As on today, 'glow in the dark' paint is being deployed across a plethora of applications in order to reduce energy consumption, which may substantially pave the way for phosphorescent pigments market expansion. Phosphorescent paint for instance, is being used to create luminous cement, that may transform the way the urban landscape is lit. Phosphorescent pigments industry firms have even been researching ways of developing 'glow in the dark' plants, that may direct the global populace toward a more sustainable and eco-friendly lifestyle. The pigments are specifically used for emergency exit signages, given the gravity of the situation. In fact, just recently, Councilor Mabel Acosta of Philippines stated that it would be mandatory for all the establishments to install glowing emergency exits that may help people escape during unforeseen calamities.
Traditionally manufactured from an amalgamation of copper and zinc sulfide crystals, phosphorescence pigments attribute their characteristic to the unique properties of crystalline zinc sulfide and the ability of copper to activate the crystals for absorbing light and emitting the same gradually to generate a phosphorescent sheen. However, these pigments have also been developed from alkaline earth metals such as strontium, after Nemoto & Company, a Japan phosphorescent pigments market player introduced a strontium-based product under the brand name of LumiNova. Apparently, these pigments possess a higher rate of durability and brightness than the traditional zinc sulfide based products – technically speaking, these pigments have an afterglow period that is ten times higher than ZnS-based pigments, and they are also known to be free of radioactive substances, while exhibiting excellent weather resistance. In consequence, this has generated a slew of growth avenues for phosphorescent pigments industry players to come up other unique products that can be used for highlighting the phosphorescence effect, without compromise. The overtly robust demand for the product for emergency exits, lighting, and signage boards, in addition to the rapid transformation in the lighting and construction sectors, will further provide a boost to phosphorescent pigments market trends. As per estimates, phosphorescent pigments industry size is slated to expand at a CAGR of 4.5% over 2017-2024.
Author Name : Saipriya Iyer
The commercialization potential of Aluminum Pigments Market is quite evident from the growing number of strategic partnerships outlining the competitive terrain. Recently, Nexeo Solutions Inc., a giant in the chemicals & plastic distribution industry has entered into a corporate partnership with Silberline Manufacturing Company Inc., a global supplier of high quality aluminum pigments. As per market experts, this strategic move is expected to strengthen the business position of both the firms in the overall aluminum pigments industry with a better value chain and an expanded product portfolio.  Such strategic acquisitions and expansions are quite common in aluminum pigments market to address the increasing product demand from varied end use industries like automotive, construction, and paints & coatings.
U.S. Aluminum Pigments Market size, by end-user, 2013 – 2024 (USD Million)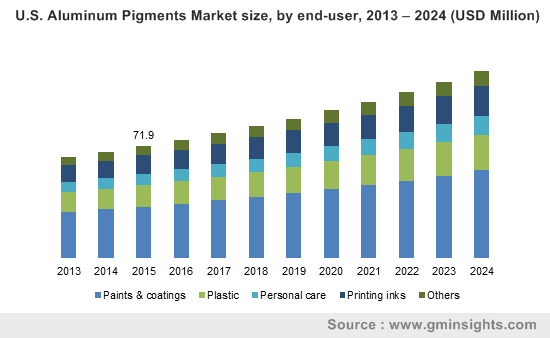 The latest trend of aesthetically designed customized vehicles with lustrous paints is expected to stimulate aluminum pigments market valuation, which is forecast to exceed USD 580 million by 2024, with a projected CAGR of 6.5% over 2016-2024. In the automotive paints and protective coatings, aluminum pigments are primarily used to improve the appearance of the vehicle.  As per statistics, overall paints & coatings is one of the prominent end-use application of aluminum pigments market and accounted for more than 40% of the overall industry share.
Other than the automotive industry, plastic is another prominent end-use segment further catalyzing the growth of aluminum pigment industry. As per the estimates, aluminum pigments market share from plastic applications is projected to record an annual growth rate of 6% over 2017-2024.
Get a Sample Copy of this Report@ https://www.gminsights.com/request-sample/detail/1663
Speaking of the geographical trends, Asia Pacific is one lucrative belt where the aluminum pigments market demand is notably high from automotive applications. Asia Pacific aluminum pigments industry having had a revenue of USD 120 million in 2016, is slated to collect substantial revenue with an annual growth rate of above 7% over the coming seven years. The attributing factor toward the regional growth is the surging use of the printing inks for the advertisements and magazines.
Aluminum pigments are widely used in printing inks to give metallic effect to labels, leather, films, packaging materials, and brochures. The use of leafing grade products gives printing inks a lustrous and brilliant effect. These grades also increase the brightness and impart a glossy finish to the surface, thereby making it applicable to the cosmetics industry. The personal care application segment within aluminum pigments market is anticipated one of the fast-growing segment at a CAGR of 6.5% over 2017-2024. Rising demand for personal care and cosmetics products, particularly in Asia Pacific has fueled aluminum pigment market demand.
On account of the escalating cosmetic sector expansion, North America is further estimated to witness a substantial growth trend in the coming time frame.  Global Market Insights, Inc. projects North America aluminum pigments industry to surpass a valuation of USD 130 million by 2024.
In 2016, the industry space was quite consolidated with the top four participants – Altana, Carl Schlenk, Silberline, and Carlfors Brukhaving, having shared more than 30% of the overall business fraternity. The other prominent names in this industry include Toyal America, Inc., Alba Aluminiu, Zhangqiu Metallic Pigment Co., Ltd., Metaflake Ltd., and Sun Chemical.
Author Name : Ojaswita Kutepatil
Flexographic Printing Inks Market graph is expected to display an upward trend, subject to extensive product usage across the food & beverage, pharmaceuticals, and cosmetics sectors. These products are extensively used in the packaging sector pertaining to their favorable properties. The thriving Flexible Packaging Industry, which is anticipated to accrue a massive revenue of more than USD 250 billion by 2024, will thus, favorably influence the business trends. According to Global Market Insights, Inc., "Flexographic Printing Inks Industry is forecast to hit the targeted revenue of more than USD 11 billion by 2024, registering a CAGR of over 5% during the period from 2016 to 2024."
U.S. Flexographic Printing Inks Market size, by product, 2015 & 2024 (KT)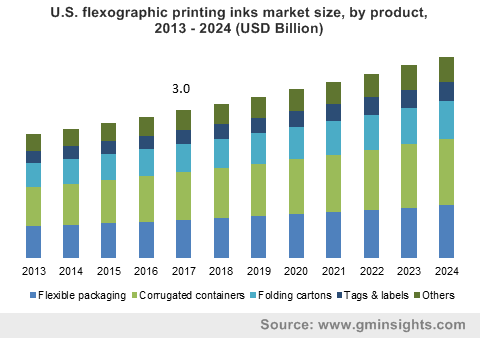 Taking into consideration the geographical landscape, Europe flexographic printing inks market is forecast to record notable gains of over 4.5% over the coming seven years. The huge presence of cosmetic manufacturing firms in the region is expected to drive the market. Germany and France are likely to be the major revenue contributors. The North America industry is expected to make major revenue contributions toward flexographic printing inks industry, driven by escalated product demand across the food packaging sector. The U.S. is projected to contribute a large chunk towards the regional share.
Asia Pacific flexographic printing inks market, which collected a revenue of over USD 2.5 billion in 2015, is anticipated to experience a notable surge over the coming timeframe. The growth can be credited to altering lifestyles of consumers along with the rise in the purchasing capacity of the middle-income groups. India and China are expected to majorly boost the regional share.
Get a Sample Copy of this Report @ https://www.gminsights.com/request-sample/detail/1163
Flexographic printing inks find extensive applications in corrugated containers, tags & labels, flexible packaging, metal cans, and folding cartons. Flexographic printing inks industry size in the flexible packaging sector is forecast to grow considerably over the years to come, driven by the product's favorable features such as moisture retention, aroma preservation, sealing, and improvement of aesthetic appearance.
UV-cured, water-based, and solvent-based inks are the major products types of flexographic printing inks industry. Water-based flexographic printing inks market, which dominated the overall industry size in 2015, is expected to witness a substantial growth over the next few years. The growth can be ascribed to its major application in newspaper, paper, and cardboard printing. Growing use of non-VOC inks across the printing sector coupled with mounting government support for usage of low VOC inks across the food & cosmetic packaging sectors will push the revenue.
Solvent-based flexographic printing inks industry revenue, which was estimated at over USD 1.5 billion in 2015, is expected to expand remarkably over the coming years. Favorable properties such as scratch resistance, exceptional printing ability, and durability has made the product more popular across the packaging sector.
UV-cured flexographic printing inks market size is expected to grow at a CAGR of over 6% during the period from 2016 to 2024, driven by the product's ability to provide color consistency, chemical resistance, gloss, and rub resistance.
Flexographic printing inks industry is highly fragmented with top six industry players contributing less than 20% of the global market share in 2015. TOYO Ink Group, Flint Group, ALTANA AG, INX International, Wikoff Color Corporation, Sun Chemical, Zeller+Gmelin GmbH & Co. KG, A.M. Ramp u. Co. GmbH, T&K TOKA Company Limited, Siegwerk Druckfarben AG & Co. KGaA, Sun Chemical, Zhongshan DIC Colour Company Limited, XSYS Print Solutions Limited, and Shanxi Tercel Ink Group are the major participants of flexographic printing inks market.
Author Name : Dhananjay Punekar