Printing
Increasing awareness with respect to volatile organic compound emission (VOC) has propelled adsorption equipment market share, along with the need to maintain indoor air quality standards across varied industrial segments. Symptoms of nausea, difficulty in breathing, irritation in nose, eyes and throat are some of the indicators of excess exposure to VOC caused to humans. These conditions can usually be observed in manufacturing, printing and furniture operations worldwide, presenting a massive need for countering these emissions.
U.S. Adsorption Equipment Market Share, By Application, 2014 – 2025 (USD Million)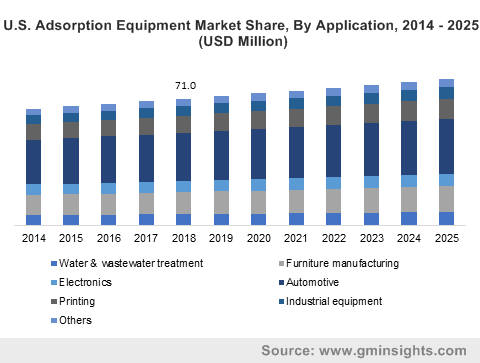 Booming automobile sector across developed and developing nations has strengthened the adsorption industry size. Paints used in the automotive industry emit high levels of xylene, acetic acid, butyl ester and ethyl acetate either during intermediate, top coating and baking process of automobile parts. The growing automobile industry in India, which had witnessed a 9.5% increase in sales to reach 4.02 million units in the year 2017. Widespread application across the auto manufacturing sector will evidently create a substantial demand for controlling VOC emission from paints, magnifying global adsorption equipment industry outlook.
Disposable or rechargeable canisters segment accounts for a substantial share of adsorption equipment utilized worldwide, and is expected to surpass USD 65 million in revenues over the forecast period. These canisters are widely used in the water purification process. According to a report by United Nations, by 2030 over 700 million people globally could be displaced owing to intense water scarcity.
Existence of water pollution in terms of organic pollutants let out by domestic sewage, agricultural wastewater and industrial wastes has added to increase in toxic waste in water. Toxic pollutants can lead to severe environmental issues and can prove to be extremely hazardous to living beings. Adsorption equipment market size will expand notably while becoming an integral part of wastewater management techniques.
Get a Sample Copy of this Report:@ https://www.gminsights.com/request-sample/detail/4206
R&D in the field of vapor adsorption equipment has enhanced the overall industry scope remarkably. For instance, the development of Brayton cycle heat pump that facilitates VOC recycling and recovery has magnified the deployment of adsorption equipment, invariably driving the industry trends. Vapor phase segment in adsorption equipment industry is anticipated to hold a significant share, registering a steady CAGR of around 2.5% from 2019 to 2025.
Owing to the rising automobile sector coupled with stringent regulations related to VOC emissions. the use of adsorbers in the automotive sector has accelerated. Reportedly, the gross turnover generated by the auto sector in EU represents 7% of its GDP. Moreover, governments have introduced an Integrated Pollution Prevention and Control Directive (IPPC) that requires all new installations to comply with its standards in order to control air, water and environmental pollution. The proliferation of automobile, electronics, water treatment and printing sectors in the region will positive steer Europe adsorption equipment market outlook.
Demand for adsorption equipment is clearly driven by the growing need for industries to preserve environmental, water and air quality. With expanding industrial establishments across the globe, governments and other regulatory authorities are discovering the need to control the VOC emissions in order to protect the future of economies. Simultaneously, increasing innovations in the adsorption equipment sphere to suited varied industrial applications is providing impetus to global adsorption equipment industry.
Emissions are an inevitable part of many crucial sectors such as automobile, painting, printing, water treatment, among others, in order to adhere to the government rules and regulations and to contribute to the growing CSR activities by the companies. Several key players offering critical adsorption equipment include Tigg LLC, Monroe Environmental Corp, Munters Corporation and Eisenmann SE, as well as several others. Global Market Insights Inc. has estimated that global adsorption equipment market share will exceed annual valuations of USD 340 million by 2025.
Author Name : Shreshtha Dhatrak
Rapid industrialization and increased demand for electronic components has propelled the automated optical inspection (AOI) system market expansion, with rise in consumption of automotive and consumer electronics. AOI systems have gained immense momentum for fast and accurate inspection of electronics assembly lines to facilitate the production of only the highest quality PCBs and surface-mount devices. Constant innovations in smartphone technologies and automotive electronics has reinforced the need for lowering time and cost of production, necessitating the involvement of the AOI system industry. Estimated to have recorded earnings of more than US$500 million in 2017, the global AOI system market will experience an accelerated growth rate from augmented industrial automation.
U.S. automated optical inspection (AOI) system market, by end-use, 2017 & 2024 (USD Million)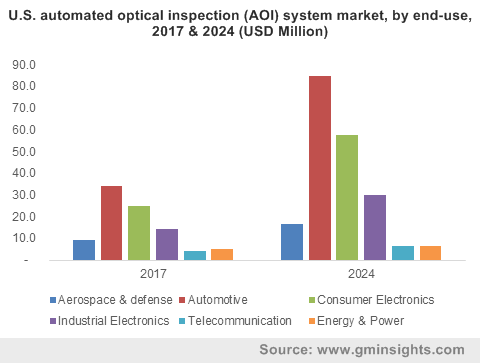 Automation has been a trending process among manufacturers around the world, and more factories are expected to be completely automated in the near future with advancements in communication and robotics. As the field of electronics production get more competitive, achieving the balance between manufacturing speed and quality through automation is considered to be a major factor for success. The AOI system industry is crucial in providing powerful solutions to help manufacturers monitor processes and greatly improve their overall quality. AOI systems can now be integrated with robots, pneumatics and other process components to offer precision quality control.
Increasing focus on consumer protection and the need for reducing the costs involved in 100% inspection process will further bolster the AOI system market. 100% inspection is critical for segments where a human life could be put at risk, for instance medical devices, portable electronics and automobiles. A while back, certain smartphone product launched by Samsung was under scrutiny due to exploding batteries which endangered the users while being charged or operated. It was found out that the leading cause of explosions was improper assembly of batteries, stressing the importance of inspection in automation. Experts believe the company could have avoided this fiasco by adopting quality inspection systems, such as AOI, for inspecting all batteries and not just samples.
Get a Sample Copy of this Report:@ https://www.gminsights.com/request-sample/detail/2969
Speaking further on the significance of the AOI system market, electronic components are becoming smaller in size, making it difficult to perform accurate and fast checks manually. PCBs for different applications require hundreds of parts to be soldiered or mounted on them in a short period of time, needing AOI systems to inspect each and every part, either in pre-manufacturing stages or post-production. Many global industries are adopting fully-automated manufacturing processes for not only PCB production but also cars and consumer electronics. Subsequently, the AOI system industry will witness robust demand over the coming years.
To elaborate, Volkswagen recently announced that it would be construction its electric vehicle manufacturing facility near Shanghai, China, where fully-electric SUVs and other e-vehicles will be made. The company said the new facility will consist mainly of robots, around 1,400 of them, and will be operational by 2020. The expected 300,000 per year capacity of the factory represents extremely high
levels of automation that will be implemented and signifies a key application area for the AOI system market. Government rules and international standards regarding vehicle quality and safety have boosted the demand for advanced AOI systems, as they can match the complexity and speed of automated manufacturing.
Over the years, AOI systems have been optimized to collect data and provide feedback so that the manufacturing process can be improved, and any suitable adjustments are made. When used during the assembly or soldering process, AOI helps to inspect the quality of the product as it is being made, which considerably lowers the need for post-production inspections. The AOI system industry can benefit from the tremendous development in optical sensors and miniaturization of inspection cameras. The enormous opportunities for the implementation of AOI can be surmised from industry estimates which peg the global process automation segment to be valued at nearly USD 50.3 billion by 2020.
As more companies look towards AOI for ensuring a fast, reliable and cost-efficient quality control in manufacturing and process automation, the AOI system market is anticipated to register a 12% CAGR between 2018 and 2024. Viscom AG, Cyberoptics Corporation, AOI Systems, Nordson, ASC International, Omron Corporation and Kurtz Ersa, are some key players outlining the AOI industry dynamics. Compliance with evolving engineering standards and demand for higher quality of products will drive innovations in AOI technology.
Author Name :Pankaj Singh