Product
Over the last few years, body worn insect repellent market has emerged as a lucrative yet challenging investment avenue, against the backdrop where bug-borne diseases has turned out to be a global concern. According to the World Health Organization, Malaria is prevalent across 91 countries worldwide, placing around 40% of the global population at risk. Reports indicate that nearly 500 million populace suffers from Malaria every year, leading to almost 2.7 million casualties annually. It is important to mention that of all the disease transmitting insects, mosquito is claimed to be one of the greatest menaces, spreading catastrophic Malaria, Dengue, Yellow Fever, etc. In fact, Dengue is deemed to be world's calamitous mosquito borne virus disease, with nearly 2500 million people at risk of infection globally. These statistics depict the increasing pressure on body worn insect repellent market players to come up with state- of-the-art solutions that would somewhat mitigate this afflictive situation.
U.S Body Worn Insect Repellent Oils & Creams Market, 2017 & 2024 (Kilo Tons)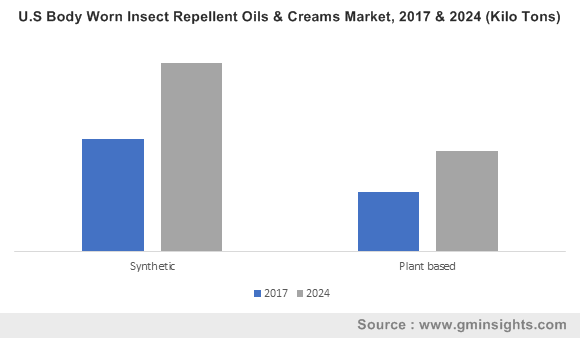 North America is a prominent regional share contender having held almost 30% of the global share in 2017, courtesy – the widespread American and Canadian populace vulnerable to flea borne diseases. According to a latest survey by Centers for Disease Control and Prevention, tick and mosquito borne diseases in U.S. had almost tripled over the period of 2004-2016. For the records, in the year 2004, the country witnessed 27,388 cases of vector borne diseases, while in 2016, the figure reportedly got upscaled to 96,075 cases. The astoundingly mammoth prevalence has undeniably generated a massive demand for advanced insect repellents, substantially impelling the U.S. body worn insect repellent market size.
Regional government has a big role to play in proliferating the industry trends. The U.S. Environmental Protection Agency, for instance, has taken significant initiatives to promote DEET utilization in manufacturing of bug repellent products, especially for those that are sold locally. This in consequence, has created an increased awareness among the Americans regarding insect borne diseases and also about the specific preventive measures that need to be taken to combat the issue. Considering these aforementioned aspects, it would not be incorrect to state that U.S. would continue its dominance in North America body worn insect repellent industry, given that the country boasts of an extensive product array as of now due to the presence of large distribution channel.
Get a Sample Copy of this Report@ https://www.gminsights.com/request-sample/detail/1807
Spreading vector borne diseases such as Dengue, West Nile, Chikungunya, and Malaria ironically are the prime factors fueling body worn insect repellent market demand.  A host of new body worn mosquito control repellants has been widely discussed, tested and put forth in the market over the recent years, however, whether these repellents prove to be fruitful in long term is yet to be determined. The extensive research activities that body worn insect repellent industry is presently characterized by mainly focusses on utilizing more of Lemon Eucalyptus and DEET in various bug repellents products. These days, sprays have become a universal choice among consumers, subject to its ease of application on skin as well as in apparels. Companies have been highly focusing on extending their product landscape along with distribution channel expansion, which in essence is impacting the overall body worn insect repellant industry share.
Grounding on numerous experimental studies, experts have apparently come down to a conclusion that repellent technology represent a fundamental aspect in mosquito borne disease transmission prohibition, which is why body worn insect repellent market is gaining a substantial traction in terms of revenue streams. However, some unhealthy instances such as breathing trouble, skin irritation, and unpleasant odor on its application, somehow act as a stumbling block in the industry growth. Nonetheless, driven by the continuous developments on product front in tandem with a highly supportive regulatory framework, body worn insect repellent industry is set to record a revenue of USD 1 billion by 2024.
Author Name : Satarupa De
The deployment of modern construction technologies for a luxurious, healthy lifestyle has been rapidly pushing window automation market trends in the last few years. Tech advancements such as augmented reality and IoT are proliferating the construction domain at a robust pace, creating new opportunities for window automation industry players. The incorporation of intelligent control systems in newly installed windows has today proved to be one of the most advantageous technological additions across residential as well as industrial sectors. Pertaining to their sustainability and lesser energy consumption capability, the demand for automated windows has only been escalating lately.
UK window automation market size, by application, 2017 & 2024 (USD Million)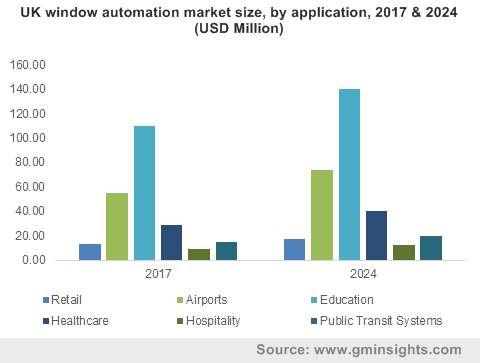 Ever since the advent of the smart era, smart homes and smart cities have become somewhat of a universal trend, prompting regional government bodies to come up with a supportive regulatory framework as well as suitable initiatives to aid the implementation of smart cities. In consequence, this would push the demand for automated components such as doors and windows. One of the primary factors behind the incorporation of these systems however, is the fact that they help reduce excessive energy consumption. Across Western Europe for instance, 40% of the overall energy consumption is for buildings. Being essentially fuel-based, this proportion leads to severe CO2 emissions, escalating the demand for automated windows and doors, given that they help lower these emissions. The deployment of automated windows for optimized energy usage and reduction of carbon emissions will thus impel window automation market share.
Get a Sample Copy of this Report @ https://www.gminsights.com/request-sample/detail/1356
One of pivotal challenges construction behemoths are facing today is the onslaught of fresh air in the living space. This fundamentally involves combating with environmental conditions such as indoor temperature, wind, rain, snow, and carbon dioxide levels, leading to the necessity of advanced sensing systems to be integrated in windows. In recent times, these systems are being developed with highly advanced sensing technologies that are far more efficient and reliable than their predecessors. In order to make these windows smarter than before and ensure that they react appropriately to the occurrence of natural calamities, temperature sensors, and motion sensors are also being incorporated during construction. Driven by the increasing use of innovative sensing solutions, sensors & detectors based window automation industry size is expected to be pegged at USD 950 million by the end of 2024.
The growing popularity of automated windows among the masses has considerably encouraged window automation industry contenders to come-up with innovative solutions. Recently for example, one of the leading window and door manufacturers, Kolbe Windows & Doors showcased its highly innovative portfolio encompassing inswing doors and awnings with automated activation, sliding patio doors, and numerous modern, upgraded window designs at the NAHB IBS (National Association of Home Builders International Builders' Show). Having successfully integrated modern technologies into its existing window and door product ranges, Kolbe has set a benchmark for other giants in window automation market.
The use of advanced systems for ensuring building and occupant safety is now becoming mandatory, considering the occurrence of life-threatening hazards. Across numerous geographies, governing authorities have mandated the installation of smoke ventilation solutions for operating windows automatically in case of an accidental fire. The increasing deployment of building safety regulations will thus emerge as another contributing factor toward window automation market growth.
Of late, escalating living standards and the increasing need for building safety have generated considerable opportunities for window automation industry contenders. With evolving developments in smart technology, the demand for next-generation components such as motion sensors and IoT based control panels will observe an appreciable upsurge, drastically transforming window automation market outlook. Taking into account the ease of functionality of these systems, governments bodies have also been encouraging residential building developers to deploy automated windows in their projects. In essence, powered by a supportive regulatory framework and a strong technologically-aligned industry background, window automation market size has been forecast to register a CAGR of 6% over 2018-2024.
Author Name :Sunil Hebbalkar
In recent times, barcode printers market has been witnessing rapid expansion owing to the cutting-edge products being unveiled by prominent industry players and their consistent adoption of strategic growth tactics. Citing an instance of the latest product innovation, Printronix Auto ID Inc., one of the global leaders partaking in industrial barcode printing industry, has launched a high-performance thermal barcode printer, the T6000. Equipped with advanced features such as an enhanced print speed of 14 inches per second, an interactive screen which lowers downtime, postscript and pdf support for complex labelling requirements, and improved RFID capabilities, this product is indeed revolutionary.
It would also be imperative to state that this latest thermal barcode printer seamlessly integrates with any network infrastructure with plug and play facility and comes with unique online data validation process which assists in producing barcodes that eliminate exorbitant compliance fees. Such dynamic and encouraging technological advancements in product development are set to favorably influence the growth prospects of barcode printers market in the upcoming years. According to research analysts, the global barcode printers industry size stood at USD 2.4 billion in 2017.
UK barcode printers market, by application, 2017 & 2024 (USD Million)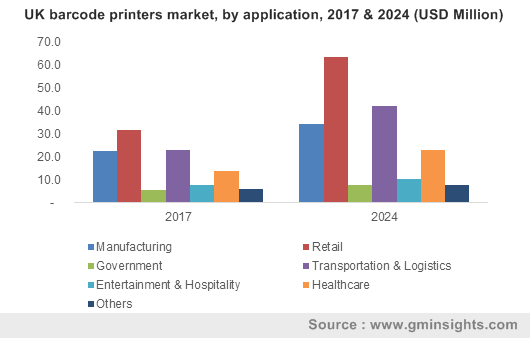 Thermal barcode printers have indeed found commendable traction over the years in various industry domains due to their outstanding thermal transfer technology. Embedded in thermal barcode printers, this technology offers long-lasting labeling applications, which have in turn found extensive usage in printing cards, magazines, posters, picking and shipping labels, receipts, and books. Evidently, the adoption of these printers has had a major impact on barcode printers market outlook. Indeed, thermal-based printers account for more than 65% of the overall industry share and are likely to gain commendable returns in the ensuing years owing to their excellent durability and low operational costs.
Concurrently, the diverse applications of barcode printers are increasingly being deployed in the healthcare industry. Noteworthy applications such as desktop barcode printers in particular, are contemplated as an ideal product for the healthcare industry, as they have helped boost the efficiency and productivity of medical care operations. The product has emerged to be of immense use in hospitals as it offers accurate patient information, enhanced medicine administration, parcel post, specimen collection and identification, shipping/receiving labels and patient identification. The growing demand for products such as barcode-based wristbands for patient identification will thus drive desktop barcode printers market trends over 2018-2024.
Get a Sample Copy of this Report:@ https://www.gminsights.com/request-sample/detail/147
Meanwhile, it would be well advised to enumerate the challenges that would impede the growth potential of barcode printers industry in the longer run. The vertical apparently, has been marred by the low printing quality of labels, add to it the rising prominence of Radio Frequency Identification (RFID) tags. In the years to come however, these restraints are likely to take on a turn for the better, as companies continue to conduct R&D activities to develop innovative solutions with a high level of reliability.
Speaking of the regional expansion outlook, Europe barcode printers market is likely to garner appreciable return in the coming years. This growth can be primarily attributed to the rising deployment of these products to improve customer experience and visibility. The ability of these systems to enhance efficiency and lower costs incurred through errors in shipping, packing, and manual input enables companies to achieve high Return on Investment (ROI), thereby impelling the regional barcode printers industry share.
This business fraternity is anticipated to witness intense competition among the major industry players such as Printonix Auto Id Inc., Epson America Inc., Toshiba Tec Corporation, Zebra Technologies, Honeywell Scanning and Mobility, Dascom, Printek, Seiko Epson Corporation and Godex International Co. Ltd., etc. In a bid to strengthen their positions across the vertical, companies have been highly vigilant as far as conducting robust collaborations and alliances is concerned, as enumerated by the partnership between the leading barcode printers' producer, Epson America Inc. and the barcode labeling software manufacturer TEKLYNX International. The alliance features the seamless integration of TEKLYNX barcode label design software and Epson's inkjet color label printer that would provide GHS-compliant chemical barcode labeling for all the sizes in the manufacturing industry.
As the adoption of lucrative growth tactics among market participants surges in the years ahead, barcode printers industry trends are likely to undergo a major transformation. Having been pegged at a valuation of 3 million units in terms of shipments in 2017, barcode printers market size has been forecast to register a CAGR of 5% over 2018-2024.
Author Name : Saif Ali Bepari