Public Safety
The increasing importance imparted to network stability & wireless communication to speed up network capability has been stimulating private LTE market share. Nowadays, private LTE is used extensively for numerous beneficial purposes such as real-time monitoring, geo positioning activities, in the mobile devices, energy utilities, telecommunication applications, and automotive equipment. The rapid acceptance of long-term evolution (LTE) for high-speed wireless communication across numerous industrial sectors has been encouraging companies in private LTE market to adopt LTE network connectivity.
Europe Private LTE Market Revenue, By Infrastructure, 2017 & 2024 (USD Million)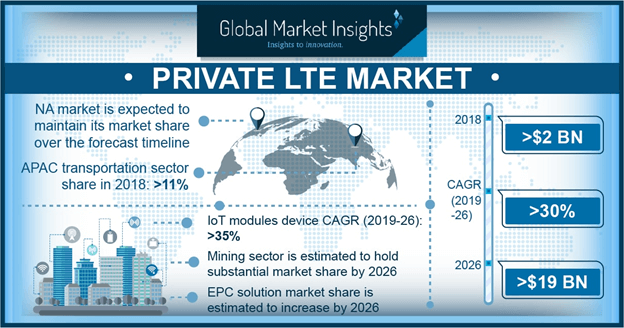 Over the last few years, most of the mobile network providers have shifted to LTE services from 2G and 3G coverage to improve existing communications. The surging digitalization and modernized mobile services have also substantially enhanced data services. Recently in India, the nation's largest telecom company, Airtel has decided to switch to LTE network services to boost data speed. This move will turn out to be rather beneficial for Airtel as it already has a widespread, far-reaching network coverage. The shifting focus of telecom service providers to LTE to phase out older networks is slated to fuel private LTE industry share.
Taking into account the network benefits of high-speed data services, most of the energy companies have been signing deals with wireless network providers that will have a positive influence on the product demand. For instance, a month before, the Brazilian power distributor, Elektro collaborated with Nokia for deploying a private LTE network in its City of Atibaia based electric grid. The deployment of LTE services is slated to help improve the efficiency and reliability of the electric grid that has been serving approximately more than 75,000 business and homes. Through this network, it is also possible to operate smart meters, grid equipment, substation and distributed energy generation sources.
Get a Sample Copy of this Report:@ https://www.gminsights.com/request-sample/detail/2757
Such strategic deals will help players in the private LTE market strengthen their customer base and diversify the traditional telecommunication practices. The surging adoption of digital technologies such as IoT and machine learning will thus further propel the use of private LTE service in the energy sector. For the record, as per estimates of Global Market Insights, Inc., private LTE market from energy applications is slated to depict a commendable CAGR over 2018-2024.
In order to achieve a dominant stance in the market, telecom firm Nokia has also lately been adopting myriad business tactics. Recently, it has collaborated with China Unicom to deploy a private LTE network at BMW Brilliance Automotive Ltd plant based in the Liaoning province. With the use of private LTE connectivity, BMW can carry out smart manufacturing activities and ensure communication for critical applications including video surveillance, object tracking, and analytics at the plant.
The integration of private LTE network in the enterprises to secure data and voice communication, wireless video communication, ensure indoor investigation, and inspect the production line maintenance is slated to fuel the product demand over the years ahead. Heavy investments to develop digitalized, modern factories with a secured and transparent work culture will further propel private LTE market share considerably.
The emergence of LTE connectivity has also turned out to be rather useful for maintaining peace across the globe. That is to say, the UN (United Nations) has been working continuously to resolve the several global issues for which it has been using LTE network for providing critical communication capabilities. Peacekeeping troops are able to effectively use this LTE network for secure, stable, and future-proof broadband services while operating through the tough geographic terrain. Currently, UN is working on fourteen peacekeeping operations across the globe and it is planning to establish high-speed LTE networks by 2019 to accelerate the communication throughout the missions.
Substantive use of LTE connectivity for ensuring digital and standardized work output in the industrial as well as the defense sectors is likely to propel the product demand over the years ahead. On-going changes in the telecommunication technologies to enhance the network connectivity will further stimulate the industry trends. As per estimates, with the surging acceptance for network connectivity across various application sectors, private LTE market is poised to surpass a revenue collection of USD 11 billion by the end of 2024.
Author Name : Sunil Hebbalkar
In an age where information is power, the synthetic aperture radar (SAR) in space sector industry has permitted governments and organizations access to high resolution imagery for supporting advanced sensing and monitoring systems. With the ability to gather data efficiently even in the most challenging weathers, SAR is a significant tool for surveillance and remote detection especially in the tropical regions that are covered under clouds for most of the year. The growing adoption of SAR in environmental screening and military applications is particularly expected to bolster the global SAR in space sector market.
Synthetic Aperture Radar in Space Sector Market, By Frequency Band, 2017 & 2024 (USD Million)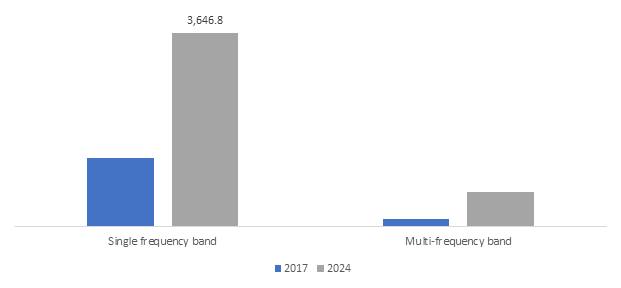 As per the United Nations Office for Outer Space Affairs (UNOOSA), around 357 objects were launched into space in 2017, indicating the progress of space tech worldwide. Advancements in satellite technology have opened avenues for the use of imaging tools to monitor tectonic movements, ocean currents, groundwater levels and forest conditions from outside the atmosphere. Touted as being a "cloudless" image sourcing technique, SAR has emerged as an ideal integration into satellites and in 2017 the SAR in space sector market earned more than USD 1.4 billion in remuneration globally.
In principle, synthetic aperture radars transmit microwave pulses through an antenna, which are directed toward the earth's surface. When the microwave energy is scattered back to the device, it is measured accordingly, and two or three-dimensional images are formed by using the time delay of the received signals. As microwave consists of electromagnetic radiations that have high cloud penetration, SAR satellites can provide images which, unlike conventional satellites, are not hindered by climatic conditions and also allow night-time operations. These advantages over optical imaging systems will deliver enormous growth to the SAR in space sector industry.
Get a Sample Copy of this Report @ https://www.gminsights.com/request-sample/detail/2670
Apart from the 24-hour data acquisition ability, other distinguished features of synthetic apertures which have propagated the SAR in space sector industry trends are high spatial resolution, unique data about surface roughness & physical structure and modern SAR satellites with exceptionally long operational life. Governments agencies are able to study deforestation patterns, tidal inundations, land-use in urban & rural areas and other landscape characteristics with continuous data availability for elongated periods.
As an active remote sensing device, SAR has displayed immense potential in gaining tactical high-ground over rival nations since it can supply high-quality reconnaissance data to the military. Allegedly, defense applications procured a major chunk of the global SAR in space sector market in 2017 and led the industry landscape.
However, the commercial significance of SAR in space sector is being increasingly realized, where exploration of natural resources and maritime navigation safety are examples of activities that can benefit by the deployment of SAR satellites.
Demonstrating the influence of SAR in space sector, China had launched its own first SAR satellite in August 2016, named Gaofen-3, having the highest number of imaging modes amongst all SAR satellites and boasted to have an accuracy to one meter in distance. It has a long lifespan and its data can allegedly be used in disaster prevention, ocean monitoring and maritime rights protection.
In another instance, Iceye, a space startup from Finland, launched its commercial satellite ICEYE-X1 in January this year, which was the world's first SAR satellite to be under 100kg. The information received from this microsatellite is deemed to be used for a wide range of activities that include maritime tracking, tracing oil spills, monitoring sea ice and other environmental issues. The company is also developing a constellation of SAR satellites to apply across the commercial zone, and already has an algorithm to extract data of marine vessels and their locations. These examples are indicative of the promising future prospects for the SAR in space sector industry, which is estimated to show 11.5% CAGR over 2018-2024.
The SAR in space sector market is constituted of space agencies, IT companies and start-ups working together to produce multi-satellite constellations, which utilize several SAR satellites flying together in a pattern to gather and transmit data. Such endeavors are becoming possible with spacecrafts and programs made for launching multiple satellites at a time, the most notable instance being the 2017 launch of 104 satellites by ISRO in single mission. Recently, the dynamics of the SAR in space sector industry has been impacted by the necessity to reduce the overall size of satellites in conjunction with improving the image resolutions and accuracy.
All in all, with the technology appetite increasing by the day, the overall industry has a slew of opportunities ahead in terms of profitability as well as innovations. Some of the renowned names comprising the competitive hierarchy of synthetic aperture radar (SAR) in space sector market include Harris Space and Intelligence Systems, Terra SAR-X, OptiSAR and startups like ICEYE and Capella Space.
Author Name : Pankaj Singh
General Dynamics' latest innovations at Rhode Island quite vividly portray the firm's powerful stance in tactical communications market. The demonstration, held in the third quarter of 2017, witnessed General Dynamics, a major aerospace & defense company partaking in U.S. tactical communications market share, exhibiting its ability to command, connect & control bluefin robotics UUVs (unmanned underwater vehicles) and third-party UAVs (Unmanned aerial vehicles) with a simulated submarine combat control center ashore via STAPLS (stackable air-powered launch system) at the U.S. Naval Undersea Warfare Center. The principal goal of the firm was to offer novel solutions to the two-way communications problems occurring underwater. Experts claim General Dynamics' move to have quite an impact on the competitive spectrum of tactical communications industry, given that other companies would be emboldened to brainstorm an even more innovative range of solutions.
U.S. Tactical Communications Market Size, By Application, 2016 & 2024 (USD Billion)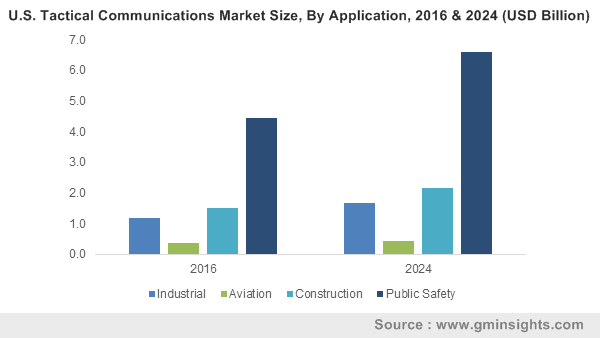 The introduction of state-of-the-art technologies such as magnetic ear canal has helped in effectively promoting a two-way communication in covert & stealth conditions, on the grounds of which this technology finds massive applications in undercover operations, further strengthening the application spectrum of tactical communications market. This business sphere is also a witness to several strategic M&As, which have had a profound impact on the tactical communications industry outlook. Recently for instance, Evolving Systems Incorporation, a U.S. based telecom giant, has acquired Business Logic Systems, a UK headquartered telecom company, in a bid to expand its consumer base across the globe. Furthermore, the deal is slated to help expand Evolving Systems' managed services platform to effectively offer tactical solutions to clients, in effect, strengthening its position in the regional tactical communications market.
Tactical communication products are extensively installed across building & construction, aviation, and public safety sectors. The escalating requirement for uninterrupted and covert communication during critical military & defense operations for public safety is expected to augment tactical communications industry size across public safety. The building and construction sector is also forecast to emerge as one of the most lucrative end-use domains in the ensuing years. One of the most vital reasons for the same is the consistent demand of headsets in this business space, for effective communication. The construction sector, which has been at its peak in the APAC zone – in countries such as India and China will thus emerge as a major growth avenue for tactical communications market.
Get a Sample Copy of this Report @ https://www.gminsights.com/request-sample/detail/2069
Speaking along similar lines, the regional governments across the APAC have lately been strengthening their defense sectors, via extensive funding. Furthermore, it is noteworthy to mention that the rapid industrialization across the region, coupled with the procurement of protective equipment & secured communication channels are likely to substantially impel Asia Pacific tactical communications industry size. India and China, being nearly at the forefront of the defense and construction sectors, have been predicted to emerge as the key revenue pockets for this continent.
Tactical communications have become a vital necessity across war-torn countries such as Syria. The prevalence of internal conflicts in countries like Nigeria has also necessitated the deployment of tactical communication products in the region. In consequence, this intensive demand for tactical headsets, PMRs, and related products would have a profound impact on Middle East and Africa tactical communications industry size, which is expected to emerge as a rather profitable growth avenue for the overall market in the ensuing years.
Extensive investments in R&D programs are expected to have a commendable impact on the product landscape of tactical communications market. Having recognized the same, firms such as Bose Corporation, TEA Headsets, FreeLinc Technologies Incorporation, and INVISIO Communications have been pouring in their finances in research and development activities. Bose Corporation, for instance, recently invested quite some amount to develop headsets for the aviation sector in order to provide excellent Bluetooth audio quality and personalized audio arrangement. In effect, tactical communications industry stands to gain an appreciable momentum in the years ahead, with a target revenue of over USD 30 billion by 2024.
Author Name : Dhananjay Punekar