Pulp & Paper
Increased product demand from pharmaceutical and textile industries will drive bleached linter cellulose market growth in the forecast years. Bleach linter cellulose is a high viscosity substance made primarily from cotton linters. Compared to wood cellulose, cotton linters offer significant advantages like higher purity, higher brightness, and a lower content of hemi-celluloses. These characteristics make purified linters cellulose an ideal raw material for manufacturing high-quality products like tissue, gazes, high-quality paper for bank notes, nitrocellulose and cellulose ethers.
U.S. Bleach Linter Cellulose Market size, By Application, 2014-2025 (USD Million)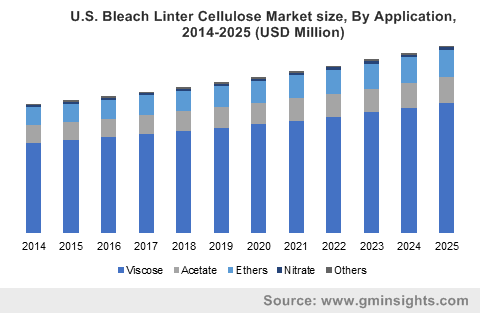 Increasing investments and rapid technological advancements are likely to expand bleached linter cellulose market size over the forecast period. For instance, in 2019, the GRETE project that aims to improve the existing wood-to-textile value chains by developing breakthroughs and increase production of man-made cellulose fibers in Europe was granted EUR 2.6 million by the Bio-based Industries Joint Undertaking (BBI JU). Swiftly growing food industry across developing nations is also anticipated to foster industry trends.
Based on application, it would be apt to state that cellulose ether will accrue a significant proportion od bleached linter cellulose market share over the coming years. Cellulose ethers are often used as viscosifiers, suspending agents, thickeners, binders, protective colloids, film formers, and stabilizers in industries like food, drilling, textile, building, ceramics, detergent, and cosmetics.
Increasing use of cellulose ethers like carboxymethylcellulose (CMC) and methylcellulose (MC) will drive industry outlook. For example, in the construction industry, CMC is used in cement and other building material compositions owing to its hydrophilic and stabilizing properties.
Get a Sample Copy of this Report:@ https://www.gminsights.com/request-sample/detail/3858
Supportive government strategies and investments in the construction sector will positively supplement cellulose ether segment in the coming years. For instance, according to European Construction Sector Observatory (ECSO) 2018, the UK government plans to deliver 400,000 affordable housing units by 2020-2021, financed through a new EUR 2.7 billion Housing Infrastructure Fund.
Growing demand for personal care and pharmaceutical products is likely to drive bleached linter cellulose market growth by 2025. In personal care industry, bleached linter cellulose is used to thicken and stabilize cosmetics and improve their moisturizing effects. Cellulose ether, pertaining to its characteristics like high glass transition temperatures, limited crystallinity, high chemical & photochemical stability, solubility, hydrogen bonding capability, and low toxicity is used widely in the pharmaceutical sector. Colored cellulose ether products can also be decolorized or bleached to attain an increased whiteness.
Growing use of cellulose ether in various medicinal drug formulations will accelerate product demand. For instance, methyl cellulose (MC) can be used for thickening, suspending, and achieving emulsion stability of liquid pharmaceuticals, and for film coating materials of low viscosity aqueous solution.
Ethyl cellulose (EC) can be used as the binder of tablets, as film coating material, or as the matrix material for developing various types of matrix sustained-release tablets. With growing application of cellulose ether and ethyl cellulose, bleached linter cellulose market will witness commendable proceeds from the personal care and pharmaceutical sector over the coming years.
Asia-Pacific bleached linter cellulose market is anticipated to record gains of over 3.5% in the forecast period. Availability of low cost raw materials in countries like India and China will supplement industry growth. In addition, surging demand from end-user industries like textile, food, pharmaceutical and personal care due to improving socio-economic trends will expand market size.
According to IBEF, India's pharmaceutical industry is expected to reach US $55 billion by 2020. Whereas the country's textiles industry is estimated to reach US$ 250 billion in 2019. With rapid proliferation in such key sectors, the Asia-Pacific bleached linter cellulose market is estimated to witness new growth opportunities over the forecast period.
Bleach linter cellulose is high viscosity cellulose made from cotton linters. Being non-toxic, odorless in nature and easy-absorbent, bleach linter cellulose can effectively be used in industries like food, ceramics, detergent, and cosmetics. Rising product penetration in the textile, personal care and pharmaceutical industries will majorly drive global bleached linter cellulose market growth. Global Market Insights, Inc., estimates bleached linter cellulose market size to reach US $1.3 billion by 2025.
Author Name : Mateen Dalal
Increasing consumption of various consumer and industrial products has led to a steady expansion of the global benzalkonium chloride market, in conjunction with the surge in disposable incomes of the working class population. The compound is effective as a disinfectant and preservative across food & beverage, pharmaceutical and chemical applications, being extensively found in nasal and ophthalmic medicines. Benzalkonium chloride is usually deployed as an antibacterial agent and surfactant in several household products like hand wash and hand wipes, along with personal care products and ointments. An augmented demand for such everyday products worldwide owing to rising population and higher consumer spending will reinforce the position of the benzalkonium chloride industry over the next few years.
U.S. Benzalkonium Chloride Market Size, By Application, 2018 & 2025, (Kilo Tons)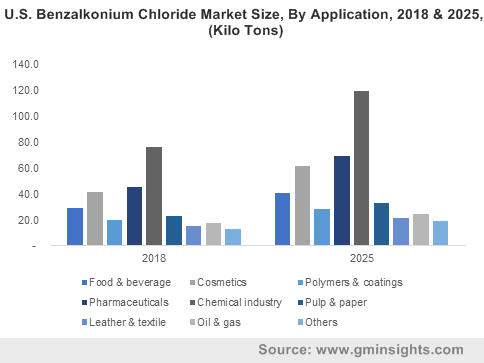 Essentially, the pharmaceutical and cosmetic segments represent two key business verticals where the compound has made a significant impact. It helps preserve the efficacy of medicines while the antimicrobial activities help protect make-up products from disintegrating and increase their quality. Subsequently, consistent consumption of cosmetics and pharmaceuticals will offer considerable momentum to the benzalkonium chloride market throughout various regions. The size of the global pharmaceutical sector is projected to reach US$1.43 trillion by 2020 itself, suggesting vast opportunities for the industry. Narrowing the market potential in terms of using benzalkonium chloride as preservative in eye drops, Bayer and Regeneron's ophthalmic drug Eylea alone had recorded sales of around US$6 billion in 2017.
Expounding the scope of the benzalkonium chloride industry in the food and beverage sector
In essence, the food and beverages industry require suitable disinfecting and sanitizing chemicals for food contact surfaces, to ensure bacteria and other microorganisms are eliminated and the product is not spoilt while in transit or before consumption. Quaternary ammonium compounds such as benzalkonium chloride can counter a wide range of microbes and are applied in appropriate quantities by food producers. The constantly growing demand for packaged food and bottled drinks has made it necessary to tackle all possible threats to health safety and food shelf life, bringing in substantial proceeds for the benzalkonium chloride market. Several reported cases of food-related diseases has notably spurred businesses, government agencies and research organizations to address likely health risks posed by various food-grade chemicals.
Get a Sample Copy of this Report:@ https://www.gminsights.com/request-sample/detail/3233
Referring to a study undertaken by the University of Veterinary Medicine, Vienna, certain strains of gram-positive Listeria seem to be resistant to quaternary ammonium compounds, including benzalkonium chloride disinfectants, and display quite low sensitivity to them. An estimated 47.8 million cases of foodborne illnesses care recorded in the U.S. every year, indicating the enormous need for enhancing food safety. Europe also witnesses nearly 23 million people suffering due to the intake of unsafe food annually, according to WHO. The benzalkonium chloride market is slated to accrue remarkable gains over the forecast timespan from accelerated efforts by food manufacturers to adopt effective sanitizing and disinfecting practices.
Within the beverage industry, compounds can be used for cleaning milking equipment, bulk tanks and other surfaces that come in contact with organic milk or similar products. Milk and other dairy offerings are witnessing consistent rise in demand and producers are required to clean and sanitize any equipment, storage tanks and packaging before utilization. Benzalkonium chloride products are also available as sanitizers for PET as well as glass bottles in which numerous beverages are sold. As evident, the beverages segment is bound to provide significant revenue prospects to the benzalkonium chloride industry.
In a nutshell, a number of critical applications in the food and beverages segment will fuel the development of the global benzalkonium chloride market, which is anticipated to surpass billion dollar valuation by 2025. Prominent companies outlining the competitive dynamics of the industry include  Dishman group, Jinshan Jingwei Chemical, Manav Aktteva Biopharma LLP, Merck Millipore and Novo Nordisk.
Author Name : Pankaj Singh
Global
sodium sulfide market
is anticipated to witness a rather rapid growth over the next few years, owing to the increased disposable income among consumers and the rising demand from different industries such as paper, chemicals, textiles and leather goods. The compound is also utilized across other areas like metal production and water treatment, stretching its application scope to segments that get affected by a population upsurge. The fast-growing construction segment has sustained the consumption of copper, which is used to make numerous parts of a building, subsequently propelling the sodium sulfide industry as the compound is vital in ore processing.
U.S. Sodium Sulfide Market Size, By Application, 2017 & 2024, (Kilo Tons)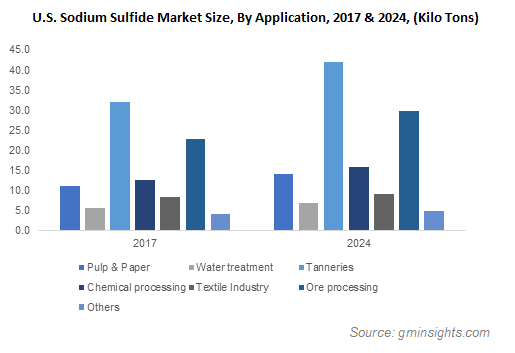 Copper is an excellent heat and electricity conductor, besides having other suitable properties, making it ideal for heating systems, power transmission and various aesthetic parts of a building. The sodium sulfide market has benefited from the consistent demand for copper in construction sector throughout the world. A report suggested that the construction market is projected to grow annually at a rate of nearly 4.5% till 2020, a fact clearly supported by the vast population observed in the Asia-Pacific region. Boasting of a strong mining infrastructure and mounting investments in mineral exploration, the region could provide considerable propulsion to the sodium sulfide industry through the production of copper.
Get a Sample Copy of this Report:@ https://www.gminsights.com/request-sample/detail/3006
Essentially, most of the building components made of copper have high levels of recycled content, more than 80% in many cases. The metal is considered to be important for ensuring the energy efficiency of green buildings, an up and coming trend in the construction sector worldwide. Copper is extremely suited for environmentally sound plumbing and wiring, in addition to its uses in bathroom fittings and lighting. The high-conductivity of copper has led to its utilization in advanced occupant monitoring systems and for heat transfer in water heater systems. Intrinsically, the need for improving energy efficiency in buildings will ensure elevated copper demand, driving the sodium sulfide industry growth.
Worldwide trends have shown that Europe is moving faster towards sustainable construction, suggesting broader development prospects for the copper industry. Expounding the tremendous opportunities for the consumption of the metal, it is widely used in the manufacturing sector for making parts of automobiles, electronics and many other components. As such, mining companies are looking to expand their production of copper, even though it has already been one of the most mined ores in the human history. Increased ore processing activities to meet the global requirements will also bolster other industries involved in its production, including the steadily booming sodium sulfide market.
It was estimated that globally, around 19.7 million metric tons of copper was produced from mines in 2017, with consumption of the element currently standing at nearly 23.8 million metric tons per year. The evidence of a robust increase in the demand and use of copper, and subsequent proliferation of the sodium sulfide market, can be gathered by the efforts of companies like Excelsior Mining, who are seeking the development of new mines. In 2017, the company had received permission by Arizona regulators to open the state's first copper mine in over a decade, boosting the supply of the element in the U.S. and the state's own mining revenues.
Speaking further, the Arizona mine has a life expectancy of almost a quarter century, signifying consistent copper supply over the coming years. Also, world's second largest copper producer, Peru, recently launched another new copper mine worth USD 1.6 billion, that would produce 102,000 t/year of copper concentrated with operations starting in 2020. These are only some instances underscoring the extensive requirements of copper ore processing worldwide, which will eventually fuel the sodium sulfide market expansion. Citing another example to demonstrate the industry potential, a Chinese owned firm had, in August this year, started production at a new copper mine in Zambia, with its full capacity set to be reached by 2020.
All in all, continuous rise in the production copper throughout the globe, along with other ferrous and non-ferrous elements that are widely used by different industries, will accelerate the sodium sulfide market size in the imminent future. Massive consumption of the compound in paper, textile products and leather goods will also generate substantial revenue for the global sodium sulfide industry, pushing it beyond USD 665 million by 2024.
Author Name : Pankaj Singh
With expansion of industries like textile, paper & pulp and wastewater treatment, it is now rather evident that bleaching agents market will register significant growth over 2018-2025 as such chemicals find extensive application in the aforementioned industries. For instance, in October 2018, textile and apparels exports in India recorded a notable 38% jump as overseas demand for Indian clothing accelerated. As the global economy has begun to recover, U.S. has led the demand for Indian clothing and compared to October of 2017 which recoded the export of Rs147.79 billion worth of apparels, in October 2018, exports stood at Rs203.53 billion.
U.S. bleaching agents market size, by application, 2014 – 2025 (USD Billion)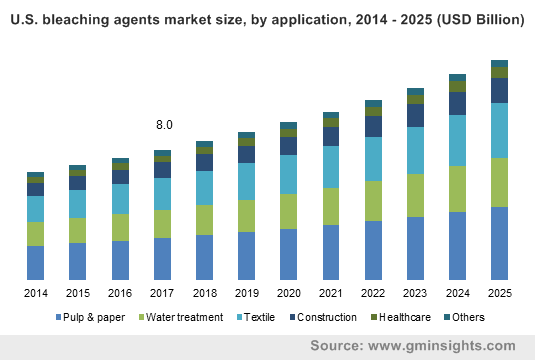 Considering that the Confederation of Indian Textile Industry is actively working to maintain such export revenues, it is rather overt that the Indian textile industry will receive a prominent boost from such endeavors and the bleaching agents market will in turn reap the benefits of such developments over 2018-2025.
It should be noted that Asia Pacific bleaching agents market generated quite some appreciable returns in 2017 that can be largely attributed to not only the textile industry of India but also the textile industry of China, which is incidentally the largest textile producer and exporter in the world. The rapidly growing Chinese textile industry has become one of the pillars in the country's economic development with China's textile exports being valued at approximately $10 billion in 2017, which is estimated to be 37.2% of the global market share. A massive and low-cost labor force as well as material supply availability has lent a competitive edge to China in the textile industry landscape. As a result, the country has come to occupy a leading position in the bleaching agents market as well as bleaching agents are one of the most essential chemicals involved in the textile industry.
Get a Sample Copy of this Report:@ https://www.gminsights.com/request-sample/detail/2525
A part of the Asia Pacific bleaching agents market revenue in 2017 can also be attributed to the use of bleaching agents in the paper & pulp and chemical industries in countries like China and India. Bleaching agents like hydrogen peroxide find extensive application in digital printing and flex printing as well as in manufacturing of packaging materials. Other Asian countries like Indonesia have come to realize the potential in the paper & pulp industry and are increasing investments not only to bring in the latest technology to support the growth of the industry but also to increase competitiveness of its products in the global market.
Indonesia apparently has the raw materials and favorable subtropical climate that makes it a major competitor in the paper & pulp industry. With national industrial policies being aligned to prioritize the paper & pulp industry in Indonesia as it provides a significant contribution to the national economy, the bleaching agents industry in the country is also expected to receive a significant boost over 2018-2025.
It should be mentioned that in world increasingly concerned about the ecological effects of harsh bleaching agents, the bleaching agents market has faced some major challenges when it came to expanding operations. However, active research and development in the bleaching agents industry and innovative new agents have effectively by-passed such hurdles that stood in the way of the industry's growth.
For instance, the pulp and paper industry has made efforts to reduce the chloro-organic and chloride discharges by substituting harmful chlorine-based chemicals with oxygen, hydrogen peroxide and ozone. Modifications at the pulping and bleaching stages in the manufacturing process have been made to reduce the toxic effect of bleaching waste water in order to adhere to stringent emission standards and environmental concerns.
The utilization of industrial waste water to manufacture products like enzymes and the utilization of enzymes in bleaching to minimize the chemical consumption of chlorine-based bleaching agents offer innovative and environmentally sensible technologies that can significantly reduce the environmental impact of the bleaching agents industry. With innovations paving the way for a profitable bleaching agents industry, it is estimated that the bleaching agents market will record a commendable growth rate in the years ahead.
Author Name : Paroma Bhattacharya
Vinyl ester market has lately been emerging as one of the most lucrative business spheres in the bulk and specialty chemicals industry owing to the increasing popularity of light weight and high strength polymeric materials over metals. Vinyl ester possesses lot more benefits such as non-corrosivity, chemically inertness, and design stability that has been prompting energy companies, non-metal product manufacturers, and shipbuilding firms to use it in various non-metal formulations.
U.S. vinyl ester market size, by application, 2014 – 2025 (USD Million)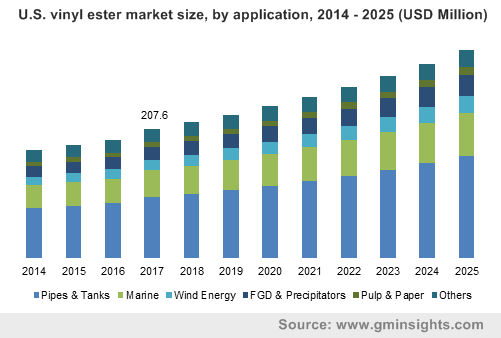 The increasing popularity of green energy alternatives especially wind energy for curbing the carbon footprints is also proliferating the demand for vinyl ester on a large scale. Currently, with the rise in per capita income, most of the industry magnates have been investing in the development of private ferries for traveling through inland waterways. The substantial use of vinyl ester for building strong, lightweight, and comfortable ships will have a considerable influence on vinyl ester market.
Corrosion resistant materials are widely used for manufacturing glass containers, painted steel, stainless steel components, and other varieties of general purpose products. Among those, vinyl ester is generally a more preferred material owing to its capability to stand humid and harsh environmental conditions such as high pressure, high temperature, and highly saline water. Vinyl ester resin is also used to manufacture fiber reinforced plastics (FRP), used as an alternative over exotic metal hybrid products. The material is also used for fabricating industrial equipment and structures including process vessels, pipes, absorption towers, storage tanks, ducts, hoods, and exhaust stacks. Reportedly, in 2017, pipes and tanks held a major proportion of vinyl ester market share.
Get a Sample Copy of this Report:@ https://www.gminsights.com/request-sample/detail/2992
As of now, most of the countries have been shifting their focus toward the deployment of renewable energy solutions for fulfilling their energy needs. European nations such as Ireland, Portugal, and Denmark have been heavily investing in wind power for generating electricity at a cheaper rate. In fact in 2016, wind energy accounted for 85% of renewable electricity generation in Ireland. The rapidly expanding wind energy sector across the globe has been having a major impact on vinyl ester market, as most of the structures are manufactured with FRP materials in which vinyl ester resin is used prominently.
The main reason behind the increasing deployment of vinyl ester resin over epoxy resin while manufacturing wind turbine blades is its low infusion viscosity and excellent curing capability. In long wind turbine blades, the use of epoxy resins may lead to a rise in curing time which ultimately decreases the wind blade manufacturing rate. In fact, in order to maximize the productivity of wind turbine blade manufacturing plants, vinyl ester resin is most extensively used, thereby augmenting vinyl ester market size over the years ahead.
Taking into account the future business opportunities in the vinyl ester industry, several chemical manufacturers have been teaming up to launch qualitative vinyl esters. For instance, in August 2018, Aliancys and AOC collaborated to establish a new company involved in the production of vinyl ester resin, polyester resin, gel coats, and other materials required to develop the composite materials. The duo is planning to enhance their customer base by offering excellent prospects and quality products to the end-use companies. This kind of collaborative approach will help companies leverage their regional reach and strengthen their technology expertise effectively.
The strategy adopted by industry contenders to accelerate product innovation and their service portfolio will propel vinyl ester industry trends in the years to come. The extensive use of vinyl ester resin not only in the wind blade manufacturing process but also in the various industrial equipment development is poised to enhance the product demand significantly. For the record, by the end of 2025, vinyl ester market will surpass a revenue collection of USD 1.7 billion.
Author Name :  Sunil Hebbalkar
The increasing deployment of heating and cooling systems across various commercial, industrial, and household buildings have been fueling heat meters market. The surging concerns among the policymakers and regional governments about energy efficiency has also been having a positive influence on the product demand pertaining to its capability to measure energy consumption within cooling and heating systems. In the cold climatic regions, governments are encouraging people to deploy district heating systems to maintain warmth in the winters. The growing importance of sustainability and energy efficiency across the globe will thus propel heat meters industry share.
Sweden Heat Meters Market Size, By Application, 2017 & 2024 (USD Million)

On the grounds of garnering heat and electricity savings, most of the countries have been installing heat meters in industrial, commercial, and residential buildings. The large-scale deployment of energy consumption measuring equipment has generated lucrative opportunities for the giants in heat meters market. In addition, many financial organizations also have been supporting regulators to install heat meters by providing favorable funding. For instance, in 2017, the Europe Bank for Reconstruction and Development (EBRD) has sanctioned USD 27 million loan to deploy heat meters across the residential sector. Over the last few years, EBRD has been supporting many nations which are looking forward to harnessing sustainability and energy efficiency.
Another region where heat meters market has been gaining traction is Kazakhstan, wherein the fluctuating climatic condition has been impelling the product requirement. Apparently, in the summer season, the heat in Kazakhstan can increase beyond 30 degree Celsius and in the freezing winter, the temperature reaches to -40 degree Celsius. Amidst these extreme climatic conditions, energy efficiency is playing a vital role in the region, leading to the deployment of heating and cooling systems. The deployment of heat meters to save electricity and heat will also help district cooling/heating system firms to control the system losses, optimize the energy supply, and reduce the energy wastage. In 2017, the Kazakhstan government fit heat meters in about 45% of households and was planning to cover more than 80% volume of household buildings within three years.
Get a Sample Copy of this Report:@ https://www.gminsights.com/request-sample/detail/2597
In another instance, the Swiss government and the International Finance Corporation (IFC) have also lent support to Ukraine to create more energy efficient homes. In this regard, Ukraine's State Agency for Energy Efficiency has designed a program dubbed as Warm Loans to improve the heating system of homes. In most of the apartments across Ukraine, district heating systems have already been deployed, but due to more heat loss, energy bills were perpetually high. Reportedly, households in Ukraine account for more than 50% of its overall natural gas production. The remarkably growing awareness among the Ukrainian people about the rising domestic heating bills is thus estimated to fuel heat meters market size.
The transforming technology trends across the globe have also had a significant influence on heat meters market share over the last few years. The development of smart meters is one of the next-generation product inventions that helps customers track daily energy use very easily. Considering the benefits of modern technologies to improve the energy efficiency, leading giants in the heat meters market have been adopting various new technology advancements such as IoT (Internet of Things) and AI (artificial intelligence). For instance, a team from the Danish smart metering company, Kamstrup, and Finnish electricity firm, Herrfors Nät-Verkko have recently planned to use NB-IoT technology in smart metering. With the help of this technology, the Finnish company can monitor more than 6,000 heat and electricity meters that will result in 10% cost savings.
The development of innovative and cost-effective solutions will favorably promote the heat meters industry trends over the years ahead. The supportive stand taken by the regional governments and energy-related organizations to encourage the installation of heat meters will further enhance the industry growth. In line with the increasing deployment of heating and cooling systems mainly across cold climatic regions, heat meters market will generate a revenue of more than USD 1 billion by the end of 2024.
Author Name :Sunil Hebbalkar