Pulse Oximeter
An inherent vertical of the medical devices sphere, sleep apnea devices market has been observing a remarkable growth in recent times. With changing lifestyles and prevalence of obesity among the general populace, sleep apnea is not limited to the geriatric population anymore. Indeed, cases of untreated sleep apnea have been found to be exposed to greater risk of heart disease, stroke and diabetes. In this regard, numerous awareness programs regarding the side-effects of this disorder are being conducted globally, thereby driving sleep apnea devices market. Not to mention, technological advancements by companies have also led to the competitive spectrum of sleep apnea devices industry emerging to be rather fierce lately.
U.S. Sleep Apnea Devices Market, By Product, 2013 – 2024 (USD Million)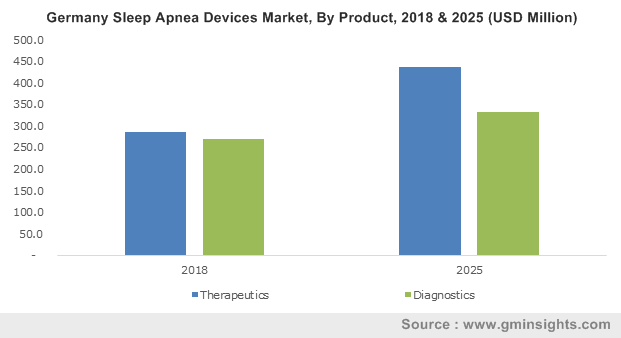 According to estimates by the World Health Organization, sleep apnea affects nearly 100 million people around the world. The disorder is known to affect an individual's personal and professional life to a potentially negative extent. Studies conducted on people afflicted with obstructive sleep apnea (OSA) have demonstrated that OSA causes 40% increase in daytime sleepiness and leads to increased chances of congestive heart failure and stroke. OSA is also known to increase 2 times as many traffic accidents per mile, 2.5 times more hypertension, and 40% increased risk of depression. On these grounds, medical device companies have been striving to develop highly advanced equipment to help control the disorder, thereby fueling sleep apnea devices market share.
One of the pivotal reasons sleep apnea remains untreated for long is the hectic present-day lifestyle that leads to around 95% people getting afflicted with this disorder. In reality, early diagnosis and treatment can potentially improve the quality of a patient's life. Sleep apnea specialists have therefore been suggesting the requirement of raising awareness about the diagnosis and treatment of the disorder. This has led to the implementation of numerous campaigns, projected to spur the sleep apnea devices market.
Get a Sample Copy of this Report @ https://www.gminsights.com/request-sample/detail/489
Considering the myriad health and social problems caused by sleep apnea, it is very evident that untreated sleep apnea leads to severe healthcare costs. It has been estimated in a study in the US that diagnosing and treating every patient with sleep apnea in the country will amount to an annual savings of $100.1 billion. The study further estimated that the economic burden of undiagnosed sleep apnea is approximately $149.6 annually of which roughly $86.9 billion is lost in lack of productivity, $26.2 billion is lost in motor vehicle accidents and workplace accidents amount up to loss of $6.5 billion. In this regard, healthcare specialists have been extensively recommending the use of these devices not only to reduce such related costs but also to safeguard against hypertension, heart disease and depression. In consequence, this would have a massive impact on sleep apnea devices industry.
With rising awareness about sleep apnea, diagnostics sleep apnea devices market accounted for the largest revenue share in 2016 and this trend is expected to be continue over 2017-2024. One of the pivotal reasons for the same is increasing levels of awareness among patients related to this disorder. Additionally, the rising demand for early diagnosis and treatment has also been leading to the growth of diagnostics sleep apnea devices market.
In the years to come, sleep apnea devices market will witness a plethora of novel equipment that can overcome the discomforts of an oral or CPAP device. For example, an innovative procedure for treating sleep apnea implants a pacemaker-like device by surgery. This remote-controlled chest implant has been approved by the US FDA in 2014 and uses two thin wires to monitor the patient's breathing and delivers mild electric current during the night. Such devices however, are still undergoing development and due to the high cost and surgical risks, are not recommended for everyone. However, on account of the continuous research and development programs being conducted by major companies, it is expected that sleep apnea devices market will make significant headway over 2017-2024.
Author Name :Paroma Bhattacharya
Fitbit's recent partnership with tech behemoth Google to innovate and transform the future of digital health industry, has led to enhanced health outcomes for people around the globe. As a part of the companies' partnership, Fitbit will use Google's new open-source tool – Cloud Healthcare API, designed to connect healthcare providers with patient data. Additionally, combining the Fitbit data with Cloud Healthcare API will provide clinicians with a more comprehensive view of the patient profile & data, in turn piloting more personalized care. Analysts deem that the partnership between the two has set a novel benchmark for other prominent players to invest in this business sphere, which is likely to influence digital health market trends in the ensuing years.
U.S. Digital Health Market, By Technology, 2013 – 2024 (USD Billion)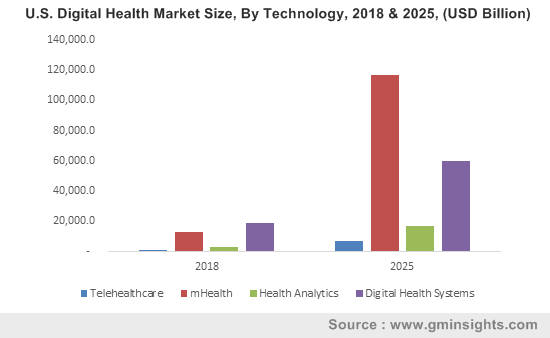 The above-mentioned instance provides evidence that digital health industry has significantly progressed from its first wave of nascent medical applications and is now focusing on bringing advanced technology to make healthcare more efficient and personalized. It is rather overt that healthcare being one of the most dynamically advancing verticals of recent times, has witnessed a plethora of technological interventions that are currently at the pinnacle of success. On these grounds, major companies including Apple, IBM, iHealth Lab, and Cisco Systems have set their eyes on this business sphere, transforming global digital health industry into a dynamic growth ground.
Enumerating yet another vital instance in this space, the Australia digital health industry player Global Health has joined a new initiative to connect sports communities on a global level. The initiative will reportedly allow the athletes to take their medical records with them wherever they plan to move between countries & clubs. Apparently, Global Health has partnered with the Jobs4Sport digital platform, which currently connects agents, rugby union players, coaches and clubs and further plans to expand its reach into basketball, rugby league, AFL, cricket, netball, football, and hockey. According to sources, the players will be provided with their e-medical records via a Lifecard app from Global Health. The company expects to integrate the platform with Google Fit and Apple Health by the end of 2018.
Get a Sample Copy of this Report:@ https://www.gminsights.com/request-sample/detail/833
Analyst deem that currently there is great deal of focus on patient centricity within the healthcare industry. Most industry stakeholders believe that exciting opportunities in digital health market are bound to arrive with notable advancements in the mHealth technology. A classic example of the same is that of the Mount Washington Pediatric Hospital in Baltimore that is using telehealth platforms and heath devices to monitor health and connect with patients. The hospital will be leveraging these platforms to help young patients manage weight & lifestyle management problems.
Quite overtly, mHealth interventions developed for point of care diagnostics, disease tracking, and remote monitoring have significantly supported healthcare professionals & patients in improving the provision of care. In fact, a survey report states that younger consumers between the age of 18 to 34 are more (around 74%) inclined toward adopting mHealth technology in their lives. Thriving on these trends, digital health market size from the proliferation of the mHealth technology is anticipated to witness remarkable growth prospects in the following years. A presumption validating the same is that of Global Market Insights, Inc., claiming the worldwide mHealth market size to surpass USD 60 billion by 2023, growing at an outstanding annual rate of 30% over 2016-2023.
The developments in the healthcare cosmos are remnant of the fact that digital health market has, quite coherently, come a long way since its inception. The growing emphasis on reducing healthcare costs, while improving operational efficiencies have in turned offered companies ample opportunities to disrupt the digital health industry space. Recently, thirteen countries including Australia, India, Singapore, and Canada seemingly collaborated to launch a global digital health partnership that will create a common platform for sharing knowledge. This has quite vividly set the stage for the global industry landscape to traverse along a remunerative growth path. All in all, with extensive focus on re-designing patient experience, digital health market is expected to take a deeper dive in terms of revenue, growing at a double-digit CAGR of 26% over the forthcoming six years.
Author Name : Ojaswita Kutepatil