Pulse Oximeter
Ongoing medical advancements and increasing awareness regarding the severity of sleep apnea is expected to be the vital factor driving sleep apnea devices market. Increasing lifestyle induced diseases such as obesity and cardiovascular are giving rise to growing prevalence of sleep apnea. A study suggests that over 50% of the global adult population habitually snore, which leads to growth in the rate of obstructive sleep apnea (OSA). As per American Sleep Association, more than 25 million adults in US are diagnosed with OSA. This data proves that there is a massive rise in the incidence of sleep and respiratory disorders, which will lead to significant usage of these devices. Moreover, favorable reimbursement schemes and awareness regarding adoption of these devices is likely to accelerate sleep apnea devices industry trends. As per Global Market Insights, Inc., "Sleep Apnea Devices Market  size is estimated to register an annual growth rate of 7% over the period of 2016-2023."
Germany sleep apnea devices market size, by product, 2012-2023 (USD Million)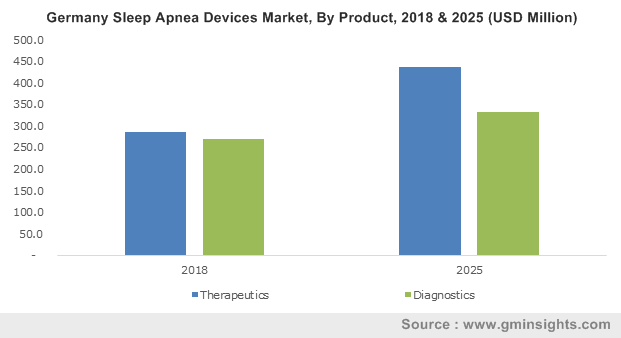 Sleep apnea devices market is at a developing stage and will see a profitable future with rapidly growing attention towards sleep related disorders. The sleep apnea devices market can be bifurcated into airway clearance system, positive airway pressure, oral appliances, adaptive servo-ventilation, and oxygen device in terms of products. The oral appliances segment is estimated to surpass USD 1 billion by 2023. The flexibility in usage of this device and its generous recommendation to large patient pool is generating lucrative growth prospects in sleep apnea devices market. Moreover, with rising demand for easy-to-use miniature products, positive airway pressure (PAP) devices have witnessed a remarkable surge. This product segment is foreseen to attain a Y-O-Y growth of 10.4%, hitting the track record of being the highest revenue generating therapeutic device in 2015.
Get a Sample Copy of this Report @ https://www.gminsights.com/request-sample/detail/489
A large pool of untapped opportunities in the emerging nations will provide sleep apnea devices industry with rewarding grounds over the years to come. Along with this, attention towards serious implication of this disorder on human health and promising reimbursement scenario will fuel the market growth.
Considering the regional outlook, below are the key highlights of sleep apnea devices market dynamics over 2016-2023
China sleep apnea devices market is expected to register to a CAGR of 11% from 2016-2023. Increasing incidence of OSA coupled with the rising geriatric population will ignite the regional growth.
Japan market, contributing more than 44% of the total regional revenue in 2015, is projected to witness heavy gains in the coming six years. Rising healthcare expenditure and the presence of the huge patient pool is likely to drive the demand for sleep apnea industry.
U.S. sleep apnea devices industry is projected to register a CAGR of 7.5% over the span of 2016-2023. The regional growth can be attributed to favorable Medicare policies and deployment of advanced products in the region.
UK sleep apnea devices industry is set to grow at a CAGR of 7% over 2016-2023. Favorable government initiatives in this regard will surge the industry growth.
Brazil and Germany sleep apnea industry is also anticipated to witness a momentous growth, owing to rising patien awareness levels.
Market players will focus more on product innovation and invest heavily in research to come up with novel products. Prominent companies operating in sleep apnea devices market include ResMed, Carefusion, Cadwell Laboratories, Philips Respironics, Braebon Medical, and Compumedics.
Author Name :Ojaswita Kutepatil
Digitization in the healthcare space along with the buzzing trend of IoT (Internet of Things) worldwide, will propel the digital health industry growth over the coming seven years.  The evolving smart healthcare technology across the globe is expected to enhance the industry outlook over the coming timeframe. According to Global Market Insights, Inc., "Digital health industry size is estimated to surpass USD 379 billion by 2024." Widespread application of remote patient monitoring solutions along with favorable government policies will help in creating an advanced healthcare infrastructure worldwide. Moreover, growing penetration of smartphones, mobiles, and tablets is expected to noticeably boost the digital health market trends over the coming years.
The new technological breakthroughs in healthcare IT industry along with improvements in healthcare services is expected to build a profitable roadmap for the digital health market. Rampant use of mHealth technologies by healthcare service providers for monitoring patient health will also bring a significant surge in the mHealth market, in turn proliferating the digital health industry over the next few years.
U.S. Digital Health Market size, by Technology, 2012- 2024 (USD Billion)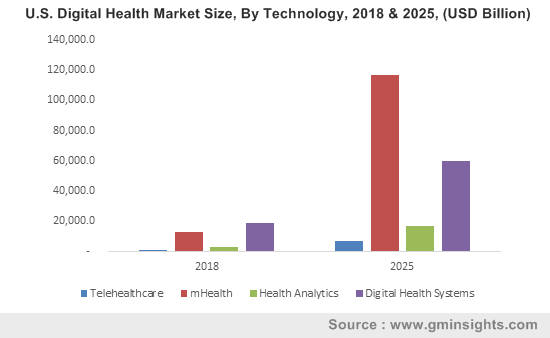 Considering the technological trends in the digital health business space, health analytics market size will witness a considerable growth over the next few years, having reached a targeted revenue of over USD 4 billion in 2015. Digital health systems market value estimated at USD 32 billion in 2015, is expected to observe a high surge over 2016-2024, primarily driven by growing consumer awareness about EHR (Electronic health record) and rising interoperability trend.
Get a Sample Copy of this Report:@ https://www.gminsights.com/request-sample/detail/833
Geographically, US digital health market will dominate the global industry, with target revenue poised to surpass USD 152 billion by 2024. Rise in aging population base suffering from chronic ailments coupled with introduction of HIPAA & HITECH acts will positively impact the regional growth. Rapid technological changes, rise in sale of smartphones, growing popularity of eHealth cards, and government support for e-health will contribute significantly towards Germany digital health industry, which contributed over 30% of the global market share in 2015.  Japan digital health market size will surpass USD 20 billion by 2024, due to the growing popularity of health care technologies along with improved healthcare services at lower costs.
Global digital health market share is highly fragmented, with big multinational corporations, local industry players, and start-up firms trying to capture maximum share and establish their market position. Key industry players will try to increase their revenue by introducing new technologies in the digital health business and investing heavily in R&D projects. Key market players include McKesson Corporation, Philips Healthcare, Qualcomm, AT & T, LifeWatch, Cisco Systems Incorporation, eClinicalWorks, Cerner Corporation, iHealth Labs, and athenahealth Incorporation.
Author Name : Dhananjay Punekar