Pulse Oximeter
An inherent vertical of the medical devices sphere, sleep apnea devices market has been observing a remarkable growth in recent times. With changing lifestyles and prevalence of obesity among the general populace, sleep apnea is not limited to the geriatric population anymore. Indeed, cases of untreated sleep apnea have been found to be exposed to greater risk of heart disease, stroke and diabetes. In this regard, numerous awareness programs regarding the side-effects of this disorder are being conducted globally, thereby driving sleep apnea devices market. Not to mention, technological advancements by companies have also led to the competitive spectrum of sleep apnea devices industry emerging to be rather fierce lately.
U.S. Sleep Apnea Devices Market, By Product, 2013 – 2024 (USD Million)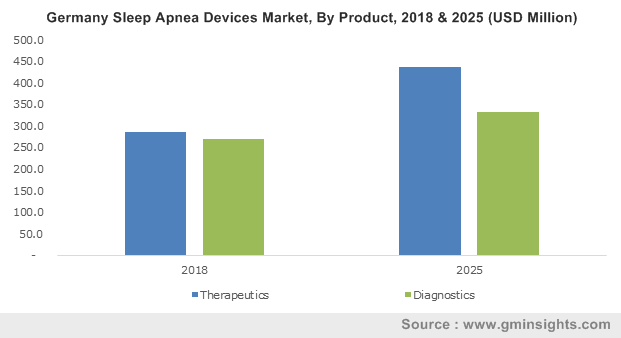 According to estimates by the World Health Organization, sleep apnea affects nearly 100 million people around the world. The disorder is known to affect an individual's personal and professional life to a potentially negative extent. Studies conducted on people afflicted with obstructive sleep apnea (OSA) have demonstrated that OSA causes 40% increase in daytime sleepiness and leads to increased chances of congestive heart failure and stroke. OSA is also known to increase 2 times as many traffic accidents per mile, 2.5 times more hypertension, and 40% increased risk of depression. On these grounds, medical device companies have been striving to develop highly advanced equipment to help control the disorder, thereby fueling sleep apnea devices market share.
One of the pivotal reasons sleep apnea remains untreated for long is the hectic present-day lifestyle that leads to around 95% people getting afflicted with this disorder. In reality, early diagnosis and treatment can potentially improve the quality of a patient's life. Sleep apnea specialists have therefore been suggesting the requirement of raising awareness about the diagnosis and treatment of the disorder. This has led to the implementation of numerous campaigns, projected to spur the sleep apnea devices market.
Get a Sample Copy of this Report @ https://www.gminsights.com/request-sample/detail/489
Considering the myriad health and social problems caused by sleep apnea, it is very evident that untreated sleep apnea leads to severe healthcare costs. It has been estimated in a study in the US that diagnosing and treating every patient with sleep apnea in the country will amount to an annual savings of $100.1 billion. The study further estimated that the economic burden of undiagnosed sleep apnea is approximately $149.6 annually of which roughly $86.9 billion is lost in lack of productivity, $26.2 billion is lost in motor vehicle accidents and workplace accidents amount up to loss of $6.5 billion. In this regard, healthcare specialists have been extensively recommending the use of these devices not only to reduce such related costs but also to safeguard against hypertension, heart disease and depression. In consequence, this would have a massive impact on sleep apnea devices industry.
With rising awareness about sleep apnea, diagnostics sleep apnea devices market accounted for the largest revenue share in 2016 and this trend is expected to be continue over 2017-2024. One of the pivotal reasons for the same is increasing levels of awareness among patients related to this disorder. Additionally, the rising demand for early diagnosis and treatment has also been leading to the growth of diagnostics sleep apnea devices market.
In the years to come, sleep apnea devices market will witness a plethora of novel equipment that can overcome the discomforts of an oral or CPAP device. For example, an innovative procedure for treating sleep apnea implants a pacemaker-like device by surgery. This remote-controlled chest implant has been approved by the US FDA in 2014 and uses two thin wires to monitor the patient's breathing and delivers mild electric current during the night. Such devices however, are still undergoing development and due to the high cost and surgical risks, are not recommended for everyone. However, on account of the continuous research and development programs being conducted by major companies, it is expected that sleep apnea devices market will make significant headway over 2017-2024.
Author Name :Paroma Bhattacharya
The fact that positive encouragement from governments and funding bodies will expedite the growth of digital health market has recently been demonstrated in a move by the Industrial Strategy Challenge Fund. Managed by UK Research and Innovation, the Fund plans to offer £17 million for the development of breakthrough technologies that can revolutionize healthcare. Some of the technologies being developed under the initiative include a GPS app that can track the availability of beds in hospitals, a 3D printing technology for tablets and a smartphone app that can monitor and improve treatment of complex wounds. As the presence of digital technologies becomes more pervasive in the daily lives of human being, the digital health industry will continue to revolutionize healthcare and life in general with improved quality of care and much more.
U.S. Digital Health Market, By Technology, 2013 – 2024 (USD Billion)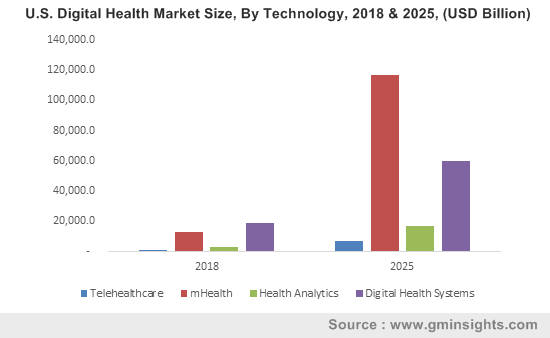 The evolution of the digital health market has come through as a means to offset the ever-rising costs of healthcare, to support a growing middle-class population, to incorporate disruptive digital innovations into healthcare and to take care of an increasingly aging population. Many experts are of the opinion that the changing status quo will have significant effect on healthcare delivery in the near future in which digital healthcare will make it possible for patients to access one's health and get help from experts without having to go to a brick and mortar building delivering healthcare solutions.
It is expected that the digital health market which was evaluated at $71.4 billion in 2017 will earn a massive revenue of $379 billion by 2024. This exponential growth graph will be galvanized by the use of everyday technologies like smartphones sensors, data analytics and cloud storage that have facilitated research into digital health. Traditional paper-based models are being replaced by electronic data capture (EDC) solutions that are helping to curb the mounting costs of healthcare while empowering patients and citizens as well as healthcare providers in collecting and analyzing data in real time. Digital health market is also receiving considerable impetus from governments looking to bring down healthcare costs borne by the state.
Get a Sample Copy of this Report:@ https://www.gminsights.com/request-sample/detail/833
It has been conclusively proven that the early diagnosis of disease significantly brings down the cost of healthcare, which has been one of major factors for digital health market to attain an exceptionally fast pace. The ability to continuously track, monitor and analyze health status in real time provides improvements and possibilities in one's understanding of health status and early disease prediction becomes possible. Such information can lead to the change in behavior of the individual which is often good enough to deter the progress of certain health issues such as obesity or diabetes. Such changes on an individual level means a much healthier population and elimination of system costs by decreasing the requirement of treatments.
In a world that is embroiled in a debate about the waste involved in health services, the benefits provided by digital health industry expansion is viewed favorably. For instance, in UK, the National Health Service has been estimated to waste nearly £2 billion each year for unnecessary or expensive treatments which is often the consequence of the late discovery of diseases. The progress of digital health can facilitate cost cutting of such unnecessary treatments.
Digital health can also facilitate two-way communication between healthcare providers and patients, decreasing the need of primary care by patients which is more often than not ignored by general citizens. On perceiving abnormalities on patient data, doctors can contact patients. Advanced patient-screening techniques can boost the effectiveness and efficiency of healthcare quality. Considering the several benefits of the progress of digital health systems, it is anticipated that digital health market will register substantial impetus over 2018-2024.
Author Name : Ojaswita Kutepatil