Purity
Growing application in electrical & electronics appliances as well as in the textile industry will drive decabromodiphenyl ether market growth. Decabromodiphenyl ether (decaBDE) is an additive flame retardant that has wide applications in plastics, sealants, textiles, adhesives, coatings and many other products. It is used to protect items like electronic equipment, furniture cushions, upholstery textiles, mattresses, carpet backings, vehicles, aircrafts and building materials from the risk of fire.
U.S. 83% Purity Decabromodiphenyl Ether Market Size, By Material, 2018 & 2025, (Kilo Tons)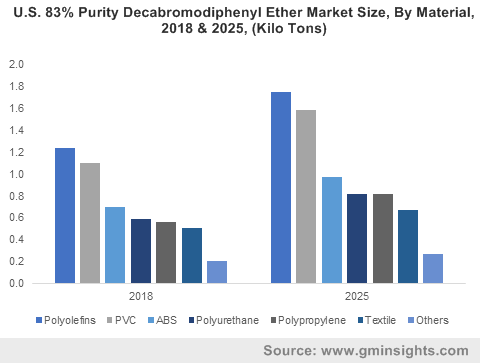 In the past, commercial decabromodiphenyl ether (decaBDE) constituted 75%-80% of the global production of PBDEs (Polybrominated diphenyl ethers), while the total production of c-decaBDE over  1970-2005 was recorded around 1.1 million to 1.25 million tons. DecaBDE consumption peaked in the early 2000's and continues to be used worldwide.
In the building industry, decaBDE is used to develop paper foil laminate, home insulation, hot melt adhesive and architectural foam. In the rubber industry, decaBDE powder is used to manufacture flame retardant rubber conveyor belts that are used in underground coal mines, and to manufacture ventilation bands used as air ducts sealants in mine ventilation systems.
DecaBDE is also found in plastics used in electrical appliances and equipment such as computers, circuit boards, cable insulations and casings. Other uses in the transportation sector include fabrics of automobiles and aircrafts. Driven by a widespread application spectrum, decabromodiphenyl ether industry size may register significant growth over the coming years.
Based on material, decabromodiphenyl ether market is segmented into acrylonitrile-butadiene-styrene (ABS), polyolefins, polyvinylchloride, polyurethane, polypropylene. ABS is often used in automotive and electrical equipment. It exhibits excellent mechanical properties, thus offering good impact strength.
ABS offers good electrical insulating properties, on account of which it finds applications in products like electrical connections, light switches, power points and more. Control housing covers are also made using ABS. Additionally, ABS resins are used in injection molding of parts for medical devices, domestic electrical appliances, and automotive casings. Rising inclination toward the product owing to its superior surface appearance and fire-retardant properties will impel ABS-based decabromodiphenyl ether market share.
Get a Sample Copy of this Report:@ https://www.gminsights.com/request-sample/detail/3414

Surging ABS demand in electrical & electronics appliances and in the construction industry will also fuel the overall acrylonitrile butadiene styrene (ABS) market, a marginal impact of which will be felt across decaBDE industry.
Decabromodiphenyl ether market has registered considerable growth from textile industry. DecaBDE is used to treat a wide range of synthetic, blended and natural fibers. It is used in products like upholstery, window blinds, curtains, mattress textiles and more. It may also be used in synthetic latex foam in protective clothing, carpets, upholstery fabric, tents, and interiors fabrics used in cars, trains and aircraft.
DecaBDE is commonly applied using back coating process in the textiles industry. Padding processes and printing processes are also used to apply this flame retardant chemical. Increasing disposable incomes along with changing lifestyles have enhanced consumer spending on household fabrics, which is anticipated to accelerate product demand in the textile industry.
APAC decabromodiphenyl ether industry is growing on account of high-production demand for flame retardant, especially across China and India. Indeed, the demand for flame retardants has increased exponentially in China, mainly as the country produces large volumes of electronic devices for global markets. According to reliable reports, China's electronics production volume grew from 10% in 2016 to 14.5% in April 2017.
Demand for improved fire retardant and durable plastics for consumer electronics should foster decaBDE demand. Moreover, rapid urbanization has led to increased demand for decaBDE in the residential and commercial building sectors, accelerating the APAC decabromodiphenyl ether market share.
Decabromodiphenyl ether is a flame retardant used to enhance the strength, durability and chemical resistance of numerous end-user products. Increasing application in the automotive, textile and construction industries has accelerated industry growth in recent times. Global Market Insights, Inc., estimates decaBDE market size to exceed USD 430 million by 2025.
Author Name : Mateen Dalal
The global anisole market is projected to experience an accelerated growth over 2018 – 2024, primarily fueled by organic chemical compound's applications in the rapidly expanding pharmaceutical and cosmetics sectors. Estimated to be valued at over $77 million, the global anisole market has depicted considerable growth due to the product's rising incorporation in a plethora of cosmetic products, on account of the artificial fragrance that is associated with anisole.
U.S. anisole market size, by application, 2013 – 2024 (USD Million)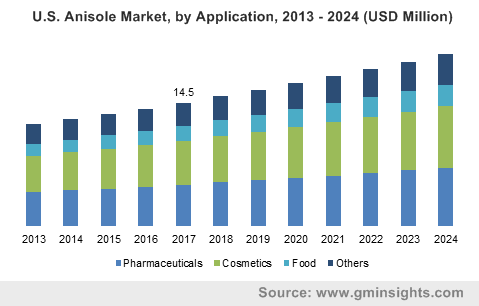 It is prudent to mention that anisole is also used to manufacture several different chemical compounds that find applications across a slew of application verticals. However, pharmaceuticals and cosmetics are among the biggest and the fastest growing application sectors that are not constrained by the burden of serving only a niche demographic – which is the reason why these sectors are thriving in some of the most populous regions of the globe, gradually aiding the growth of anisole market as well.
Unveiling APAC anisole market trends
The Asia Pacific is one of the most lucrative regional anisole markets, that is popularly driven by the rise in demand for cosmetic brought on by the increased disposable incomes and the subsequent affordability in the region. According to a 2017 report by the French personal care and cosmetics company – L'Oréal S.A., the firm's accrued almost 24% of its global sales in 2017 from the Asian belt. This can be undeniably attributed to the rising demands for premium cosmetic products due to the rate at which the discretionary expenditure skyrocketing, especially across the economies of India and China.
Get a Sample Copy of this Report:@ https://www.gminsights.com/request-sample/detail/2615
It is also prudent to mention that APAC anisole market has also received commendable boost on account of the product being used as a pesticide, in the agro-based economies, wherein governments have been attempting to readdress pivotal issues in the agricultural domain. For example, the Indian government has brought about initiative such as Pradhan Mantri Fasal Bima Yojana and Paramparagat Krishi Vikas Yojana in order to reform agricultural production, The government of China has also shifted its focus toward agricultural reformation. These initiatives have led to an escalation in the demand for pesticides, that would gradually help augment the regional anisole market trends. Driven by the efforts across the economies, APAC anisole market share is likely to soar in the years to come. As per Global Market Insights, Inc., the APAC region accounts for 30% of the global anisole market share.
Apart from the cosmetic applications, the global anisole market would also be receiving a significant boost from the pharmaceutical sector. The U.S. pharmaceutical sector has been the most flourishing domestic market for the development and commercialization of different pharmaceuticals. According to a report by PricewaterhouseCoopers (PwC), primary pharmaceutical markets such as Europe, North America and Japan had been under considerable pressure a decade back, having experienced a slowdown in growth. Today however, the pharma sector has witnessed considerable incline across the developed as well as developing economies, thereby making the domain a lucrative growth avenue for the global anisole market. Anisole industry share from pharmaceutical applications is expected to witness a CAGR of 4.4% over 2018-2024, driven by the fact that the product serves as a crucial precursor in producing a plethora of pharma compounds. For instance, 4-methoxyphenol, a phenol derived from anisole is used to create 4-methoxyphenol – a chemical used in manufacturing of bulk pharmaceuticals like Raloxifene and Dextromethorphan.
It is imperative to mention that global anisole market growth is slightly hampered due to the small amounts of anisole required for cosmetics products. For instance, according to a study by the American College of Toxicology, p-Hydroxyanisole, a phenol derived from anisole is used as an antioxidant in different cosmetic products in concentrations as low as 1% because the organization recommends that smaller concentrations would not result into it being a severe irritant. Nonetheless, despite anisole and the anisole-derived phenols being used in small quantities and dilute concentrations, the compounds are still expected to be incorporated in a plethora of cosmetic products worldwide, thereby augmenting the commercial landscape of global anisole industry. As per Global market insights, Inc., anisole market size is projected to cross $100 million by 2024.
Author Name : Akshay Kedari