Pyrotechnic
Owing to a widespread application portfolio along with the increase in pyrotechnic activities, the global strontium market has been observing a remarkable growth over the last few years. Numerous research studies have revealed that strontium plays a crucial role in keeping bones healthy. It slows the rate of bone loss, assists in calcium absorption, prevents bone pain, helps in restoring alkaline state, enhances resistance to fracture, regulates bone breakdown, and boosts bone formation. Natural strontium has proved to be helpful in relieving the bone pain in patients with metastatic bone cancer, as per reliable sources.
U.S. Strontium Market Size, By Application, 2014 – 2025 (USD Million)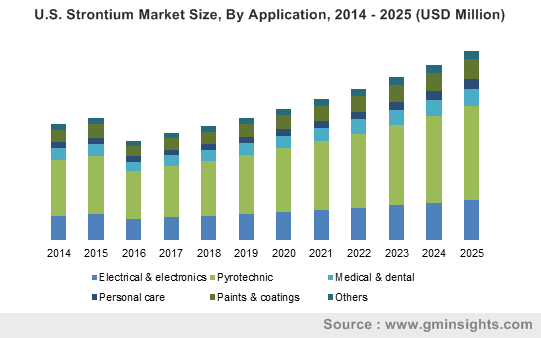 It has also been found that supplementation with strontium deposits the mineral in the bone lesions, essentially suggesting a possibility of utilizing the element to mineralize areas in which cancer-associated bone loss has occurred. Owing to all the superior properties and benefits mentioned above, strontium is being widely used in medical and dental applications in the recent times. In fact, as per the research report by Global Market Insights, Inc., the medical and dental application segment is slated to account for nearly a tenth of the overall revenue share of the global strontium industry by the end of 2025.
Speaking along similar lines, several biotech and pharmaceutical majors have focused on developing products fortified with strontium chloride to mitigate cancer bone pain in patients suffering from painful skeletal metastases. The biotechnology acceleration development firm Q BioMed Inc., for instance, recently filed a supplemental regulatory application with the U.S. FDA to receive the approval to construct its new production unit, which would develop non-opioid injectable named Strontium Chloride Sr89 Injection USP.
Get a Sample Copy of this Report @ https://www.gminsights.com/request-sample/detail/1291
For the record, FDA has already approved the drug which reduces bone pain in patients suffering from bone metastases. The survival rates of patients with prostate and breast cancers, which are at high risk of developing bone metastases, would witness an uptick owing to the development of superior drugs and injectables such as Strontium Chloride Sr89 Injection USP. This would, in turn, fortify the medical and dental applications segment of the strontium industry in the upcoming years.
Increasing usage of strontium in pyrotechnic across the APAC nations set to boost the valuation of global strontium industry
The increasing usage of firecrackers on festive occasions in Asian nations such as China and India have resulted in strong demand for pyrotechnic operations in this region. In this regard, it would be prudent to mention that the colors of most modern fireworks involve metal chlorides – one of the most prominent being strontium chloride. These pyrotechnic operations are majorly deployed in several entertainment activities along the likes of sports events, concerts, and various ceremonies, essentially boosting the Asia Pacific strontium industry share which is estimated to register an annual growth rate of 6.5 percent over the projected time frame.
While the growth in pyrotechnic activities is on the rise, the usage of synthetic strontium is likely to decrease as stringent government regulations are being implemented to curb pollution across several nations. Moreover, steps are being taken by prominent research organizations to develop eco-friendly firecrackers (devoid of strontium nitrate) to reduce air and noise pollution.
In this context, it would be imperative to take note of the less polluting firecrackers recently developed by CSIR, the premier national R&D organization of India. Needless to mention, the development of green crackers, e-crackers and less polluting firecrackers would diminish the demand for strontium for pyrotechnic activities, essentially limiting the growth prospects of strontium industry in the times to come.
Companies such as Chemalloy Co, NOAH Technologies Corporation, Shenzhou Jiaxin Chemical Co., Prochem Inc., Joyieng Chemical Limited, Canteras Industriales, Química del Estroncio, BassTech International, Solvay, and Sakai Chemical Industry Co., constitute the competitive landscape of strontium market. Driven by strong growth in medical and dental applications segment along with the increasing usage of strontium in pyrotechnic activities, the strontium industry is set to garner substantial proceeds in the years ahead.
Author Name : Saif Ali Bepari