Radial
Marine turbocharger market is projected to witness exponential growth due to the introduction of strict government regulations that are focused on alleviating environmental concerns and tackling climate change. Additionally, numerous technological advancements in the field of propulsion technologies are also likely to foster industry outlook.
Moreover, increasing economic development and growing customer expenditure on recreational activities are positively influencing adoption of recreational boats that use the latest of propulsion technologies to get around.
In fact, with growing demand for faster speeds and higher power throughputs in recreational sports activities, the market is likely to witness a rise in product sales during the projected study period.
According to a recent research report by Global Market Insights, Inc., global marine turbocharger market is expected to surpass $780 million by 2026.
Rising seaborne trading as well as favorable trade regulations are fueling the demand for new commercial ships. This has influenced several shipping companies to increase the cargo carrying capacities. It has also impelled the increase in ship sizes to address increasing seaborne trade.
Additionally, there is an increasing demand for improved turbocharger and engine efficiencies from ship operators to meet the IMO regulations and EEDI targets. These demands are set to emerge as the key factors that would push the marine turbocharger market trends over the forecast timeframe.
Get a Sample Copy of this Report @ https://www.gminsights.com/request-sample/detail/4399
Meanwhile, several advancements in propulsion technologies would possibly drive the market share in the forthcoming years through product advancements. One such advancement, the CFD (Computational Fluid Dynamics) technique is used in turbine blades and compressor wheels to examine the secondary and primary flow structure across impeller blades.
Likewise, use of advanced tools such as ANSYS and FEA techniques results in adaptable development processes. Due to this flexibility, turbochargers can be modified at later stages. In the projected timeframe, techniques like CFD, ANSYS and FEA are likely to positively influence the turbocharger market.
Additionally, technological advancements have also innovated marine turbocharger diversification. Products can now be designed specific to different industry demands. Advanced marine turbochargers provide improved efficiency and higher pressure ratios which reduces their environmental impact. With these benefits product adoption is likely to witness a sizable shift in coming years.
The adjustable vanes turbochargers are anticipated to experience high growth due to their ability to contribute towards the alteration of the aspect rations. This further changes turbine's effective area.
Moreover, improvement in pressure ratios and reduced lag time are few of the benefits that enhance overall engine efficiency, it also allows flexible air management to optimize combustion. Such value-adding features would push product adoption in the industry.
With regards to the technological landscape, electric-assist turbocharger is anticipated to witness immense growth. The projected growth is being attributed to the numerous advantages it offers.
Incorporation of electric assist turbochargers offers lower level of specific fuel consumption at high speed and helps maintain variations of speed in low load conditions. Optimum fuel usage and maintenance of speed at low loads are the key factors which would positively impel the market outlook.
Companies are using methods and materials to develop lightweight structures and higher-pressure ratios. Citing an instance, in 2016, Kompressorenbau Bannewitz GmbH launched its ST27 turbocharger series. the new product is capable of delivering a pressure ratio of about 5:5:1.
Today, service providers play a crucial role in the upgradation and modernization of existing systems. These efforts are focusing on optimizing operational flexibility and reliability. With these efforts the marine turbocharger market is set to chalk out a lucrative outlook for industry expansion.
Author Name : Bhushan Tambe
Airless tires market has indeed gained a commendable acclaim over the recent years, especially amidst the backdrop where disruptive tech driven trends are aptly reshaping the mobility sector.  Given that forces like diverse mobility, connectivity, autonomous driving, and electrification are already on the horizon, it is expected that airless tires industry would soon conveniently establish itself as the next lucrative investment avenue. This is apparently vivid from the estimates that claim the global airless tires market to have garnered a revenue of USD 120 million in 2016. The growth is chiefly driven by the increasing demand for these next generation tires in heavy off-load vehicles, widely used across the military sector. In fact, military vehicles procured a prominent chunk of the airless tires industry landscape in 2016 and is anticipated to record a CAGR of 9% over 2017-2024.
U.S. Airless Tires Market, By Product, 2016 & 2024, (Units)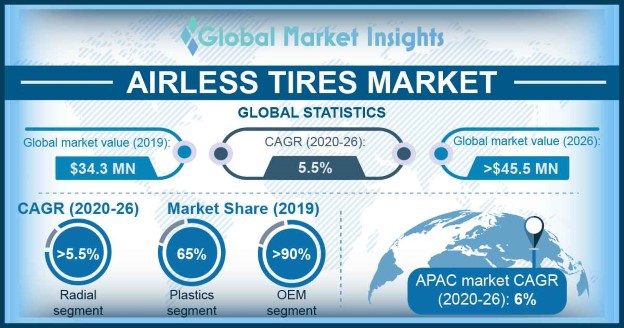 The concept of 3D printing is deemed to bring a disruption of sorts in the airless tires industry. Having recognized the immense potential of this technology, market players have been increasingly experimenting with 3D printing to unlock its credibility to the fullest. Quoting a recent case, Michelin, one of the leading airless tires market firms has recently made its way to the front page with the launch of its airless 3D printed tire. This breakthrough model is reportedly based on alveolar structure, similar to that of air sacs found on human lungs. That is to say that the interior of the tires are structurally solid while the outer layer is flexible, which prevent blowouts. What adds an extra feather to its hat is the product's environmental viability – it is printed from biodegradable, organic, and recyclable materials.
Elaborating further on the competitive landscape, product innovations and development are the two prominent parameters underlining the sustainability quotient for the market players. Below are two of the latest developments in the product landscape of airless tires market.
Get a Sample Copy of this Report@ https://www.gminsights.com/request-sample/detail/1390
Goodyear Tire & Rubber Company, one of predominant players in airless tires market, has recently released an airless or non-pneumatic turf tire solution for commercial mower applications. Reported to be exclusively available on Bad Boy Mowers' Outlaw XP model, this groundbreaking airless tire technology is particularly designed to eliminate air pressure checks, and flat tires. The move is claimed to be a revolution with regard to the launch of non-pneumatic technologies in the automotive sector and is deemed to remarkably strengthen Goodyear's position in the competitive landscape of airless tires industry.
World's first 3D printed airless bicycle tires have been recently tested on the streets of Berlin- the latest scoop that is grabbing the headlines in airless tires market. Reportedly, BigRep, the Berlin based tech giant has tested this new Pro Flex filament tire, which is claimed to be superior than other 3D printing filaments in terms of its unique flexibility, high resistance, and unmatched durability. With airless tires becoming a renowned trend in the transportation space, the move is certain to provide a remarkable competitive edge to BigRep.
It is vividly coherent that technological upgradations in product design and deployment are the top-notch parameters underlining the strategic landscape of this fraternity. The business space is set to garner an appreciable popularity across APAC belt, especially by the extensive growth of military and commercial vehicle sectors in China and India. APAC airless tires market is slated to hold more than 30% of the global landscape by 2024. All in all, with automotive OEMs increasingly exploiting the potential of these cutting-edge tires for overall weight reduction and performance enhancement of the vehicles, airless tires industry is likely to witness a slew of opportunities over the ensuing years. The global revenue share is projected to surpass USD 200 million by 2024.
Author Name : Satarupa De