Raw Material
Rapidly increasing air traffic resulting from worldwide expansion of the aviation sector has propelled the
aerospace floor panels market
with key manufactures speeding up the production of commercial aircrafts. Constituting a major portion of any aircraft's weight, floor panels need to be light for reducing the overall mass and also should be durable to tolerate the brunt of thousands of passengers or tons of cargo load over a period of time. The introduction of efficient materials and designs to manufacture lightweight panels and structures has supplemented cost savings for airlines along with meeting stringent norms mandated by aviation authorities.  As such, the aerospace floor panels market has hugely transformed due to consistent focus on enhancing the quality of panels, which form an integral component of the all-round safety within the aircraft.
U.S. Aerospace Floor Panels Market, By Aircrafts, 2017 & 2024, (Units)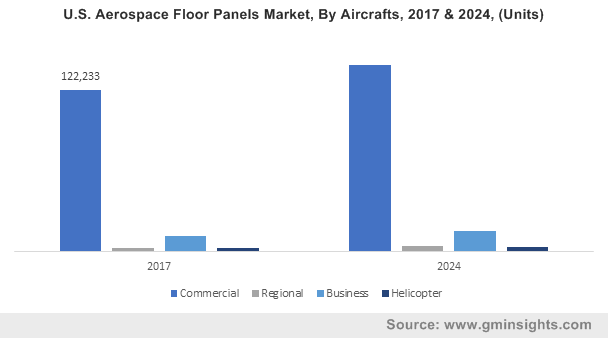 Speaking of efficient panels, a prominent design that has critically altered the aerospace floor panels industry is the honeycomb sandwich assembly, which has allowed the production of lighter and highly durable floor paneling. Applicable in a variety of segments such as railways, marine, construction and energy, the honeycomb sandwich design offers exceptional strength-to-weight ratio and panels can be modified according to the type of use. In terms of improving interior aesthetics of an aircraft, the surfaces of these panels can be customized depending on the face sheet material. With the use of high-quality honeycomb sandwich panels to ensure a strong floor base, the global aerospace floor panels market surpassed a revenue of USD 174 million in 2017. Aluminium honeycomb panels, in particular, are increasingly being utilized in aircraft production and demand for these panels is expected to rise steadily over the next few years.
Get a Sample Copy of this Report:@ https://www.gminsights.com/request-sample/detail/2716
In terms of feasibility, Aluminium offers remarkable strength-to-weight properties to floor panel designers along with flexibility and considerably low processing cost, as compared to other robust materials like Titanium. Other notable features of Aluminium are corrosion resistance, easy to machine and cut as per required specifications and the ability to enhance the durability of structural components. Since the alloy is also described as being almost 90% recyclable, Aluminium honeycomb sandwich panels are expected to become immensely popular in the aerospace floor panels market. Major aircraft manufacturers are already treading in the direction of adopting aluminium honeycomb cores in flooring to reduce the structural weight and cost of production. Interesting predictions regarding growth of the aircraft segment has evidently spurred the development of the aerospace floor panels industry.
Recently, the American multinational airplane maker Boeing released a statement in which it mentioned that the aircraft industry has been witnessing a prolific growth trend over the past eight years. The company also revealed certain estimates, according to which the global demand for new passenger jets will reach approx. 42,730 by 2037. The total value of these new planes is projected to be around USD 6.3 trillion, indicating the massive earning potential of the aerospace floor panels market from new aircraft production. Boeing attributes the growing demand to the continuous economic growth worldwide and the rising consumer spending, especially by the working middle class population. Expansion of the tourism sector has additionally boosted air traffic in emerging economies, strengthening the aerospace floor panels industry stance.
Besides the passenger segment, use of cargo planes for transporting heavy commercial or military equipment and to undertake product delivery between multiple countries has grown tremendously due to progressive pricing trends. As a result, not only new cargo-carrying aircrafts are being made but old and new commercial jet builds are also being converted to freight planes, signifying a lucrative emerging avenue for the aerospace floor panels market. For instance, Dresden-based Elbe Flugzeugwerke (EFW), a joint venture between Airbus and Singapore Technologies (ST) Engineering's Aerospace arm, is involved with converting passenger jet to freight aircrafts. In August 2018, EFW delivered an Airbus A330-200 Passenger-to-Freighter converted plane to EgyptAir Cargo, while reports indicate that EFW has further contracts in the pipeline to convert ten A321-200s for lessor Vallair.
As cargo freighters need to be light for traversing large distances with heavy loads, sturdy flooring and lighter frame is essential for guaranteeing safe transportation and better fuel-efficiency. With projects like EFW, production of floor panels suitable for commercial logistics will see tremendous increase and substantially bolster the aerospace floor panels industry. Anticipated to register a 4% CAGR from 2018 to 2024, the aerospace floor panels market is spearheaded by companies like EFW, The Gill Corp., Rockwell Collins, Zodiac Aerospace, Nordam Group, Euro Composites and Avcorp Corporation.
Author Name : Pankaj Singh
Increased utilization of recycled materials by manufacturing and infrastructure segments has boosted the global recycled elastomers market, enabling the formation of low-cost and good quality composite products. High elastic deformation combined with exceptional vibration and noise dampening properties have created a wide application base for these materials for improving work environments and transportation networks. Growing awareness among producers around the world for undertaking eco-friendly waste disposal initiatives to reduce pollution caused by landfills has invariably promoted the recycled elastomers industry. Consumers, wanting to ensure that they contribute towards saving the environment, are increasingly accepting and demanding products which incorporate recycled ingredients. Subsequent rise in recycling activities of waste like tires and other rubber products to make building composites, agricultural sheds, artificial playgrounds and auto parts has tremendously propagated the recycled elastomers market, which in 2017 garnered a global revenue of over USD 2.5 billion.
U.S. Recycled Elastomers Market Size, By Application, 2014 – 2025 (USD Million)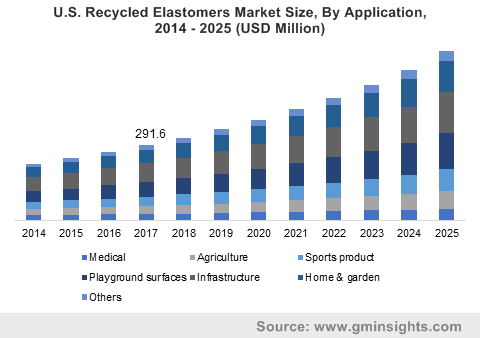 Several durable products using recycled elastomers are manufactured depending on the properties most suitable for a particular use in any of the industry segments, such as chemical resistant gloves or athletic turfs for sporting events. In terms of large-scale applications that benefit a varied demographic over time, transport infrastructure has sprouted to become a leading source of revenue for the recycled elastomers market. As compared to traditional paving materials, modified asphalt mixed with recycled rubber allows for a high performance solution to extend the lifespan of roads and highways. Asphalt binding with recycled elastomers, mostly sourced from scrapped tires, provide a safer, eco-friendlier and less expensive alternative. The excellent elasticity and dampening features of such asphalt help to reduce the occurrence of surface cracking, temperature fluctuations and movement caused by traffic loads. The lowering of waste by recycling scrap tires, along with a continuous and reliable raw material supply have strengthened the recycled elastomers market stance within the infrastructure segment.
The Asia-Pacific (APAC) is known to be a rapidly developing region with countries like China, India, Malaysia and Indonesia showing remarkable progress in infrastructure spending. In China, for instance, the total road length increased from 3.7 million kilometers in 2008 to 4.8 million kilometers by the end of 2017, while the total length of highway reached a figure of 136,500 km during the same period. The large transportation infrastructure indicates the growth potential of the recycled elastomers market from asphalt binders. As the population and consequent automobile consumption in APAC countries is expected to rise at an incredible pace, a surge in government expenses to develop road connectivity will further encourage recycling initiatives, fueled by an incessant supply of waste rubber materials. It is observed that building a single lane pavement of one mile, 500 to 2,000 scrap tires need to be recycled, presenting the advantage of the recycled elastomers industry in cutting down on land pollution.
Get a Sample Copy of this Report:@ https://www.gminsights.com/request-sample/detail/2791
Use of recycled elastomers in manufacturing agricultural equipment and flooring has additionally maintained the dominance of APAC in the recycled elastomers market, holding over 50% of the global share in 2017. The region encompasses some of world's leading agri-based developing nations that need constant supply of food and livestock products to cater to an exponentiating population, creating a demand for weather resistant products that support agriculture productivity. For example, India is the second most populated country in the world and as of 2015 had approx. 60.4% of overall land under agricultural occupation. Advancing technologies associated with increasing the crop output have been buoyed by robust water hoses, belts, sheds, windbreaks and vegetation protecting equipment made from recycled elastomers.
The recycled elastomers market has experienced prolific returns from the demand for livestock mats as well, derived from the fact that APAC has major dairy and meat producing nations. Stalls and floors housing livestock need to be able to counter weather abuse and seasonal wear, requiring them to be built of durable and flexible materials. Agricultural mats made using recycled elastomers offer a mix of strength and softness that is necessary for safe sheltering of livestock animals, ensuring an up thrust in the total yield. With agricultural income forming a significant part of GDP in China, India, Thailand and other South East Asian countries, the recycled elastomers industry is deemed to witness enormous proceeds from the agriculture segment.
All in all, use in infrastructure and agricultural areas due to vital properties like elasticity, durability, UV and chemical resistance, among others have propelled the recycled elastomers industry, with American Tire Recycling, GRP Ltd., West Coast Rubber Recycling, Liberty Tire Recycling, Genan Holding, J. Allcock & Sons Limited, Klean Industries and Emanuel Tire Co. being some key market contenders. Additional applications such as developing medical devices in combination with FDA approved raw materials will generate supplementary earnings for the global recycled elastomers market, anticipated to register a CAGR of more than 12% from 2018 to 2025.
Author Name : Pankaj Singh