Real Estate
The rapidly growing adoption for high-precision, graphics-oriented applications in the automobile and healthcare sectors is certain to fuel GPU market growth in the forthcoming years. GPUs have become an essential part of today's mainstream computers and mobile devices and have been characterized by remarkable advancements with respect to performance and capabilities. The product successfully offers added support for analyzing complex datasets in a quick manner and is increasingly gaining traction in almost all consumer electronics straight from laptops, PCs and smartphones to car infotainment systems and latest digital systems.
Asia Pacific GPU Market Revenue, By Region, 2017 & 2024 (USD Million)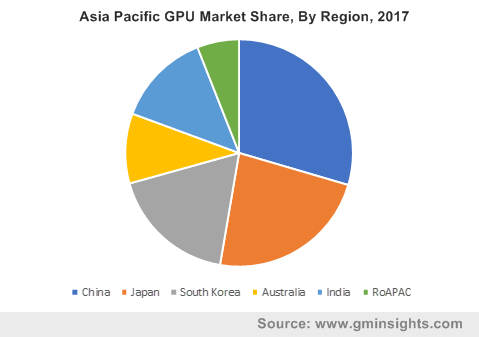 With the growing adoption of IoT devices that gather huge amounts of data which needs to be monitored and analyzed, the demand for high-end computing systems has effectively increased in the automotive sector. Reports suggest that the GPU market will amass quite some returns from the automotive sector owing to an increase in the use of GPUs to accelerate engineering and design applications. As the automotive industry is focusing on developing new vehicles with enhanced design & functionality, GPUs have found applications in CAD/CAM software. With the rising demand for these software increase, the GPU market is expected to witness an accelerated growth rate in the years to come.
Get a Sample Copy of this Report @ https://www.gminsights.com/request-sample/detail/3088
Another application vertical that will help propel GPU market is healthcare, owing to the demand for precision medicine and value-based healthcare. Real-time data has become more vital for healthcare organizations as clinicians seek more accurate information for diagnosing patients during their initial visit. Reports claim that healthcare providers and life science firms are among the 92% of the cross-industry organizations that plan to invest in near real-time big data analytics applications in the future. For instance, in April 2018, tech giant Google announced plans to reinvent the healthcare industry of U.S. with a focus on big data and AI. The company is reportedly using its know-how in AI to create a new system for the detection, diagnosis, and treatment of diverse diseases, that certainly will require GPUs for processing complex data, further augmenting the growth of the GPU industry.
Irrefutably, the gaming domain will be one of the most proliferating end-use sectors of the global GPU market. Mobile gaming is currently acknowledged as one of the fastest growing segments in the game industry – indeed, mobile users demand more immersive, connected gaming experience which provides high-resolution visual graphics and high-fidelity audio. Growing penetration of smartphones and tablets is also fueling the growth of the gaming industry. For instance, according to the ESAC Report 2018, in Canada around 80% users view video games as mainstream entertainment. Furthermore, reports from the Germany Trade & Invest cite that, in Germany, personal computers (PCs) stand as the most preferred gaming platforms with around 18.4M active users, followed by smartphones (17.2M), consoles (15.6M), and tablets (11.5 million).
The rapidly growing use of gaming devices and the paradigm shift towards online gaming are bound to upsurge the demand for high-end graphic processors to support gaming applications. As per estimates, the gaming sector is anticipated to hold a major share of 34% in the GPU market by 2024.
Some of the most preferred brands that have made a mark in the GPU industry include Nvidia, AMD, Intel, Microsoft, Google, IBM, PTC, Qualcomm, and S3 Graphics. GPU chip makers have been making heavy investments in addition to forging partnerships for developing new and better performing products. For instance, in January 2019, Nvidia announced its partnership with luxury carmaker Mercedes-Benz to develop a new automotive AI platform that could effectively offer control to the automaker's electronic gears equipped in its new car segments.
Author Name :Mateen Dalal
The increasing importance for geospatial technologies for visualizing and analyzing geospatial data has stimulated mobile mapping industry trends. The advent of new technologies such as Lidar, AI, and IoT has also significantly transformed mobile mapping technology over the last few years. With more innovations across this technology, it has become easier and effective to carry various tedious projects like urban development, rail-road creation, and power plant construction across inaccessible areas. Thus, the increasing use of this technology to survey numerous mobile platforms is poised to propel mobile mapping industry share.
U.S. Mobile Mapping Market Revenue, By Component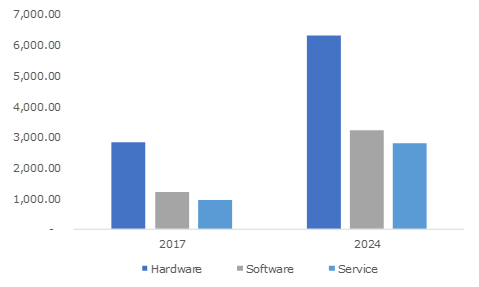 The involvement of companies in novel product development activities for high efficiency and productivity will have a notable impact on the business over the years ahead. In the last few years, companies have come up with a diverse set of products that can deliver remarkable benefits to users and asset owners. Validating the aforementioned fact, in February 2018, the California based software development company, Trimble developed a next-generation mobile mapping system, which has been designed with multi-camera imaging, mobile lidar system, and field software. This newly launched Trimble MX-9 mobile mapping technology has the capability to capture 360-degree immersive geo-referenced imagery with the help of already installed laser scanning sensors, GNSS technology, and spherical camera. The improved accessibility of such newly developed mobile mapping devices via smartphones and tablets will augment the growth of mobile mapping market.
Speaking more about the recent advancements, it is prudent to mention that 3D mobile mapping is also one of the latest developments in geospatial technologies that helps users to record, measure, visualize, and understand environments. The advent of 3D mobile mapping has overcome the limitations of conventional mobile mapping systems and helps to carry out a detailed visualization of climatic conditions. In 2018, a German company which develops software and hardware to navigate, map, and digitize the indoors, NavVis made it to the headlines for generating a fully integrated product for indoor mapping aided with six cameras. NavVis has developed this product in accordance with customers' request to have sophisticated and more versatile systems. This product is likely to prove beneficial for the end-users like construction product manufacturers, construction companies, and AEC (architecture-engineering-construction) professionals to generate high-quality data owing to its capability to capture immersive imagery.
Get a Sample Copy of this Report:@ https://www.gminsights.com/request-sample/detail/2652
The increasing importance for geospatial technologies has also been encouraging the players in the mobile mapping market to carry out vigorous research and development activities for capturing more business space. For instance, the Italy based SITECO Infomatia SRL has been proactive in developing varieties of products from road-scanners to pave-scanners. In 2018, it has launched software assisted mobile mapping devices. The integration of software and LiDAR system has helped the company to enhance the performance of mobile mapping platform. The widespread availability of multi-scanners and high-performance mobile mapping platforms is slated to propel the industry growth over the years ahead.
In addition to higher performance, cost-effectiveness is also one of the major factors promoting mobile mapping market size. As of now, Google is one of the leading contributors of navigation applications, but due to rise in subscription amounts for accessing its Google Maps, other contributors in mobile mapping market have been able to race ahead with the launch of low-cost navigation features. For instance, a few days before, a digital mapping company, TomTom has started offering free software development kits to Android and iOS users to access maps and traffic information for free. Such initiatives will help IoT companies and autonomous vehicle manufacturers to load the traffic and routing data free of cost.
The advancement in consumer electronics and shifting trends toward the deployment of autonomous vehicles for the betterment of the environment will have a positive influence on the mobile mapping industry share. As of now, most of the automotive companies have been involved in the development of highly modernized infotainment systems for improving the driving experience that is likely to enhance the product demand. In accordance with the expanding end-use sectors, the strategies adopted by the key player will help them to strengthen their business position over the years ahead. Reportedly, driven by new product launches, mobile mapping market will generate a revenue more than USD 40 billion by the end of 2024.
Author Name : Sunil Hebbalkar