Receiver
The commendable expansion of the aviation space can be aptly credited for the significant proceeds that aircraft communication system market has been accumulating in the recent years. According to a study conducted by IATA, the average global citizen now undertakes air travel once every 21 months – a significant increase from the 43-month duration in 2000. Not to mention, military expenditure has also observed a rise lately, with governments setting aside a major portion of the national budget for the defense sector. Driven by surging military spending and the rising number of defense aircraft, aircraft communication system market will inevitably propel over the coming years. In order to remain aligned with the exponential demands of the current consumer base, innovative products are also being introduced in aircraft communication system market.
China Aircraft Communication System Market, By Component, 2018 & 2025, (USD Million)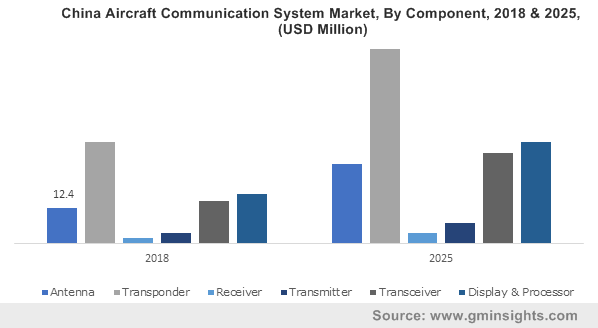 With air travel becoming more affordable, a new generation of jetsetters have come into being, leading to increased air traffic. In consequence, pilots are under tremendous greater pressure to navigate in the congested air space. As the demand for real-time satellite access and air traffic data to undertake rapid decisions increases, aircraft communication system market is likely to receive commendable momentum. For instance, the EU has adopted the SANDRA project that integrates different plane communication systems in a single system. This unit facilitates faster data connectivity and replaces banks of radio hardware with state-of-the-art software systems. Thus, data like weather conditions and air traffic situation that used to be verbally communicated earlier, can now be accessed by pilots in real time through flight computers.
A single system based on IP technology, SANDRA is capable of transmitting data through multiple data links. It can also transmit data to the ground via digital and high-speed satellite, providing communication to the aircrafts in a seamless manner. Indeed, the system has increased aircraft safety owing to the reliable and quick communication between the aircraft and control tower. In consequence, this seems to have encouraged aircraft communication system industry players to advance their capabilities and bring about highly innovative products.
Get a Sample Copy of this Report @ https://www.gminsights.com/request-sample/detail/2329
Speaking of which, SATCOM, one of the pivotal products in aircraft communication system market, has proved itself to be rather crucial in air traffic management. Its increased deployment in military aircrafts is likely to upscale its demand, thereby stimulating aircraft communication system market size from SATCOM.
One of chief drivers for the aircraft communication system market is the exponential growth of the commercial aircraft industry. Considering an instance of Airbus, one of the pioneers of the aerospace industry, the firm has set its goal of tripling its revenues within the next seven years to enable its commercial aircraft business reach $10 billion. It also plans to target measures worth $555 million in 2018 to improve productivity. Furthermore, in the year 2018, Airbus commercial aircraft deliveries rose to 800 – an 11% surge compared to 2017.
Powered by substantially large investments in place, in conjunction with the escalating adoption of low-cost carriers and enhanced regional connectivity, global aircraft communication system industry is likely to accrue massive ROI from the commercial air carrier segment.
With cutting edge innovations being brought forth rapidly in aircraft communication system market, it is rather overt that this business space would thrive commendably in the ensuing years. NASA has recently developed The Aircraft Access to System Wide Information Management that is capable of replacing the underground cables airport communication system with wireless communication. This is one of the instances of high-grade technological advancements prevalent in aircraft communication system industry. As per reliable estimates, aircraft communication system market size is anticipated to cross USD 2.9 billion by 2025.
Author Name : Paroma Bhattacharya
The robust proliferation of smart devices and the evolution of home entertainment systems have led to home equipment market charting a profitable growth path in recent years. Lately, in-house entertainment systems have been witnessing a massive demand, and with the emergence of IoT, Bluetooth and Wi-Fi, the integration of home entertainment equipment with common operating devices like smartphones has indeed depicted a rise, fueling home audio equipment market trends. With the widespread penetration of internet, the home audio equipment industry has evolved to manufacture products that are compatible with all media types available on the internet and can directly stream online content. The expansion of e-commerce has also exponentially increased the availability and affordability of these devices, that has further helped expand the scope of home audio equipment market.
U.S. home audio equipment market size, by technology, 2016 & 2024 (USD Million)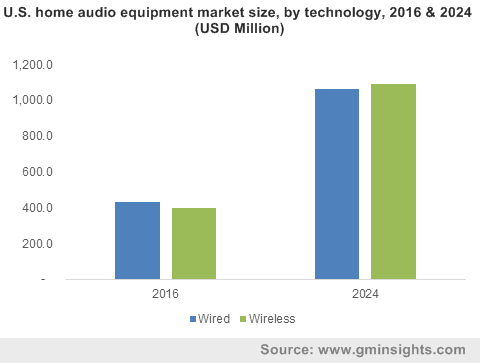 Home entertainment has now reached an all-time high with the growing millennial population, the demands of which have revolutionized the home audio equipment market trends. As the requirement for high definition music systems has increased exponentially in the last decade and consumers have been experiencing the pleasure of increasing disposable incomes, the growth of the home audio equipment market has been on a remarkable increase. Products that are highly priced with explicit sound quality and those that are low priced and easily affordable, have both been gaining traction in home audio equipment market, in major geographies. Consumers in North America and Europe for instance, have been driving the high-priced home audio equipment market with their demand of high quality audio. Bearing evidence to this fact is the popularity of the Airhome concept that is integrated in the building itself. Builders nowadays, are offering to sell homes with the wireless audio system already installed, a phenomenon that can revolutionize the home audio equipment industry.
Get a Sample Copy of this Report:@  https://www.gminsights.com/request-sample/detail/157
The landscape of home audio equipment market has also experienced a revolution with the emergence of the smart speaker. In fact, as is observed, home audio equipment industry is being inundated with devices like Amazon Echo, Sonos One, Google Home, JBL Link and others that can be commanded by the user to play music from the smartphone or cloud. These speakers can also read out a book, check the weather or play the news – a remarkable upgrade from speakers that could only play music from the playlist. The compatibility of audio devices with other smart home devices also determines the salability of the audio device. For instance, audio speakers and sound bars that are compatible with smart TVs with 4K technology are driving the home audio equipment industry growth, as technologically advanced televisions are becoming more popular and affordable and deliver a better overall experience when paired with a good audio system.
Home audio equipment market is indeed observing a major impetus, on account of the growing number of consumers who have large music libraries and demand high definition music players that can access music from online music libraries such as Google Play Music, Amazon Music, Spotify and style Jukebox. Major geographies have been capturing a substantial share of home audio equipment market, with key companies manufacturing an affordable range of products. Renowned home audio equipment industry giants like Bose Corporation, Philips, Yamaha, LG Electronics, Sonodyne, Bowers and Wilkins have indeed taken note of the major growth prospects of this business space and are seemingly ramping up their investments in high-grade technology. This in consequence, would majorly impact home audio equipment market size, estimated to register a valuation of USD 20 billion by 2024.
Author Name : Paroma Bhattacharya