Rechargeable Canisters
Increasing awareness with respect to volatile organic compound emission (VOC) has propelled adsorption equipment market share, along with the need to maintain indoor air quality standards across varied industrial segments. Symptoms of nausea, difficulty in breathing, irritation in nose, eyes and throat are some of the indicators of excess exposure to VOC caused to humans. These conditions can usually be observed in manufacturing, printing and furniture operations worldwide, presenting a massive need for countering these emissions.
U.S. Adsorption Equipment Market Share, By Application, 2014 – 2025 (USD Million)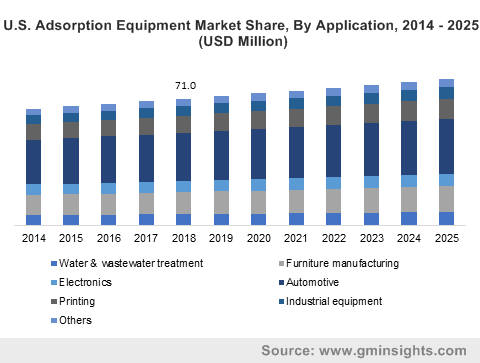 Booming automobile sector across developed and developing nations has strengthened the adsorption industry size. Paints used in the automotive industry emit high levels of xylene, acetic acid, butyl ester and ethyl acetate either during intermediate, top coating and baking process of automobile parts. The growing automobile industry in India, which had witnessed a 9.5% increase in sales to reach 4.02 million units in the year 2017. Widespread application across the auto manufacturing sector will evidently create a substantial demand for controlling VOC emission from paints, magnifying global adsorption equipment industry outlook.
Disposable or rechargeable canisters segment accounts for a substantial share of adsorption equipment utilized worldwide, and is expected to surpass USD 65 million in revenues over the forecast period. These canisters are widely used in the water purification process. According to a report by United Nations, by 2030 over 700 million people globally could be displaced owing to intense water scarcity.
Existence of water pollution in terms of organic pollutants let out by domestic sewage, agricultural wastewater and industrial wastes has added to increase in toxic waste in water. Toxic pollutants can lead to severe environmental issues and can prove to be extremely hazardous to living beings. Adsorption equipment market size will expand notably while becoming an integral part of wastewater management techniques.
Get a Sample Copy of this Report:@ https://www.gminsights.com/request-sample/detail/4206
R&D in the field of vapor adsorption equipment has enhanced the overall industry scope remarkably. For instance, the development of Brayton cycle heat pump that facilitates VOC recycling and recovery has magnified the deployment of adsorption equipment, invariably driving the industry trends. Vapor phase segment in adsorption equipment industry is anticipated to hold a significant share, registering a steady CAGR of around 2.5% from 2019 to 2025.
Owing to the rising automobile sector coupled with stringent regulations related to VOC emissions. the use of adsorbers in the automotive sector has accelerated. Reportedly, the gross turnover generated by the auto sector in EU represents 7% of its GDP. Moreover, governments have introduced an Integrated Pollution Prevention and Control Directive (IPPC) that requires all new installations to comply with its standards in order to control air, water and environmental pollution. The proliferation of automobile, electronics, water treatment and printing sectors in the region will positive steer Europe adsorption equipment market outlook.
Demand for adsorption equipment is clearly driven by the growing need for industries to preserve environmental, water and air quality. With expanding industrial establishments across the globe, governments and other regulatory authorities are discovering the need to control the VOC emissions in order to protect the future of economies. Simultaneously, increasing innovations in the adsorption equipment sphere to suited varied industrial applications is providing impetus to global adsorption equipment industry.
Emissions are an inevitable part of many crucial sectors such as automobile, painting, printing, water treatment, among others, in order to adhere to the government rules and regulations and to contribute to the growing CSR activities by the companies. Several key players offering critical adsorption equipment include Tigg LLC, Monroe Environmental Corp, Munters Corporation and Eisenmann SE, as well as several others. Global Market Insights Inc. has estimated that global adsorption equipment market share will exceed annual valuations of USD 340 million by 2025.
Author Name : Shreshtha Dhatrak