Reciprocating
The escalating growth of compressor oil market can be attributed to the high-performance lubrication benefits provided by the product. Its properties such as excellent oxidation performance, resistance to rust and corrosion, wear protection, foam control, and rapid water separation expands the product's area of usage to manufacturing, power generation, automobile, mining etc., augmenting compressor oil market share.
U.S. Compressor Oil Market Revenue, By End-use (USD Million)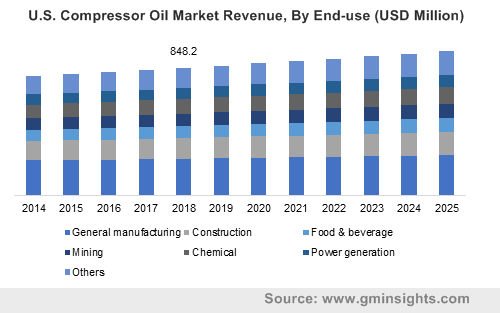 The revenue portfolio of compressor oil market is likely to gain traction owing to expansive product demand from mining applications in particular. The product finds usage in a number of portable compressors that are massively deployed for operations such as vertical drilling, soil nails, rock bolting, shotcreting, anchoring, grouting, and more, given the necessity for smooth compressor operations.
The rising efforts to enhance mining capacity will drive compressor oil market share. The National Mineral Development Corporation (NMDC) for example, last year, announced that it plans to increase the iron ore production capacity to 50 million tons by 2019-20, by forming a joint venture with Chhattisgarh Mineral Development Corporation (CMDC) named NCL. Compressor oil market will gain a fair advantage from mining sector via such operational tactics in the coming years.
In addition to mining, automotive sector is the world's biggest consumer of lubricants. Apparently, automobile and truck engines consume close to 20 million tons per year, which is about half of total lubricant use. In 2018, approximately 95,706,293 motor vehicles were manufactured in the world and the figure is expected to grow substantially in the years ahead. As the production rate of automobile depicts a rise, compressor oil demand will also increase simultaneously, thereby propelling compressor oil market size.
Get a Sample Copy of this Report @ https://www.gminsights.com/request-sample/detail/2557
Regionally speaking, APAC holds the largest share in compressor oil market owing to the significant presence of various industry players and their efforts to expand their reach worldwide. Recently, independent lubricant manufacturer Fuchs Petrolhub made it to the headlines for opening a plant in the Wujiang district of Suzhou, China. The facility's production portfolio is inclusive of numerous industrial and automotive oils, rolling oils, and metalworking fluids. The 80,000 m² plant has been constructed with an investment of around EUR 46 million with a capacity of 100,000 tons in phase 1. The rising efforts by industry contenders to enhance production capacity will augment China compressor oil market.
Another country that will consolidate its stance in APAC compressor oil industry is India, the growth of which is supported by the expansion plans of industry giants. In 2017, BASF India Ltd., a subsidiary of BASF SE, had apparently launched a new technical lab for lubricant and fuel solutions at its Innovation Campus Asia Pacific. The facility was developed with the intention to deliver modern lubricant formulations and high-performance fluids for industrial and automotive applications.
As more and more major companies invest huge amounts to improve their footprints, APAC compressor oil market size will rise significantly over the coming years. Regional expansions by the key players will also push the growth graph of global compressor oil market in the times to come.
The demand for compressor oil will increase due to the rising production of compression equipment. Recently, Atlas Copco made it to the headlines for launching a new high-efficiency oil-injected screw compressor. These next-generation compressors are particularly well suited for metal processing, power plants and mining applications. Innovations pertaining to screw compressors will also augment rotary screw compressor oil market size, slated to exceed $3.5 billion by 2025.
Compression equipment producing companies have been undertaking various other strategies to increase their customer base. For instance, the compression equipment manufacturing company Gardner Denver Holdings, Inc. has announced that it has signed a definitive agreement with Ingersoll-Rand plc to combine Ingersoll Rand's industrial segment with the company. The merger will expand margins through increased efficiencies and allocate capital effectively, accelerating strategic priorities of both the companies. Such moves by leading companies will contribute to the growth of compression oil industry share.
Many oil giants reportedly follow collaborative strategies to expand their business and increase their footprints worldwide. For example, American multinational oil and gas giant ExxonMobil, owns around 37 oil refineries in almost 21 countries, and has recently announced that it has proceeded with an oil development plan in Bajo del Choique-La Invernada block of Argentina. The project is anticipated to produce around 55,000 oil-equivalent barrels a day within next 5 years. Such strategic moves by the oil majors are backing the growth graph of compressor oil market.
Governments worldwide have been planning to increase mining facilities to increase mining production, which will help enhance compressor oil market outlook substantially. With rising number of industry leaders undertaking strategic efforts to expand business reach and product demand increasing across myriad applications, compressor oil market share will increase majorly in the years to come.
Author Name : Anchal Solanki
The demand for air compressors is expected to spur considerably over the coming years, partly due to its essential application across cold storage facilities. Technological advancements have led to the development of energy-efficient air compressors that offer reduced maintenance costs and have a lower impact on the environment.
Availability of compressors that come with multiple configurations and provide a varied range of supply pressures is aiding product demand. While the advent of high-capacity, portable air compressors that offer better performance and versatility could fuel new revenue proceeds in the industry.
According to a study led by Global Market Insights, Inc., the air compressor market is estimated to surpass US$107.56 billion by 2026.
The manufacturing sector is anticipated to amass a noteworthy share to this growth owing to rising demand for heavy-duty compressors that offer higher air pressure capacity for running diverse industrial applications. For the record, centrifugal air compressors are mostly used across such industrial operations. The product is renowned for its high air power output and pressure capacities. Notably, on the other hand, oil & gas, energy, construction and mining are some other areas where air compressors are gaining prominence.
Get a Sample Copy of this Report @ https://www.gminsights.com/request-sample/detail/377
However, heavy duty models of air compressors are usually expensive owing to their bulky nature, manufacturing & operational complexities and higher efficiencies. Nevertheless, with increasing investments aimed at driving new construction and mining activities, the adoption rate of such air compressors could spur considerably over time.
The food and beverage sector is also garnering a major share in the air compressor market. Growing consumer inclination towards packaged and perishable food products has led to the demand for efficient refrigerant compressors.
These systems are mostly installed across cold storage facilities and warehouses for maintaining and preserving various food products. Development of new food processing plants and warehouses to increase storage capacity may augment product demand. While estimates suggest that the food & beverage segment make accrue maximum gains of over 6% CAGR over the projected period.
According to regional share, Latin America air compressor market is expected to register a 3.4% CAGR between 2020 to 2026. Factors like easy availability of low cost labor, raw materials, and abundance of land have motivated manufacturing industries to expand their business capacity.
For the record, air compressors are widely used in the region across manufacturing processes like industrial good & machinery manufacturing. Supportive government initiatives to augment expansion of industrial hubs and manufacturing plants are likely to favor product penetration across LATAM.
Meanwhile, on a global scale, the demand for air compressors is expected to proliferate on account of surging infrastructural development activities and growing construction of green buildings. According to reports, countries like China, Indonesia, Vietnam and Thailand are undertaking AC manufacturing line conversion projects for supporting the Montreal Protocol. Initiatives such as these may favor the growth of global air compressor market size over 2026.
Author Name : Mateen Dalal