Recloser Market Report
Driven by increased electricity consumption across emerging economies and ageing infrastructure in developed nations, recloser market has gained sizable traction over the last few years. Recognized by electric utility companies across the world as devices that are essential for facilitating maximum continuity of electric services economically and easily to customers, reclosers have become a crucial building block for any power infrastructure. Expanding power grids and upgradation of existing infrastructure will propel revenues for recloser industry imminently.
UK Recloser Market Size, By Voltage Rating, 2018 & 2025 (USD Million)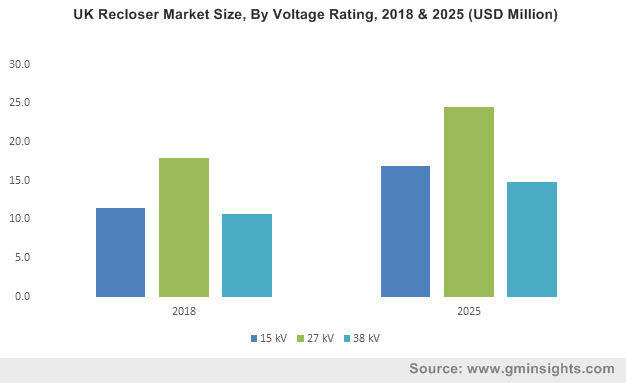 A recloser can be thought of as a high-voltage, automatic electric switch and similar to circuit breakers installed on household power lines, a recloser shuts off electricity when problems like short circuit occur. However, unlike household circuit breakers, which need to be manually reset after they trip, a recloser tests the power line automatically to determine whether the issue has been eliminated. If the problem has passed, a recloser resets itself automatically and restores electric current. As utilities and industries become more aware about the advantages of this product, recloser market size will register a steady growth in the forecast timespan.
Reclosers have been around for several decades and have been a norm for almost all electric utilities, but the product is gaining considerable momentum today primarily on the backs of modern-day reclosing systems. Modern reclosers boast of open times that are as low as 100 milliseconds, which enable power quality devices like clocks and microwaves to not be affected by issues such as momentaries, sags and feeder interruptions.
With an average household containing several power quality devices that are prone to damage due to system failure or power fluctuations, every electric utility problem remains the same, which is to increase the reliability quotient of their services at lowest-possible costs. Recloser market trends would be effectively influenced by these requirements to cut down losses due to power failures. According to the International Energy Agency, in 2018 the world's energy consumption surged by approximately twice the average growth rate since 2010, indicating the need for reliable energy control equipment.
Get a Sample Copy of this Report:@ https://www.gminsights.com/request-sample/detail/3388
While power demands have climbed significantly across the world, Asia Pacific has seemingly accounted for majority of the consumption increase. A rapidly growing population, increasing electrification and rising per-capita usage would be driving power demands in the region over the forthcoming years as well, creating substantial prospects for APAC recloser market. Reportedly, the Association of Southeast Asian Nations (ASEAN) represents a highly-dynamic section of the global energy system. In fact, the region's power demands have increased by almost 60% over the previous 15 years.
Several Asian countries are currently experiencing various stages of economic development and while they boast of their own unique consumption patterns and energy-resource endowments, they all face a common challenge of supplying power in an affordable, secure and sustainable manner. Reclosers, owing to their ability to facilitate reliability to the a power infrastructure in a cost-effective way, would help in addressing these challenges considerably, fueling growth for APAC recloser industry.
IEA has informed that approximately 65 million people across ASEAN countries live without electricity. The drive to establish a competent power infrastructure for this demographic would be propelling demands for APAC recloser market. Meanwhile, India would be emerging as a promising revenue source in the coming years, since the country still had more than 31 million homes that lack access to electricity as of 2018. Ongoing government efforts to bring these homes into the fold would be another growth factor propelling APAC recloser market size over the projected period.
According to the Indian Brand Equity Foundation, the Indian Government has also drawn a roadmap to attain a 175 GW power capacity from renewable energy by 2022. Integrating the mammoth 175 GW capacity with the nation's power grid would call for significant alterations to the network, creating more opportunities for the APAC recloser industry to ensure the long-term trustworthiness of the infrastructure.
Owing to augmented power consumption across APAC, specifically the ASEAN region, and the ongoing government initiatives to make access to electricity more universal, the remuneration graph of recloser industry is poised to show substantial gains. In fact, Global Market Insights, Inc., has predicted that global recloser market size would surpass an annual valuation of $2 billion by 2025.
Author Name : Akshay Kedari