Recreational
Global outboard engines market forecast will be largely propelled by increased consumer participation in recreational, leisure boating and boat club activities. Outboard motors are extremely easy to handle and operate and offer superior engine acceleration characteristics. Moreover, outboard engines are generally compact in design which enables boat manufacturers to provide additional interior room and accommodate a greater number of people.Advancements in technology have resulted in the development of high-power energy-efficient outboard engines which are extensively used in large boats. Strong demand for these motors from boat manufacturers for deployment in large cruise boats will enhance the industry scope. Manufacturers are strategically upgrading their engine production lines to address this increasing demand which will present promising growth opportunities for outboard engines market.
Industry participants are making increasing R&D investments and efforts to meet the rising consumer expectations pertaining to performance, reliability and durability of these motors. Manufacturers focusing on launching innovative products using recycled materials to meet the ever-growing demand for outboard engines. This in turn will help manufacturers cut raw material procurement costs and facilitate significant minimization of environmental impact.
2-stroke outboards engines are prominently used in small watercrafts and fishing boats on account of several major advantages including higher operational output and simpler structure as opposed to the 4-stroke versions. In addition, 2-stroke outboard motors are lightweight and compact in design, making them best-suited for application in smaller boats. 2-stroke outboard engines industry size will hold over 40% of the global share in terms of revenue by 2025.
Mounting concerns pertaining to emission of hazardous gases and substances have consequently resulted in development of highly energy-efficient alternatives such as electric fuel type outboard motors. Low-power electric motors are gradually emerging as a potential substitute for gasoline-driven motors and engines. Electric fuel type outboard engines market share will register a healthy 8.5% CAGR over 2019-2025.
Get a Sample Copy of this Report:@ https://www.gminsights.com/request-sample/detail/4386
Electric ignition type engines are majorly employed in commercial boats owing to benefits such as easy and hassle-free ignition of motor even in adverse weather conditions. Manufacturers are increasingly incorporating electric ignition type engines in smaller watercrafts and fishing boats due to the aforementioned advantages, which will undeniably expand outboard engines industry scope in the next few years.
High-power outboard engines market is projected to generate revenues in excess of USD 9.5 billion over the projected timeframe. This growth can be mainly attributed to positive application outlook in larger boats and yachts which are facing robust demand worldwide. Manufacturers are aiming to expand and upgrade their existing motor production facilities and making investments to develop high-power motors to keep up with the global demand.
Military represents a key application segment driving global outboard engines industry trends. These engines find widespread use in rescue boats and inflatable boats. Surging demand for outboard motors by the U.S. Coast Guard will further fuel the product demand, bolstering outboard engines market outlook. North America outboard engines market size will witness unprecedented growth in the coming years mainly due to the presence of prominent boat manufacturers along with motor distributors.
An increasing number of people are undertaking recreation and leisure boating activities in the U.S. and Canada which will further propel the regional demand. Robust economic growth coupled with favorable government initiatives to upgrade the boating infrastructure will ensure lucrative opportunities for regional manufacturers.
Author Name : Hrishikesh Kadam
Rising emissions from marine engines & growing environment concerns owing to degrading air quality will drive marine emission control system market growth in the years to come. Reportedly, oceanic vessels contribute to a majority of the pollution in the coastal environment – around 8%-12% of the global NOx emissions and around 40% of global NOx emissions from transport of freight mean. Having taken into consideration these alarming statistics, in 2008, the International Maritime Organization (IMO) launched a directive for controlling emissions from diesel engine vessels, built or installed on and after 1st January 2016. The directive also specifies a global sulfur limit for reducing the sulfur content in fuel to 0.5%, that will go into effect from 1st January 2020. The presence of a strict regulatory landscape will thus prove to be one of the preeminent driving factors of marine emissions control system market.
Europe Marine Emission Control Systems Market Size, By Application, 2017 & 2024 (USD Million)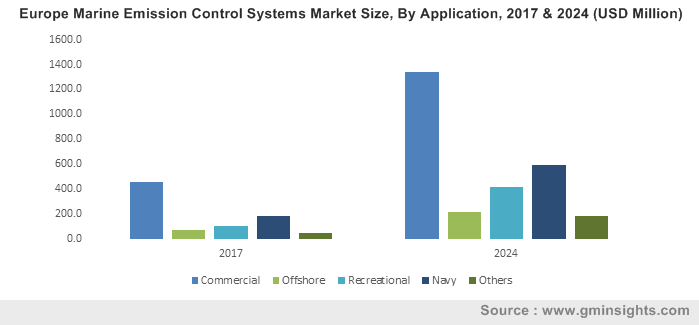 The growing number of trade activities along with advancements in emission control technology will also serve to boost the demand for marine emission control systems. Globally, around 85% of goods are transported using maritime routes. In almost 70% of the cases shipping is carried out within 400 km from the coastline, influencing the air quality within several hundred kilometers from the coast. The most widely adopted propulsion systems used by these ships are two or four strokes diesel engines, which apparently consume large amount of heavy fuels.
Estimates from the U.S. Energy Information Administration, 2011, cite that the merchant navigation sector alone accounted for about 1.75% of the total energy demand and about 5% of the global crude oil consumption back then. Also, ships were recorded to manufacture around 15% of the global NOx (the world's buses, cars, and trucks combined), 2.5% – 4% of greenhouse gases, and between 3% – 7% of global SOx output and 5% of black carbon emission. Quite overly, these figures reveal the overall impact of the maritime segment on global atmospheric pollution, which has led to a spike in the demand for marine emissions control systems.
Get a Sample Copy of this Report:@ https://www.gminsights.com/request-sample/detail/2542
Reportedly, in a bid to reduce the environmental footprint of ships, the IMO has also tightened the regulations on NOx and SOx emissions from marine engines. As measures to reduce NOx emissions, emission control systems like exhaust gas recirculation (EGR) and selective catalytic reduction (SCR) have been adopted. For reducing SOx emissions however, scrubbers have been intensively deployed to lessen the sulfur content of fuel oil.
Scrubber marine emission control systems market to thrive over 2018-2024
Scrubber units are typically used for high dust configurations and are more efficient when coupled with fuel switching. By mounting an exhaust gas cleaning system like a SOx scrubber, ship-owners can efficiently operate on low-priced, heavy fuel oil and still be compliant with IMO's SOx emission regulations. Sources suggest that, from 2020, the demand for exhaust gas cleaning systems, like SOx scrubber, will increase as to compliment stringent SOx regulations that exhibit a global 0.5% limit on SOx and 0.1% limit on ECA emission.
The ability of hybrid scrubber systems in particular, to treat high temperature and gas streams along with increasing R&D initiatives toward green shipping will also positively impact the scrubber-based marine emission control system market share.
Speaking of the geographical penetration, marine emission control system market has been touted to amass substantial returns from China. This is prominently on account of the newly imposed regulations favoring the installation of these products. Reportedly, to improve the quality of domestic shipping and endorse environment friendly development of marine transport within China, the Chinese Ministry of Transport, on 3 July 2018, published new requirements for controlling nitrogen oxides (NOx) emission. The standards will be applicable to both newbuild vessels (after July 2020) and ships in operation (after July 2021) and will further be imposed on ships particularly involved in Chinese domestic trade.
Powered by moves such as the aforementioned and the rising number of cross-border tax inversions and M&As, the demand for these systems has been considerably rising in this APAC economy, thereby augmenting China marine emission control systems industry.
A plethora of marine emission control systems including SCR, EGR and scrubber are sulfur, nitrogen & particulate matter abatement technologies, are lately being deployed across engines & boilers to restrain emissions. The implementation of scrubber systems specifically, will observe an upsurge in demand owing to reduced payback period and long-term operational flexibility. The growing demand for sustainable systems along with stringent government initiatives will thus positively impact marine emission control systems market size, slated to cross USD 14 billion by 2024.
Author Name : Mateen Dalal
The global marine selective catalytic reduction systems market, in the recent years, has been witnessing strong investment trends by the major stakeholders, given the stringent environmental regulations in protecting human and aquatic life. Large amount of emissions pertaining to marine polluting substances and amendment of strict regulations regarding the same have in fact raised the bar for marine selective catalytic reduction systems industry players to bring in more advanced diesel engine designs that are capable of minimizing marine pollution. These SCR systems, designed to curtail nitrogen emissions, are thus gaining traction in the recent years and have significantly taken the marine industry by storm.
Europe Marine Selective Catalytic Reduction Systems Market Size, By Application, 2017 & 2024 (USD Million)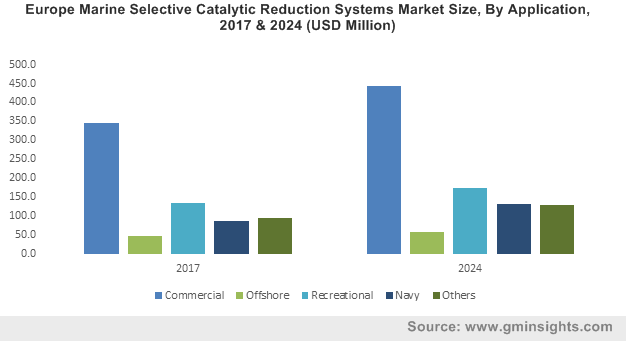 Introduction of IMO Tier III legislation to act as a major catalyst for rapid marine SCR systems market growth
An important factor which stood as a major growth promoter for the overall marine SCR systems industry is the enforcement of The Tier III NOx emissions regulations (IMO3) of the International Maritime Organization that came into power in 2016. According to reports, the recent IMO3 legislation has been forcing the engine manufactures to achieve a NOx reduction of more than 70% from Tier II for all the ships sailing in the NECA (NOx Emission Control Areas). The selective catalytic reduction technology in this regard has been gaining immense momentum as it was being able to operate as the standalone technology that reduced as much as 80% of NoX. The SCR system's compliance with the IMO3 has thus elevated the business landscape of global marine selective catalytic reduction systems market, and is further expected to proliferate across the coastal waters of U.S., Canada, and China – where the legislations are enacted more severely.
China to emerge as a lucrative investment hub
The Chinese Ministry of Transport, recently in July 2018, has published new requirements with a target to limit NOx emission for the second-hand imported & Chinese-flagged diesel engine vessels. According to the regulations these engines are required to comply with the IMO3 norms and will be applicable to vessels that are converted or imported for domestic trade after September 1 2018. These new NOx emission control requirements have paved the way for robust commercialization of SCR systems in China. Moreover, the rapid growth in the long-distance and international voyage and the rising inter-border trade activities has further fortified the regional product demand. In response to these mandatory protocols, China marine selective catalytic reduction systems market size is anticipated to register a CAGR of 3% over 2018-2024.
Get a Sample Copy of this Report:@ https://www.gminsights.com/request-sample/detail/2942
Further considering the geographical expanse, it is imperative to mention that, thriving on the cusp of fierce stringency in regulatory framework, the U.S. marine SCR systems industry is also expected to be one of the lucrative regions for business expansion. In addition, ongoing technological advancements in the commercial & recreational marine vessels and the presence of core industry manufactures in the country are foreseen to further complement the regional growth in the ensuing years.
Further speaking on the competitive scenario, it wouldn't be wrong to say that the sustainability and go-green trends are also vividly characterizing the marine industry vertical and impelling the prominent companies to adopt necessary market growth strategies for business proliferation. An apt instance standing as a substantiation to the aforesaid is that of Cummins Inc., that has recently introduced its new IMO3 certified QSK60 engine package that offers cleaner emissions. If reports are to be believed, the company has added selective catalytic reduction systems to meet the new emissions standards without impacting the fuel economy. Endorsed with similar product innovation and business expansion trends, several other industry players including Wärtsilä, Tenneco, DEC Marine, Mitsubishi, Hyundai, and ME Production are also seen ramping up their positions in the global marine selective catalytic reduction systems market.
All in all, it would be apt to quote that stringent regulatory protocols and highly innovative product development with technological advancements are to remain the two prominent drivers majorly shaping the business trends in the years ahead. In terms of remuneration, the global marine selective catalytic reduction systems market size is forecast to exceed a valuation of over USD 5 billion with annual installations surpassing 3,000 units by 2024.
Author Name : Ojaswita Kutepatil