Recycled Glass Market forecast
The growing awareness worldwide regarding waste generation and the benefits of recycling has propelled the recycled glass market, which accumulated revenues of up to USD 2.4 billion in 2017. As numerous environmental issues are cropping up, governments and organizations are making efforts to discover improved methods of disposing waste as well as finding ways to reuse discarded products. The deterioration of underlying soil and air surrounding waste landfills has prompted the turnaround of the recycled glass industry. It is observed that more businesses are preferring to send glass bottles and packaging to recycle factories rather than throw them out with other refuse. Glass bottles and containers are known to be 100% recyclable since the quality of glass does not degrade after the processing. With the food & beverages industry booming alongside the growing population, recurring use of glass packaging will sustain the recycled glass market.
Germany recycled glass Market Size, by Type, 2014 – 2025 (USD Million)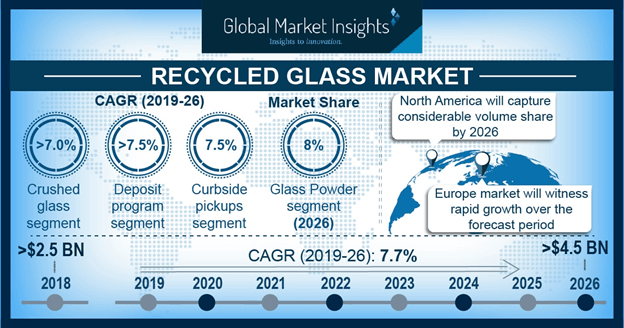 According to reliable estimates, more than 50 million metric tons of glass containers and bottles were manufactured globally in 2015, with most of the containers supplied to the soft drinks and alcohol industry. The production figures not only offer an indication as to the quantity of glass waste accrued but also vast amount of input available for the recycled glass industry, which in turn serves as a source of raw material for making new glass products.
Glass makers have realized the importance of infusing cullet, a form of broken recycled glass, into the manufacturing of new glass containers. The method saves money as other materials have to be sourced in lesser volumes, whereas energy consumption is reduced considerably, with lesser heat needed in furnaces due to the presence of cullet. It reduces the overall carbon footprint that results from glass making and subsequently, increasing number of glass manufacturers are using cullet, representing its dominance in the recycled glass market.
Boosting the significance of cullet is the construction of bigger and more efficient facilities across the globe. Recently, a major producer of glass containers for the food and beverages industry, Encirc Ltd opened a new furnace worth £40 million (USD 52.22 million) at its factory in Cheshire, U.K. It is supposedly the largest glass container furnace in the world having an area of 206 sq. meters and should increase the factory's melting capacity by approx. 100 tons per day. The upgraded facility is expected to strengthen the recycled glass market in U.K., as Encirc is believed to produce almost one third of Britain's total glass containers and uses up to 90% recycled cullet in glass manufacturing.
Get a Sample Copy of this Report @ https://www.gminsights.com/request-sample/detail/2699
Different regions have started to enforce environmental mandates for curbing pollution and to practice waste recycling, for instance the 2008/98/EC Waste Framework Directive which has laid down steps for waste disposal in Europe. More than 75.9 billion units of glass containers were produced in Europe near the end of 2017 for the global food and beverage markets, inferring the substantial requirement of recycling. As per reports, the glass recycling rate across the region was nearly 74% in 2017, showcasing the high impact of the recycled glass industry in Europe. Having large recycling capacity, the region has witnessed incredible adoption of recycled glass in several industry verticals such as abrasive grit blasting, concrete aggregates and the escalated application in making glass beads used in reflective paint.
Production of glass beads is a significant component of the recycling industry and could bolster the recycled glass market earnings in Europe. Reports indicate that mostly all glass beads are manufactured from recycled glass derived from bottles, windshields among other disposed products. Tiny glass beads in millions of numbers are embedded in paint while marking roads and act as reflective spheres that shine under headlights, becoming more visible as compared to markings without any reflector glass. Besides improved safety and nighttime visibility, embedding glass beads reduce the time taken for the paint to dry and increases the paint life. Europe has around 8.3 million kms of motorways and highways which are consistently expanding and present lucrative opportunities for the recycled glass beads industry. Combined with the tremendous industrialization occurring in the region, Europe contributed almost half of the global recycled glass market share in 2017.
With the potential to lower environmental pollution from waste disposal and in efficient manufacturing of glass containers, the recycled glass market is poised for an anticipated 7.6% growth rate from 2018 to 2025. The dynamics of the recycled glass industry is characterized by key players including Strategic Materials, Berry Glass, Gallo Glass Company, Reiling Glass Recycling, Ardagh group, among others.
Author Name : Pankaj Singh