Recycling
The increasing deployment of sorting machines for improving plant productivity has been propelling optical sorter market share. The shortage of labor and surging need to handle more quantity of products in a less time are a couple of the most prominent causes behind the increasing deployment of sorting machines. In recent years, the optical sorter has emerged as one of the pioneering products to handle grains, pulses, spices, beans, rice, nuts, fruits, vegetables, and plastics. The capability of this device to sort the products based on their shape, color with high efficiency, excellent precision, and performance is poised to expedite optical sorter industry outlook considerably.
Germany optical sorter market, by application, 2017 & 2024 (USD Million)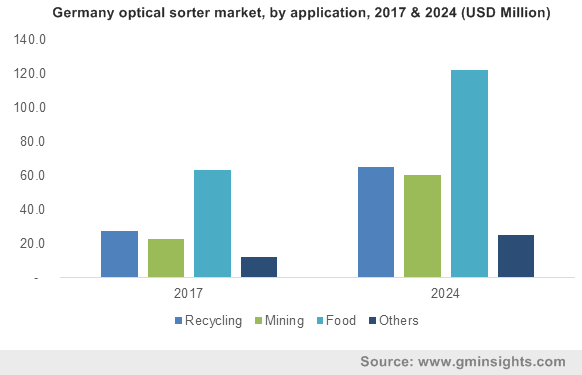 The commitment of key players in the optical sorter market toward innovation, superior manufacturing, and intelligent design will have a notable influence on future product demand. Recently, the leading food sorter manufacturing company, TOMRA Sorting, Inc., has revealed its plan to launch innovative sorting machines at Pack Expo. TOMRA has been working to resolve customer issues with its new product launches to enhance its customer base. With this recent launch, it seems to have resolved the issues pertaining to the food processing companies that had been struggling earlier to filter out foreign materials like stones, wood, metal, glass, and plastics from vegetables and potato products. The company claims that the newly developed machine will filter 98% of all types of filtering objects. The incidence testifies that the innovative capabilities of the companies to fulfil the customers' needs with their high standard products is likely to stimulate the optical sorter market share from the food industry over the years ahead.
The advent of next-generation technologies such as the Internet of Things (IoT), and Artificial Intelligence (AI) also has augmented the product development strategies of optical sorter industry contenders. Considering the ease of use of technologically advanced sorting equipment, several end-users have been deploying sorting machines on a large scale. For instance, in the middle of 2018, the UK based waste management company, Viridor has invested nearly 445,000 pounds to upgrade its plastic processing facility with the deployment of the robotic sorter. This robotic sorter can be utilized to purify PET plastics by filtering metals and other kinds of contamination pertaining to the integration of AI-powered vision systems.
Get a Sample Copy of this Report:@ https://www.gminsights.com/request-sample/detail/2500
Speaking along similar lines, in order to resolve the issue of the labor shortage, U.S. based Diamond Fruit Growers has recently invested to deploy its first ever optical sorting line specially designed for pears. The Italian company, Unitec has also engineered an optical sorter with the integration of software that can minimize the damage by sorting out fruits based on their grade and size without scuffing. The use of such machines to handle a plenitude of products at the food processing facilities will help companies to handle more volume with less labor. Continuous investments in technology by prominent end-users to handle a large volume at a time is likely to propel optical sorter market trends.
In addition to food processing, the mining sector is a pivotal revenue generating ground for optical sorter market players that have been incorporating new features into existing models. They have also been enhancing the design features of the products to improve its wear-resisting capability and ease of maintenance. Taking into account the extended life cycle of the products, most of the mineral and metal ore extraction industries have been deploying modern optical sorters on a large scale which will have a positive influence on the market growth. For the record, in 2017, the mining industry held a 15% share of the optical sorter market.
Growing availability of highly advanced product ranges will propel the optical sorter industry outlook over the years ahead. In addition, increasing awareness among the end users about the cost-effective returns obtained from the automated processes at the workplace will also have a notable influence on the product demand. For the record, by the end of 2024, optical sorter market will surpass revenue collection of USD 3 billion.
Author Name :Sunil Hebbalkar

Solid waste management industry, over the last few years, has been witnessing a tremendous growth in terms of remuneration, owing to the fact that the developed and developing nations across the globe are increasingly framing stringent regulatory norms and guidelines to tackle the burgeoning environmental challenges pertaining to solid waste. Furthermore, various regulators and government agencies have been making concerted efforts to assist the leading and upcoming solid waste management market players, to ensure appropriate collection, segregation, transportation, storage, disposal, and recycling of rapidly increasing waste volumes across the world. The U.S. Environmental Protection Agency (EPA) for instance, has emerged as one such regulatory agency to have left a significant influence on the overall
solid waste management market.
U.S. Solid Waste Management Market By Disposal, 2016 & 2024 (Million Tons)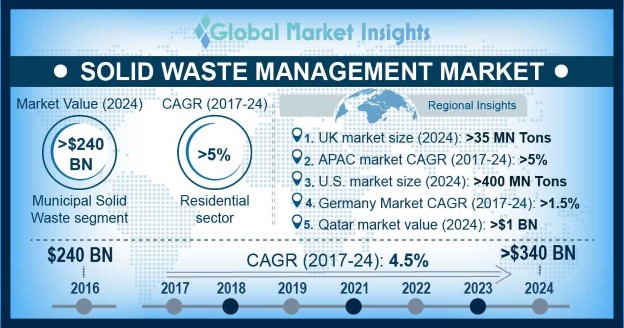 The agency has recently permitted Enerkem to construct a first of its kind municipal waste-to-cellulosic ethanol plant under the U.S. Renewable Fuels Standard (RFS). The agency has further granted USD 3.5 million to the Canadian cleantech firm building the project, to accelerate the facility's completion in time. It would be prudent to mention that the facility would have a massive capacity to process 100,000 tonnes municipal solid waste, which would be utilized to generate 40 million liters of fuel-grade cellulosic ethanol. Citing yet another instance, the EPA has recently approved the nation's first mechanical biological treatment (MBT) municipal solid waste-to-solid recovered fuel (SRF) facility worth USD 19 million to be built by Entsorga West Virgina, LLC, a joint venture between Chemtex Global N.V, Entsorga Italia, and Apple Valley Waste Technologies, Inc. For the record, SRF would be utilized by large energy consumers as a clean-burning alternative over environment-degrading fossil fuels. Apparently, more such moves are anticipated in the immediate future which would, in turn, charting out lucrative growth avenues for solid waste management market size expansion. According to a few trusted research reports, the global solid waste management market was estimated to have held a total valuation in excess of USD 240 billion in 2016.
Get a Sample Copy of this Report:@ https://www.gminsights.com/request-sample/detail/265
Europe – the emerging regional avenue for solid waste management market progression
Speaking in terms of regional growth outlook, the European solid waste management market is set to grow at an exponential pace in the years ahead. The ever-increasing inclination toward adopting recycling technologies in the European nations such as UK and Germany, coupled with the introduction of comprehensive directives by government agencies to lower air pollution and land usage shall stimulate the growth potential of solid waste management market.  As per reliable estimates, UK solid waste management industry size is predicted to surpass a total processing capacity of over 35 million tonnes by 2024, the reason being the previous record of the UK having recycled 64 % of its packaging waste in 2014.
Concurrently, in the recent times, the region has been characterized by new waste-to-energy (WTE) facilities being set-up by leading solid waste management industry giants. Hitachi Zosen Inova AG, a Swiss firm part of Japan's Hitachi Zosen Corporation, for instance, has recently announced its plan to build Turkey's first WTE plant for processing municipal solid waste to generate electricity to the tune of 70 MW. The facility is touted to be the largest WTE project in Europe which would have the capacity to process around 15% of Istanbul's solid waste per year and is scheduled to start operations in 2021 with three incineration lines.
In addition, it is noteworthy to mention that the foremost firms partaking in solid waste management market including Biffa Group Ltd, Hitachi, Veolia, Amec Foster Wheeler, E.L. Harvey & Sons, Stericycle among others have been focusing on acquiring upcoming companies to fortify their presence in this industry. The UK-based waste management company, Biffa Group Ltd, for instance, has concluded five acquisitions in the previous financial year. The firm has continued its acquisition spree further by buying out the waste management operations of O'Brien Waste Recycling Solutions Holdings Limited for an estimated 35 million Euros. Meanwhile, many more such mergers and acquisitions are anticipated to materialize in the ensuing years. Apparently, driven by such dynamic competitive portfolio, the global solid waste management market share is bound to traverse a profitable path in the upcoming years. As per a research report compiled by Global Market Insights, Inc., solid waste management market size is forecast to surpass 340 billion by 2024.
Author Name : Saif Ali Bepari