Regional Jet
The proliferating tourism industry along with the surging consumer spending on air travel have indeed pushed aircraft door market trends lately. Doors, being one of the most critical components of aircraft, are quite overtly designed with utmost precision to offer easy access control and management of various aircraft compartments as well as ensure passenger safety by maintaining required air pressure within the aircraft. With the global expansion of the aviation industry, aircraft door designers and manufacturers are now focusing on reducing the overall door weight to enhance the aircraft's fuel efficiency and profitability. The rising focus on weight reduction solutions in air carriers will thus drive the aircraft door market size over the forthcoming years.
U.S. Aircraft Door Market, By Door, 2018 & 2025, (Units)
Given the escalating air traffic across the globe, the fact that the frequency of aircraft production has surged comes as no surprise. According to the International Air Transport Association (IATA), by 2036, the number of passengers using air transit services is expected to reach over 7.8 billion – nearly twice of the 4-billion-mark recorded in 2017. With rising disposable incomes along with the escalating annual spending in emerging nations, the demand new, advanced and luxury airliners will also increase, scaling up air carrier deliveries and subsequently impacting the global aircraft door industry share.
It has been observed that of all different types, cargo doors are significant more popular, perhaps on account of the rise in cargo transport. According to the IATA, the air freight transportation in the year 2018, surpassed 60 million tons with an increase of close to 4.5% as opposed to 2017. Indeed, air cargo transportation is known to be potentially significant and accounts for about 35% of the worldwide trade by volume. With the expansion of the e-commerce industry, online retail carriers and integrators are enhancing their package sorting and automation capabilities, in addition to extending networks in a bid to gain a larger fraction of the growing trade. Powered by the robust expansion of air cargo transportation and the massive requirement of efficient doors in aircraft to ease loading and unloading, cargo aircraft door market share will experience a commendable incline in the years ahead.
Latin America is anticipated to be tagged as one of the profitable regional grounds for the expansion of the global aircraft door market. Quite discernibly, the growth of the LATAM industry can be attributed to the fact that domestic airliners are consistently expanding their commercial and regional jet fleets in order to accommodate more passengers. Citing an instance of the aforementioned, in Q3 2018, Embraer had received an order of more than 20 regional jets from the reputed Azul Linhas Aereas Brasileiras.
Get a Sample Copy of this Report @ https://www.gminsights.com/request-sample/detail/2434
Driven by the expansion of the regional aviation industry and the efforts undertaken by prominent domestic players to consolidate their position in the global space, LATAM aircraft door market size is forecast to register a CAGR of 6.5% over 2019-2025.
The Indian air transport sector has also depicted strong growth in the recent years, a fact that would serve to proliferate the regional aircraft door industry. Reports from IATA forecast that in the next 20 years the number of annual air passenger journeys will increase by over 350 million, hitting almost 520 million journeys in 2037.
The regional civil aviation industry has also emerged as one of the fastest growing verticals in the recent years, and is expected to soon overtake the stalwarts in the domain in the global race. The strong performance of India's aviation industry and the subsequently escalating demand for the production of technologically advanced aircraft, have thus served to expedite the growth map of India aircraft door market.
Aircraft doors in essence, play a vital role to maintain specific air pressure in an aircraft cabin, offering enhanced security and assurance to traveling passengers. With a rising proportion of the global populace opting for air travel owing to surplus disposable incomes and the growing trade initiated by e-commerce giants, worldwide aircraft door market size is poised to hit a remuneration mark of USD 9.5 billion by 2025.
Author Name :Mateen Dalal
Rapidly increasing air traffic resulting from worldwide expansion of the aviation sector has propelled the
aerospace floor panels market
with key manufactures speeding up the production of commercial aircrafts. Constituting a major portion of any aircraft's weight, floor panels need to be light for reducing the overall mass and also should be durable to tolerate the brunt of thousands of passengers or tons of cargo load over a period of time. The introduction of efficient materials and designs to manufacture lightweight panels and structures has supplemented cost savings for airlines along with meeting stringent norms mandated by aviation authorities.  As such, the aerospace floor panels market has hugely transformed due to consistent focus on enhancing the quality of panels, which form an integral component of the all-round safety within the aircraft.
U.S. Aerospace Floor Panels Market, By Aircrafts, 2017 & 2024, (Units)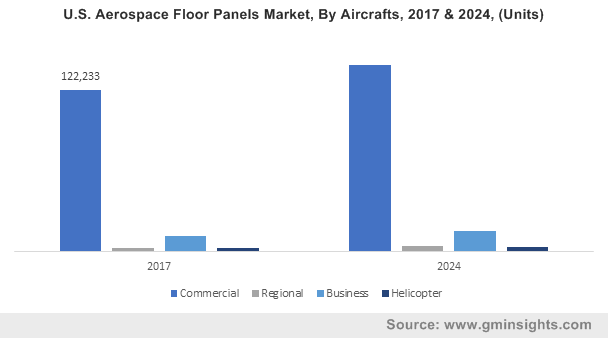 Speaking of efficient panels, a prominent design that has critically altered the aerospace floor panels industry is the honeycomb sandwich assembly, which has allowed the production of lighter and highly durable floor paneling. Applicable in a variety of segments such as railways, marine, construction and energy, the honeycomb sandwich design offers exceptional strength-to-weight ratio and panels can be modified according to the type of use. In terms of improving interior aesthetics of an aircraft, the surfaces of these panels can be customized depending on the face sheet material. With the use of high-quality honeycomb sandwich panels to ensure a strong floor base, the global aerospace floor panels market surpassed a revenue of USD 174 million in 2017. Aluminium honeycomb panels, in particular, are increasingly being utilized in aircraft production and demand for these panels is expected to rise steadily over the next few years.
Get a Sample Copy of this Report:@ https://www.gminsights.com/request-sample/detail/2716
In terms of feasibility, Aluminium offers remarkable strength-to-weight properties to floor panel designers along with flexibility and considerably low processing cost, as compared to other robust materials like Titanium. Other notable features of Aluminium are corrosion resistance, easy to machine and cut as per required specifications and the ability to enhance the durability of structural components. Since the alloy is also described as being almost 90% recyclable, Aluminium honeycomb sandwich panels are expected to become immensely popular in the aerospace floor panels market. Major aircraft manufacturers are already treading in the direction of adopting aluminium honeycomb cores in flooring to reduce the structural weight and cost of production. Interesting predictions regarding growth of the aircraft segment has evidently spurred the development of the aerospace floor panels industry.
Recently, the American multinational airplane maker Boeing released a statement in which it mentioned that the aircraft industry has been witnessing a prolific growth trend over the past eight years. The company also revealed certain estimates, according to which the global demand for new passenger jets will reach approx. 42,730 by 2037. The total value of these new planes is projected to be around USD 6.3 trillion, indicating the massive earning potential of the aerospace floor panels market from new aircraft production. Boeing attributes the growing demand to the continuous economic growth worldwide and the rising consumer spending, especially by the working middle class population. Expansion of the tourism sector has additionally boosted air traffic in emerging economies, strengthening the aerospace floor panels industry stance.
Besides the passenger segment, use of cargo planes for transporting heavy commercial or military equipment and to undertake product delivery between multiple countries has grown tremendously due to progressive pricing trends. As a result, not only new cargo-carrying aircrafts are being made but old and new commercial jet builds are also being converted to freight planes, signifying a lucrative emerging avenue for the aerospace floor panels market. For instance, Dresden-based Elbe Flugzeugwerke (EFW), a joint venture between Airbus and Singapore Technologies (ST) Engineering's Aerospace arm, is involved with converting passenger jet to freight aircrafts. In August 2018, EFW delivered an Airbus A330-200 Passenger-to-Freighter converted plane to EgyptAir Cargo, while reports indicate that EFW has further contracts in the pipeline to convert ten A321-200s for lessor Vallair.
As cargo freighters need to be light for traversing large distances with heavy loads, sturdy flooring and lighter frame is essential for guaranteeing safe transportation and better fuel-efficiency. With projects like EFW, production of floor panels suitable for commercial logistics will see tremendous increase and substantially bolster the aerospace floor panels industry. Anticipated to register a 4% CAGR from 2018 to 2024, the aerospace floor panels market is spearheaded by companies like EFW, The Gill Corp., Rockwell Collins, Zodiac Aerospace, Nordam Group, Euro Composites and Avcorp Corporation.
Author Name : Pankaj Singh
With the surging yearly growth of air traffic and continual improvements in aircraft operating performance, aircraft soft goods market has seen a considerable progression over the past few years. Reportedly, the worldwide passenger demand for air travel has increased by more than 8% over 2016-2017. By the end of this year, the figure is projected to grow by another 7%. Estimates further indicates that global aviation industry is likely to peg a humongous valuation of more than USD 30 billion in terms of profit in 2018 – representing an escalation of nearly USD 25 billion from what it recorded in the year 2011.
U.S. Aircraft Soft Goods Market, By Aircraft, 2017 & 2024, (USD Million)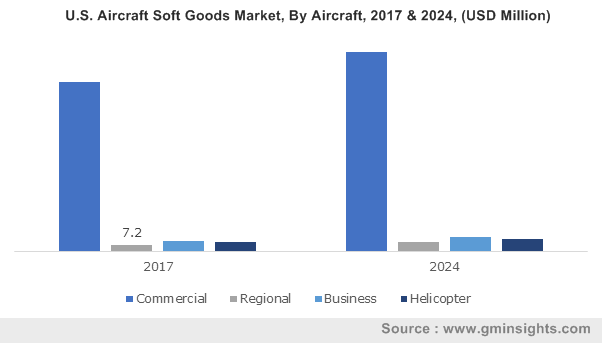 The aforementioned statistics clearly projects the considerable massive aircraft demand in the last half a decade, leading to more deployment of soft goods for seat covers, carpets, and curtains etc. In fact, as per a research report by Global Market Insights, Inc., global aircraft soft goods market share was estimated at over USD 440 million in 2017. Constant aviation refurbishment facilities and interior modifications have indeed acted as a catalyst in the expansion of aircraft soft goods market. Companies partaking in the business space have been vying with one another to bring forth a flare of novelty in their product portfolio.
Get a Sample Copy of this Report @ https://www.gminsights.com/request-sample/detail/2678
Tapis Corporation, one of the leading players in aircraft soft goods market, has recently made its way to the front page, featuring its absolutely state of the art fabric on New Emirates 777-300ER First Class Suites. Reportedly, the company's TapiSuede™ BHC-SS Flannel product has been chosen for these new suits, for the seat backshell. For the record, these premier suites were established by Emirates in collaboration with renowned seat manufacturer Rockwell Collions, industrial design firm Teague, airline manufacturer Boeing, and Jacques Pierre Jean. Tapis Corporation's advanced product line coherently validates the fierce competitive scenario in aircraft soft goods industry and the ongoing developments this particular vertical is characterized by. Some of the other potential contenders in the marketplace include Anker Company, Spectra Interior Products, Mohawk Group, RAMM Aerospace, Lantal Textile AG, and InTech Aerospace.
Regionally, North America exhibits a strong stance in the global aircraft soft goods market landscape with a recorded share of USD 250 million in 2017. The region, endorsed with presence of myriad top-notch aircraft manufacturing companies, is anticipated to surpass a revenue of USD 300 million by 2024.
Forecast to be another profitable belt in terms of investment, APAC aircraft soft goods market is slated to record a 4% CAGR over 2018-2024. Growth drivers, as stated by analysts include expanding aviation commercial market along with increasing refurbishment activities. As per reports, the air carrier demand across APAC turf increased by 9.4% over 2016-2017, subject to significant increase in travel route options and macro-economic conditions.
All in all, with the rising number of refurbishment projects aiming to upgrade the cabin interiors of economy as well as business classes, aircraft soft goods industry demand is certain to witness an uptick over the ensuing years. Manufacturers are adopting lightweight materials including blended fabric and synthetic products that offer improved surface texture at a reduced cost. Aircraft soft goods industry is certain to stand as a major beneficiary of these continuous upgradations in the modern airline vertical. In terms of commercialization portfolio, the overall business space is slated to cross USD 560 million by 2024.
Author Name : Satarupa De
The rising deployment of fleet services for transportation & military operations has been driving aerospace & defense fluid conveyance systems market considerably since the last few years. With increasing disposable incomes and subsequently changing lifestyles, air transportation has lately gained substantial momentum, fueling the need for commercial aircraft. In addition, in order to eliminate terrorist activities, which have been increasing rapidly since the last few decades, many countries have been deploying unmanned aerial vehicles and high-speed jets. Aided by changing military strategies and heavy investments in the defense sector, aerospace & defense fluid conveyance systems industry size is anticipated to witness a massive upsurge over 2018-2024.
U.S. Aerospace & Defense Fluid Conveyance Systems Market, By Fluid, 2017 & 2024, (USD Million)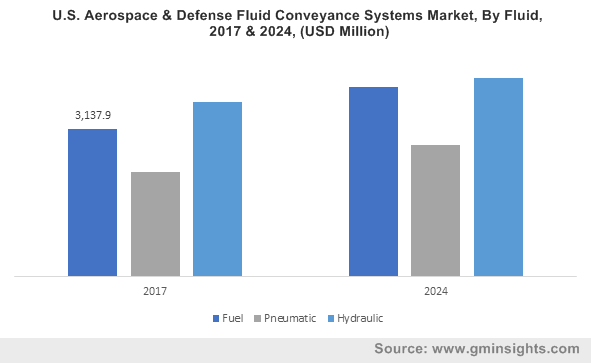 Taking into account the primary need of fluid conveyance systems in aircraft production, leading aircraft manufacturers have been establishing partnerships with fuel system manufacturers. An instance of the aforementioned is GKN Aerospace's contract signed with General Atomics Aeronautical Systems Inc., in 2017, for developing, designing, and manufacturing fuel conveyance systems. GKN Aerospace, through this development agreement, apparently looked forward to developing fuel systems for UAV (unmanned aerial vehicle) applications. The firm planned to manufacture fuel bladders through a vacuum forming process in conjunction with the latest polyurethane (PU) material that is durable and lightweight. Given that UAVs are prominently used in the defense sector for performing various surveillance and other military tasks, GKN is likely to strengthen its stance in aerospace & defense fluid conveyance systems market through this deal, in addition to encouraging its fellow adversaries to increase their investments in the development of military UAVs.
The surging deployment of aircraft for defense as well as commercial purposes has been creating lucrative opportunities not only for original equipment manufacturers but also for aftermarket product developers. In fact, in order to rake in maximum capital, aircraft companies are signing long-term deals with aftermarket product suppliers. The collaboration of airline companies with aftermarket product distributors is proving rather beneficial for this vertical, in terms of reduced maintenance cost and improved fleet reliability.
Get a Sample Copy of this Report@ https://www.gminsights.com/request-sample/detail/2518
Citing a recent instance justifying the aforementioned statement, in 2016, Emirates signed a 10-year aftermarket agreement with Unison Industries to upgrade the GE90 and GP7200 engine fleets. Emirates back then, could leverage Unison's expertise in the areas of upgrades, exchange programs, and repairs with mutual goals of the highest quality support. The deal testified that requirement of the aftermarket is vitally important for maintaining fleet services. Indeed, as per estimates, aerospace & defense fluid conveyance systems market size from the aftermarket distribution channel is slated to register a CAGR of 3.5% over 2018-2024.
Elaborating further on the growth strategy scenario in aerospace & defense fluid conveyance systems market, it is noteworthy to mention in 2015, Parker Aerospace signed a long-term deal with Emirates to provide a maintenance package to its Airbus A330/A340 and Boeing 777 engines and aircraft. As per the agreement, Parker will establish its repair facilities and network outstations across the globe to support Emirates, which will emerge to be advantageous for regional companies and local support teams to generate a sufficient inventory pool for fleet maintenance. This in consequence would have a remunerative impact on the overall aerospace & defense fluid conveyance systems industry outlook over the years ahead.
The mutual cooperation between aircraft companies and product suppliers is likely to be one of the major driving forces of aerospace & defense fluid conveyance systems industry. The surging deployment of UAVs for performing military operations will also have a remarkable impact on product demand over the years ahead. Driven by the escalating demand for fleet components and the robust competitive hierarchy, aerospace & defense fluid conveyance systems market share will increase at a CAGR of 3% over 2018-2024.
Author Name : Sunil Hebbalkar
The revenue scale of aerospace plastics market is likely to expand in the forecast years, owing to the shifting preference towards the low weight aircrafts to enhance the performance and fuel efficiency of the jet. Surging development across the aviation industry along with high investment in the defense activities across the globe will also stimulate the aerospace plastics industry size. As per Global Market Insights, Inc., aerospace plastics market size is anticipated to surpass USD 75 million by 2025.
U.S. Aerospace Plastics Market, By Aircraft, 2018 & 2025, (USD Thousand)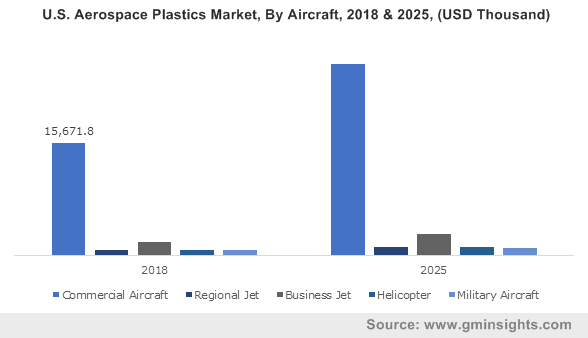 Aerospace plastics are massively deployed in cabin interiors, airframes, windows & windshields, and propulsion systems, owing to their convenience and efficiency. Of these, window & windshields applications are rather commonplace. Indeed, the segment accounted for a substantial proportion of aerospace plastics market share in 2018, primarily on account of the extensive deployment of durable and chemical resistant plastic material, that helps to prevent glass layers in windows from shattering.
As far as windshields are considered, when manufactured with durable plastics, they offer reduced reflectivity and also help passengers regulate light as well as heat transmission flow to the aircraft interiors, which would majorly propel aerospace plastics market trends from windows and windshields.
A major factor that would augment aerospace plastics market outlook from windows and windshields applications is the increasing number of MRO activities, in tandem with the rising demand for the replacement of ageing aircraft components with enhanced plastic material. As major industry contenders strive to introduce lightweight, high-performance windows and windshields for aircrafts, aerospace plastics market share will depict a commendable rise over the forecast period.
Get a Sample Copy of this Report:@ https://www.gminsights.com/request-sample/detail/185
Speaking of the type of aircraft, it would be prudent to mention that military aircraft will depict considerable demand in aerospace plastics market in the forthcoming years. This is basically on account of the rising security concerns across the globe as well as the subsequently increasing defense expenditure.
The rising adoption rate of plastics in military aircraft can also be attributed to the fact that plastics offer effective insulation from radar. Driven by the demand for weight reduction in aircraft and the provision for zero conductivity, military aircraft based aerospace plastics market is likely to gain major impetus over 2019-2025.
Geographically, Asia Pacific will account for a substantial proportion of aerospace plastics market share in the years to come. The growth can be primarily attributed to the surging demand for military and commercial aircraft. India and China will contribute significantly towards the regional growth. Europe aerospace plastics industry on the other hand, is also predicted to record a considerable growth rate over the coming timeframe, aided by France, Germany, and UK.
North America is expected to hold the highest share in aerospace plastics market, in terms of volume, by 2025. The reason for the same can primarily be credited to the presence of innumerable product manufacturers in the region, that have their focus set on producing highly fuel-efficient aircrafts. Not to mention, the region is controlled by a stringent regulatory landscape, which would also help augment the domestic share.
Rising fuel costs are also encouraging aircraft manufacturers to incorporate plastics in aircrafts. Of late, aircraft manufacturers have been producing customized plastic manufacturing processes in order to substantially enhance their profitability as well, which would further contribute to improving North America aerospace plastics market outlook.
The competitive spectrum of aerospace plastics market comprises companies like Mitsubishi Chemical Advanced Materials, Saint Gobain, Ensinger, SABIC, Drake Plastics Ltd., Victrex, and BASF SE. Often, industry contenders are found engaging in tried-and-tested growth tactics such as mergers & acquisitions in tandem with novel product launches in order to consolidate their stance in the industry and enhance their product portfolios as well.
Author Name : Sunil Hebbalkar