Residential Boiler
Escalating demand for hot water and steam across commercial and residential establishments will drive the U.S. Boiler Market outlook. The region has been witnessing growing investments toward modernization and replacement of the aged-out boilers owing to increasing carbon footprint. The new generation boilers are designed to follow the improving emissions standards which will create novel growth opportunities for the industry players in the coming years. For instance, Environmental Protection Agency has introduced National Emission Standards to reduce hazardous air pollutants emitted from the commercial and industrial facilities.
A boiler allows the utilization of a varied number of fuels such as natural gas, peat coke, coal, oil, and wood chips, thus providing high flexibility favoring the product adoption. The closed vessel design of the product eliminates the chances of water evaporation, assisting in achieving required pressure for steam generation on a larger scale. The hot water and steam are then carried out through separate pipelines to multiple household, commercial and industrial equipment for heating or any other required purposes.
Increasing efforts for curbing carbon emission given the rising environmental hazards will drive the U.S. boiler industry trends. The regional government is focusing on development of zero emission buildings for large facilities such as offices, educational institutes, and hospitals in order to cut down energy related emissions. Such advancements in reducing emissions at the root level will necessitate implementation of sustainable technologies.
Furthermore, the U.S government has launched National Action Plan to achieve energy optimization across multiple public & private sectors. Introduction of additional energy efficiency polices & regulations in the upcoming years will accelerate demand for low emission boilers further stimulating the U.S. boiler market trends.
Get a Sample Copy of this Report:@ https://www.gminsights.com/request-sample/detail/4391
Considering the capacity spectrum, U.S. Boiler Market from 100-250 MMBtu/hr capacity segment is experiencing increasing demand from the refineries on account of the ongoing extension projects. For instance, in January 2019, Exxon Mobil declared the expansion of its refineries in Beaumont, Texas, US, which involves construction and installation of new pipes, and boilers in the refining facility.
The company aims to gradually increase the crude refining capacity by more than 65 percent to achieve 250,000 barrels per day. Ever-increasing demand for refined petroleum products will provide a positive outlook for the U.S boiler market growth.
Robust product deployment across food processing, textile industry, pulp & paper, and metal smelting industries for cleaning, heating, cooling, and humidification purposes will drive the application share. U.S is one of the top three paper producing countries of the world and also is the leading exporter. The U.S. paper industry accounted for 96.1 billion U.S. dollars in 2015, claims an estimate by Statista. Since the process of paper manufacturing deploys steam heated cylinders to form flat paper sheet, the U.S. boiler market will generate significant revenues from the pulp & paper application.
The food industry requires heat at every stage of the process. It can be either direct heat or heat from the hot water or steam which is extremely essential for food processing. Considering the beverage industry, steam is used for cooking, drying, and warming, and also for generalized cleaning purposes in the processing plants. Application of steam eliminates the microbiological risk in food which should augment the U.S. boiler market share from food processing application.
Owing to widespread product applications, the U.S boiler market will witness significant gains during the forecast timeframe. Moreover, the manufacturers in the region are heavily investing on technological upgradation of the heating technologies of the product aiming to improve operational performance, further propelling the industry size over the forecast timeline. According to the latest study by Global Market Insights, Inc., U.S. Boiler Market size will exceed USD 4.5 Billion by 2025.
Author Name : Amol Kothekar
Growing inclination toward energy-efficient heating systems across domestic arena is likely to bring a new dimension in residential boiler market trends. It has been observed that residential heating sector accounts for a major portion of GHG emission and carbon footprints at a global scale, a factor that has profoundly acted in favor of residential boiler market penetration across developing economies. This can be quite evidenced by the Environmental Protection Agency report in 2015, which claimed that U.S. commercial and residential sector together accounted for almost 12% of the overall GHG emissions in that particular year. In response to this environmental call, a plethora of codes and standards have been implemented worldwide toward sustainable heating technologies, which by extension has fueled residential boiler industry demand. As per a report put forward by Global Market Insights Inc., the overall industry is set to hit an annual installation capacity of 10 million units by 2024.
U.S. Residential Boiler Market Size, By Technology, 2016 & 2024 (USD Million)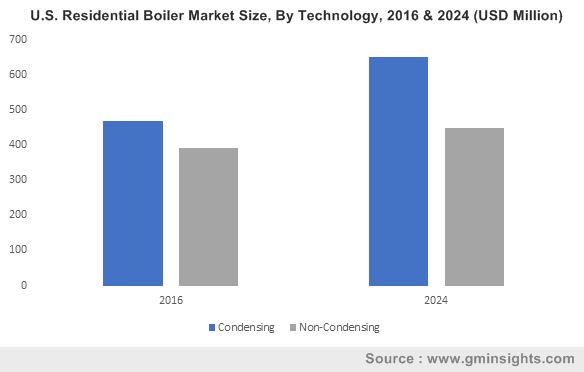 A stringent regulatory landscape speaks volume and has contributed immensely in the remodeling of residential boiler market dynamics. Despite the fact that these regulations refer to U.S. alone, the impact of these standardization has been observed at a global scale. The U.S. ECPA (Energy Policy and Conservation) Act of 1975 imposed energy conservation standards on various consumer products including residential boiler. As per the amendment, the U.S. (DOE) Department of Energy periodically updates the energy efficiency standards and consumer guidelines pertaining to residential boilers. In fact, as per the recent norms, all gas fired hot water boilers that are manufactured between the period 1st Sept 2012 to 15th January 2021 must have a minimum AFUE (Annual Fuel Utilization Efficiency) of 84%.  Speaking along the similar lines, natural gas fueled residential boilers accounted for 50% of the overall residential boiler industry share in 2016.
Get a Sample Copy of this Report@ https://www.gminsights.com/request-sample/detail/2034
Ongoing investments toward residential construction along with increasing demand for energy efficient space heating system across major economies have proliferated residential boiler market outlook. In 2016, China invested around USD 1 trillion in the residential building sector.  In addition to this, the Chinese government's increasing initiative toward establishing zero emission buildings will finally lead to a replacement of traditional heating systems with efficient residential boilers, which in no surprise will impact the regional residential boiler market size.
Taking into account the European government's favorable energy efficient retrofitting policies toward refurbishment of traditional heating units, it is certain that Europe will also turn out to be a strong contender in the global residential boiler industry over the coming years. Under the scheme, landlords are provided 10% grant for deploying oil and gas fired condensing boilers in their residential complex.  In the year 2015, renovation, maintenance, and refurbishment activities almost accounted for 60% of the overall residential spending across European belt, another statistic that is shedding a positive light on the regional residential boiler market outlook. With Germany covering 14% of the regional share in 2016, Europe residential boiler market is expected to witness substantial growth in the coming seven years.
As per a report compiled by Global Market Insights, Inc., the overall residential boiler market will exceed USD 12 billion by the end of 2024. Continuous product innovations by the leading giants along with a strong regulatory groundwork are sure to bring a renewed dimension in the residential boiler industry outlook.  In addition, increasing number of government initiations toward sustainability trends and expansion in the residential construction sector is certain to contribute toward the overall business growth. Some of the prominent participants involved in this space include AC Boilers, Lennox, NTI Boilers, Bosch, Weil-McLain, HTP, Viessmann, and Parker Boiler.
Author Name : Satarupa De