Residential
With the rising acceptance of renewable energy sources as a means to derive power, thermal energy storage market has emerged as one of the top-notch verticals of the sustainable ecosphere. The demand can also be cited to be driven by the reducing dependency on fossil fuels as an energy source, primarily due to their innumerable hazardous impacts on the environment. As per reliable reports, primary energy consumption is expected to rise by more than 45% by 2040. It is rather obvious that thermal energy storage which plays a balance between the growing energy demand and the need to address the environmental interruptions will constitute a major ratio of the sustainable energy mix.
Europe Thermal Energy Storage Market Size, 2013 – 2024 (USD Million)
Speaking of the widespread application portfolio, utility and electricity generation is one of the most lucrative end-use arenas for the thermal energy storage market. The technology has gained massive popularity via its adoption in CSP plants where solar heat is stored to generate electricity that can be used at night, providing relatively affordable, cleaner, and uninterrupted power supply.
It is prudent to mention that the residential and industrial sectors, where the technology is being widely utilized for cooling or heating applications as well as power generation, is yet another potential end-use avenue for the thermal energy storage industry. Reports from the International Renewable Energy Agency (IRENA) cite that, in Europe, around 1.4 million GWh/year of energy can be saved, and 400 million tons of CO2 emissions can be avoided, in residential and industrial sectors by extensively using heat and cold storage technologies, figures that identify the growth and profitability potential of thermal energy storage market over the coming years.
Get a Sample Copy of this Report:@ https://www.gminsights.com/request-sample/detail/2589
The energy-saving potential by deployment of this technology is vivid globally, although the rate of penetration of thermal energy storage market varies with different geographies. A series of parameters including the demand ratio, regulatory mix, and infrastructure support are some of the vital parameters responsible for the change of dynamics related to thermal energy storage industry expansion across the regional spectrum.
Below is an outline of the thermal energy storage (TES) market trends with a regional frame of reference:
United States Thermal Energy Storage Market
With heavy R&D investments and high fuel costs, U.S. thermal energy storage market is estimated to register a lucrative growth chart over the coming years. In the year 2017, nearly 41.8MW of energy storage systems were installed across the region, which accounted for 46% of y-o-y growth. In addition, reportedly, 14 U.S. states have deployed around 2GW of energy storage into Integrated Resource Planning (IRP), highlighting the growing popularity of energy storage technology in the region. As per a report by Global Market Insights, U.S. thermal energy storage market share stood at USD 6 billion in 2017.
Europe Thermal Energy Storage Market
With heating and cooling using approximately half of Europe's energy, the demand of thermal energy storage industry in the region is estimated to be substantially high over the coming years. As per European Association for the Storage of Energy, 50% of all final consumed energy in Europe is used to heat buildings or water. Out of this, 85% still comes from fossil fuels, hinting toward the potential opportunities which are yet unexplored in the region. Add to this, the regulatory landscape aggressively boosting the demand for renewable integration to attain the vision of a decarbonized economy will further provide a substantial impetus to Europe thermal energy storage market.
China Thermal Energy Storage Market
With the expanding infrastructure sector and rapid economic development, China is slated to be yet another profitable avenue for the thermal energy storage industry players. The region is actively investing in energy storage technologies with a vision to meet its energy as well as environmental sustainability demands. Reportedly in the first half of 2018, Henan, Qinghai, Jiangsu, and Guangdong provinces declared the construction of energy storage projects of varied capacities totaling 340.5 MW. In yet another instance, Suunpower, China's CSP developer last year signed a partnership deal with Norway's EnergyNest to deploy TES systems in China. The EnergyNest system would facilitate an affordable and eco friendly energy generation eliminating the hazardous impact of coal combustion on the environment.
In a nutshell, it is rather evident from the aforementioned facts and trends, that although the TES technology has penetrated appreciably at a global scale, its full potential is yet to be explored. A trend that is anticipated to change and characterize the dynamics of thermal energy storage market is the high technological developments and R&D investments focusing toward energy efficiency and environment sustainability. In terms of profitability matrix, analysts project the worldwide thermal energy storage industry to surpass a revenue of USD 55 billion by 2024.
Author Name : Mateen Dalal
In world being blitzed with emerging applications that include Internet of Things, 5G network and 4K video streaming, GPON market is expected to find immense growth opportunities over 2018-2024. For instance, earlier in 2018, SK Broadband of South Korea announced that it will be launching high-speed internet service that will be capable of delivering 2.5 gigabit per second. The service will allow users to download high volumes of content using multiple devices while the service will be 3 times faster than most of the South Korean internet services that are already quite fast.
Europe GPON Market Revenue, By Application, 2017 & 2024 (USD Million)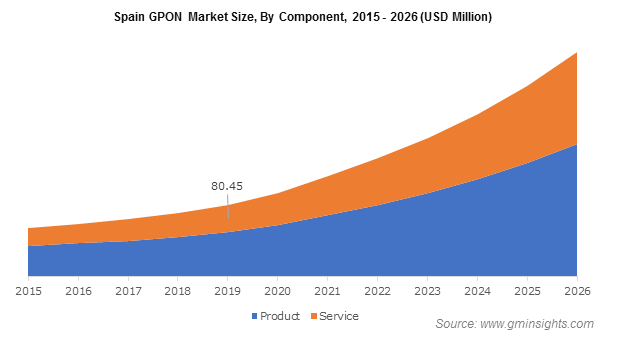 The technology at the basis of making this possible is Gigabit Passive Optical Network or GPON and while SK Broadband's current coverage is 40%, the company plans to invest 1 trillion won and expand up to 80%. Korean rival KT is also planning to roll out similar services and the South Korean government is also planning to roll out 5G wireless internet in 2019. With such developments not being bound to South Korea alone, it is predictable that the GPON market will witness significant growth in the ensuing years.
The world, currently replete with an increasing number of connected devices and robust development in machine to machine communication, is swiftly preparing itself to implement 5G technology. The only viable way to benefit from such emerging applications is by having the right network backbone in place – which paves the way for the growth of GPON market. According to reliable statistics, the global IoT market nearly doubled in size between 2014 and 2017. There were nearly 23.14 billion IoT devices in the world in 2018 which is estimated to cross 31 billion by 2020. The global IoT market is anticipated to register its name in the trillion-dollar industry space by 2019 with 20.35 billion devices across the globe as smart, connected cities that will be using connectivity, communication technology and information to solve urban problems deploying IoT for the purpose. With IoT market having already chronicled its name in the billion-dollar vertical, IoT proliferation is further expected to add to the growth of the GPON industry.
Get a Sample Copy of this Report:@ https://www.gminsights.com/request-sample/detail/2954
Speaking of IoT it is imperative to mention the onslaught of 5G networks and their support in bringing a whole new dimension to the GPON market. the business world is looking forward to the adoption of 5G as when it is becomes a widely used reality, 5G is poised to become a disruptive force. Applications such as virtual reality, augmented reality, artificial intelligence and telepresence, that have been built on underlying technologies are expected to benefit from massive data pipes and ultra-low latency. While industrial automation and robotics will become a reality, cars and drones will become capable in communicating with each other taking machine to machine communication to a whole new level. With enhancement in machine communication capabilities it is expected that increasing innovation will further increase the need for better 5G performance and eventually lead to expansive prospects for the GPON market.
Notably, NG-PON2 would be the fastest growing segment in the GPON market with a CAGR of approximately 20% over 2018-2024. The emergence and progress of 5G will act as the most important driver for the NG-PON2 segment and this has been underlined by Altice, the international network operator that has announced that it will be expanding its NG-PON2 capabilities as it prepares for disaggregated radio access network architectures and potentially overwhelming data traffic volumes brought about by the advancement of 5G. The operator aims at supporting 5G services with full support for residential, commercial, fronthaul and backhaul service requirements and strategizing to save deployment costs while creating a positive business case for fiber as an enabler of 5G services.
With the demand for futuristic technological development on the rise, GPON market is expected to register significant profits as it becomes the enabler of disruptive forces like 5G network.
Author Name : Paroma Bhattacharya
Tagged as one of the most profitable investment ventures of the recent times, smart HVAC controls market has made its presence felt owing to the ongoing trend of reducing energy consumption. Not to mention, the growing prominence of the Internet of Things (IoT) that has paved the way for building components to be connected to the Internet, resulting in the expansion of the building automation sector, has also led to smart HVAC controls market retaining a profitable position worldwide.
Germany smart HVAC controls market size, by application, 2017 & 2024 (USD Million)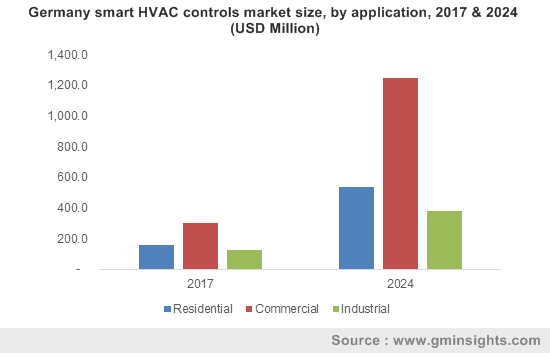 Smart HVAC systems provide the ability to fine-tune temperature, air quality, humidity, and several atmospheric factors in homes and offices. These systems are equipped with high precision sensors for regulating and maintaining air quality and temperature, further improving occupant's health and physical well-being. Indeed, the product can significantly reduce energy consumption and can easily adapt to changing environmental conditions while detecting need for maintenance. Using both advanced hardware and software technology these systems offer enhanced compatibility with smart devices while sustaining the concept of IoT, that has consequently propelled smart HVAC controls market trends.
As far as lowering energy consumption is concerned, smart HVAC modules are seemingly the most energy efficient appliances in modern automated buildings. According to reports, traditional HVAC appliances represent 61% of residential energy consumption in the UK and Canada and 43% in the U.S. The International Energy Agency (IEA) claims that smart HVAC control systems offer controlled use of energy, as the system maintains specific heating, cooling, and ventilation requirements, avoiding access energy consumption while considering end-user comfort. Powered by the robust requirement to optimize energy consumption, smart HVAC controls market is thus on its way to garner substantial popularity ahead.
Get a Sample Copy of this Report:@ https://www.gminsights.com/request-sample/detail/710
How has building automation emerged as a major driver for smart HVAC controls market?
Building automation has lately gained commendable momentum, given that it has been proven to significantly reduce energy consumption and maintenance costs for home owners. Reports from the Buildings Performance Institute Europe (BPIE) 2017, claim that by adopting building automation, owners can reduce energy consumption by around 27% in households, while using smart technology can save an average of 23% of energy consumption in commercial offices. The International Energy Agency (IEA) predicts that adopting digitalization could save around 10% of total energy consumption in commercial and residential buildings by 2040, with efficiency gains largely depicting themselves in cooling and heating applications, specifically with the deployment of smart thermostats and sensors. This has gradually led to a rise in the number of more and more automated buildings, that would eventually result in the expansion of smart HVAC controls market.
Reportedly, residential users are installing smart HVAC systems to ease the deployment and accessibility of heating and cooling systems. The improved efficiency and convenience of offered by these products has encouraged users to install the systems across homes and offices. Due to the compatibility of these products with smartphones and IoT, users can effectively precool and preheat their homes or offices using a dedicated app from afar. The product can also effectively offer information about air quality, maintenance, energy consumption and energy efficiency – in a nutshell, information that can be used by building managers, home owners, energy grid managers, and maintenance staff to take necessary steps for lowered energy consumption.
The demand for smart thermostats has also helped uplift the smart HVAC controls market share, especially on account of the product's extensive demand in colder countries. Smart thermostats use high precision motion and door sensors to save energy by automatically turning off when residents are sleeping or away from home. These low cost, easy to install devices have reportedly gained popularity in colder countries including Russia, UK and Germany, UK. Easy configuration and integration with smartphones and other home appliances have encouraged users to implement these systems on a large scale, augmenting smart HVAC controls industry size.
Speaking with respect to the geographical penetration, North America is anticipated to help impel smart HVAC controls market, primarily on account of the harsh climatic conditions in some of the continent's zones and the large-scale adoption of smart homes. Customers are seamlessly adopting the product to enable control over temperature & humidity to enhance their home comfort. Rapid development in the building automation sector and widespread technology adoption in the country is expected to propel the demand for these products in the region.
Propelled by the fact that smart HVAC enables users to control conditions like temperature, humidity and even fragrance in homes and offices, and helps maintain air temperature and quality at optimum levels, these devices are used extensively to improve the quality of life for occupants. The growing integration of these HVAC systems with smart phones and home appliances and the expansion of the building automation industry will massively augment the smart HVAC controls market size in the years to come.
Author Name : Mateen Dalal
Asia Pacific smart water metering market is expected to make remarkable inroads in the global smart technology space, primarily pertaining to the increasing deployment of smart infrastructure in the utility sector. Lately, there has been a rapid expansion in advanced water metering technology, especially in the developed economies of the Asia Pacific, given that smart water meters consist of a two-way communication or drive-by reads that provides utility companies with an additional connection to be offered to customers. In addition, a smart water meter can better understand water quality and distribution parameters, thereby enabling service reliability and efficiency across the electricity, water/sewer, natural gas, and oil sectors. These factors have naturally led to improved financial benefits to the utility industry as well as enhanced satisfaction for customers, providing a viable base for the expansion of APAC smart water metering market.
China Smart Water Metering Market Size, By Application, 2017 & 2024 (USD Million)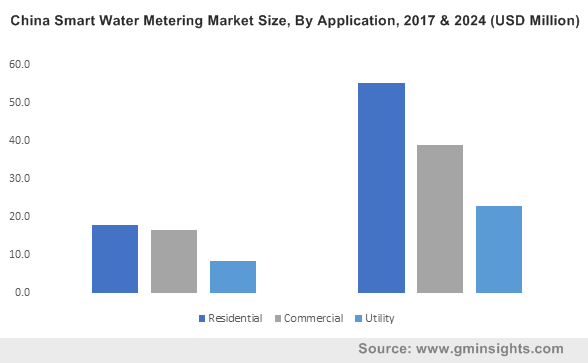 Asia Pacific, being a powerhouse of the manufacturing and construction sectors, has been the recipient of exorbitant electricity bills since quite a while. Indeed, the per capita consumption across some of the Asian nations has been reported to be among the highest across the globe. It is thus rather overt, that the deployment of advanced smart water meters, that have reportedly given water utilities accurate and timely data that better help serve their customers and also offer additional tactics for conserving water, thereby lowering water bills, is extremely crucial for the continent.
Due to rapid advancement in the water metering industry, utilities across the APAC now use cloud based IoT and analytics driven smart water metering solutions that potentially help end-use industries and consumers in making better decisions towards the conservation of natural resources. In addition, big data technology has also led to managing industry related challenges such as identify performance related issues, improving customer service and recording trends of events, eventually enabling industries experience the benefits of reduced operating costs and better prioritized infrastructure investments. Powered by the robust deployment of big data enabled water metering solutions, APAC smart water metering market is projected to experience substantial momentum ahead.
Get a Sample Copy of this Report:@ https://www.gminsights.com/request-sample/detail/2904
APAC smart water metering market to accrue hefty proceeds from China
China is expected to emerge as one of the most pivotal revenue grounds for APAC smart water metering market, particularly on account of the extreme water scarcity and the poor quality of water in the country. The issue is vividly being addressed by the government by means of active promotional programs in tandem with the implementation of digital devices.
Reports claim that Chinese government, in its 12th & 13th five-year plans, has launched the smart city investment hub to propel the deployment of smart water and electricity meters across the country. Powered by the support of government authorities, APAC smart water metering market size from China is anticipated to grow at a CAGR of 15% over 2018-2024.
India to be a prominent revenue pocket for APAC smart water metering market
APAC smart water metering market size from India is projected to grow at an appreciable pace in the ensuing years, driven by the  aging commercial infrastructure in the nation. Not to mention, India, for the longest time, has been remnant of leakage issues and non-revenue water loss. That said, the ever-expanding populace of the country is also responsible for the growth of the regional industry. Sources predict that by 2050, almost 70% of total Indian population will reside in its urban cities. With shrinking water reservoirs, low rainfall, and high population density, fulfilling the region's water requirement has emerged as quite a challenge. In the face of this ordeal, the adoption of smart water meters equipped with sensors that deliver real time monitoring could help identify and reduce water leakages and water wastage considerably.
The APAC smart water metering industry size from India will also be aided by a plethora of supportive regulations that intent to replace existing meters in the country. The Indian government's smart city programs are also expected to help propel the deployment of smart water meters in the nation. Indeed, in 2015, the government of India, under its Smart Cities Mission, declared that it plans to set up 100 smart cities, in the consideration of which the cabinet has already given the green signal for a funding of USD 13 billion. Aided by a favorable regulatory spectrum and the proposed large-scale urbanization, APAC smart water metering market size from India is anticipated to increase in the years to come.
Major players across the Asia Pacific smart water metering market include Schneider Electric, Honeywell Elster, Siemens, Badger Meter, Aclara Technologies, Diehl Metering, Arad Group, Kamstrup Metering Solutions, Sensus and Jiangxi Sanchuan. The adoption of tactics such as collaboration and acquisitions with leading tech providers has helped industry players provide high-grade and cost effective smart metering technologies to customers. Powered by the deployment of cloud IoT, big data and analytics, the issues surrounding water bill management and unwanted leak avoidance are being suitably dealt with, in the emerging APAC economies. As per reliable estimates, APAC smart water metering market size, by the end of 2014, is likely to cross an annual installation of 6 million units.
Author Name : Mateen Dalal
The increasing deployment of heating and cooling systems across various commercial, industrial, and household buildings have been fueling heat meters market. The surging concerns among the policymakers and regional governments about energy efficiency has also been having a positive influence on the product demand pertaining to its capability to measure energy consumption within cooling and heating systems. In the cold climatic regions, governments are encouraging people to deploy district heating systems to maintain warmth in the winters. The growing importance of sustainability and energy efficiency across the globe will thus propel heat meters industry share.
Sweden Heat Meters Market Size, By Application, 2017 & 2024 (USD Million)

On the grounds of garnering heat and electricity savings, most of the countries have been installing heat meters in industrial, commercial, and residential buildings. The large-scale deployment of energy consumption measuring equipment has generated lucrative opportunities for the giants in heat meters market. In addition, many financial organizations also have been supporting regulators to install heat meters by providing favorable funding. For instance, in 2017, the Europe Bank for Reconstruction and Development (EBRD) has sanctioned USD 27 million loan to deploy heat meters across the residential sector. Over the last few years, EBRD has been supporting many nations which are looking forward to harnessing sustainability and energy efficiency.
Another region where heat meters market has been gaining traction is Kazakhstan, wherein the fluctuating climatic condition has been impelling the product requirement. Apparently, in the summer season, the heat in Kazakhstan can increase beyond 30 degree Celsius and in the freezing winter, the temperature reaches to -40 degree Celsius. Amidst these extreme climatic conditions, energy efficiency is playing a vital role in the region, leading to the deployment of heating and cooling systems. The deployment of heat meters to save electricity and heat will also help district cooling/heating system firms to control the system losses, optimize the energy supply, and reduce the energy wastage. In 2017, the Kazakhstan government fit heat meters in about 45% of households and was planning to cover more than 80% volume of household buildings within three years.
Get a Sample Copy of this Report:@ https://www.gminsights.com/request-sample/detail/2597
In another instance, the Swiss government and the International Finance Corporation (IFC) have also lent support to Ukraine to create more energy efficient homes. In this regard, Ukraine's State Agency for Energy Efficiency has designed a program dubbed as Warm Loans to improve the heating system of homes. In most of the apartments across Ukraine, district heating systems have already been deployed, but due to more heat loss, energy bills were perpetually high. Reportedly, households in Ukraine account for more than 50% of its overall natural gas production. The remarkably growing awareness among the Ukrainian people about the rising domestic heating bills is thus estimated to fuel heat meters market size.
The transforming technology trends across the globe have also had a significant influence on heat meters market share over the last few years. The development of smart meters is one of the next-generation product inventions that helps customers track daily energy use very easily. Considering the benefits of modern technologies to improve the energy efficiency, leading giants in the heat meters market have been adopting various new technology advancements such as IoT (Internet of Things) and AI (artificial intelligence). For instance, a team from the Danish smart metering company, Kamstrup, and Finnish electricity firm, Herrfors Nät-Verkko have recently planned to use NB-IoT technology in smart metering. With the help of this technology, the Finnish company can monitor more than 6,000 heat and electricity meters that will result in 10% cost savings.
The development of innovative and cost-effective solutions will favorably promote the heat meters industry trends over the years ahead. The supportive stand taken by the regional governments and energy-related organizations to encourage the installation of heat meters will further enhance the industry growth. In line with the increasing deployment of heating and cooling systems mainly across cold climatic regions, heat meters market will generate a revenue of more than USD 1 billion by the end of 2024.
Author Name :Sunil Hebbalkar
Owing to the global drift toward energy efficiency and improved energy consumption practices, the solid state lighting market has emerged as one of the most profitable niche verticals of the sustainable and smart technologies industry. Solid state lighting (SSL) technology is ten times more efficient than incandescent lighting and twice as efficient as fluorescent lighting. Moreover, the SSL technology has witnessed drastic enhancements in the recent times which has resulted in the SSL-based lighting sources such as LED and OLED become a vital component in the affordable high-performance buildings. Additionally, the increasing usage of SSL technology in automotive sector has impelled the solid state lighting industry share.
U.S. Solid State Lighting Market Size, By Technology, 2017 & 2024, (Million Units)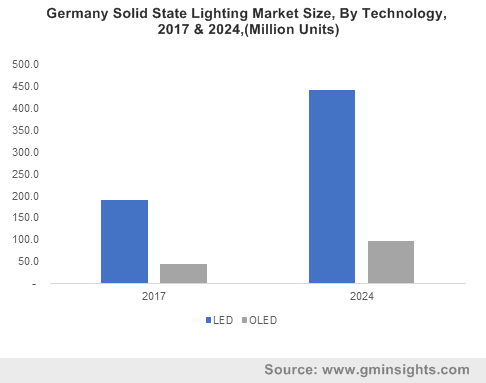 The solid state lighting has been increasingly described as a high-potential technology which is currently in its nascent stage and is yet to reach its fullest potential. Despite rapid enhancements in semiconductor materials and smart control systems, the application benefits and the possibility of this technology lowering energy costs substantially is yet to be extensively researched upon. Taking concrete steps in this direction, the U.S. Department of Energy (DOE) announced a research fund to the tune of USD 15 million in April 2018 to accelerate further breakthroughs in solid state technology across the nation. The funding apparently intends to support innovative research by technology leaders in four prominent areas viz., advanced fabrication R&D, core technology research for LEDs, OLEDs, and Cross-Cutting lighting, novel lighting in a limited Mock Field Application, and proof-of-concept and prototype development for LEDs and OLEDs.
In this context, it is quite imperative to mention that the research grant by DOE is in line with the strategic goals set by the Office of Energy Efficiency and Renewable Energy (EERE) to achieve higher energy-efficiency in residential and industrial sectors of the U.S. Needless to mention, the unveiling of such encouraging research initiatives by government bodies is certain to impel the growth prospects of solid state lighting industry in the forthcoming years.
Get a Sample Copy of this Report:@ https://www.gminsights.com/request-sample/detail/2775
The rising deployment of LEDs in cities, combined with new smart technologies, has been instrumental in creating new opportunities for urban lighting professionals. In addition to this, numerous countries have mandated various policies and laws regarding the implementation of import tariffs for LED components and product utility that is bound to propel LED-based solid state lighting market. As per reliable estimates, the global LED-based solid state lighting industry is slated to garner more than USD 80 billion in revenue by 2024.
Speaking of the regional growth potential, European nations are likely to be one of the most profitable terrains for solid state lighting market in the upcoming years. A favorable regulatory structure coupled with a robust support for new research to effectively implement smart urban lighting systems has caused rapid product penetration across European Union. With an aim to develop advanced tools that would provide cities with a range of competencies in dealing with complex procurement procedures, the European Union had rolled out a project named as FP7 SSL-erate. The project further intends to fast-track the uptake of high-quality SSL technology across the continent by bringing validated information to relevant stakeholders and encouraging open innovation programs. Europe solid state lighting market, as per Global Market Insights, Inc. holds a revenue target of USD 20 billion by 2024.
Elaborating further, the project explored the advantages that smart human-centric lighting can have for urban dwellers and how these systems can align with the goals of a city to become more sustainable in the long run. Needless to mention, the implementation of such pioneering initiatives would have an optimistic influence on the Europe solid state lighting industry share.
Owing to enhanced levels of performance compared to traditional lighting products along with lower cost of ownership, the solid state lighting market has been garnering commendable popularity across sustainable and smart technologies industry in the recent years. With the involvement of multiple stakeholders including national laboratories, academic institutions, and industry researchers who would pour in their expertise in improving the technology, the solid state lighting market is bound to proliferate at an impressive pace in the times to come. In fact, according to a research study compiled by Global Market Insights, Inc., the commercialization potential of solid state lighting industry is estimated to exceed USD 85 billion by 2024.
Author Name : Saif Ali Bepari
Hybrid power solutions market has garnered a considerably high traction over the past few years, primarily on account of the increasing demand for power generation with minimized fuel and reduced carbon emissions. In the face of the alarming price trends of petroleum products, potential contenders in the global energy landscape have been scrupulously thriving on renewable sources. The increasing popularity of hybrid power solutions market can be largely credited to this fundamental transition. Moreover, lack of grid connectivity across remote belts and the subsequent unreliability in power supply often compel electric utilities to incline toward hybrid power system installation in recent years. The abundant availability of various governmental incentives such as feed-in-tariffs, subsidies, and leverage schemes further complements the business growth.
U.S. Hybrid Power Solutions Market Size, By End-Use, 2017 & 2024 (MW)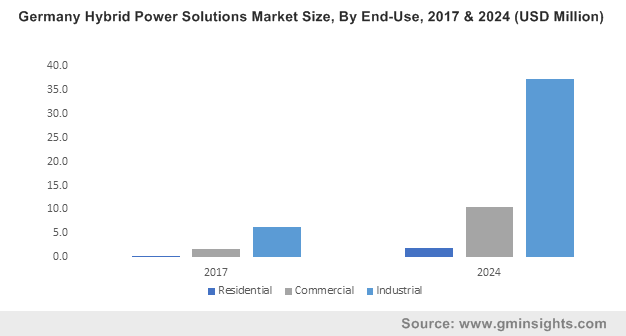 In this regard, recently India's Ministry of New and Renewable Energy (MNRE) recently enforced a new National Wind-Solar Hybrid Policy. Reportedly, this newly launched regulatory framework would be promoting huge grid-connected wind-solar Photovoltaics hybrid systems, in a bid to efficiently utilize the existing transmission capacity of the country. Needless to mention, these kind of regulatory initiatives have played a pivotal role in proliferating hybrid power solutions industry trends.
Europe hybrid power solutions market: Unveiling the latest developments across UK
Europe is claimed to be one of the pioneers of renewable energy and boasts of an enviable pipeline of wind, solar, and hydropower projects. The region also stands to gain significant monetary benefits in hybrid power solutions market as well, primarily augmented by the immense contribution of UK. According to estimates, UK hybrid power solutions market is slated to witness 5% CAGR over 2018-2024. The renewable energy directive 2009/28/EC has undoubtedly triggered new growth opportunities for the business space, with increasing deployment of microgrids, two-way power flows, and digital analytics.  Incidentally, this has also prompted leading market giants to commercialize innovative solutions in the regional market that could potentially maintain the grid stability.
Get a Sample Copy of this Report @ https://www.gminsights.com/request-sample/detail/2552
In the year before last, Swedish power giant Vattenfall, commenced its construction project as a part of its first solar project in the . Located on the site of a signature Vattenfall's windfarm in Wales that has been operational for near about 14 years, this Parc Cynog Solar Farm of 4.99MW is marked as a breakthrough project in UK hybrid power solutions industry. If reports are to be relied on, this is a part of a pilot project by the company, as it seeks to maximize the renewable energy generation potential from its existing sites in UK.
The year 2016 has proved to be a roller coaster of sorts for UK hybrid solar power solutions industry. Just few months after Vattenfall made its way to the headlines, Ecotricity, another formidable player in hybrid power solutions market, won approval for its new hybrid renewable energy project in Britain. Reportedly, the green signal to its sun parks' project in Devon and Dalby, gave Ecotricity a scope to expand its already existing portfolio in the lucrative business space. Sources also claimed that through this deal, the company even planned to generate 100 MW power from its solar-wind portfolio.
The large-scale integration of multiple renewable resource in a single platform requires grid operation to be extremely fast, flexible and responsive. The contemporary innovations that hybrid power solutions industry is presently characterized by is majorly influenced by this particular rationale. Another economic factor that has boosted the market trend is the declining price trends of wind turbines manufacturing over the past few years. As per the reports, in 2016, the average nominal installation cost of a small wind turbine recorded around 7000 USD/kW – 7500 USD/kW. Also it has been reported that average cost of solar PV module witnessed a decline of almost 0.5% over 2013-2016. These aforementioned factors in tandem with tremendous technological advancements in renewable energy technology is certain to push hybrid power solutions industry to attain remarkable heights over the ensuing years. Global Market Insights, Inc. forecasts the overall business space to exceed a massive valuation of USD 60 billion by 2024.
Author Name : Satarupa De
Emirates Central Cooling Systems Corporation, one of the pioneers of district cooling market, recently generated a heavy momentum in this fraternity with the news of connecting almost 40 buildings with its district cooling services in the first half of 2018. The total connected load in this period was more than 52000 RT (refrigeration tonnes). Reportedly, the company has further awarded the suppliers and contractors with 25 contracts on new projects across various areas in Dubai, in which the company currently operates 73 district cooling plants. For the record, Empower started its operation in the year 2014 by providing district cooling services to only two buildings and the company set a record of providing services to more than 1000 buildings by the end of 2017. Empower's initiative not just reflects the company's strengthened position in Middle East district cooling market, but also depicts the growing consumer awareness regarding the importance of energy efficient cooling technologies.
China District Cooling Market Size, By Production Technique, 2017 & 2024 (USD Million)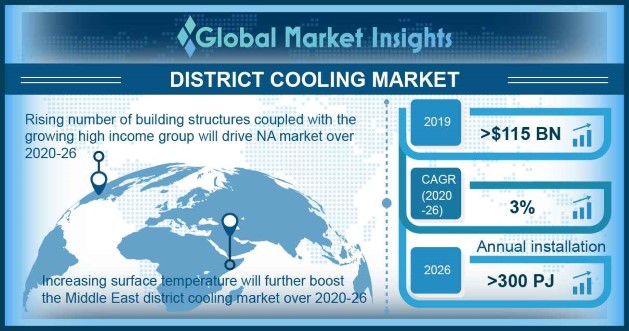 For the uninitiated, district cooling technology bears inherent advantage for areas with dense demographic pattern and huge demand for efficient air conditioning. This is the fundamental reason why district cooling industry observes a massive growth scope across GCC countries. In a bid to unlock the potential of the technology, regional governmental bodies are taking significant initiatives that has immensely contributed in the business share.
The Dubai Supreme Council of Energy, a couple of years back, declared its plans to improve the regional district cooling operations by increasing its investment in the technology from 20% to 40% by 2030. Reportedly, this is in sync with the Dubai Clean Energy Strategy 2050 that aims to transform Dubai into an International hub for clean energy. The initiative was touted as a part of the implementation of the demand side management strategy for the energy sector.
Get a Sample Copy of this Report @ https://www.gminsights.com/request-sample/detail/2672
Another gulf country that has emerged to be a profitable growth avenue for district cooling industry is Saudi Arabia. Increasing construction spending in major cities like Macca and Riyadh in tandem with favorable regulations promoting adoption of district cooling systems are two of the interlinked factors that are expected to push Saudi Arabia district cooling market to reach USD 1 billion by 2024.
From the economic point of scale as well, district cooling market is indeed a viable investment spot for GCC countries. Air conditioning across these regions is deemed to be highly cost intensive. As per estimates, the cooling capacity installation across GCC belt approximately costs around USD 50 billion. Accounting for almost 50% of annual electricity consumption and an annual fuel opportunity cost of USD 20 billion, air conditioning presently is the chief determinant of the region's increasing power requirements. It has been claimed that the cooling demand in this belt would nearly triple by the end of 2030, due to extreme climatic conditions. Meeting this requirement would cost GCC nearly USD 100 billion for installing new cooling capacity and an additional USD 120 billion for new power capacity, if it continues to maintain the existing cooling technology pattern.
District cooling market, however, makes economic sense in areas of highly cooling density. According to estimates, district cooling consumes nearly 40 to 50% less energy for every refrigeration ton-hour that traditional in-house building technologies. In fact, as per experts' opinion, these sustainable services under favorable circumstances offer significant operational efficiency as well as cost gains.
It is imperative to mention that the full potential of the district cooling market can only be achieved via effective governmental interventions. Its long-term potential capacity & fuel saving alone justify the immediate need for sufficient governmental involvements in making this technology mainstream. By incorporating district cooling in urban planning, governments can allow this ecofriendly technology to play a vital part in the overall economic growth. With a strong regulatory backup and unprecedented technological advancements, overall district cooling market is certain to attain remarkable proceeds over the ensuing years.
Author Name : Satarupa De