Residential
Electric water heater market size has witnessed a massive upsurge in the recent times owing to the consistent product upgradation and business expansion approaches adopted by the major market players, coupled with rising disposable income of households, increasing electrification in the developing nations and rigorous energy-efficient regulations being prescribed by governments across the globe. The ever-evolving consumer behavior and altering purchase patterns have further fueled the growth of electric water heater market.
Europe Electric Water Heater Market Size, By Capacity, 2017 & 2024 (USD Million)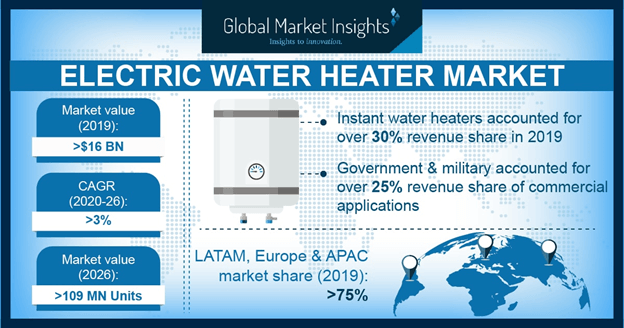 With rising consumer education regarding water-heater performance and energy efficiency, the manufacturers have been compelled to rethink about the current designs of electric water heaters and enhance the existing technologies. To cite a noteworthy instance, one of the global industry leaders partaking in electric water heater industry, Bradford Corporation, has recently launched its eF series water heaters equipped with a thermal efficiency of 90% and a higher hot-water retrieval.
Furthermore, citing an instance of robust partnerships, U.S. based water heating systems provider, Aquanta Inc., recently announced its alliance with the leading electric utility and energy solutions provider in the U.S., NRTC to build a strong distribution framework to supply its smart water heater controller in the U.S. market. Similar moves are likely to materialize over the next few years, in turn, boosting the electric water heater market growth.
Get a Sample Copy of this Report:@ https://www.gminsights.com/request-sample/detail/680
Electric water heater industry is poised to witness great demand for energy efficient products, especially against the backdrop of escalating electricity tariffs and growing governmental emphasis on conserving energy. The magnitude of expansion of electric water heater market in terms of the product spectrum, that essentially comprises instant and storage based electric water heaters has indeed been immense. Of these, instant electric water heaters minimize standby energy losses and last longer. In addition, they have been evolving with the upcoming market players conjoining the already popular water heater with ohmic array technology.
For instance, U.S. based Heatworks Technologies has raised $7.2 Million from investors including Microsoft to produce state-of-the-art tankless electric water heater using its patented Ohmic Array technology which includes graphite electrodes instead of metal heating and hence never rusts, unlike traditional heating products. With the introduction of such products, the upcoming electric water heater market players are attempting vigorously to gain competitive edge in the growing market size dominated by influential players.
Meanwhile, it would be sensible to take note of the factors that may constrict the electric water heater market size in the immediate future. The alternative energy sources such as hybrid-powered appliances and solar power are garnering swift popularity in the commercial and residential areas across the globe. Large enterprises are preferring solar-powered appliances owing to their long-term advantages. Therefore, the presence of these alternative sources is likely to adversely impact the growth potential of electric water heater market size in the ensuing years.
Latin America is expected to come up as the next big ground for electric water heater market. Aided principally by Brazil, LATAM held more than 30% of the overall electric water heater market share in 2017, driven by the rising consumer preference for advanced heating technologies that help save considerable energy and expenditure. The rising demand for hot water across domestic applications and the lure for extensive cost savings on account of efficient heaters will further impel LATAM electric water heater market.
With a sturdy and well-established distribution and sales channel spanning across majority of the regions across the globe, prominent industry players such as Bradford White Corporation, A.O. Smith, Rheem Manufacturing Company, Haier Electronics and Ariston Thermo have a firm footprint in the electric water heater market. The electric water heater market, owing to aforementioned factors, is considered a combative and saturated industry with upcoming players trying to gain consumer loyalty through discounts and promotional activities. A recent report on electric water heater market, composed by Global Market Insights Inc., has forecast the market valuation to surpass USD 19 billion by 2024.
Author Name : Saif Ali Bepari
The size of pleated filters market is anticipated to touch 326.0 million units till 2022 as predicted by Global Market Insights. It is rising at a compound annual growth rate (CAGR) of 6.5% between years 2015 to 2022. Strict regulations of environment because of degradation in the quality of air along with rising demand of energy saving are likely to boost the pleated filter market trend. Efforts for restricting the growth of air borne infection are also expected to fuel up the market.
View a summary of the "Pleated Filters Market Size, Industry Analysis Report" @ https://www.gminsights.com/industry-analysis/pleated-filters-market-size
Accelerating demand of infrastructure especially in Middle East & Africa along with Asia Pacific is indicating towards booming future of HVAC systems. Construction spending of Asia Pacific countries namely India, China and Japan was anticipated as USD 427 billion, USD 1.78 trillion and USD 742 million respectively in the year 2013. Fuelling usage of HVAC systems along with switching from old air conditions is likely to expedite the pleated filters market share.
Apart from infrastructure, Asia Pacific countries namely India, China, Japan and MEA are observing great demand in vehicles. And this demand will bring a boom in filters, as they play a pivotal role in engines of automobiles. Also the demand of clean oil and great energy efficiency in automobile industries is likely to boost up the market.
Let's take a look on some of the eye-catching figures, indicating the future of pleated filters:
Market of oil filters enjoyed greater than 10% of overall demand in the year 2014 and is anticipated to rise at an annual growth rate of 7% till 2022.
Commercial sectors which comprise of schools, buildings and offices have noticed 20% of overall demand in the year 2014 and are likely to grow over 6% till 2022.
Asia Pacific market of pleated filters dominated in the year 2014 and hence reached up to USD 3 billion.
Industrial applications noticed maximum installation, thus earning significant revenue of USD 3.5 billion in the year 2014. This sector has been emerged as a thriving segment because of demand in infrastructure development of power and cement industries. Limitations in emission along with HEPA standards are expected to drive the need for industrial applications.
Get a Free Sample Copy of this Report @ https://www.gminsights.com/request-sample/detail/161
The global market of pleated filters has got an upsurge because of national as well as international participants. This market is anticipated to attract more business in near future due to emerging industries and economies. Major companies comprise of 3M Company, General Motors Company, The Strainite Companies, Donaldson Company Inc., Midwesco Filter Resources Inc, Columbus Industries, Camfil AB and Atlas Copco.
Author Name : Dhananjay Punekar
The growth prospect of flooring market is forecast to be substantially high in the ensuing years, augmented by the expanding construction ecosystem. Robust increase in construction spending across industrial, commercial, and residential sectors has significantly upscaled flooring market demand, especially across emerging nations. As per reliable estimates, global construction spending is expected to surpass USD 15 trillion by the end of 2024, which clearly portrays the lucrative opportunities for the global flooring market in the coming years. 'Smart flooring' has already become the latest buzzword among the infrastructural players, with workplace décor and stylish homes claimed to be the ultimate reflection of high standards of living. In response to the growing demand for flooring materials with blend of style, economic, as well as efficiency quotients, flooring market giants are coming up with variety of options that not only reflects aesthetics in design, but also stands as the test of time.
China Flooring Market, By Product, 2012-2024, (USD Billion)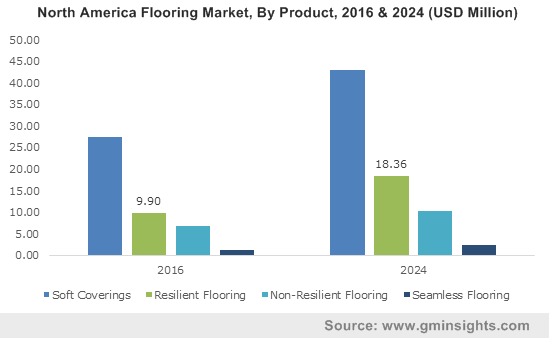 Boasting a diversified product portfolio that encompasses soft flooring, resilient flooring, seamless flooring, and non-resilient flooring, flooring industry size in 2016, was almost USD 270 billion. Accounting for a sizable chunk of almost 35% of the overall industry share in 2016, soft covering emerged as one of the leading product domains in the global business space. The increasing demand for rugs and carpets in offices and housing complexes has phenomenally swayed the product penetration across major economies. Endorsed with a unique dust binding property and reduced noise effect, soft flooring market was almost USD 110 billion in 2016.
Get a Sample Copy of this Report@ https://www.gminsights.com/request-sample/detail/122
Speaking of the geographical trends, the flooring market size has, of late, witnessed a rapid escalation in the emerging economies – Asia Pacific being one of the major names in the list of growth avenues. The reason behind APAC to become the preferred investment destination for flooring market giants is quite overt- its expanding construction sector. As per reliable sources, APAC is projected to account for over 46% of the global construction market by 2020. Besides, extensive developments in manufacturing sector along with growing population have further propelled flooring industry proliferation in this belt. Experts claim, China and India to be the two protruding regions that would showcase tremendous growth. In this regard, China's National Urbanization plan for the period 2014-2020, that revolves around the mission of settling more than 100 million urban inhabitants by the end of 2020, and which would raise the urbanization rate in China to 60%, is estimated to be one of the major initiatives influencing the regional flooring market trends.
Worldwide, flooring industry is highly fragmented with the presence of a large number of regional and local manufacturers. Some of the leading names include Tarkett, Shaw Floors, Mannington Mills, Beaulieu, Armstrong, Marazzi Group, and Mohawk Industries. Driven by the sustainability trends that have created an increasing demand for ecofriendly floor coverings, these giants are heavily investing in innovative solutions that are not only stylish in décor but also are environmentally viable. The Polyester (P.E.T) Berber carpet is one such sustainable flooring solution that has gained a global attention of late. Reportedly, these carpets are produced from 100% recycled tires and bottle caps. With established giants leading the way toward innovative products and solutions, it is certain that flooring market is certain to undergo a positive transformation in the coming years.  In terms of commercialization, Global Market Insights, Inc., estimates flooring industry size to exceed a valuation of USD 450 billion by 2024.
Author Name : Satarupa De