Resin Capsule industry
Global resin capsule market trends are poised to gain immense momentum over the forecast years, due to excessive demand from the mining and construction industry. These materials are primarily used as anchoring medium for cables and rock bolts to deliver roof and sidewall support during underground activities. An upsurge in construction and mining activities across the globe will primarily impact resin capsule market share.
U.S. Resin Capsule Market, By End-User, 2014 – 2025 (USD Million)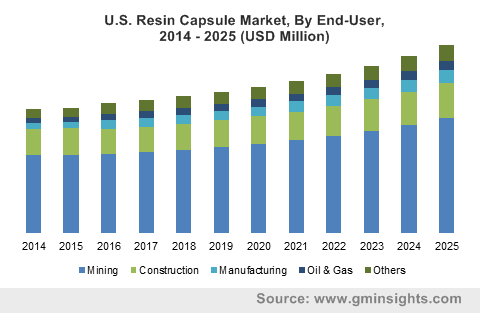 Mining is one of the primary end-user of resin capsules, thus, growth in the global mining and metal industry will proliferate the demand for resin capsule in mining. Resin capsule in mining enables easy installation of roof support and decreases the possibility of human errors. Implementation of strict safety standards in the mining industry is also likely to impel resin capsule demand over the coming years.
The government of Queensland has reportedly appointed inspectors and is set to implement safety reset across all mines and quarries in the state to prevent mine-related tragedies. Such practices will result in an increasing demand for resin capsules in mining, thereby augmenting global resin capsule market outlook.
Another key factor promoting the utilization of resin capsules in mining is the growing electricity demand across the world. As per the International Energy Agency, worldwide energy demand surged by 2.3% in 2018, owing to economic growth across several economies, and high heating and cooling needs in some regions. The agency also specified how coal use in power generation exceeded 10 Gt. Increasing demand for power generation is a substantial driver for the coal mining industry, which in turn will benefit resin capsule industry size.
Get a Sample Copy of this Report:@ https://www.gminsights.com/request-sample/detail/3781
In addition to mining, immense application of resin capsule in the construction industry is also slated to be a creditable driver over the succeeding years. Resin capsules find extensive use in heavy-duty fixing and favor high concrete loads. It is commonly used to construct dams and tunnels since it provides high strength, rigidity, and is easy to install and maintain. Increasing tunnel construction for metros, subways, and rail links will impact market growth in the future.
Finland and Estonia recently signed a memorandum of understanding to construct the 100km Tallinn tunnel underneath the Gulf of Finland. In another instance, Auckland's $4.4 billion worth City Rail Link project has reportedly signed the tunnel and station contract. Such developments could result in immense resin capsule production, thus augmenting resin capsule market share in the future.
Increasing population and urbanization across the globe will also fuel product demand over the coming years. Owing to urbanization, cities are growing very fast with maximum impact on the housing sector. Also, factors like migration and increasing population impact city structures, encountering new demand for larger buildings and raising the number of infrastructural projects in the urban region. This trend is expected to generate a huge requirement for construction activities, thereby fueling global resin capsule market.
Similar to the mining industry, worker safety regulations in the construction industry is also contributing to product demand. The Indian government recently bought out four labor codes concerning multiple factors including occupational safety and working conditions. Resins help with easy and proper installation during roof support, reducing the chances of a tragedy. Increasing stringency of safety laws will persuade contractors and engineers to prefer more rigid and strong material, which will help drive resin capsule market growth.
Based on geographical growth, the Asia Pacific market is the one of the most profitable grounds for global resin capsule industry. Substantial growth in the region's mining and construction industry, primarily owing to its growing population will boost market growth in the region. Developing nations like India and China are experiencing rapid urbanization, boosting the demand for housing and infrastructure, which is a key growth driver for the region. Moreover, this trend has also elevated energy demand, thereby impacting the region's mining sector, which could further expand the region's resin capsule market size.
As per a recent research report compiled by Global Market Insights, Inc., resin capsule market is projected to exceed 1.07 billion by the end of 2025.
Author Name : Krithika Krishnan