Retail & Consumer Goods
As organizations embark on their digital transformation journey, the global digital twin market size is showing a consistent increase in consort with advancements in the Internet of Things, cloud, machine learning, artificial intelligence, and Industry 4.0 technologies. Digital twin market trends are primarily driven by the technology's ability to dramatically enhance product performance while mitigating the risk and cost of new product introduction. Additionally, this newfangled technology can boost product realization time by eliminating some of the most time-consuming aspects of real-world product development.
Germany Digital Twin Market Revenue, By Application, 2018 & 2025 (USD Million)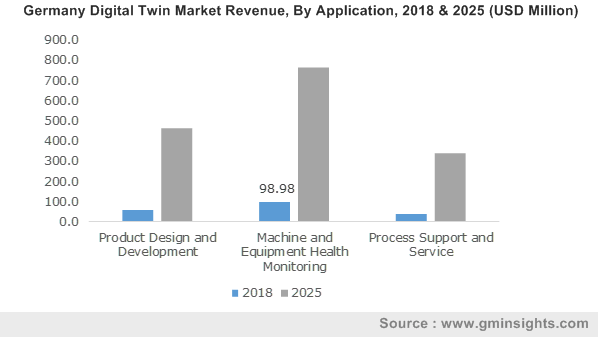 With the rapid proliferation of the Internet of things, a slew of opportunities are knocking the doors of leading players operating in the digital twin market space. Moreover, with digital twins, it is possible that the data which is transferred between blocks can be highly protected and made universally transparent through the blockchain paradigm, thus inspiring global digital transformation. Speaking of the future outlook of this industry, digital twin market statistics by Global Market Insights, Inc.. indicate that the industry valuation is projected to exceed USD 20 billion by 2025.
The fields of application for digital twins are diverse and not confined to a specific domain or industry. Having said that, digital twin market analysis reports claim that automotive, manufacturing, energy & utility, healthcare, aerospace and defense, infrastructure, retail, and consumer goods are the leading end-users of this unconventional technology.
A brief overview of the latest digital twin market trends:
In a bid to create solutions for a better future, the healthcare market has lately become a leading contributor to the digital twin industry revenue. The increasing use of machine learning in medicine and augmented and virtual reality in healthcare market for streamlining hospital processes & operations, augmenting customer experience, and generating real-time analytics, has fueled the demand for digital twins in the healthcare domain. For instance, efficient data entry and location of assets can speed up the patient admittance procedure and save significant waiting time.
With the advent of Internet of things, there has been a rapid increase in smart construction and connected spaces. Digital twins are these days deployed in connected buildings to stimulate building settings based on historical data to detect changes in the design of the building, as well as locate rooms that are wasting power or are rarely used. As smart construction becomes more popular across global economies with growing disposable incomes, the digital twin industry size is slated to rise significantly.
Get a Sample Copy of this Report:@ https://www.gminsights.com/request-sample/detail/2196
3 Biggest business challenges digital twin can overcome:
Accurate inventory to avoid overstocking:
The global inventory management software market space has lately been brainstorming the possibilities of digital twin to reduce cost and revenue leakages, for gargantuan warehouses and supermarkets, where managing optimum inventory level is the biggest challenge. Digital twin market analysis suggests that the availability of real-time consumption data can lead to a quicker replenishment of supplies and avert over-inventorying, which can cause product spoilage. Hence, the fast-paced adoption of digital twin in the inventory market offers lucrative growth opportunities for the digital twin industry.
Addressing the shortcomings of aerospace fleet management:
Some of the biggest challenges in fleet management in the aerospace industry are poor data integrity, slow turnaround time, aging systems, high maintenance costs, and antiquated manual processes. The utilization of digital twin is poised to bring about a paradigm shift in the traditional approaches, by filling the gap amid the physical and the digital worlds. This innovative technology can offer predictive and prescriptive analytics which can reduce unplanned downtime for engines and cut maintenance, repair & overhaul costs, thereby enhancing fleet performance.
Amplifying testing & product development capabilities:
Digital twins can potentially help industries in reducing product development and testing expenses. Companies depending heavily on destructive testing for developing products can use the virtual replica of the real-world scenario for significant portion of the product testing. Say for example, automotive industry can employ digital twin for crash testing prototype vehicles. Likewise, enterprises creating giant models and prototypes for feasibility analysis can save money with digital twins during product development. Digital twin market is slated to advance at a rapid pace in the coming years, given the above backdrop.
Currently, the term digital twin looks like a future concept surrounded by a lot of marketing hype from some top-notch technology companies like Amazon, Microsoft, IBM, and the like. But, considering the unparalleled growth of the digital twin market share in recent years, it can be alleged that this disruptive technology will ensue a broad and deep impact on a plethora of industries in 2019 and beyond.
Author Name : Nikita Chaurasia
The SD-WAN market has lately been growing at a significant pace, characterized by the robust adoption of these solutions across a spate of industry verticals, given their ability to help organizations regarding their legacy infrastructure maintenance. The traditional infrastructure of WAN is known to rely extensively on costly hardware appliances for providing connectivity in remote locations. However, organizations have now been able to reduce those expenses by deploying SD-WAN solutions. Moreover, the solutions also assist enterprises in directly connecting remote users and devices to the cloud and ensuring secure connections.
North America SD-WAN Market Revenue, By Application, 2018 & 2025 (USD Million)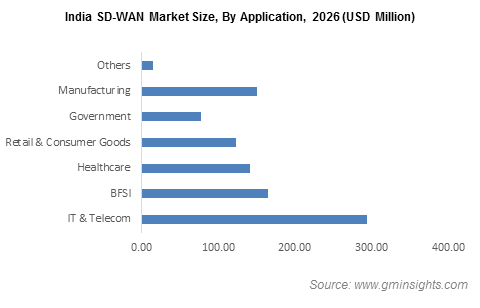 SD-WAN solutions also provide the companies with improved network visibility, and help in reducing network complexities of managing dynamic workloads. By utilizing SD-WAN solutions, organizations can benefit from cost reduction and secure connections, which in turn will propel the commercialization landscape of SD-WAN market in the years to come.
The penetration of smart IoT devices in varied industry verticals, including retail and consumer goods, telecom, manufacturing, and healthcare has substantially increased security risks and network complexities. SD-WAN solutions play a vital role in this context, given that they help improve network visibility for the management of connected devices for reducing security risks, and address the complexities of the IoT infrastructure. The prevailing AI-enabled SD-WAN solutions would also boost the demand for SD-WAN as machine learning algorithms are broadly utilized for WAN optimization. This would further enable network administrators to analyze WAN traffic and re-route the same, automatically, for the selected connection. The capability of SD-WAN has thus proved useful across a spate of verticals, expanding the application scope of the global SD-WAN industry, a gist of which is given below:
BFSI
In the recent times, some of the biggest banks across the global industrial cosmos have cropped up as leading financial organizations which provide a wide range of services to international markets, and control billions of dollars in assets and cash. Financial service firms have been relentlessly working to capture new market opportunities, implement innovative strategies, develop customized services, and identify new business niches.
Get a Sample Copy of this Report @ https://www.gminsights.com/request-sample/detail/2214
This sector, in the years to come, is anticipated  will become even more complex with further diversification, deregulation, consolidation and globalization of the financial industry. Irrefutably, this complexity in the BSFI industry can be effectively addressed only by deploying SD-WAN solutions, which will augment the SD-WAN market share from BFSI applications in the coming years. Of late, the modern banking industry is also remnant of extensive diversification, as is observed by the penetration of some select banks in the domains of core investments, security underwriting, insurance, and portfolio management. With banks and other financial institutions widening their service portfolios, working to evolve as vital entities in the global business landscape, SD-WAN industry size from BFSI applications is expected to surge massively, given the humongous demand for these solutions to reduce complexity and costs.
Manufacturing
The manufacturing sector is anticipated to emerge as one of the most profitable application avenues for the global SD-WAN market. Undeniably, this growth can be credited to the surging popularity of IoT platforms deployed in manufacturing industries. With more and more smart devices and sensors being incorporated in manufacturing facilities, companies are, quite overtly, demanding accurate solutions that are able to deliver exceptional network visibility for end-point management.
Driven by the fact that SD-WAN solutions help manufacturers prioritize network traffic and simplify network management, in a bid to make sure that crucial applications obtain access to the required connection, the manufacturing sector is touted to majorly contribute toward the expansion of SD-WAN industry. As the deployment of more and more communication technologies and IoT devices in the manufacturing industry increases, the demand for SD-WAN solutions will naturally depict an upsurge, propelling SD-WAN industry size from manufacturing applications. As a matter of fact, Global market Insights, Inc., claims that software-defined wide area network market share from manufacturing applications will depict the highest CAGR of more than 60% over 2019-2025.
Retail and Consumer Goods
Retail enterprises using SD-WAN are naturally equipped with the capability to supplement and expand their backbone connectivity, with more options available in a particular location, ranging from broadband to LTE. Along with making the process of adding bandwidth in a site easier, SD-WAN manages conditioning and prioritization of traffic, for improving application performance even further – a major parameter of concern in the retail industry that has been undergoing an extensive digital transformation of sorts.
In the 2017 Cloud and Network Benchmark of Nemertes Research, which involved 625 organizations, it was stated that over 50% of more successful retailers have started deploying SD-WAN, in contrast to the 10% among the less successful ones. As retailers intend to eliminate unnecessary capacity and functionality expenditure, they have been demanding WAN solutions that can accurately leverage NFV and SDN to run on generic hardware and deal with flexible deployment of capacity and functionality. This would substantially augment the requirement of SD-WAN solutions in the retail sector, that secures service continuity via myriad techniques – right from traffic replication spanning multiple paths to sub-second traffic cutover from a failing to a healthy link, thereby propelling SD-WAN marker share from the retail and consumer goods sector.
Endorsed by a mammoth application terrain, the global SD-WAN market is expected to traverse alongside a highly lucrative remuneration graph in the ensuing years. As per estimates, the valuation of the overall SD-WAN market would cross a colossal US$17 billion by 2025.
Author Name : Saurav Kumar