Retail
Driven by the rapidly surging deployment of IR LEDs across a plethora of application verticals, the global infrared (IR) LED market has emerged one of the most transformative business spheres over the last few years. Companies forming a part of the automotive, consumer electronics, medical equipment, and myriad other industrial sectors are increasingly using IR assisted products. The use of IR LED helps to maintain working stability, accuracy, improve security, and reliability. The emerging technology trends such as automated driving assistance system, IoT, augmented reality, and artificial intelligence have also had a positive influence on the product demand.
Japan infrared LED market size, by application, 2017 & 2024 (USD Million)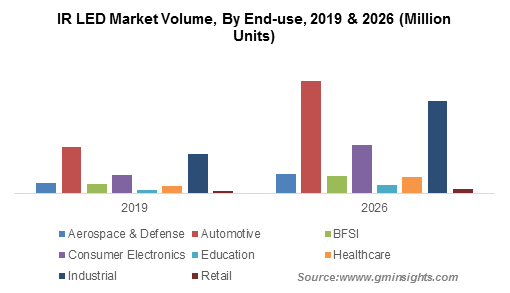 In most of the countries, in order to control the chances of accidents, automakers have been developing connected cars in which IR LEDs have been used prominently. It is thus rather overt that the advent of technically advanced features in every end-use sector will stimulate the infrared (IR) LED industry share. In line with the surging use of sensors in the various products, equipment, and vehicular systems, giants in infrared LED market have been investing in the enhancement of their product ranges.
A summary of the IR LED market trends from the automotive and consumer electronics sectors has been outlined below:
Automotive:
In the last few years, the automotive industry has witnessed a remarkable transformation with the advent of electric vehicles, connected cars, and self-driving cars. In addition, the growing concern among the automakers about the safety of occupants and the driver has encouraged them to bring new sensor assisted technologies such as excellent night vision, parking assistance, and blind spot detection. One of the renowned German automakers, Mercedes has implemented the Night View Assist system in its newly launched vehicle models that have full-LED headlamps incorporated with anti-dazzle infrared technology. The deployment of such IR LED technologies helps drivers bypass animals and pedestrians at night.
In addition, the company has also deployed a thermal imaging and IR camera which could enhance the chances of spotting the objects ahead of the vehicle effectively. The use of IR technologies and innovative features in the recently developed automobiles for improving the safety, driving efficacy, and comfort is poised to propel infrared LED industry share. For the record, in 2017, the automotive sector accounted for 30% share of the infrared LED industry.
Speaking more about innovations, it is prudent to mention that in order to gain competitive benefits, many companies are striving to launch new products in the automotive industry that could have a significant influence on IR LED industry outlook. For instance, recently, in January 2018, the Taiwan based company, Innolux Corporation has launched the first active matrix (AM) based Mini LED technology that has been used in automotive backlight panels. In addition, they are planning to develop a free shaped LCD for improving the appearance and design of future concept vehicles.
Get a Sample Copy of this Report:@ https://www.gminsights.com/request-sample/detail/437
Consumer electronics:
With the deployment of next-generation technologies such as IoT, AR, and AI, consumer electronics sector has emerged as one of the revenue generating business areas lately. In this regard, the giants in the infrared LED market have already increased their focus on research and development activities. Currently the leading smartphone makers and security system providers are innovating a new range of sensor technologies for deploying the same in smartphones and security cameras. As on today, for attracting more customers, smartphone makers are adopting new product designs like the multiple camera setup where they are extensively using sensors and LEDs. Recently, Nokia has unveiled its plan to develop a new smartphone having five rear cameras that could be incorporated with IR focusing apparatus, five lenses, and LED flash.
In another instance, a multinational lighting manufacturer, Osram is planning to invest 1 billion euros to expand an LED chip factory across Malaysia, the products of which will be used in phones, laptops, drones, fitness watches, security cameras, and automobiles. Moreover, Osram has been continuously involved in the invention of infrared LED chip for optimizing the effectiveness of security cameras. The Increasing requirement of CCTV cameras across the Asia Pacific region will further generate lucrative opportunities for the players in the infrared LED industry.
The extensive deployment of technology across the automotive and consumer electronics industries will have a favorable influence on the infrared LED market. The involvement of many industries in digitalization for improving work efficiency, product performance, and consumer comfort also will fuel the product demand over the years ahead. In line with the shifting trends toward digitalization, infrared (IR) LED market will generate a revenue of more than USD 1 billion by the end of 2024.
Author Name :Sunil Hebbalkar
The surging implementation of IT in several end-use sectors including banking, retail, and telecom is likely to fuel data center cooling market. Currently, data centers play a pivotal role in the functioning of several business enterprises, given that any failure in data center operations can have a rather negative impact on business growth. In fact, data center heat removal is one of the essential back strategies to maintain data centers. The growing priority for precise cooling and heat rejection facilities in order to collect unwanted heat from data centers is slated to stimulate data center cooling industry share. The ongoing innovations in cloud computing and data center platforms has also been favoring the growth of this business vertical. In addition, the emergence of IoT and artificial intelligence has also positively influenced the revenue potential of data center cooling market size, pegged at USD 8 billion in 2016.
China data center cooling market size, by service, 2016 & 2024 (USD Million)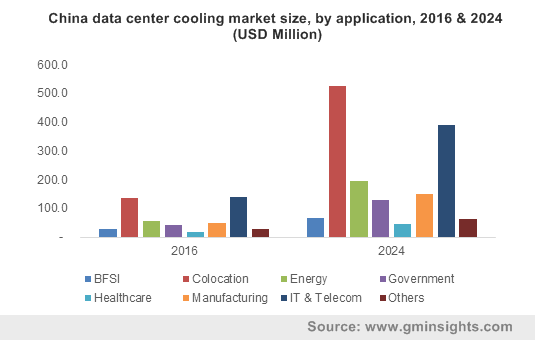 Data center cooling is one of the primary challenges ahead for data center users, owing to the adverse effects of excess heat and high temperature on the performance and lifespan of date centers. In order to enhance operational performance, many organizations are deploying more blade servers, which however results in high electricity requirement. The rise in electricity and cooling demand not only hampers the productivity of data centers but also increases the cooling costs. In this regard, several business enterprises are investing heavily in the development of efficient cooling and heat management facilities, which would considerably impact data center cooling industry trends. For instance, well-known internet giants Facebook and Google have declared an investment plan of USD 700 million to construct data centers in Iowa across U.S, which would help impel the commercialization scope of the regional data center cooling market. Thus, the rising number of investments in data center infrastructure development by leading tech behemoths is likely to influence data center cooling market outlook positively over the years ahead.
Get a Sample Copy of this Report @ https://www.gminsights.com/request-sample/detail/423
Traditionally, in order to construct a new data center, nearly 35% of overall expenditure should be invested on cooling equipment. In fact, the increasing usage of emerging technologies such as Internet of things (IoT) and AI are fueling the requirement of powerful and larger data centers. In this regard, many of the giants in data center cooling market including Black Box Corporation, Schneider Electric SE, Rittal GmbH & Co. KG, Nortek Air Solutions, AdaptivCOOL, and Airedale International Air Conditioning are investing heavily in research and development activities to develop efficient and cost-effective cooling technology. As of now, most of the business organizations are primarily giving preference to liquid cooling systems, pertaining to its capability to consume lesser energy as compared to other systems. Some of the pointers supporting the deployment of these systems have been enumerated below.
Reduction in required floor space: Liquid cooling system takes 50% to 75% less floor space, which may help to install a new data center within available space.
Simplified infrastructure: Pertaining to the removal of components such as ducting, chillers, small PDUs and CPS, LCS's simple infrastructure allows data centers to fit more IT facilities within the same space, thus augmenting data center cooling industry trends.
Safety: Liquid cooling systems offer complete safety when used alongside electronic components.
The robust growth in digitalization across the globe and the increasing demand for big data and cloud computing are likely to have a tremendous influence on data center cooling market. More importantly, increased application development and the fierce competition may help generate lucrative opportunities for data center cooling industry players, thus favoring the growth of the overall business vertical.
Author Name : Sunil Hebbalkar
Internet of things has brought a revolution of sorts in the security & surveillance landscape globally. IP camera industry, in this context, stands as a major beneficiary of this change. As per reliable estimates, in the year 2016, the global shipments for IP cameras surpassed 15 million units. Add to it, reliable sources affirm that in the year 2014, IP camera shipments in smart home exceeded 1.3 million units – data strongly attesting the role of IOT and connected infrastructure in the lucrative growth chart of IP camera industry.
UK IP camera market, by public/government application, 2019 & 2025 (USD Million)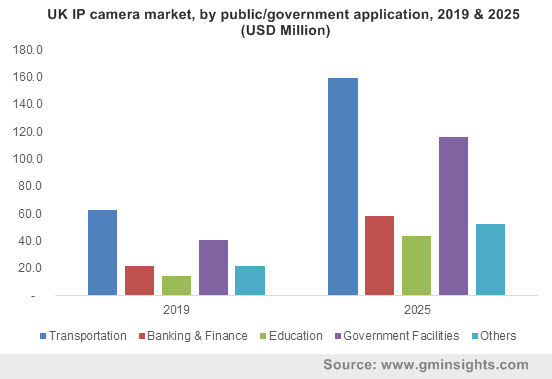 Reportedly, the smart home segment is anticipated to depict synonymous demand for networked cameras in the ensuing years with an estimated shipment of more than 20 million units by the end of 2019. Having said this, the growth prospects of IP camera market from residential applications is quite vividly huge. In fact, as per a report compiled by Global Market Insights, Inc. IP camera industry size from residential applications is estimated to register an appreciable CAGR over 2019-2025, driven by applications including the likes of home surveillance systems, access control, remote monitoring, intelligent building control, and HVAC management.
Elaborating further on the application portfolio of IP camera market, the domains spanning healthcare, retail, industrial, and real estate, transport, BFSI, and education have contributed immensely to the IP camera market proliferation. Backed by the falling price of these HD network cameras coupled the growing adoption of open standards, these high-resolution HD network cameras have phenomenally penetrated the commercial and governmental sectors.
In response to the opportunistic waves across principal application avenues, the competitive landscape of IP camera market is thriving with product innovations and developments, having pricing and technology upgradations as the center focus parameters. Not to mention, M&As and collaborative deals between security and technology players is emerging as a top-notch growth strategy, to sustain in this ferociously dynamic landscape.
Get a Sample Copy of this Report:@https://www.gminsights.com/request-sample/detail/2410
It is imperative to mention that Infrared cameras have stood as one of the major product segments of IP camera market and is expected to show significant growth trends in the forecast years. In fact, all the major product developments canopied under IP camera industry are hinged on technology interventions.
As per reliable estimates, the worldwide security technology and services market generated a revenue of more than USD 75 billion in 2016. Being on the forefront when it comes to technology appetite, the U.S. stood tall in the IP camera industry share battle in 2018, with North America accounting for 35% of the global IP camera market share.
Pelco, a subsidiary of Schneider Electric, is one such name which has created a buzz in the IP camera industry and has undeniably contributed immensely to the U.S. IP camera market landscape. The global surveillance solution leader recently announced its partnership with Ipsotek, UK headquartered video analytics leader, in a bid to bring strong solutions on board to combat security risks. For the record, Pelco plans to leverage Ipsotek's specialization in detecting behaviors in the real-time videos, thereby delivering alerts to operators and reducing false alarms.
In 2017, Pelco, with its collaboration with V5 Systems, expanded its Sarix Professional IP surveillance cameras reach to outdoor security markets, particularly in areas with no or low fixed power and communication facilities. The company is predominantly active in exploring the untapped opportunities in IP camera market space, on a global scale. The firm also made it to the headlines with its announcement of showcasing its innovative solutions at Intersec 2018. The solutions are deemed to address the Middle East and Africa regions particularly and will elaborate on Pelco's partnership with three reported industry magnates – Ipsotek, Gallagher Command Center, Ruckus Wireless.
Reportedly, Pelco, in January 2018 collaborated with Ruckus Wireless to integrate the latter's ICX switches and ZoneFlex access points (APs) with Pelco's IP Cameras and VMS in a bid to offer an upgraded version of IP video systems. Overtly, the firm will continue to be a major vendor for the U.S. and the global IP camera industry in the forecast years.
The regional battle in IP camera market is anticipated to take a turn in the ensuing years with Asia Pacific showing signs of being the next major investment hotbed for IP camera industry players. Smart city initiatives in the region is projected to be a major driver for the APAC IP camera market size, driven by huge demand for deployment of these networked cameras in the connected infrastructure.
From the recent product launches witnessed across this APAC, it is quite certain that the region is ready to give a major competition to the United States, with regard to the procurement of the revenue share. As per recent trends, India, China, Taiwan, South Korea, Australia are slated to be the chief revenue pockets likely to transform Asia Pacific IP camera market outlook.
In a recent turn of events encompassing IP camera market landscape, Digisol Systems, an India headquartered active networking market player announced the launch of its new Dome IP CCTV Camera dubbed as DG-SC6502SA. Reportedly, the camera is featured with a CMOS sensor and real time image processing hardware and is designed for office/home security and monitoring purposes.
Hanwha Group, one of the largest conglomerates in South Korea, under its subsidiary Hanwha Techwin America, the renowned supplier of analog and IP video surveillance solutions, recently declared the integration of VMS into the existing Hanwha IP Cameras. Reportedly, the WAVE VMS will enable the present Hanwha IP camera user base across a wide range of sectors like education and retail to utilize the utmost out of the advanced analytics features.
Gorilla Technology, the Taiwan based IoT and video intelligence provider recently announced its partnership with Airship, a renowned VMS service supplier, in a bid to create an integrated video intelligence management solution. The deal is anticipated to be an opportunistic one for the players operating in security industry verticals, particularly IP Camera, VMS, NVR, and SI. The deal, as speculated by the industry experts, is an apt blend of security and IoT merger.
With the increasing deployment of big data and IoT and the consequent large pool of data, the quest for deriving actionable insights is expected to proliferate massively. Undoubtedly with 'smart' trends penetrating both the government and private sectors, the advancements and security risks go hand in hand, in terms of growth. Amidst this scenario, analysts quote the IP camera market trends to be substantially profitable in the coming years, with a pool of demand from a varied range of sectors.
Backed by this drive toward real-time IP/network solutions, the global IP camera industry is slated to register a double-digit CAGR over 2019-2025. For the records, the market size will surpass USD 20 billion in 2025.
Author Name : Shikha Sinha
The telecommunication sector is probably embarking on a transformational shift in recent years. Software Defined Networking (SDN) market is deemed to be a major stipendiary of this transition. Telecommunication networks, apparently, have migrated from traditional hardware and appliance centric deployment to cloud based model, with software playing a pivotal role in network functionality. The increasing popularity of SDN industry can be majorly attributed to this fundamental aspect.
Software defined networking emerged as an advanced architecture paradigm, amalgamating different technological capabilities applied to management of network functions, design, and service platforms. Pertaining to these benefits, numerous IT service companies have been feverishly changing their perspective toward adoption of software-based solutions for resolving several business challenges, which in a way is impelling SDN industry share. It had been stipulated by Cisco in one of its Cloud Index reports, that over 65% of all data centers would adopt SDN technology partially or fully by the end of 2021, a sharp rise from the 2016 records.
U.S. Software Defined Networking Market Share, By Solution, 2018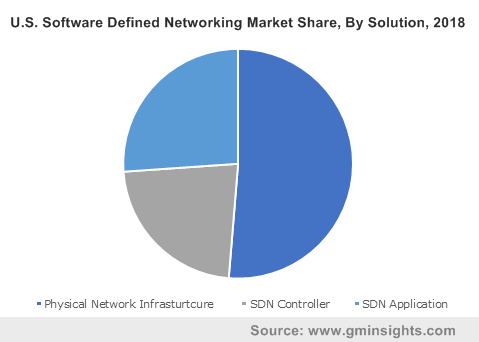 Cradlepoint, one of the formidable players dealing with SDN services, made it to the headlines a while ago, with the launch of its NetCloud service package, that reportedly includes advanced IBR1700 mobile router. Reportedly, this newly designed solution package for its NetCloud platform, brings the benefits of SD-WAN (Software-Defined Wide-Area-Network) to LTE mobile networks for transit operators, first responders, and other fleet-based organizations. As claimed by the cloud-4G network service provider, the new solution is in compliance with the security and performance requirements of FirstNet, the independent authoritative entity under NTIA within U.S.
In a bid to reinforce its position in SDN market, Orange Business Services signed a collaborative agreement with Cisco a while back. Apparently, in consequence of this deal, the former is planning to showcase the onboarding of Cisco's SD-WAN virtual network function on Cisco ENCS (Enterprise Network Compute System). In fact, with the aforementioned platform under its belt, Orange Business Services' customers would gain a fully functional visualized solution for their network services, as a part of Orange universal CPE offering.
The U.K. based telecommunications behemoth, Colt Technology Services, had apparently declared its plan of expanding its On Demand SDN service across APAC belt. Powered by Colt IQ Network, the firm's On Demand SDN services are characterized by high flexibility, real-time bandwidth variation, and agility. Making a profound headway in APAC SDN market share with the successful launch of these services in Japan, Colt had also planned to introduce the same On Demand SDN services in Hong Kong and Singapore as well.
Get a Sample Copy of this Report:@ https://www.gminsights.com/request-sample/detail/2395
Tremendous technological interventions in the telecom sector have evidently narrowed the gap between developing and developed nations, giving SDN industry players lucrative opportunities to extend their geographical reach. However, considering the immense investments by U.S. telecom service providers in software defined networking, the regional SDN market has undoubtedly turned out to be hotbed for potential investors. For instance, American telecom giant AT&T has recently poured in USD 200 million to support startups that mainly focusses on promoting SDN technology and connected services. These kinds of hefty investments toward integrating new age software facilities in the existing telecommunication network is certain to leave a positive impression on U.S. SDN market size.
Speaking of its commercialization potential at the global scale, overall SDN industry size is forecast to exceed a valuation of USD 100 billion by 2025. With incessant efforts undertaken by the tech giants to unlock software-based technology potentialities in telecommunication industry, which has, of late, become more insight driven, SDN market demand is claimed to be on a robust incline. In fact, looking at the pace of advancements and expansion in its application spectrum, this particular business vertical is deemed to be one of the most fascinating spheres to watch unfold, claim analysts.
Author Name : Saipriya Iyer
The escalating demand for rapid query resolutions & online customer self-service are expected to propel intelligent virtual assistant (IVA) market alongside the path of progress. IVA has undoubtedly, in recent times, improved the users' online service experience as well as offered increased sales to e-commerce firms. Indeed, the product is becoming the preferred medium to gain information, make purchase decisions, and resolve issues. Companies like Microsoft and Google are adopting the technology to improve ease of access and streamline activities, and increasingly implementing the technology as well to enhance operational efficiency. For instance, ABIe, a virtual assistant developed by EIS for Allstate Insurance, efficiently helps agents to answer questions regarding business insurance policies.
Germany IVA market size, by application, 2017 & 2024 (USD Million)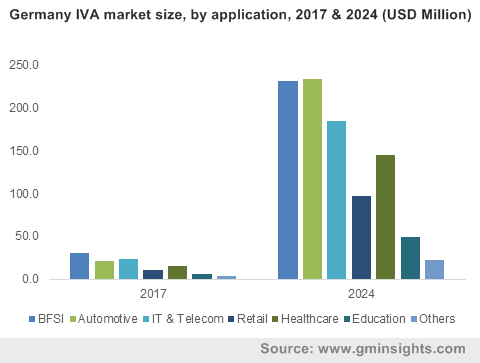 IVA is reportedly becoming more and more commonplace as consumer appetite for the product has been depicting an upsurge. According to an independent survey conducted with 1,500 consumers across Europe, 81% of the respondents said they would prefer interacting with a virtual assistant as it offers enhanced online customer experience. Close to 72% welcomed the product as a key part of every website while a similar proportion claimed that they would spend longer on a website that had one. This response can undeniably be credited to the fact that IVA can take on multiple roles on a website, such as performing various helpful tasks, answering customer queries and connecting to enterprise systems when needed. These features respond according to the marketing requirements of the customers, efficiently improving the site loyalty and experience.
In order to cater to the best plausible global clientele, companies are increasingly investing in IVA to reduce costs from fields such as email response, technical telephonic support, and assistance on call. The implementation of the technology will enable the reduction in the resolution time, call wait times and allowing call transfers when an issue escalates, thereby augmenting IVA market share. The growing deployment of IoT is also expected to supplement the IVA market growth. In fact, IoT is known to have increased the quality and quantity of data being collected by the product. IVAs responding to text or speech queries through apps and smartphones has further enhanced customer engagement, a fact that has further helped impel the IVA industry trends.
Get a Sample Copy of this Report:@ https://www.gminsights.com/request-sample/detail/1094
Speech recognition is one of the most vital technologies proliferating IVA market, as the system efficiently improves productivity, eliminating typing time, giving users additional time to focus on other work. Voice recognition software, in addition to being faster in task completion, are increasingly accurate when it comes to vocabulary. Speech recognition technology also makes invaluable contributions to businesses that offer customer services eventually reducing organizational costs. Furthermore, these systems improve interoperability owing to the adoption of IoT, further driving the IVA market size from speech recognition technology.
The Germany IVA market is expected to depict considerable growth in the years ahead, owing to the product's new-found usage in the region's thriving automotive market. Technological advancements in IVA have resulted in increased adoption of voice control and gesture control features in next-gen vehicles. IVA can now be integrated within vehicle systems such as automatic parking, lane change assist, adaptive cruise control, and other ADAS controls.
Regional automakers are constantly seeking ways to integrate the product in upcoming car segments to revolutionize driving experience. For instance, the German automotive giant, BMW has recently announced that its upcoming car segment would come with Intelligent Personal Assistant. Like Apple's Siri or Amazon Alexa, the new AI-based virtual assistant would reply to voice commands and could adjust the temperature, lighting mood and music, among other things in the car efficiently, claims the company.
North America, apart from Germany, is another region that is forecast to accumulate commendable gains by 2024, driven by the expansive technological advancements in the region. Major software companies, like, Microsoft & IBM, have also been investing in IVA, thereby enhancing the growth prospects for North America IVA market.
The competitive spectrum of intelligent virtual assistant market also comprises other players like Amazon, Google, Microsoft, Apple, Inc., Artificial Solutions, eGain Communications, IBM Corporation, Nuance Communications, and Speaktoit, Inc. These companies are known to increasingly invest in product development and innovation to bring in intelligent assistance into the mainstream. Meanwhile, several tech giant firms are adding the product to their portfolio to gain added sales. For instance, on January 7th, 2019, the world's leading television manufacturers Samsung, LG and Hisense announced that they would open their devices to Google Assistant and Amazon Alexa. As advancements in the fields of automation, machine & deep learning, conversation interfaces, and natural language processing continue to surge, IVA market share is certain to soar in the years to come.
Author Name : Mateen Dalal
The exponentially expanding e-commerce sector has indeed brought a disruption in the operation fashion of traditional brick and mortar stores. Mobile POS terminals market, a major beneficiary of this change, is gaining a substantial traction in this transformative merchandizing landscape. The increasing penetration of EMV contactless payments in digitized financial transaction is undeniably boosting global mobile POS terminals industry share. Payment service providers are scrupulously planning to bring forth an array of products that not only boost their day to day sales but also improve the consumer experience. Concurrently, many central banks, payment networks and other governmental bodies across the globe are also implementing mobile POS systems by virtue of its extensive benefits like ease of installation, less settlement time, and scalability of solution. Reportedly, the number of users in mobile POS payments would be more than 970 million by 2022.
Germany mobile POS terminals market size, by application, 2017 & 2024 (Thousand Units)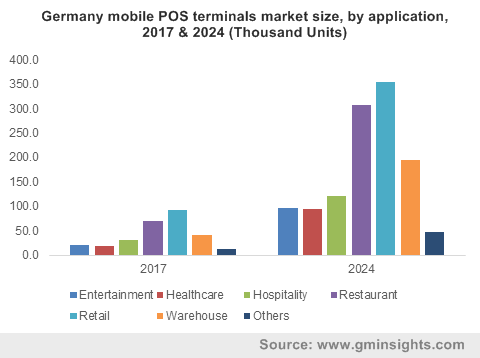 The commercialization potential of the entire business space is further coherent from the estimates brought forth by Global Market Insights, Inc. forecasting the worldwide mobile POS terminals market to exceed a valuation of USD 55 billion by 2024. While the growing inclination toward real-time payment modes create new challenges, joint venture and collaborative approaches can allow industry players to pool competencies. In fact, the trend has already established its presence in the competitive arena of the business space.
For instance, recently renowned payment solution provider, Network International, augmented identity specialist IDEMIA, and tech giant Mastercard have teamed up to introduce a mobile POS terminals project in UAE.  Reportedly, this collaborative project would allow UAE based Network International merchants to avail contactless payments via NFC (near-field communication) enabled smartphones. Network International is claimed to be the largest merchant acquirer in Middle East belt and the conjoint initiative, as per experts' opinion, undoubtedly marks a significant step toward enhancing the region's payment infrastructure. The initiative is rightly touted as the first of its kind in UAE mobile point of sale terminals market.
Get a Sample Copy of this Report@ https://www.gminsights.com/request-sample/detail/464
Technology has always been a key enabler of advancements across the finance-oriented industry verticals. Mobile POS terminals market is probably one of the largest recipients of the transformed payment landscape. The pay-tech revolution is allowing modern digital payment modes to address payment efficiency, speed, risk detection as well as user experience, providing SMEs the access to tailor their operations in sync with the latest advancements. In this regard, cloud based mobile POS terminals industry is gaining a mass popularity across the globe primarily on account of its enlarged storage facility, ease of operation, and better functionality. Incidentally, this has encouraged a host of new vendors to include SaaS-based solutions in their offerings like Toast, Square, Springboard Retail, and Touchbistro.
Say for instance, NewNet Communication Technologies and its partner Neubits have recently made it to the headlines with the successful trial of STC (Secure Transaction Cloud) on AWS (Amazon Web Services) in Singapore. The trial has already set a major benchmark in mobile POS terminals industry after successfully testing transactions for mobile payments via smart POI devices, mPOS terminals, and web payment clients. Reported to be available on AWS marketplace, NewNet's STC allegedly supports usages in private, public, or hybrid cloud infrastructure with advanced level point-to-point encryption, and data security. Inherently stimulated by such highly developed web-based payment models, cloud based mPOS terminals industry is slated to grow at a CAGR of 20% over 2018-2024.
While the growth rate is quite impressive, security concern is the single most factor holding back smartphone payment adoption across some of the geographies, leaving a perpetual impact on the mPOS terminals market share.  Armed with an intent to overcome the challenge, many retailers are now implementing combo terminals that are capable of reading both EMV and NFC transactions. All in all, with the remarkable proliferation in mobile technology and the growing consumer awareness toward contactless payments, mobile point of sale terminals industry is likely to be one of the most challenging yet remunerative business spaces to watch unfold.
Author Name : Satarupa De