Retrofit
Global aircraft seating market size has witnessed considerable expansion in the recent decades on account of increased air travel, innovation in seating design and ambitious expansion goals of airlines. Airlines have also been increasing the demand for aircrafts where seats are narrower and closer together so that more passengers can be accommodated on each flight.
Recently, a lawsuit was raised against the Federal Aviation Administration about the closeness of seats and the risk this poses to passenger safety in case of an emergency evacuation. But the agency found that evacuation risk is caused by the width of the exit rather than closeness of seats and therefore no regulations have been imposed on the tightening width or proximity of seats on airplanes. Airlines have registered record levels of profitability in recent years due to more seats per plane and also due to greater percentage of seats being occupied, which has substantially raised aircraft seating market share.
U.S. Aircraft Seating Market, By Class, 2018 & 2025, (USD Million)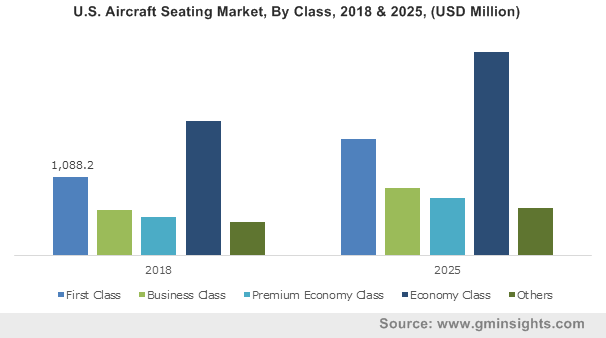 As air travel becomes more affordable and convenient, with a burgeoning number of travelers choosing to fly instead of availing other modes of transportation, commercial airlines are seeking ways to increase their revenue. Services which were previously included with the air fare are therefore now being charged separately and aircraft seating capacity is being increased to accommodate more passengers per flight.
The global aircraft seating market trends is highly influenced by the rising passenger traffic and aircraft seating manufacturers are coming up with new designs that will have a substantial impact on the industry revenue. For instance, the Italian aircraft seat manufacturer Aviointeriors recently designed and demonstrated its saddle seats named SkyRider 2.0 with high backs and narrow seats. The seats are so designed to help increase airline seat numbers and achieve ultra-high density.
The new types of airline seats offer many benefits to airlines. Not only do they increase profits for airline companies by 20% but they are made to be 50% lighter than standard economy class seats thus enabling minimization of maintenance costs. The seats are being designed for short haul flights so as not to be too inconvenient to passengers who are becoming increasingly apprehensive with the trend of narrow seats and less leg room. However, the aircraft seating industry is also catering to the increased demand for luxury with a lie-flat seat.
Lie-flat seats had been available in premium cabins of many long-haul flights and on some Airbus A330 aircrafts. Airbus and French aircraft seat manufacturer Zodiac Aerospace have taken that idea further and are trying to introduce lie-flat berths in the A330 cargo compartment. Airbus and Zodiac are partnering to develop lower-deck modules that will be equipped with passenger sleeping berths fitted inside the aircraft's cargo compartments. The modules will be beneficial to passengers on long haul flights such as from U.S. and Europe to Australian destinations.
Get a Sample Copy of this Report:@ https://www.gminsights.com/request-sample/detail/3225
Of late, the demand for narrow body fixed wing segment has been depicting a commendable rise. This can be attributed to the rising requirement of low-cost air carriers worldwide. Not to mention, the excellent fuel economy in tandem with higher operational efficiency alongside robust enhancements in high wing load capacities will further impel narrow body fixed wing aircraft seating market share. As per estimates, narrow body fixed wing aircraft seating market size will depict the witness highest CAGR over the forecast timeline.
Aircraft seat manufacturers are aiming to design more seats that combine comfort with light weight so that not only the airlines, but the passengers are benefitted as well. For instance, at a recent Aircraft Interiors Expo, Recaro, the aircraft seat manufacturing giant presented new seat designs for economy class as well as concept seats for business class that amalgamate comfort with light weight. The seats are deigned to improve sleeping comfort on board and come up with features to improve body posture, reduce pressure points and allow changing of sleeping positions.
Increased drive for innovation in the aircraft industry will strengthen the case for revolutionizing seats in aircrafts in the years to come. As per estimates, aircraft seating industry size is anticipated to cross USD 18 billion by 2025.
Author Name : Paroma Bhattacharya
Profound application in the commercial and healthcare sectors will drive human centric lighting market size. Human centric lightings (HCL) are designed to offer illumination solutions that physiologically and psychologically benefit human-beings. They are intended to promote improved concentration, efficiency and enhanced safety at offices and other work environments. HCL also supports healing processes and prevention of chronic diseases among people with irregular work routines.
Germany human centric lighting market, by application, 2018 & 2025 (USD Million)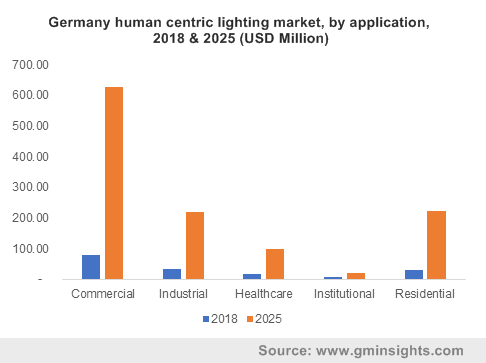 Increasing advancements in lighting technologies along with rapid adoption of Internet of Things (IoT) will support human centric lighting market growth globally. Using IoT, lighting systems can effectively be controlled and customized in real-time. IoT sensors can detect changes in environmental parameters, further directing and improving HCL capabilities.
With emergence of smart LED bulbs that offer a wide spectrum of colors and intensities along with advanced controller hardware, human centric lighting market will witness new growth opportunities over the coming years.
Human centric lighting market is anticipated to garner significant proceeds in the commercial sector. Renovation of enterprise infrastructure and installation of smart building and lighting products to develop comfortable workspaces will foster business growth. HCL solutions allow improved productivity and boost concentration in commercial work areas. In fact, research results suggest that the systems can increase work performance, reduce fatigue and significantly increase concentration and work satisfaction.
According to Lighting Society Europe, human centric lighting can significantly enhance employee performance to the point of improving productivity by 4.5%, reducing errors by 2% and further slashing rate of work absenteeism. HCL can also significantly improve visibility, thereby reducing the risk of tripping, falling and potential injuries. With employees spending more time in offices and other workplaces, HCL systems will become an essential lighting solution in the commercial sector, fostering HCL industry size.
Get a Sample Copy of this Report @ https://www.gminsights.com/request-sample/detail/3637
Increasing traction in the healthcare sector will augment human centric lighting market share. In hospitals and old age homes, HCL is well suited to implement lighting cycles comprising sunrise, sunset and daylight simulations. The system offers patients with enhanced benefits like higher activity levels during day, better sleep during night, reduced recovery time and lowered intake of anti-depressants.
In fact artificial lighting can compensate for biologically active effects of insufficient daylight exposure, thereby stabilizing the sleep-wake rhythm. It can also lead to more restorative sleep, thus ultimately improving the mental and physical wellbeing of hospitalized patients.
In old-age homes, HCL systems can offer high color temperatures, higher illuminance, and dynamically adjusted light distribution levels, further improving the quality of life of the elderly people. Additionally, in the healthcare sector, the systems can significantly reduce surplus cost of electricity bills.
For instance, according to a A.T. Kearney study, the annual efficiency gains achieved from human centric lighting in a hospital with 1,000 beds and 1,500 employees amounted to over €300,000. Instances such as these implicate growth opportunities in the healthcare sector, furthering human centric lighting industry outlook.
Europe human centric lighting market is expected to witness increased traction in commercial, residential and healthcare sectors. Infrastructure refurbishment in Europe currently focus on developing well-illuminated building environments.
The region naturally observes less exposure to sunlight which eventually creates an impact on human health, thereby creating the need for human centric lighting market solutions. With presence of leading market players along with rising investments, Europe human centric lighting market will witness rapid technological growth in the upcoming years.
Global human centric lighting market is being propelled on account of increasing application in healthcare and commercial sector. The industry is witnessing rising investments in R&D from leading players, government organizations, and lighting associations. Increasing consumer awareness and focus on the implementing energy-efficient work environments are anticipated to expand human centric lighting industry size in the future.
Author Name : Mateen Dalal
Having taken the conventional global lighting marketplace by storm, Europe LED lighting industry, in the recent years has emerged to a fertile investment ground for potential investors. The LED (light-emitting diode) technology, of late, has been gaining traction form variety of reasons, but most notably because of its extended lifespan, lower maintenance, and low energy consumption abilities. In addition, given the strict regulations and energy norms in Europe toward energy efficient solutions, it wouldn't be wrong to quote that Europe LED lighting market share would soar several notches up in the years to come.
Germany Europe LED Lighting Market Size, by End-Use, 2017 & 2024 (USD Million)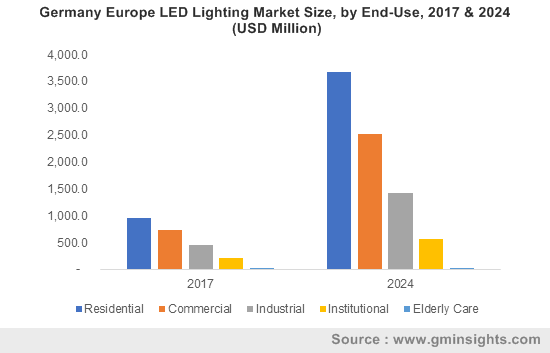 The impact of banning halogen lightbulbs on Europe LED lighting market  
According to reports, the EU announced a ban on the halogen light bulbs in Europe on September 1, 2018 and since then has been encouraging the consumers to switch to more energy-efficient LED technology.  The ban and the switch – forming a part of Europe's massive efforts in limiting environmental damage – have undeniably taken over the traditional lighting sales. According to experts, the move however, has also majorly impacted the masses financially as halogen bulbs are much more cost effective than LED lights. Nonetheless, over the years, many research reports have proved that a halogen bulb may be cheaper to buy, but the fact that the electricity cost will be much more expensive will ultimately nullify the price factor. In addition, halogen bulbs have an average life span of two years, while LEDs last for 15-20 years, in extension promoting the sales of LED lightings.
Another factor that further prompted the ban is the fact that LEDs consume only 1/5th of the total energy consumed by halogen bulbs, and phasing out of these traditional lightings will prevent over 15.2 million tons of carbon emission by 2025. According to EU officials for climate action & energy, this is a significant contribution toward fighting greenhouse gas emissions. Thus, the industry analysts report that the EU's measures to phase out halogen bulbs will provide a strong ground for the growth of the overall Europe LED lighting industry in the coming years.
Get a Sample Copy of this Report:@ https://www.gminsights.com/request-sample/detail/3035
The smart cities drive to favor Europe LED lighting industry expansion over 2018-2024
According to recent reports, the global urban population has escalated from 751 million in 1950 to over 4.2 billion in 2018, and is further projected to hit 7.7 billion by 2050. With the demographic changes, smart city projects have been identified as effective and promising way, many of the most emerging in Europe. In fact, the IDC (International Data Corporation) estimates the European spending on smart cities to surpass USD 19 billion in 2018.
Quite overtly, the increasing rate of smart city projects are indirectly expected to favor the growth of LED lightings, given the demand for smart and sustainable lighting products. It is prudent to mention that this trend has also been majorly fueling the smart lighting market, which is recently traversing on a lucrative roadmap, given the crucial role these components play in smart city infrastructure. The regional government has furthermore launched several smart city programs for deploying smart lighting solutions in the outdoor and indoor spaces. The need for sustainable as well as energy efficient lighting systems will further draw lucrative growth avenues for the Europe LED lighting market in the ensuing years.
Europe LED lighting industry magnates to play a major role in altering the business dynamics
With the advent of LED lightings, it comes as no surprise that there have been significant strides amongst the industry leaders to strengthen their regional foothold. Product breakthroughs and innovation remained the most adopted growth strategies for leading the way. A substantiation validating the fact is of Philips Lighting, that has recently introduced smart outdoor LED light bulbs which automatically turns on at night and turns off in the morning. Reportedly, these Philips' LED Dusk-to-Dawn A19 Frosted Light Bulbs are gaining immense momentum with the smart city drives in the region.
Industry analysts further point out that the government-imposed energy efficiency norms have also been majorly contributing to the overall growth of Europe LED lighting market contenders. An instance bearing testimony to the same is of Future Designs, that has recently announced the development of custom-made LED luminaries to be deployed across many of the stations for the Crossrail transportation system in London, UK. It has been reported that such use of LED lightings in rail settings and subways will be fostering Europe LED lighting market share. Cree is another renowned name, that has recently announced an LED lights retrofit project for the street lights in the quaint New England community.
Clearly, all the above trends are playing a crucial role in the development of Europe LED lighting market size, which is certain to proliferate the profitability quotient of this business sphere. A presumption validating the same is of Global Market Insights, Inc., that claims the Europe LED lighting to surpass a remuneration portfolio of USD 30 billion by 2024.
Author Name : Ojaswita Kutepatil
Owing to the global drift toward energy efficiency and improved energy consumption practices, the solid state lighting market has emerged as one of the most profitable niche verticals of the sustainable and smart technologies industry. Solid state lighting (SSL) technology is ten times more efficient than incandescent lighting and twice as efficient as fluorescent lighting. Moreover, the SSL technology has witnessed drastic enhancements in the recent times which has resulted in the SSL-based lighting sources such as LED and OLED become a vital component in the affordable high-performance buildings. Additionally, the increasing usage of SSL technology in automotive sector has impelled the solid state lighting industry share.
U.S. Solid State Lighting Market Size, By Technology, 2017 & 2024, (Million Units)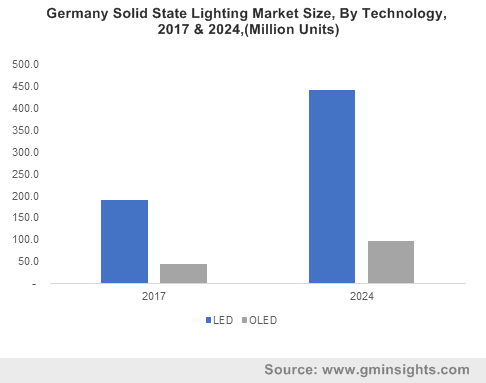 The solid state lighting has been increasingly described as a high-potential technology which is currently in its nascent stage and is yet to reach its fullest potential. Despite rapid enhancements in semiconductor materials and smart control systems, the application benefits and the possibility of this technology lowering energy costs substantially is yet to be extensively researched upon. Taking concrete steps in this direction, the U.S. Department of Energy (DOE) announced a research fund to the tune of USD 15 million in April 2018 to accelerate further breakthroughs in solid state technology across the nation. The funding apparently intends to support innovative research by technology leaders in four prominent areas viz., advanced fabrication R&D, core technology research for LEDs, OLEDs, and Cross-Cutting lighting, novel lighting in a limited Mock Field Application, and proof-of-concept and prototype development for LEDs and OLEDs.
In this context, it is quite imperative to mention that the research grant by DOE is in line with the strategic goals set by the Office of Energy Efficiency and Renewable Energy (EERE) to achieve higher energy-efficiency in residential and industrial sectors of the U.S. Needless to mention, the unveiling of such encouraging research initiatives by government bodies is certain to impel the growth prospects of solid state lighting industry in the forthcoming years.
Get a Sample Copy of this Report:@ https://www.gminsights.com/request-sample/detail/2775
The rising deployment of LEDs in cities, combined with new smart technologies, has been instrumental in creating new opportunities for urban lighting professionals. In addition to this, numerous countries have mandated various policies and laws regarding the implementation of import tariffs for LED components and product utility that is bound to propel LED-based solid state lighting market. As per reliable estimates, the global LED-based solid state lighting industry is slated to garner more than USD 80 billion in revenue by 2024.
Speaking of the regional growth potential, European nations are likely to be one of the most profitable terrains for solid state lighting market in the upcoming years. A favorable regulatory structure coupled with a robust support for new research to effectively implement smart urban lighting systems has caused rapid product penetration across European Union. With an aim to develop advanced tools that would provide cities with a range of competencies in dealing with complex procurement procedures, the European Union had rolled out a project named as FP7 SSL-erate. The project further intends to fast-track the uptake of high-quality SSL technology across the continent by bringing validated information to relevant stakeholders and encouraging open innovation programs. Europe solid state lighting market, as per Global Market Insights, Inc. holds a revenue target of USD 20 billion by 2024.
Elaborating further, the project explored the advantages that smart human-centric lighting can have for urban dwellers and how these systems can align with the goals of a city to become more sustainable in the long run. Needless to mention, the implementation of such pioneering initiatives would have an optimistic influence on the Europe solid state lighting industry share.
Owing to enhanced levels of performance compared to traditional lighting products along with lower cost of ownership, the solid state lighting market has been garnering commendable popularity across sustainable and smart technologies industry in the recent years. With the involvement of multiple stakeholders including national laboratories, academic institutions, and industry researchers who would pour in their expertise in improving the technology, the solid state lighting market is bound to proliferate at an impressive pace in the times to come. In fact, according to a research study compiled by Global Market Insights, Inc., the commercialization potential of solid state lighting industry is estimated to exceed USD 85 billion by 2024.
Author Name : Saif Ali Bepari
Owing to the rapid adoption of smart technologies such as IoT and Big Data, wireless fire detection system market share has witnessed a remarkable uptick of late. The convergence of integrated solutions coupled with a marked increase in the deployment of advanced fire detection systems would further augment product demand. Apparently, the new-age systems offer enhanced aesthetics by eliminating the need for drilling holes and cabling requirements, prevent the utilization of asbestos, and provide ease-of-installation. Subject to this, technology providers have focused on developing advanced fire detection technologies so as to ensure security and safety in new construction projects, that would consequentially aid wireless fire detection system industry.
U.S. Wireless Fire Detection Systems Market size, by commercial applications, 2017 & 2024 (USD Million)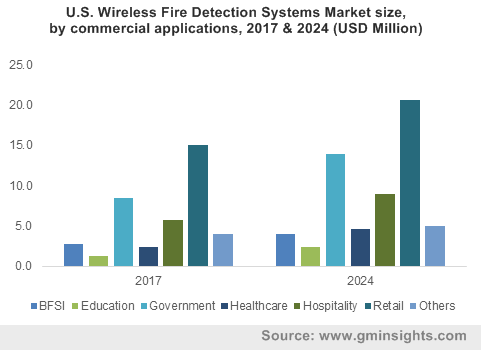 Elaborating further, it has been observed that periodic revision and streamlining of fire safety standards is a crucial factor to have influenced the overall wireless fire detection system market trends. Moreover, numerous developing nations have been concentrating on constructing smart cities to sustain and reenergize their economies. Apparently, the seamless functioning of these smart cities would require stringent enforcement of enhanced fire safety codes.
In accordance with the same, it is rather imperative to state that regulatory agencies have a vital role to play in such a scenario. Enumerated below are a few major instances of government agencies which have prescribed forward looking and advanced guidelines that are quite significant for the global wireless fire detection system industry:
One of the major organizations that has contributed immensely toward drafting improved safety standards in wireless detection system market is the Occupational Safety and Health Administration (OSHA). Being one of the foremost agencies of United States Department of Labor, OSHA has time and again laid out stringent regulatory guidelines with regards to fire safety that has been mandated to be complied to, especially in the construction sector. In the US, OSHA's regulatory directives such as 29 CFR 1910.160 and 29 CFR 1910.164 have acquired increased prominence given that they are strictly required to be complied with while installing wireless fire detection systems.
European Union's popular directive, named as EN54 Part 25, is predominantly known for outlining the precise safety requirements and laboratory tests for components utilizing radio links across wireless fire detection system industry. Apparently, these directives consist of detailed guidelines pertaining to heat detectors, smoke detectors, voice alarm control and indicating equipment, alarm transmission and fault warning routing equipment, point fire detectors which use carbon monoxide sensors, etc.
Get a Sample Copy of this Report @ https://www.gminsights.com/request-sample/detail/2493
Concurrently, the swift advancements being observed in networking infrastructure coupled with the aforementioned robust regulatory structures is certain to impel the wireless fire detection system market over the ensuing years.
Meanwhile, it would be prudent to mention that the wireless fire detection industry share, which can be termed as being in the nascent stage, has been marred with a few obstacles in the recent times. Subject to various vulnerabilities of wireless infrastructure and the high cost of fire detection systems, the end user segment appears rather apprehensive with regards to adopting these systems on a wide scale.
However, owing to the incorporation of cutting-edge technologies in these systems, numerous household safety device manufacturers have been unveiling convenient and smarter consumer products in wireless fire detection market. For instance, Samsung has recently teamed up with Vodafone to provide a range of smart home products with a special focus on security devices including multipurpose sensors, home alarm assistant, and security cameras. Reportedly, the users would receive alerts on their mobile phones in the event of fire at their home. Needless to mention, the launch of such innovative solutions would undeniably propel the wireless fire detection system market size.
With the development of smart cities across numerous countries complemented with a robust regulatory framework in place, the commercialization prospects of wireless fire detection system industry appear to soar new heights in the near future. In fact, as per a research report by Global Market Insights, Inc., the overall remuneration portfolio of wireless fire detection system market is estimated to exceed USD 500 million by the year 2024.
Author Name : Saif Ali Bepari
The revenue scale of aerospace plastics market is likely to expand in the forecast years, owing to the shifting preference towards the low weight aircrafts to enhance the performance and fuel efficiency of the jet. Surging development across the aviation industry along with high investment in the defense activities across the globe will also stimulate the aerospace plastics industry size. As per Global Market Insights, Inc., aerospace plastics market size is anticipated to surpass USD 75 million by 2025.
U.S. Aerospace Plastics Market, By Aircraft, 2018 & 2025, (USD Thousand)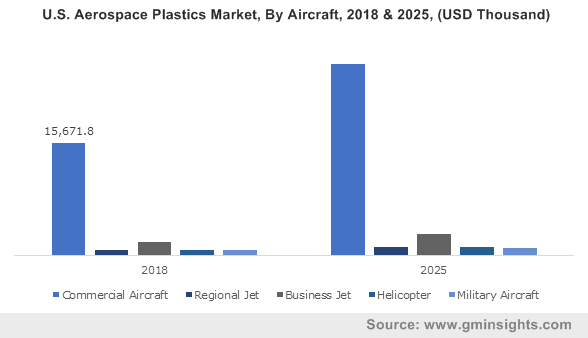 Aerospace plastics are massively deployed in cabin interiors, airframes, windows & windshields, and propulsion systems, owing to their convenience and efficiency. Of these, window & windshields applications are rather commonplace. Indeed, the segment accounted for a substantial proportion of aerospace plastics market share in 2018, primarily on account of the extensive deployment of durable and chemical resistant plastic material, that helps to prevent glass layers in windows from shattering.
As far as windshields are considered, when manufactured with durable plastics, they offer reduced reflectivity and also help passengers regulate light as well as heat transmission flow to the aircraft interiors, which would majorly propel aerospace plastics market trends from windows and windshields.
A major factor that would augment aerospace plastics market outlook from windows and windshields applications is the increasing number of MRO activities, in tandem with the rising demand for the replacement of ageing aircraft components with enhanced plastic material. As major industry contenders strive to introduce lightweight, high-performance windows and windshields for aircrafts, aerospace plastics market share will depict a commendable rise over the forecast period.
Get a Sample Copy of this Report:@ https://www.gminsights.com/request-sample/detail/185
Speaking of the type of aircraft, it would be prudent to mention that military aircraft will depict considerable demand in aerospace plastics market in the forthcoming years. This is basically on account of the rising security concerns across the globe as well as the subsequently increasing defense expenditure.
The rising adoption rate of plastics in military aircraft can also be attributed to the fact that plastics offer effective insulation from radar. Driven by the demand for weight reduction in aircraft and the provision for zero conductivity, military aircraft based aerospace plastics market is likely to gain major impetus over 2019-2025.
Geographically, Asia Pacific will account for a substantial proportion of aerospace plastics market share in the years to come. The growth can be primarily attributed to the surging demand for military and commercial aircraft. India and China will contribute significantly towards the regional growth. Europe aerospace plastics industry on the other hand, is also predicted to record a considerable growth rate over the coming timeframe, aided by France, Germany, and UK.
North America is expected to hold the highest share in aerospace plastics market, in terms of volume, by 2025. The reason for the same can primarily be credited to the presence of innumerable product manufacturers in the region, that have their focus set on producing highly fuel-efficient aircrafts. Not to mention, the region is controlled by a stringent regulatory landscape, which would also help augment the domestic share.
Rising fuel costs are also encouraging aircraft manufacturers to incorporate plastics in aircrafts. Of late, aircraft manufacturers have been producing customized plastic manufacturing processes in order to substantially enhance their profitability as well, which would further contribute to improving North America aerospace plastics market outlook.
The competitive spectrum of aerospace plastics market comprises companies like Mitsubishi Chemical Advanced Materials, Saint Gobain, Ensinger, SABIC, Drake Plastics Ltd., Victrex, and BASF SE. Often, industry contenders are found engaging in tried-and-tested growth tactics such as mergers & acquisitions in tandem with novel product launches in order to consolidate their stance in the industry and enhance their product portfolios as well.
Author Name : Sunil Hebbalkar