RF
Smart electric meter market over the recent years has garnered considerable traction in the sustainable ecosphere. Endowed with improved connectivity & advanced features, smart meter technology has emerged as a viable alternative to conventional meters. Indeed, this extraordinary evolution from the conventional models to their smart counterparts has ensured a lucrative growth for the overall electricity sector, which is rather a focal vertical for the energy saving rollouts. Evidence in support of the aforesaid is smart electric meter market valuation of over USD 7 billion in 2017, led chiefly by favorable governmental initiatives and sustainable energy mix protocols. A report by Global Market Insights, Inc., claims that with further awareness regarding climate change & GHG emissions, the  worldwide smart electric meter market is likely to surpass annual installations of 190 million units by 2024.
UK Smart Electric Meter Market Size, By Application 2015-2024 (Million units)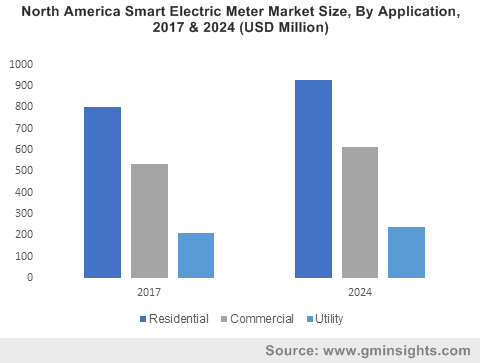 Elaborating further, the recent years have remarkably witnessed smart meters penetrating the utilities domain mainly on the cusp of rapid growth in industrial IoT. The technology adoption has ensured a more accurate real-time power diagnostics and billing. These meters are enabling consumers to optimally utilize the energy, further reducing the overall carbon emissions. In fact, analysts foresee a mass acceptance of this environment-friendly and cost-effective technology in the electric domain, which will have a pronounced impact on the global smart electric meter market trends.
Particularizing on the geographical landscape, the year 2017 witnessed China accounting for more than 70% of smart electric meter market share across the Asia Pacific belt. Reports claim that the country's 12th and 13th five-year plan that includes development of smart cities has generated extensive demand for effective water and electricity monitoring, which in turn have positioned China into a favorable business ground for smart electric meter market players. Add to it, the Asian Development Bank's support in smart meter roll-outs in line with the adoption of smart-grid & sustainable technologies have phenomenally impacted the regional trends.
Get a Sample Copy of this Report @ https://www.gminsights.com/request-sample/detail/1503

India has also recently entered the global smart-meter deployment race and has emerged as the next lucrative growth ground for potential stakeholders. The country has recently grabbed the headlines with its move to replace 40 lakh conventional electric meters with the smart ones. The move is headed by the UPPCL (Uttar Pradesh Power Corporation) in association with EESL (Energy Efficiency Services) that aims to address the state's energy efficiency woes and ensure customer convenience. Another important move fortifying the regional smart electric meter market share is of the Bihar state energy department, that aims to install 200,000 prepaid smart electricity meters in cities including Ara, Patna, Bhagalpur, and Aurangabad. Experts deem the Rs 800 crore (approximately USD 117 million) project to offer fair investment opportunities, in turn categorizing India into one of the profitable avenues for expansion of the smart electric meter industry.
Smart electric meter deployment trends are also catching up in other prominent regions including Germany, UK, the United States, and Canada. As per estimates, U.S. smart electric meter industry share is set to cross the billion-dollar mark by 2024. As per a EIA report in 2015, smart meter deployment across the residential sector in the U.S. stood at 40%.  Also, the regional electric utilities registered an AMI (Advanced metering infrastructure) installations of over 70 million till 2016. UK on other hand is targets to deploy 50 million smart meters in 30 million households by 2020, with an aim to lower the domestic energy consumption by 5 to 15%.
Analyzing these geographical trends, it comes as no surprise the smart electric meter industry will bring about a revolution of sorts in the utility sector. Analysts deem that this business sphere is all set to witness steep growth with more than 190 nations taking part in the UN Climate Change Conference to reduce emissions. Toshiba's Landis+Gyr, Silver Spring Networks, Siemens, Itron, and Schneider are some of the prominent smart electric meter providers working in tandem with system integrators like IBM and Accenture to further take the global smart electric meter market size to new heights of expansion.
Author Name :Ojaswita Kutepatil
Increasing availability of automation solutions for the commercial sector has boosted the electronic shelf label (ESL) market revenue, which surpassed USD 450 million globally in 2017 in conjunction with the growing number of retail outlets. Products such as groceries or seasonal fruits can witness price fluctuations while the stacking of new products also raises difficulties for retail staff to manage and update the pricing tags. The necessity to save time and energy spent for inventory management at stores with a large number of items has directed businesses towards the electronic shelf label industry. ESLs not only allow for prices of various goods to be set quickly and simultaneously, but also offer accuracy and flexibility. The ever increasing customer base, the rising penchant for spending on consumables worldwide and the need for improving the bottom line of businesses will generate massive gains for the electronic shelf label market from the commercial segment over the coming years.
Germany ESL market size, by product, 2017 & 2024 (USD Million)

According to a key ESL manufacturer, replacing paper labels with the electronic ones could experience cost savings of up to 60%, while adopting a more responsive pricing method and creating a modern brand image. The electronic shelf label market will see tremendous demand from big supermarket and hypermarket companies for eliminating manual errors in updating prices, freeing up the staff's time to increase productivity and to implement strategic pricing decisions. Groceries from a major part of everyday spending by billions of people around the globe, and supermarket chains undergo daily shelf rotation of essential items. In 2017, it was found that there were a total of 38,581 supermarkets in the U.S., indicating the growth potential for the electronic shelf label industry.
The International Grocery Research Organization has projected that the global grocery retail market will be adding sales of nearly USD 2.7 trillion by 2022, driven by growing population and higher spending on grocery products. Subsequently, multinational hypermarket chains have targeted global expansion for catering to the incessant demand for groceries as well as non-food retail items. SPAR, for instance, has been able to build lean practices and supply chain networks, and has over 12,500 stores in 44 countries throughout 4 continents. The company has been known to use ESLs for guaranteeing efficient pricing integrity and reducing costs, while letting consumers take advantage of visible prices for all kinds of products. SPAR has demonstrated the immense benefits to be accrued from switching to ESLs for product display, inventory management and warehousing, propagating the scope of the electronic shelf label market for the commercial segment.
Get a Sample Copy of this Report:@https://www.gminsights.com/request-sample/detail/1136
Companies have increasingly found it easy and affordable to integrate smart technologies into their retail businesses, where IT teams can deploy relevant systems to enhance the future of the business. Electronic retail brand have particularly found ESLs useful in enhancing store experience and executing pricing promotions or rolling out offers to customers. New York's B&H Photo and Video is one such company which took advantage of the booming electronic shelf label industry, by installing three-color fully graphic ESLs to align pricing and promotions in a fast and accurate way. Managing ESLs centrally and securely through an enterprise platform wirelessly, B&H could program computers such that products can be scanned and mapped accordingly, making sure the right labels are updated at the right time.
Further innovations in the electronic shelf label industry will initiate the product penetration into less modernized commercial businesses, where people will realize the need for speedy product identification and pricing. To elaborate, the Findbox solution being offered by ESL specialist French company SES-imagotag represents a new take on making shopping easier and more convenient for consumers. When a used product is placed in Findbox, the system recognizes the right product and locates it on the store shelves, where LED on the digital price tags start flashing. As a result, customers can save precious time in searching several shelves and aisles and find the product they want to buy or replace, while displaying the correct and updated prices. The company has claimed its Findbox can automatically recognize products within 3 seconds and updates can be made in less than 1 second.
With the rising frequency of innovations in connectivity, IoT and smart technologies, the electronic shelf label market can be expected to transform significantly, supported by better accessibility to AI and cloud-based services. SES-imagotag, LG Innotek, M2Communication, CEST, Displaydata, Price AB and Teraoka Seiko Co. Ltd. are come key participants in the global electronic shelf label market, which is projected to exhibit a 13% CAGR from 2018 to 2024.
Author Name : Pankaj Singh