Rheology Modifiers Market Size By Product
Rheology modifiers are the materials (organic or inorganic) which are used to control the rheology (flow) properties of the fluid formulations. These compounds have gained significant importance worldwide, driven by their huge set of applications across various end use industries such as Paints & Coatings, Adhesives & Sealants, Personal Care, Pharmaceuticals, Textiles, Pulp & Paper, and Construction. According to Global Market Insights, Inc., "Global rheology modifiers market having had a worth of USD 4.9 billion in 2015, is estimated to surpass USD 6.83 billion by 2024."
Paints & coating industry, which is forecast to exceed USD 210 billion by 2024, is estimated to be the most lucrative sector for this billion-dollar market over the coming period. Paints and coatings industry accounted for nearly 30% of the global rheology modifiers share in 2015. These modifiers are witnessing a huge demand across this industry, owing to their ability to improve the durability, consistency, emulsion stability, leveling, and anti-sagging properties of the paints. The increasing urbanization coupled with the growing automotive and construction industry is favorably impacting the paints & coatings market, which in turn will drive the rheology modifiers market size.
U.S Rheology Modifiers Market share, by application, 2013-2024 (USD Million)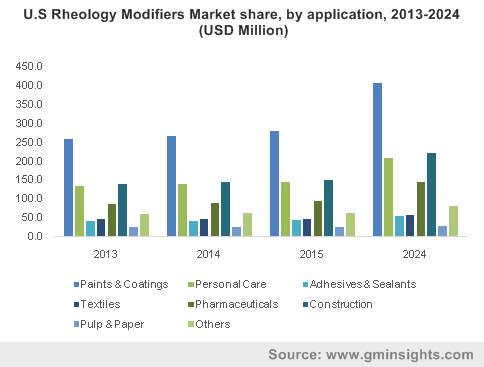 Personal care industry, which is yet another booming industry, is also a vital driving factor for rheology modifiers market. personal care industry, having had a market value of USD 580 billion in 2015, is estimated to surpass USD 790 billion by 2024. This growth will in turn boost rheology modifiers market owing to its rising demand across various personal care products to impart desirable properties such as suspension, consistency, and stabilization to these products. Inorganic modifiers are mainly used for the personal care industry. Rheology modifiers application in the personal care industry is estimated to grow at a CAGR of 3.5% over the period of 2016-2024.
Get a Sample Copy of this Report:@ https://www.gminsights.com/request-sample/detail/777
The growing geriatric population and the rising health awareness among the consumers is boosting the pharmaceutical market globally. These modifiers are in turn witnessing a huge growth owing to their applications in the pharmaceutical industry as additives in semi-solid formulations like ointments, lotions, syrups, etc. Organic modifiers such as polyurethane, acrylic polymers, xanthan gum, microcrystalline cellulose, and guar gum are used in pharmaceutical applications. Organic rheology modifiers market size is estimated to witness a CAGR of 3.5% over 2016-2024.
The paper industry is also a significant contributor towards this market. However, the growth in this sector is sluggish due to the growing digital trends which has reduced the growth of paper industry. Moreover, the fluctuating crude oil prices may also negatively impact rheology modifiers industry growth, crude oil being the essential raw material for these compounds.
The growth in the end user industries across the globe will fuel rheology modifiers market size. US, being the largest hub of the geriatric population, is estimated to account for a significant share in the rheology modifiers market. Moreover, the growth of the pharmaceutical and personal care industries in US will also drive the regional revenue.
Asia Pacific market, which accounted for 35% of the global revenue in 2015, is estimated to register a CAGR of over 4% over 2016-2024. Rapid industrialization coupled with the expansion of automotive and construction industry are the major driving forces behind APAC rheology modifiers market growth.
The industry is highly fragmented with key market participants comprising Ashland, Arkema Group, BASF SE, DOW Chemical Company, and Lubrizol Corporation
Author Name : Shikha Sinha
This entry was posted in Bulk & Specialty Chemicals and tagged Competitive Market Share & Forecast, Growth Potential, Industry Analysis Report, Price Trends, Regional Outlook, Rheology Modifiers Market Size By Product.