Risk Management
Industrial control systems (ICS) security market, tagged as one of the most revolutionary verticals of the smart & sustainable technologies space, has garnered massive remuneration in the recent years, given the increasing demand for network connectivity to support critical infrastructure. Industrial automation and digitization trends have practically computerized most of the machinery and engineering components that have undeniably changed the way operations are now performed but have however increased attack surface areas. Reports in fact claim that the industrial sector witnessed a significant increase in the number of vulnerabilities in ICS between the years 2015 and 2017. It has been estimated that the number of vulnerabilities reported by major companies offering ICS solutions were 115 in 2016 and the number rose to over 197 in 2017.
North America Industrial Control Systems (ICS) Security Market Size, By Security Type, 2017 & 2024 (USD Million)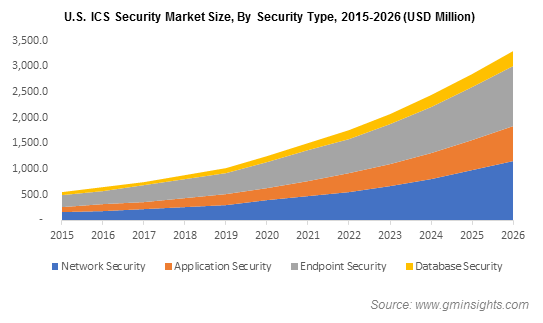 The growth in the ICS security industry can be attributed to these rising malware attacks that generally drain the bank accounts, steal identities, and blackmail organizations to bring services to a halt. A significant instance is that of the NotPetya ransomware that shut down several industrial IT networks across the U.S. and Europe. The gigantic outbreak resulted in losses of thousands of millions of dollars for large enterprises, from pharmaceutical company Merck to shipping firm Maersk. WannaCry was another popular ransomware that caused enormous damage, however it was later realized that this unsophisticated attack could have been easily prevented by following the basic IT security practices.
The robust prevalence of incidences similar to the aforementioned has served as a pivotal driver for ICS security market. Owing to these constantly evolving cyberattacks that are becoming more commonplace, security concerns have grown considerably in recent times, resulting into robust demand for ICS security solutions. Speaking of the growth in the commercialization potential, reports claim that the industrial control systems security market bagged USD 1.5 billion for the year 2017 and is expected to thrive further with industry players focusing on strategic collaborations and product innovation trends.
Get a Sample Copy of this Report @ https://www.gminsights.com/request-sample/detail/2680
Kepware's latest release of the KEPServerEX® version 6.5 industrial connectivity platform, in this regard is quite an example of the rising product innovation & diversification trends in the industrial control systems security market. The company's new product launch demonstrates its commitment to ICS security and its word in providing customers with best tools and services that support defense-in-depth programs. According to reports, the 6.5 version, which existing users can now avail for free, includes features such as enhanced password configuration, greater project file protection, comprehensive secure deployment guidelines, and other updated security components. Kepware, a business arm of PTC, also claims that it will introduce a Shared Responsibility Model that will enable the company to work together with its customers and address security issues experienced by industrial organizations of all sizes.
Industry experts speculate that in today's security landscape, the real pressure on all the industrial enterprises is to secure their operational networks. And Kepware's commitment in adding new security features and maintaining up-to-date components that would help customers reduce exposure to cyber-attacks and vulnerabilities will in turn strengthen its footprints in the competitive landscape of the global ICS security industry.
The partnership between Rockwell Automation and Claroty is another fine instance that portrays how leading industrial control systems security market players are constantly expanding their reach through such strategic collaborations. The partnership between the two is expected to develop a purpose-built anomaly detection software for the industrial network security.
Numerous other leading ICS security industry players like Cisco, Honeywell, IBM, Schneider Electric, and GE Digital are also expected to keep pace with the changing dynamics of cyberattacks while ensuring the delivery of comprehensive security solutions. On grounds of these efforts being undertaken by the industry players to innovate advanced & efficient products, industrial control systems security market is certain to tread along a lucrative roadmap in the years ahead. As per Global Market Insights, Inc., the overall industrial control systems security market size has been forecast to be pegged at USD 7 billion by 2024.
Author Name : Ojaswita Kutepatil
The excellent growth dynamics of the global artificial intelligence (AI) in BFSI market can be traced by the recent instance of Metromile, a leader in pay-per-mile car insurance in the U.S., launching its new AI-based smart claims assistant, AVA. The automated system reportedly utilizes machine learning capabilities to reconstruct the accident scene and promptly ascertains if claim details are true. Apparently, the claim is approved within seconds after the details are verified and the AI-based tool further notifies the car owner of the expedited claim. With the increasing adoption of high-grade technologies such as IoT and Big Data, the commercialization potential of AI in BFSI industry has observed a marked uptick in the past few years.
U.S. Artificial Intelligence in BFSI Market Share, By Solution, 2017 (USD Million)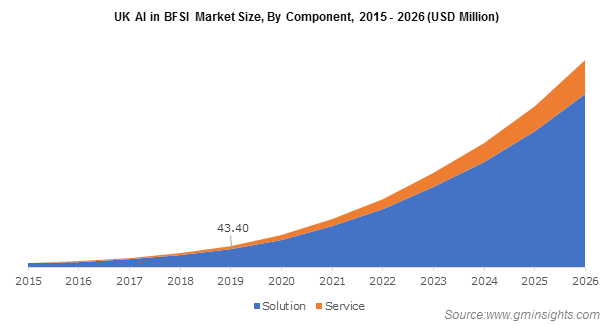 Elaborating further, the unveiling of AVA signifies the transformative phase being witnessed across the worldwide insurance sector where prominent AI in BFSI industry players have been increasingly deploying advanced algorithms to enhance the underwriting process. This has, in turn, impelled the insurance segment of the AI in BFSI market which is forecast to register an outstanding y-o-y growth rate of over 38% during 2018-2024.
A brief insight of how banking sector has been shaping AI in BFSI industry trends
Over the past few years, numerous globally renowned banking institutions have been pouring in massive funds to develop cutting-edge AI applications that have invariably assisted them in optimizing performance, consolidating remuneration streams, and better serving their customers. In this regard, banks are increasingly forming partnerships with fintech corporations to integrate the latest technologies into banking products and services which has resulted in the development of advanced customer behavior analytics inventions, chatbots, and customer relationship management (CRM) solutions. Enumerated below is a succinct outline of how banks have been readily embracing AI-based solutions that has subsequently transformed the strategic and competitive landscape of AI in BFSI market:
Embarking on its AI and automation journey in September 2017, State Bank of India unveiled its first AI-powered chat & voice assistant, named as SBI's Intelligent Assistant or SIA. The chatbot reportedly aids customers with everyday banking tasks just like a bank representative and has a remarkable capacity to handle close to 10,000 enquiries per second or 864 million in a day. Arguably, the deployment of an AI-based solution of this scale is cited to be first of its kind in the banking segment of the global AI in BFSI market. With an astonishing customer strength of around 420 million, State Bank of India's latest move towards integrating AI is being viewed as a major leap of faith for India's banking sector.
Regarded as one of the world's largest banks, the U.S. based JPMorgan Chase has recently launched a digital platform that analyzes legal documents and extracts the relevant data. The AI-based invention, named as Contract Intelligence (COiN) platform, is an outcome of the initial implementation through machine learning technology and has an exceptional ability to revise approximately 12,000 annual sales agreements within minutes. The platform is being aptly termed as revolutionary across AI in BFSI industry given the fact that it effectively eliminates the need to manually review the said number of sales agreements which generally takes around 360,000 hours.
Get a Sample Copy of this Report@ https://www.gminsights.com/request-sample/detail/2605
Owing to the launch of intuitive, easy-to-use, and highly-efficient AI-based tools, the banking segment of the AI in BFSI market has been proliferating at an exceptional pace in the recent times. In fact, as per a research report compiled by Global Market Insights, Inc., the banking segment apportioned more than 50% of the total remuneration portfolio of AI in BFSI industry in the year 2017. With the unveiling of advanced AI technologies that provide real-time insights into every aspect of banking operations and leverage the abundance of data to gain a granular understanding of consumer behavior, the banking segment is slated to lead the end use spectrum of this business space over the ensuing years.
Infusing AI-based applications across a diverse set of operations has brought about a momentous shift in the ability of organizations, working in the BFSI domain, to swiftly analyze, comprehend, and respond to vast amounts of data which has consequentially augmented the revenue share of companies operating across AI in BFSI market. With the advent of advanced machine learning algorithms, data analytics solutions, natural language processing techniques, the AI in BFSI industry space is anticipated to register an overwhelming CAGR of 30% over the estimated timeframe.
Author Name : Saif Ali Bepari