Robotics Sensor Market
In an era defined by the increasing adoption of robotics, robot sensor market has quite overtly consolidated its stance in the overall electronics space. Robotic automation is now being deployed across a slew of applications, from industrial and domestic to commercial and logistic applications, for achieving several operational and workplace benefits. Apart from being used for obtaining long-term performance benefits at the workplace combined with efficiency, robots are also being deployed on account of their lesser susceptibility to fatigue. The increasing implementation of robots to minimize workplace risks and reduce fatigue is certain to boost robot sensor industry.
China robot sensor market size, by application, 2017 & 2024 (USD Million)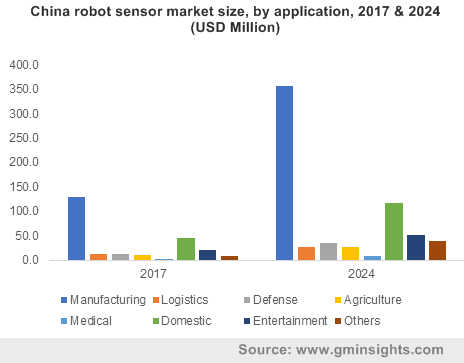 Powered by the current trends of digitalization and innovation, robot sensor market giants have been working toward developing advanced robotic sensing systems. The initiatives taken by the researchers and product developers to increase the effectiveness of conventional sensing systems implemented in the robots will revolutionize the overall robot sensor industry. For instance, recently, a few researchers from the Chongqing university based in China developed a self-powered triboelectric auditory sensor which can be used to manufacture electronic auditory system-assisted external hearing aids that can be installed in intelligent robotics applications. The advent of next-generation auditory systems will thus prove to be ideal for enhancing communication between human beings and robots that would be useful for improving industrial outcomes.
Elaborating on the human-machine interaction, it would be prudent to mention that the shifting focus of the automakers toward the development of autonomous vehicles would prove to a breakthrough that would help augment the commercialization graph of robot sensor industry. Though the current ADAS system does not support high-level automation, the continuous involvement of automakers toward launching fully automated vehicles is likely to generate lucrative opportunities for robot sensor market contenders. In addition to this, for improving workplace productivity, many automakers and industrial product manufacturers have been giving preference for robotic automation. The increasing acceptance rate of robotic automation across the automotive sector will thus massively propel robot sensor industry share over the years ahead.
Get a Sample Copy of this Report:@ https://www.gminsights.com/request-sample/detail/2802
Recently, one of the sensor manufacturing start-ups, Baraja launched a spectrum-scan Lidar which can be used to increase the reliability and flexibility of robot cars. The newly developed scanner provides full control to the car's computer to make the changes in driving, depending upon different road conditions. Another advantage of installing effective sensors in vehicles is the protection they provide against several potential damages.
The extensive requirement of sensors for regulating various industrial and automotive applications including robotics, camera recorders, telematics, ADAS, cluster, IoT, ECUs, HUD, and infotainment systems has created revenue generating opportunities for the players in robot sensors market. Focusing on the increasing demand for robotic automation, renowned robot developers have been joining hands with leading product distributors for extending their regional reach. The surging demand for robots across myriad verticals will also have a positive influence on the development of sensors.
Validating the aforementioned fact, a few days before, Techman Robot signed a deal with OMRON to form a business alliance for distributing its collaborative robots across the globe. In addition, the duo will also collaborate to develop next-generation collaborative robots that could enhance the working harmony between human and machines. In China, one of product manufacturing firms located in Dongguan city replaced 90% of its human workforce with automated machines which helped them to increase the plant productivity by 250% and reduce the chances of defective part production by 80%. Such productive statistics have been possible solely because of effective robotic sensors systems.
The staggering demand from the industrial, manufacturing, and other commercial sectors to ensure efficient outcomes will have a favorable impact on robot sensors industry trends. The increasing availability of next-generation and AI-assisted robotic systems will also propel the product demand over the years ahead. Driven by the ever-rising acceptance of robotic automation across the globe, robot sensor market will surpass a revenue collection of USD 4.5 billion by the end of 2024.
Author Name : Sunil Hebbalkar