Rotary Blade
The changing face of warfare in the recent years has been a pivotal factor stimulating military drone market. Aided by cumulative product demand and rapidly progressive technological advancements, this vertical is expected to add a new dimension to the evolving smart industry. Ironically, the latest news about the U.S. military having developed drones that can decide who to kill has created major undulations in military drone industry. As a potential aftermath, the world is still debating over what such a technology can mean for the future of warfare and war ethics. However, it would be fair to state that the advantages of using drones in warfare and military operations have surpassed all debatable boundaries. This is quite evident from the estimates that claim military UAV market share to register a CAGR of 12% over 2017-2024.
U.S. Military Drone Market Share, By Product, 2016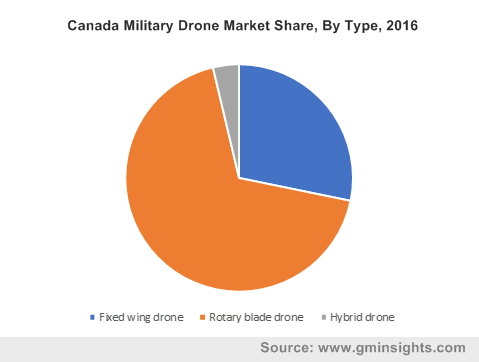 Military drones: a popular weapon in modern warfare
It has been anticipated that North America, by 2024, will be accounting for 70% of the overall military drone market share. This expansive growth can be aptly credited to the heavy adaptation of drones in civil applications and the ongoing 'War on Terror' that the U.S. is current involved in. Till date, the United States has carried out several lethal drone strikes in Pakistan, Somalia and Yemen. Incidentally, these are the countries that the U.S. and its allies are not openly at war with, as is the case with Afghanistan, Libya and Iraq. As a measure to extend the reach of the war against terrorism, the U.S. has also concentrated its drone campaigns in North Africa, using Predator drones for surveillance and targeting radical terrorist groups. Undeniably, U.S. has emerged as a viable revenue pocket for North America military drone market.
Of late, drones are being designed with an element of human intelligence that make for highly effective weapons to locate and targeting terrorist operations and have effectively shifted the cost calculation for battles. Drones can be deployed for longer period of time and with less inconvenience to human resource. Specialized military drones in fact, are more lethal at reduced financial cost and potentially diminish the risk of life for those who control these drones as compared to ground forces or piloted aircraft. Driven by their highly commendable advantages, it has been forecast that military UAV market outlook looks rather promising for the future, where there are chances for increased covert drone warfare and less declared warfare.
Get a Sample Copy of this Report @ https://www.gminsights.com/request-sample/detail/2484
The effectiveness of military drones, as demonstrated by the United States, has caught the attention of nations that have been aiming to achieve a robust arsenal of weapons. Thus, countries like China, Russia, Iran, Pakistan and Turkey have invested in research and development of drone programs, a trend indicating the strong growth of the military drone industry in future. China recently set a world record in its demonstration of drone swarm, a topic of much discussion for its implications in the future of warfare. China has used the popular notion of using an overwhelming number of drones to gain tactical advantage over a target and flown 1108 dronebots as a single unit to exhibit the skill of its drones in autonomous flight capabilities and intelligent use of instruments.
Beyond military uses
Apart from purely military uses, these UAVs have been successfully deployed to carry out other government-controlled operations like search and rescue, wildfire containment, surveillance and law enforcement, further adding stimulus to military drone market. For instance, the Police Aviation Administration Office in China have put 300 police drones to patrol areas that are too difficult for the police to access. These drones have successfully collected information about drug manufacturing dens and have facilitated police raids in these areas. In the U.S., Predator B drones have been deployed for US Mexico border patrol to stop illegal border crossing across the remote mountains, rivers and canyons. These instances provide pivotal evidence that military UAV industry is here to stay.
With the proliferation of advancements in military drone market and the changing implications these developments will have on warfare, regional governments plan to establish a common ground to discuss and set guidelines for the sustainable and beneficial use of military drones while safeguarding human interests. As the use of drones have far reaching consequences that are not limited to warfare, the trend for developing and using military drones across myriad applications will continue to remain consistent in the next few years. As per estimates, military drone market size will be pegged at USD 13 billion by 2024.
Author Name : Paroma Bhattacharya
Powered by the advent of sophisticated machine learning algorithms and growing integration of AI, consumer UAV market size has been skyrocketing in the recent times. There has been a phenomenal spurt in the number of drone operators world over who buy high-grade and technologically superior drones with an aim to utilize them commercially. Apparently, the escalating demand for UAVs from diverse business sectors has compelled the prominent consumer drone industry participants to incorporate latest technologies such as geofencing and collision detection into these flying beauties.
U.S. Consumer Drone Market Volume Share, By Product, 2016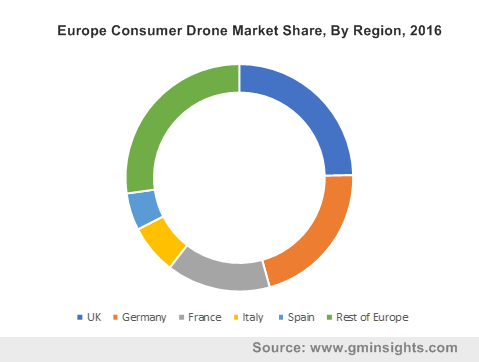 Citing an instance of the same, one of the major consumer drone market players of France, Parrot has created a new division, named as Parrot Professional, to integrate its consumer and commercial grade drone technology. It would be prudent to mention that the firm deployed the said technology and has recently introduced new drones which can be utilized across agricultural and construction sectors.
Moreover, the latest drones would reportedly act as a bridge between Parrot's low-priced and other highly-expensive consumer products. The launch of such innovative and cost-effective products would prove to be of immense convenience for operators to fly UAVs for commercial purposes, which would consequentially boost the consumer drone market in the ensuing years. In fact, as per reliable estimates, the overall remuneration portfolio of the global consumer drone industry is forecast to exceed USD 9 billion by the year 2024.
Get a Sample Copy of this Report @ https://www.gminsights.com/request-sample/detail/1590
Elaborating the consumer UAV market trends in the U.S. and Australia with regulatory frame of reference 
USA
In an attempt to promote awareness among media, policymakers, and the general public of how UAVs assist society, renowned consumer drone market giants such as 3DR, DJI, and GoPro have formed 'Alliance for Drone Innovation' (ADI). The latest initiative is the successor organization to the Drone Manufacturers Alliance and represents the interest of businesses, individuals, academics, scientists, and governments, and others who fly drones in the United States.
The ADI initiative would work on devising appropriate regulatory and legislative framework, as well as focus on developing new technological capabilities of drones. The group would preserve the role of Federal Aviation Administration and the Congress to regulate National Airspace System for drones. Owing to the regulatory guidelines and various initiatives being undertaken by chief market players, the US consumer drone industry share would undoubtedly witness substantial progression in the near future.
Australia
Being one of the first nations in the world to regulate remotely controlled aircrafts, the Civil Aviation Safety Authority (CASA) of Australia has been pivotal to frame regulatory provisions regarding consumer drones. Apparently, CASA has put into effect a new set of guidelines from September 2016 which have lowered the mandatory requirements to fly small remotely piloted UAVs for commercial purposes. Reportedly, flying drones which weigh less than 2Kg would not require a remote pilot license (RePL) or operator's certificate. However, the drone owners would need to hold an operator's certificate to fly UAVs weighing in excess of 2Kg. Industry experts have opined that the operationalization of these guidelines would substantially influence Australia consumer drone market outlook.
It is imperative to mention that along with stringent regulations with regard to safety parameters of these drones, cost is another pivotal factor influencing the consumer UAV industry trends. These UAVs work on batteries unlike the military drones that are operated by solar energy. This not only makes the former expensive but also demands a high maintenance. Nonetheless, considering that the fraternity is still nascent and a slew of tech interventions are in the pipeline, consumer drones market trends are anticipated to be progressive in the coming years. In terms of commercialization, the consumer UAV market is forecast to register a double-digit CAGR of 18% over 2017-2024.
Author Name : Saif Ali Bepari
Over the recent years, the commercial drone/UAV market has garnered immense popularity owing to the substantial increase in civil applications of unmanned aerial vehicles. It is quite a well-known fact that the commercial utilization of unmanned aerial vehicles has been steadily rising since the early 1980s. However, a significant increase in investments and the relaxation of some regulatory norms across the globe have opened up an array of practical applications of drones across numerous business domains. This has, in consequence, acted as a pivotal factor in propelling the commercial drone/UAV market share in the recent times. In fact, as per a research report by Global Market Insights, Inc., the global commercial drone/UAV industry commanded a total valuation of over USD 2 billion in the year 2016.
U.S. Commercial Drone Market Volume Share, By Application, 2016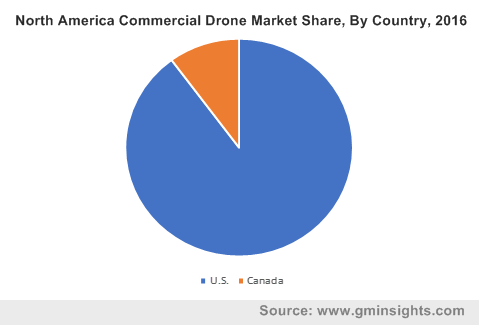 Extensive usage of UAVs in the agricultural sector to drive the commercial drone/UAV industry progression
Boasting of a vast expanse of application spectrum, commercial drone/UAV market has gained extensive popularity over the past few years. As far as the wide-scale deployment of UAVs is concerned, the agriculture sector has emerged as one of the most lucrative end use segment of commercial drone/UAV industry in the recent times. It would be prudent to mention that drones are increasingly being utilized across agricultural fields in analyzing soil, assessing the health of crop, appropriate spraying of pesticides, planting of seeds, and irrigating the field throughout the crop cycle.
In fact, the technological advancements in drones have made it easier to formulate a comprehensive 3D map for soil analysis which can aid farmers to seamlessly analyze seed planting patterns. Apparently, the aforementioned benefits of deploying drones in the agricultural sector have impelled the growth potential of commercial drone/UAV industry.
Get a Sample Copy of this Report: @ https://www.gminsights.com/request-sample/detail/115
Elaborating further, it has been observed that numerous leading commercial drone/UAV market participants have been forming robust alliances with government institutions to tap into the steadily evolving agricultural drones space. Citing an instance to highlight this trend, Parrot Drones has recently announced a share-cost initiative with the Technical Centre for Agriculture and Rural Cooperation (CTA) to use drones in the agriculture sector of the sub-Saharan African region. Reportedly, the announcement of the latest collaboration comes in the backdrop of Parrot's recent launch of its thermal imaging drone, the Parrot Bluegrass, that is particularly designed for precision agriculture. The innovative drone is equipped with both a multispectral sensor and a video camera along with a unique processing cloud platform.
For the record, CTA is a joint institution of European Union and the African, Caribbean, and Pacific Group of States which aims to enhance agricultural productivity in its member countries by precise resource management and ensuring food security. Needless to mention, the latest partnership comes on the heels of the overall commercial drone/UAV market in the African continent.
Citing yet another instance of the technological advancement in the commercial drone/UAV industry, it has been reported that scientists in the UK have successfully grown the world's first crop of barley by deploying drones. Apparently, the project was named as Hands Free Hectare, given that researchers automated agricultural machines by using drone technology and no agronomists set foot in the land utilized to grow the crop. Moreover, an autopilot drone was used to get the tractors working for seeding, harvesting, and monitoring purposes. Considering the aforementioned instances which highlight the inventive usage of drones, the prospective growth of commercial drone/UAV market undoubtedly looks promising.
With a marked increase in the number of collaborations between technology leaders, governments, and industry players, the utilization of drones is bound to witness a transformative change in the forthcoming years. Furthermore, the deployment of drones across various end use domains including Wildlife Research & Preservation, Aerial Photography, Inspection & Monitoring, Emergency Management, and Remote Sensing & Mapping has observed a substantial increase. All these factors are certain to positively influence the growth potential of commercial drone/UAV market, which is forecast to surpass a remuneration portfolio of more than USD 17 billion by 2024.
Author Name : Saif Ali Bepari