Rotary Screw Air compressor market
Reciprocating air compressor market has observed a rapid incline in its commercialization matrix over the recent years, with the expanding automotive & manufacturing sectors holding a major growth credit. Also dubbed as piston air compressors, the product of late, has become an integral component in automobile air conditioners, vehicular air brakes, turbochargers, and superchargers, by virtue of which the profitability potential of the business space is burgeoning massively. It has been reported that approximately 90% of all the manufacturing companies use some form of air compressors in their production facilities. Amidst the backdrop of this dynamically charged landscape, the reciprocating air compressors industry players are striving hard to gain a competitive edge. In extension to this scenario, strategic collaborations and partnerships have emerged as the top-notch sustainability strategy. An apt instance to testify the statement would be Ingersoll Rand's acquisition of MB Air Systems Limited.
Europe Reciprocating Air Compressor Market Size, by Application, 2013 – 2024 (USD Million)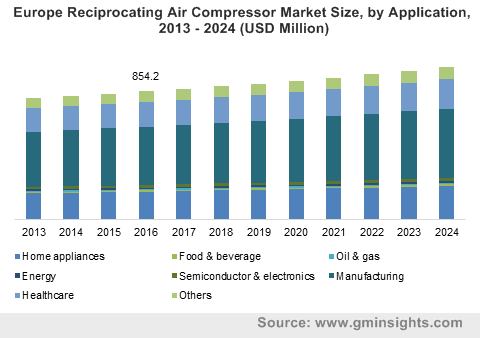 Elaborating further, Ingersoll-Rand plc, a formidable player in reciprocating air compressor industry signed an acquisition agreement with MB Air Systems Limited toward the mid of last year. Reportedly, the acquisition enhanced Ingersoll Rand's service capabilities and comprehensive supply along with strengthening its market position in UK.  For the record, MB Air Systems Limited has been involved with Ingersoll-Rand for quite some time as one of the company's largest industrial distributors within Europe. Through this takeover, the Dublin headquartered manufacturing giant implemented its strategy of tapping MB Air Systems' extensive customer base and expertise in Europe reciprocating air compressor market.
Get a Sample Copy of this Report@ https://www.gminsights.com/request-sample/detail/2554
Elaborating further on Europe industry trends, Germany can be cited as one of the chief regional pockets for the reciprocating air compressor market growth. In 2017, Germany accounted for almost 21% of the Europe reciprocating air compressor market share with the anticipated portfolio likely to widen in the years ahead. The foremost factor that has played its cards in proliferating the regional industry trends is the country's unprecedented pace of advancements in the automotive sector. Nearly 5.6 million vehicles were produced in Germany in 2017. Not to mention, Germany is amongst one of the four largest car manufacturing countries across the world – another vital statement validating its stance as a lucrative investment spot for reciprocating air compressor market players.
Other than Germany, China is also forecast to emerge as a major beneficiary of the expanding automotive & manufacturing sector. The regional reciprocating air compressor industry share is forecast to surpass USD 2 billion by 2024. It is prudent to mention that China's extensive production of home appliances has also played a pivotal role in augmenting the regional industry trends. In fact, overall home appliances application is projected to cover almost 70% of reciprocating air compressor industry share in terms of volume by 2024, leaving the growth prospect high for China.
Despite these plethora of lucrative opportunities, the industry space is still characterized by a string of constraints, stringent regulatory measures with regards to noise pollution being at the pinnacle.  Say for instance, noise emission standardization in U.S. strictly mandates deployment of portable air compressors of 250 cubic feet capacity/ minute that have the sound production of not more than 76 db. The supremacy of the regulatory framework however, cannot be considered as a deterring factor restraining the growth of reciprocating air compressor market as it solely grounds on environmental safety and wellness. Manufacturers are already concentrating on bringing products with extra sound proofing materials to be in compliance with the mandatory roll outs. In fact, the disruptive trend has already made its presence felt in global reciprocating air compressor industry. All in all, with a series of product developments in pipeline in tandem with a rich application portfolio spanning manufacturing, health, home appliances domains etc, the global reciprocating air compressor market size is forecast to cross USD 6 billion by 2024.
Author Name : Satarupa De
Atlas Copco's latest product launch is likely to set a novel benchmark for prominent oil filled air compressor market players. The ZR 90-160 VSD+, the company's most recent oil-free rotary screw air compressor delivers up to 35 percent energy savings and is absolutely perfect for myriad end-use industries including electronics, automotive, F&B, pharmaceuticals, and textiles. Additionally, the water-cooled products is incorporated with state-of-the-art compressor elements, an improved monitoring system, a brand-new design, and two high-efficiency permanent magnet motors. Atlas's product launch is vividly remnant of the fact that novel design methodologies for increasing the durability and efficacy of air compressors are poised to majorly drive oil filled air compressor market trends in the years to follow.
U.S. Oil Filled Air Compressor Market Size, by End-user, 2013 – 2024 (USD Billion)

Enumerating yet another instance in oil filled air compressor industry, a few days earlier, one of the renowned industrial air compressor manufacturer, DV Systems proudly unveiled an energy-efficient rotary screw air compressor. The product is integrated with new components that enable stable system pressure and high capacity air delivery. A year before, Ingersoll Rand – another noteworthy contender in oil filled air compressor market, launched its next-generation oil filled rotary screw compressors designed for high compressed air output. The products apparently are capable of successfully enhancing the efficiency of air compressors without hampering the existing reliability. Endowed with advanced features and improved performance, rotary technology is emerging as a viable alternative, driving rotary-based oil filled air industry share over the years ahead.
It is a rather conspicuous fact that low noise generating compressors are highly preferred in myriad industries such as construction, manufacturing, and oil & gas, considering occupational safety measures. Indeed, these compressors are a major help as far as the reduction of the occurrence of health hazards such as hearing disabilities due to high noise levels is considered. Quite overtly, in order to adhere to occupational safety standards, oil filled air compressors are being prominently deployed in end-use sectors, considering their ability to reduce noise levels while in operation, further stimulating this vertical.
Get a Sample Copy of this Report@ https://www.gminsights.com/request-sample/detail/2562
Speaking of occupational safety and the reduction of health issues, the UK based air compressor manufacturer, Vert Rotors requires a special mention. The company has developed an innovative portable air compressor technology for ensuring reduced safety and health problems. This technology provides air compressed at 300psi while generating only 65dB noise level, which is far lesser than the noise generated from conventional air compressors. Given that manufacturers are now focusing on simplifying the problematic operational issues and the applicability of products, oil filled air compressor market is expected to command substantial gains ahead. In fact, as per estimates, portable oil filled air compressor industry size is projected to register a CAGR of 3.5% over 2018-2024.
The competitive hierarchy of oil filled air compressor market is inclusive of top-notch magnates that have been consolidating their presence across this vertical through the initiation of frequent mergers and acquisitions. The Japanese technology company, Hitachi for instance, in April 2017, acquired the U.S. based air-compressor manufacturing unit of Accudyne Industries for USD 1.24 billion and strengthened its client base across North America oil filled air compressor market.
The aforementioned instance is an apt evidence justifying that the development of advanced products will have a highly remarkable impact on oil filled air compressor industry size. As end-use industries gear up to accept next-generation products brought forth by leading industry players, oil filled air compressor market share will soar to massive heights, with a CAGR estimation of 3% over 2018-2024.
Author Name : Sunil Hebbalkar
One of the most acclaimed contenders of portable air compressor market, has recently made it to the headlines for having won a $2.44 million order for portable air compressors. Headquartered in Statesville, USA, the company has won the order from rental business operator EJAR based in Jeddah, Saudi Arabi. The compressors have been bought to be used in a full range of applications such as manufacturing, construction, utilities, water well drilling, quarrying, sand blasting and the oil and gas industry. Being remarkably versatile tools valued for their durability and reliability to perform in tough environments, these compressors are now used in almost every end-use sphere, thereby leading to the generation of profitable opportunities for portable air compressor industry.
U.S. Portable Air Compressor Market Size, By Application, 2013 – 2024 (USD Million)

Portable compressors are highly preferred over their stationary counterparts given that they are easier to maintain due to their compact design and structure as well as the light weight. Their advanced mechanism and features that minimize the hassle of handling enables them to be operated easily owing to which they are heavily deployed in manufacturing activities that require precision. The mining industry has also been majorly deploying these products, driving portable air compressor market trends.
Despite being a mature market, portable air compressor industry is still characterized by a slew of innovations. For instance, the Edinburgh based manufacturer of air compressors, Vert Rotors has brought to the market a portable micro-compressor designed to deliver incredibly high levels of compressed air for manufacturing purposes, wherever and whenever needed. The product also operates at an exceptionally low sound decibel which is otherwise a common problem with air compressors that are loud and cause hearing and other health problems.
Get a Sample Copy of this Report@ https://www.gminsights.com/request-sample/detail/2564
This particular compressor, named Nautilus offers a very efficient and convenient upgrade from the not-so-efficient static compressors and can be a powerful and safe source of distributed air for manufacturing purposes. Another hurdle that most air compressors face and has been solved by Nautilus is the production of pressurized air at low noise levels. Most air compressors produce as much noise as a motorcycle and have been blamed for causing tinnitus, hearing loss and even heart problems in employees. Nautilus on the other hand operates at 65dB(A) noise level which is around that of an air conditioner.
Portable air compressor market has of late witnessed the increasing permeation of compressors that are designed to be lifted manually and wheeled to any location whenever needed. These are specifically useful for precision manufacturing industries like automotive and aerospace, where precise specification with the millionth of an inch is vital and a high number of components are to be produced on a daily basis. These compressors are also less expensive and therefore budget maintenance is easy to adhere to, making portable air compressors market a lucrative hotbed for investors.
Portable air compressor market has received a significant stimulus from the fact that these products can be moved very close to the point of use and directly connected instead of having to install additional air lines as is required in stationary air compressors. Air lines that can transport pressurized air are not only expensive, but their installation is also costly and can disrupt normal production cycles adding to the cost of production. Thus, speaking in terms of cost-effectiveness, portable air compressor industry scores an edge over the stationary compressor space.
One of the major factors that can hinder the growth of portable air compressor market is the price of the fuel used to run compressors. Energy costs contribute to 75% of the lifetime cost of compressors. In order to combat the same, numerous manufacturers have been coming up alternative products via extensive R&D programs. Atlas Copco for example, recently introduced an electric portable compressor that cuts energy costs by up to 50%. Driven by such appreciable innovations and the vast application landscape of this vertical, portable air compressor market size is anticipated to register a CAGR of 3.5% over 2018-2024.
Author Name : Paroma Bhattacharya