Rotary Scroll Air Compressor Market
One of the most acclaimed contenders of portable air compressor market, has recently made it to the headlines for having won a $2.44 million order for portable air compressors. Headquartered in Statesville, USA, the company has won the order from rental business operator EJAR based in Jeddah, Saudi Arabi. The compressors have been bought to be used in a full range of applications such as manufacturing, construction, utilities, water well drilling, quarrying, sand blasting and the oil and gas industry. Being remarkably versatile tools valued for their durability and reliability to perform in tough environments, these compressors are now used in almost every end-use sphere, thereby leading to the generation of profitable opportunities for portable air compressor industry.
U.S. Portable Air Compressor Market Size, By Application, 2013 – 2024 (USD Million)

Portable compressors are highly preferred over their stationary counterparts given that they are easier to maintain due to their compact design and structure as well as the light weight. Their advanced mechanism and features that minimize the hassle of handling enables them to be operated easily owing to which they are heavily deployed in manufacturing activities that require precision. The mining industry has also been majorly deploying these products, driving portable air compressor market trends.
Despite being a mature market, portable air compressor industry is still characterized by a slew of innovations. For instance, the Edinburgh based manufacturer of air compressors, Vert Rotors has brought to the market a portable micro-compressor designed to deliver incredibly high levels of compressed air for manufacturing purposes, wherever and whenever needed. The product also operates at an exceptionally low sound decibel which is otherwise a common problem with air compressors that are loud and cause hearing and other health problems.
Get a Sample Copy of this Report@ https://www.gminsights.com/request-sample/detail/2564
This particular compressor, named Nautilus offers a very efficient and convenient upgrade from the not-so-efficient static compressors and can be a powerful and safe source of distributed air for manufacturing purposes. Another hurdle that most air compressors face and has been solved by Nautilus is the production of pressurized air at low noise levels. Most air compressors produce as much noise as a motorcycle and have been blamed for causing tinnitus, hearing loss and even heart problems in employees. Nautilus on the other hand operates at 65dB(A) noise level which is around that of an air conditioner.
Portable air compressor market has of late witnessed the increasing permeation of compressors that are designed to be lifted manually and wheeled to any location whenever needed. These are specifically useful for precision manufacturing industries like automotive and aerospace, where precise specification with the millionth of an inch is vital and a high number of components are to be produced on a daily basis. These compressors are also less expensive and therefore budget maintenance is easy to adhere to, making portable air compressors market a lucrative hotbed for investors.
Portable air compressor market has received a significant stimulus from the fact that these products can be moved very close to the point of use and directly connected instead of having to install additional air lines as is required in stationary air compressors. Air lines that can transport pressurized air are not only expensive, but their installation is also costly and can disrupt normal production cycles adding to the cost of production. Thus, speaking in terms of cost-effectiveness, portable air compressor industry scores an edge over the stationary compressor space.
One of the major factors that can hinder the growth of portable air compressor market is the price of the fuel used to run compressors. Energy costs contribute to 75% of the lifetime cost of compressors. In order to combat the same, numerous manufacturers have been coming up alternative products via extensive R&D programs. Atlas Copco for example, recently introduced an electric portable compressor that cuts energy costs by up to 50%. Driven by such appreciable innovations and the vast application landscape of this vertical, portable air compressor market size is anticipated to register a CAGR of 3.5% over 2018-2024.
Author Name : Paroma Bhattacharya
Surging demand for cooling systems in residential and commercial spaces along with rising global population will propel rotary scroll air compressor market growth over the coming years. Air conditioners (A/C) have certainly become an essential consumer appliance in both residential and commercial sectors. In fact, according to the U.S Department of Energy (DoE) report, A/C represent to about a $100 billion, 100 million-unit/year global market, accounting for 4.5 exajoules of site energy consumption each year.
U.S. Rotary Scroll Air Compressor Market Size, by Lubrication, 2013 – 2024 (USD Million)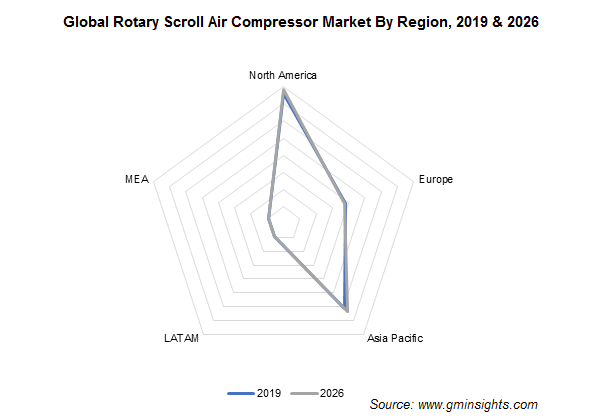 Needless to mention, with such high product and energy demands, the adoption of rotary scroll air compressor has become vital in the recent years. The product offers low noise, reliable, smoother, and more energy efficient outputs compared to some compressors. Further, due to fewer parts, scroll air compressors are less prone to mechanical failure. Attributed to these features, the product adoption in industries like pharmaceutical, healthcare, food & beverage, etc.is expected to soar high in the coming years. .
Application of rotary scroll air compressor in the home appliances
With rapid urbanization and an increase in people's standard of living, the use of rotary scroll air compressors has, of late, grown significantly in certain home appliances. The component allows products to provide low noise, energy efficient operations whilst offering cleaner compressed air across the system, benefits that bring about significant aids to human health, comfort and productivity.
Furthermore, with rising population, urban climatic conditions and disposable income in emerging economies, the use of efficient air cooling appliances is likely to surge over the coming years, in turn supplementing market growth. Citing one such instance, IEA's 2018 report claim that the global stock of air conditioners in buildings will reach 5.6 billion by 2050, up from current 1.6 billion trends.
Get a Sample Copy of this Report:@ https://www.gminsights.com/request-sample/detail/2128
Oil-free air compressors to propel the pharmaceutical and healthcare sectors
Based on lubrication, oil-free rotary scroll air compressor offers key features like high reliability, low vibration and sound levels, continuous operation, 100% duty cycle, energy efficient, compact design, low maintenance and cleaner air outputs, essential features required in medical, research and biotechnology sector.
Some oil-free compressors are also designed specifically for industrial and laboratory applications to offer the highest level of air purity and eliminating the risk of product contamination due to oil carryover. In addition, the technology also helps in avoiding expensive filter replacements, cutting the cost of oil condensate treatment, and reducing energy loss from pressure drop in filters – benefits that will significantly propel the product adoption in the aforementioned sectors. In fact, the oil-free rotary scroll air compressor market is expected to register a CAGR of 3% over 2019-2024.
APAC rotary scroll air compressor market to amass commendable growth proceeds
Rising urbanization, per capita income and climatic conditions across countries like China and India are driving the Asia Pacific rotary scroll air compressor market growth. The product has gained immense demand from the region's food and beverage sector, owing to its ability to provide cleaner and dry air to ensure high product quality. Moreover, increasing investment to set up or upgrade existing cold storage infrastructures is likely to supplement market growth.
For instance, as per recent news reports, around Rs 21,000 crore is slated to be invested in India in the next 4-5 years for setting up or upgrading cold storages plant, machinery, and technology in a bid to address issues of stockpiling of perishable commodities in the country. Besides, increasing population, changing lifestyles and time constraints for meal preparation in urban families have further led to a surge in demand for ready-to-eat products, thus exhibiting promising growth prospects for the thriving market.
All in all, with a vast expanse of applications including home appliances, medical & pharmaceutical, food & beverage, automotive & transportation, and biotechnology industries, the growth prospects for rotary scroll air compressor market are anticipated to remain high. The key features associated with the product like low sound and vibration, high reliability and efficiency and low cost for maintenance is slated to attract added market growth in the ensuing years. In terms of commercialization, global rotary scroll air compressor market size is estimated to exceed a valuation of USD 5.5 billion by 2024.
Author Name : Mateen Dalal