Rotomoulding Powder Market Report
Rising demand for strong and durable plastic products across a slew of industry verticals has helped augment rotomoulding powder market, given that the rotomoulding process enables the production of efficient and high stress-bearing products. Rotationally, molded parts can be manufactured from different materials, can be multilayered and the process facilitates the production of standard or even custom designed parts. As compared to other plastic molding techniques, rotomoulding is less labor-intensive and the equipment can be configured for complex shapes, offering design flexibility, enhancing the rotomoulding powder industry scope.
North America Rotomoulding Powder Market, By Product, 2017 & 2024 (Kilo Tons)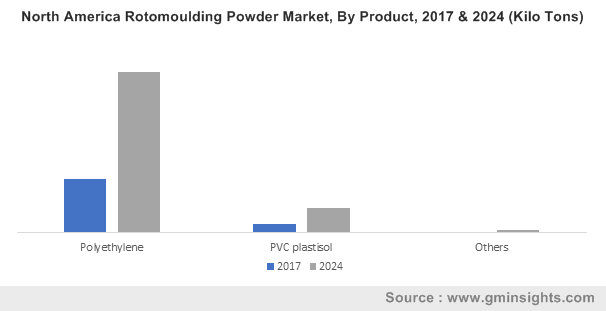 Manufacturing light, strong, corrosion resistant and durable components, whether big or small, is achievable through rotomoulding. Thus, the need for weight reduction in automobile, construction and material handling applications will boost the rotomoulding powder market consumption in the years ahead.
A wide variety or containers are available in the market for shipping and material handling, such as shipment containers, barrels and drums, refrigerated boxes and bulk containers, combined bins and military containers. The rotomoulding powder industry has gained massive remuneration owing to a large demand for small and heavy industry material handling containers worldwide. Rotomoulded crates and eskies are considered ideal for transporting vegetables, fruits, liquids and chemicals since most of such products are made from food-grade plastic. As they are long-lasting and do not deteriorate like wood or get corroded like metals, these containers can prove to be a good investment due to their utility in fulfilling innumerable material handling needs, promulgating the rotomoulding powder market. Many businesses opt for rotomoulded containers for transporting goods because their one-piece design offers a higher capacity for load-bearing and guarantees durability.
It is a well-known fact that global economic growth and the purchasing power of citizens immensely affect the material handling activities, as material handling orders are dependent on the demand for goods. The International Monetary Fund (IMF) in January 2018 had forecast that the global growth rate from 2018 to 2019 would be a strong 3.9%, indicating a positive industrial environment and the augmented need for material handling. The rotomoulding powder industry has additionally capitalized on a large number of small scale enterprises preferring rotomoulded containers and tanks for their low maintenance properties. Another promising source of revenue for the rotomoulding powder market could be the increasing number of recycling activities which require appropriate containers for sorting and handling waste materials.
Get a Sample Copy of this Report:@ https://www.gminsights.com/request-sample/detail/1337
To elaborate, environmental concerns and government initiatives have emphasized the need for waste management and have led to the establishment of numerous waste recycling and metal scrapping facilities across the globe. For catering to these requirements, manufacturers have been providing customized rotomoulded containers and bins to the waste management services or recycling plants, where different kinds of materials are handled every day, even chemically reactive ones. The Asia-Pacific (APAC) region comprises of several emerging economies where recycling initiatives are intensifying and thus presents a great opportunity for the rotomoulding powder market. Recently, it was revealed that just 8 countries in APAC are responsible for 63% of the total plastic waste flowing into the oceans. Add to it, the mounting surplus of electronic and metal scrap has escalated the waste recycling industry in the region, in turn highlighting the material handling requirements.
The APAC region subsequently contributed nearly 25% to the overall rotomoulding powder market in 2017, with the increased demand for containers as well as other rotomoulded plastic products like tanks, porta-loos, components used in construction and automobile parts. Lightweight parts help to reduce the gross vehicle weight and improve fuel efficiency, leading to the deployment of rotomoulded automobile components such as fuel tanks, dashboards, instrument panels and wheel arches. Reportedly, in 2017 more than 37.1 million passenger cars were produced by just three countries combined, namely China, India and Japan. With surging population, pollution concerns and the economic uplift across most of the APAC countries, the rising investments made to expand manufacturing capacities by automakers will propel the rotomoulding powder market.
All in all, the low cost, eco-friendly production of rotomoulded containers or parts with minimum material wastage and least design constraints have prompted the material handling and automobile manufacturing segments to adopt these products. The industry growth is further aided by the efforts of rotomoulding powder market players such as BASF, Reliance Industries, ExxonMobil, Dow Chemical Company, GreenAge Industries, Pacific Poly Plast and Eco-polymers.
Author Name : Pankaj Singh