Rotor
The growing emergence of creative business models is one of the pivotal factors propelling e-commerce automotive aftermarket industry share. At present, the store, brokerage, and social commerce models have been intensely contributing toward the growth of online commerce. Taking into account the growing popularity of electronic commerce across the automotive sector, many giants in e-commerce automotive aftermarket have been making heavy investments to enhance their storage capacity by developing new warehouses. For instance, the U.S. e-commerce automotive aftermarket player, Turn5 has recently decided to invest USD 8 million to build a facility in Kansas. In addition, in 2017, the firm also expanded its distribution facility in Las Vegas to improve lead times and provide a faster shopping experience to customers. As of now, Turn5 is operating three aftermarket automotive websites, which are mainly devoted to the branding of popular automakers Jeep Wrangler, Ford, and Mustang. In this regard, the newly developed corporate headquarters will help company to gain more growth benefits through vehicle customization tools. It would thus be apt to state that the unique approach of players in e-commerce automotive aftermarket would impel this business vertical over 2018-2025.
U.S. E-commerce Automotive Aftermarket, By Consumer, 2017 & 2025, (million units)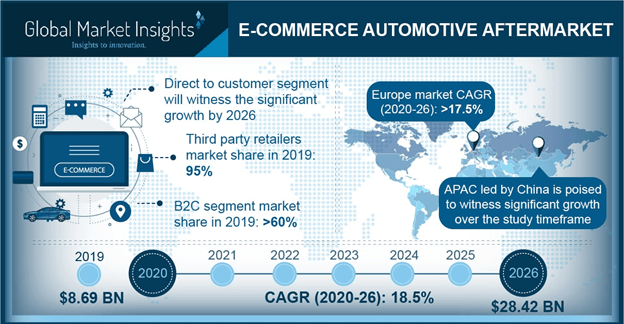 Considering the increasing adoption of internet-based commerce services, the biggies in e-commerce automotive aftermarket industry are developing new advanced e-commerce platforms with convenient tools for next-generation users. For instance, in 2017, Dana Inc. launched a new e-commerce platform comprising an enhanced e-catalog system. This added module has helped many customers and distributors to identify the required component of various automobiles rather quickly. Through the development of such advanced and digitally transformed e-commerce platforms, the players in e-commerce automotive aftermarket are looking forward to gaining more competitive benefits in the ensuing years.
Get a Sample Copy of this Report:@ https://www.gminsights.com/request-sample/detail/2382
Focusing on the growing competitiveness in e-commerce automotive aftermarket, several industry contributors including Denso Corporation, Flipkart, Advance Auto Parts, AliExpress, Amazon, Bosch, O'Reilly Auto Parts, E-bay, Auto Zone, and Napa Auto Parts have been entering into strategic joint ventures to enhance their product and service portfolios. For instance, an offline to online integrated social media platform operator, Moxian Inc., partnered with a leading offline to online automotive aftermarket e-commerce platform, Baoyanghui to improve its customer base mainly across China. Through this alliance, this e-commerce platform connects auto owners to the service center, auto dealers, independent mechanics, repair shops, and part stores. In addition, Baoyanghui will use Moxian's media partner, Xinhua News Media in order to promote its services. In fact, Baoyanghui's prominent presence in the automotive aftermarket vertical will help Moxian extend its regional presence across China e-commerce automotive aftermarket industry.
In the future, the increasing adoption of emerging technologies such as IoT and artificial intelligence is likely to stimulate e-commerce automotive aftermarket trends. The Germany based automaker, BMW, for example, recently launched its e-commerce pilot project to check the popularity of the brand outside Germany. Considering the fact that many automakers are now officially penetrating the aftermarket business, the intensity of competitive in e-commerce automotive aftermarket is slated to increase tremendously in the years ahead. As per estimates, the overall e-commerce automotive aftermarket industry is expected to surpass USD 30 billion by 2025.
Author Name : Sunil Hebbalkar