Routers
The rapidly growing demand for connected devices across the globe is one of the pivotal factors driving enterprise networking market, given that these devices help facilitate real-time communication. In an effort to cope with and overcome the rapidly rising bandwidth bottleneck & network traffic issues, organizations worldwide are embracing network management solutions that keep the traffic flowing while also ensuring network security. The exponential surge in the number of IoT-enabled devices has drastically increased security risks, on the grounds of which organizations are rolling out enterprise network security solutions to obtain visibility of endpoints and unsecured applications & devices.
Europe Enterprise Networking Market Size, By Product, 2017 & 2024 (USD Million)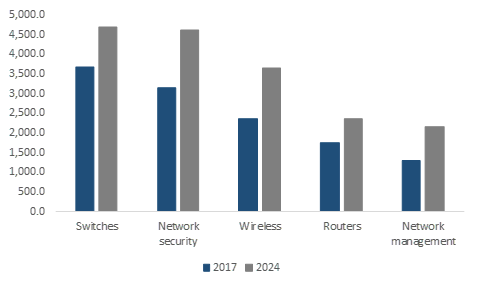 According to a 2018 Enterprise Networking Trends report by Cisco, the company in 2017 had redefined networking with the launch of the first intent-based networking system in the world. The company anticipates that going further, intent-based networking would be the future of networking and would also be responsible for fundamentally changing the way companies think about networks & empowering IT and help the firms with disruptions caused by IoT & cloud.
Enterprise networking market trends are also expected to witness a transformation on account of changing customer preferences toward converged network architecture as well as the network virtualization technology to strengthen the network functions. Shifting user inclination has further enabled organizations to enhance network efficiency at reduced operational costs, which would provide renewed growth prospects for enterprise networking market.
Get a Sample Copy of this Report:@ https://www.gminsights.com/request-sample/detail/2978
Unveiling Asia Pacific enterprise networking market trends:
APAC enterprise networking market is primarily driven by the large-scale adoption of cloud-based infrastructure in the region as the organizations are actively transferring their workloads onto the public cloud. According to a report by the not-for-profit organization, Cloud Security Alliance (CSA), in APAC, Japan, South Korea, Singapore & China are some of the primary nations that have witnessed the highest cloud adoption rate in 2017. The rising prominence of the cloud computing environment has further enabled network architectures that are disparate in nature to contribute to the increasing operational burden. These circumstances have led to a significant rise in demand for virtualization technology which makes the computing environment more agile, effectively addressing the growing network demands.
According to a research report by IT security company, Barracuda Networks, approximately a third of enterprises in the APAC region have already rolled out SD-WAN on a majority of their sites, while more than 55% organizations in the region are in the process of adopting SD-WAN. Propelled by the robust deployment of advanced networking solutions, APAC enterprise networking market is expected to depict the fastest growth rate of 8% over 2018-2024.
Analyzing enterprise networking market trends in terms of switch sales:
In an effort to keep up with the rising need for organizations to facilitate secure & real-time communications while effectively managing network traffic & bandwidth bottleneck issues, enterprises heavily rely upon high-speed ethernet switches. Switching is a crucial networking technology that is used across several organizations' premises to construct their local area networks (LANs) and also across vast distances to facilitate wide area networks (WANs) making switches one of the most widely used networking equipment across the world. According to a 2017 annual report by Cisco Systems, the company witnessed a 5% increase in revenue (approximately $452 million) from the sales of LAN fixed-configuration switches. The increase in the revenue was primarily due to the boost in sales of the company's Nexus & Catalyst series of switches.
According to a 2017 report by Forbes, in 2016 Cisco System's network switches division was responsible for approximately 40% of the product sales, representing more than 30% of the company's net revenue. Switches, having accounted for more than 25% of the enterprise networking market share in 2017, are expected to continue adding momentum to the industry growth, given the surging demand for high-speed data services that has fueled the adoption of network switching technology.
Attributing to the increasing network capacity needs across several global enterprises, the growth graph of enterprise networking market is projected to witness an exponential incline in the years ahead. According to Global Market Insights Inc., enterprise networking market size is expected to be pegged at a mammoth $90 billion by 2024.
Author Name : Akshay Kedari
The unprecedented evolution of cloud computing technology is undeniably driving new levels of innovation in data center networking industry. The extensive penetration of Internet of Things (IoT) has brought a renewed dimension in the business model, where the modern change in traffic patterns expose the limitation of conventional network. In the light of the recent scenario, data center networks are expected to exhibit not only scalability and high performance, but also flexibility, agility, and enhanced automation. Companies ranging from enterprises to cloud service providers are highly influenced by the growing trend of data & network virtualization and are seeking to integrate advanced technology solutions to curtail the overall operational expenditure. Incidentally this has encouraged core tech juggernauts to come up with newer innovations that could potentially change data center networking market dynamics.
China data center networking market size, by end-use, 2017 & 2024 (USD Million)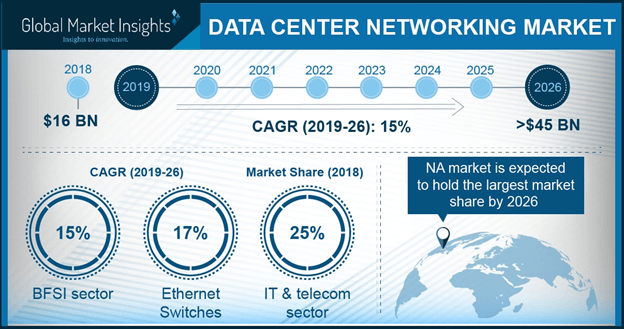 Globally acclaimed SDN solution provider, Nokia's Nuage Networks recently made its way to the front page with its latest data center transformation projects with China Mobile and Spanish multinational broadband, Telefónica. Reportedly in both these projects, Nuage's VNS (Virtualized Networks Services) has been used in a bid to provide more elasticity to these data center sites. Nuage Networks' initiatives, as per experts' opinion, coherently depict the progress of data center networking industry toward network slicing with SDN (software-defined networking).  For the records, Telefónica worked with Nuage in order to leverage its hefty yesteryear investment in SD-WAN infrastructure. The integration of VNS solution in its service is further to offer enterprises the facility of configuring and customizing value added services via a self-service portal. Not to mention, the extensive growth of cloud computing technology has indeed proved to be a catalyst in sowing the seeds for advancing the innovation in data center networking market.
Get a Sample Copy of this Report@ https://www.gminsights.com/request-sample/detail/2578
In yet another turn of events, American tech conglomerate, IBM Corporation last year announced its plan of launching four new data centers in the United States, in a bid to support the surging demand for cognitive capabilities. Experts believe the project is sure to leave a perpetual impact on U.S. data center networking market, as the transition to cloud-based software would necessitate the requirement of replacing the traditional networks. In fact, U.S. and Canada conjointly held almost a lion's share (40%) of data center networking industry in 2017. The subtly changing trends toward cloud-based software in tandem with growing popularity of streaming devices and social media is claimed to be a sure shot indicator of the fact that U.S. would experience an upper hand in data center networking industry over the ensuing years.
Data center networking market giants are betting big on highly advanced storage and memory technologies to gain a competitive edge. Klas Telecom for instance, has recently released an upgraded version of Voyager TDC. Christened as Voyager TDC 2.0, this groundbreaking technology claims to provide users the flexibility of the original system, in addition to NVMe and double storage capacity that ensure better and faster performance. If reports are to be relied on, the company will demonstrate how users can integrate AI and machine learning technology at tactical edge, leveraging the ultra-high-power process capability of Voyager TDC at SOFIC 2018. Yet another trend that is quite vivid in the competitive terrain of data center networking industry is technological proliferation via strategic partnerships. All in all, aided by the vast technology landscape where myriad companies are becoming consumer centric and data driven, data center networking market share is forecast to exceed a valuation of USD 35 billion by 2024.
Author Name : Satarupa De
Global Market Insights Inc. announces a new study based report on router and switch market. The market size is estimated to be worth USD 41.02 billion by 2022. The report is a professional and detailed qualitative market research on the current scenario of the key regional markets. It also features a comprehensive discussion about the market trends, aspects like drivers, restraints, opportunities, challenges that impact SP switching and routing device market. The boom in adoption to cloud computing solutions is likely to propel the Router and switch segment.
View a summary of the "Router And Switch Market Size, Industry Analysis Report" @ https://www.gminsights.com/industry-analysis/router-and-switch-market-size
The report covers the SP switching and routing device basics including its applications, definitions,  manufacturing methods, classifications, cost structures, and product specifications, etc. Furthermore, it offers analysis of the market conditions in the top global regions including the market growth rate, product price, profit, etc.
Key products include multiservice edge, Internet exchange, ATM switch and Ethernet service edge etc. Internet exchange router is likely to show a substantial growth and surpass USD 16 billion during the projected period. Service provider core router is expected to witness growth at a CAGR of over 2.5% in next few years owing to multiple system offerings including less power consumption, high efficiency, optimized rack space usage for improved bandwidth capacity etc. Ethernet service edge router market is forecast to hit USD 12.63 billion from 2015 to 2022. BYOD market growth is likely to impel demand with its numerous advantages including better productivity and reduced costs. BRAS (Broadband Access Aggregation) is likely to see a substantial growth owing to high demand for high speed services.
Mobile data traffic explosion is expected over the projected time frame attributed to rising smartphone usage, proliferation of wireless devices, 3G/4G and LTE networks globally.
Get a Free Sample Copy of this Report @ https://www.gminsights.com/request-sample/detail/174
North America router and switch industry is expected to be worth USD 15.5 billion at a growing CAGR of 2% during the forecast timeframe. The surge is attributed to noticeable growth in backhaul investments in the region. Asia Pacific, China in particular is projected to witness a substantial growth due to increasing demand for high-definition content and multi-screen delivery.
Key market participants are profiled in the report with comprehensive analysis of business strategies, products and services, current trends and finance metrics. Cisco Systems, Juniper Networks, Alcatel-Lucent, ZTE Corporation and Huawei Technologies are some of the major players in the router and switch market.
Author Name : Dhananjay Punekar