Rubber
With the increased popularity of the attractive fragrance of citrus fruits, especially oranges in personal care products, dipentene market has registered considerable expansion lately. Dipentene or limonene is the colorless liquid hydrocarbon that adds the distinct citric flavor and fragrance in many processed foods, beverages and cosmetic formulations of hygiene and personal care products. Owing to the versatile characteristics of limonene, dipentene market is expected to cater to a widespread range of applications – indeed, the product even finds deployment as an alternative to mainstream pesticides.
U.S. Dipentene Market Size, By End-user, 2013 – 2024 (USD Million)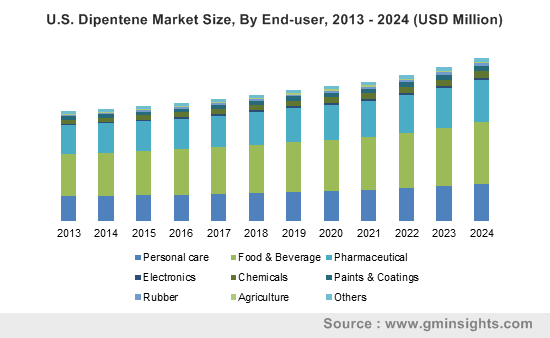 Limonene market has also been expanding rapidly on the grounds of the fact that the product is an alternate solvent to replace petroleum-based ones in several industrial applications such as paints and coatings where VOC emission and low biodegradability of solvents has become a major cause of concern for the wellbeing of the planet.
Global cosmetics and personal care industry statistics clearly point out that the said industry has been earning record revenue as beauty and self-care to preserve a youthful appearance is becoming one of the chief concerns for consumers all over the world. International beauty product companies that offer superior quality products as compared to local products have gained a commendable portion of the cosmetics and personal care industry in emerging nations as income levels of such nations continue to rise. Since limonene is expansively used in beauty products to add a freshening citrus odor, dipentene market is expected to garner major profits in Asia Pacific where the cosmetic market size is projected to surpass USD 126 billion by 2020 and where multinational companies are rapidly establishing a significant foothold. In fact, Asia Pacific has been forecast to be the fastest growing region in the limonene market over 2018-2024.
Get a Sample Copy of this Report:@ https://www.gminsights.com/request-sample/detail/2526
It will be prudent to mention here that dipentene, due to its colorless constitution and fresh, natural fragrance is used in various health care and cosmetic products like suntan products, bath products, cleansers, aftershave lotions, bubble baths, eye shadows, haircare products, lipsticks, perfumes, moisturizers and shampoos.
Rising levels of income is playing a subtler role in the growth of the limonene market as with more disposable income, consumers are opting for more effective ingredients in their products rather than cheaper ones. Manufacturers are therefore touting their products for greater efficiency rather than competitively pricing them which is adding to the enhanced inflow of revenue into the dipentene market. Diversification of distribution channels for cosmetic brands such as online shopping, vending machines, television infomercials, spas and home shopping are adding impetus to cosmetics market and consequently boosting growth of limonene industry.
Dipentene market will diversify its growth avenues beyond the cosmetic industry as research has found that chemicals obtained from orange peel could be utilized as a means of breaking the modern world's reliance on crude oil by being the building blocks in products ranging from plastics to paracetamol. Due to various adverse environmental effects, global industries had been trying to cut down on their dependence on the chemicals and materials that are obtained from fossil fuels, which are rapidly diminishing. As the world is increasing its focus on the development of renewable chemicals from an assortment of sustainable resources such as sugarcane and fatty acids in the production of biofuels, essential oils obtained from waste citrus peels have rapidly come to the forefront as a source that is being investigated with real zest as limonene shares many similarities with the chemicals obtained from fossil fuels.
Though limonene has been recognized as an important component of a bio-based chemical industry it will take the limonene industry considerable time to become a fully commercial means of plastics or polymer production. Issues hindering limonene market include the lack of reliable and greener supply of limonene. As research and development programs exert appreciable focus in bringing petroleum alternatives to the market, it is expected that dipentene industry will massively profit from such endeavors.
Author Name : Paroma Bhattacharya
Airless tires market has indeed gained a commendable acclaim over the recent years, especially amidst the backdrop where disruptive tech driven trends are aptly reshaping the mobility sector.  Given that forces like diverse mobility, connectivity, autonomous driving, and electrification are already on the horizon, it is expected that airless tires industry would soon conveniently establish itself as the next lucrative investment avenue. This is apparently vivid from the estimates that claim the global airless tires market to have garnered a revenue of USD 120 million in 2016. The growth is chiefly driven by the increasing demand for these next generation tires in heavy off-load vehicles, widely used across the military sector. In fact, military vehicles procured a prominent chunk of the airless tires industry landscape in 2016 and is anticipated to record a CAGR of 9% over 2017-2024.
U.S. Airless Tires Market, By Product, 2016 & 2024, (Units)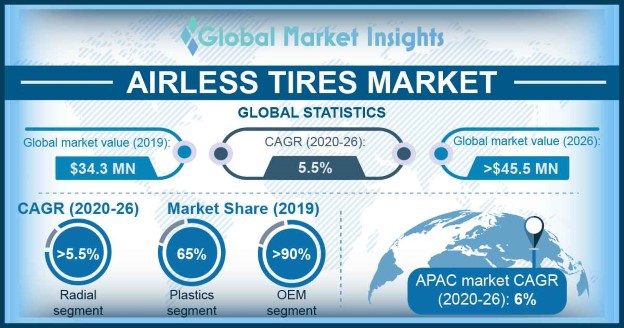 The concept of 3D printing is deemed to bring a disruption of sorts in the airless tires industry. Having recognized the immense potential of this technology, market players have been increasingly experimenting with 3D printing to unlock its credibility to the fullest. Quoting a recent case, Michelin, one of the leading airless tires market firms has recently made its way to the front page with the launch of its airless 3D printed tire. This breakthrough model is reportedly based on alveolar structure, similar to that of air sacs found on human lungs. That is to say that the interior of the tires are structurally solid while the outer layer is flexible, which prevent blowouts. What adds an extra feather to its hat is the product's environmental viability – it is printed from biodegradable, organic, and recyclable materials.
Elaborating further on the competitive landscape, product innovations and development are the two prominent parameters underlining the sustainability quotient for the market players. Below are two of the latest developments in the product landscape of airless tires market.
Get a Sample Copy of this Report@ https://www.gminsights.com/request-sample/detail/1390
Goodyear Tire & Rubber Company, one of predominant players in airless tires market, has recently released an airless or non-pneumatic turf tire solution for commercial mower applications. Reported to be exclusively available on Bad Boy Mowers' Outlaw XP model, this groundbreaking airless tire technology is particularly designed to eliminate air pressure checks, and flat tires. The move is claimed to be a revolution with regard to the launch of non-pneumatic technologies in the automotive sector and is deemed to remarkably strengthen Goodyear's position in the competitive landscape of airless tires industry.
World's first 3D printed airless bicycle tires have been recently tested on the streets of Berlin- the latest scoop that is grabbing the headlines in airless tires market. Reportedly, BigRep, the Berlin based tech giant has tested this new Pro Flex filament tire, which is claimed to be superior than other 3D printing filaments in terms of its unique flexibility, high resistance, and unmatched durability. With airless tires becoming a renowned trend in the transportation space, the move is certain to provide a remarkable competitive edge to BigRep.
It is vividly coherent that technological upgradations in product design and deployment are the top-notch parameters underlining the strategic landscape of this fraternity. The business space is set to garner an appreciable popularity across APAC belt, especially by the extensive growth of military and commercial vehicle sectors in China and India. APAC airless tires market is slated to hold more than 30% of the global landscape by 2024. All in all, with automotive OEMs increasingly exploiting the potential of these cutting-edge tires for overall weight reduction and performance enhancement of the vehicles, airless tires industry is likely to witness a slew of opportunities over the ensuing years. The global revenue share is projected to surpass USD 200 million by 2024.
Author Name : Satarupa De
The crux of business growth in recent times has been extensively attributed to the vast expanse of R&D programs. Wax market, in this regard, has also been experiencing a transformation, given that as a long-in-existence organic compound, wax has found massive applications in numerous end-use domains. A couple of years ago for instance, a research group from the Colorado State University published a study related to edible superhydrophobic coatings from FDA-approved carnauba and beeswax for the food packaging domain. Traditional wax like beeswax or tallow wax and synthetic wax like paraffin wax have been a part of the wax market landscape since its inception. However, now, with the increasing scarcity of fossil fuels, hydrogenated vegetable wax has also marked its debut in this business space. With the advancement of technology and increasing human endeavor for innovation, wax industry has depicted commendable progress through the product's varied usage in packing, cosmetics and candle-making industries.
U.S. wax market size, by product, 2013 – 2024 (USD Million)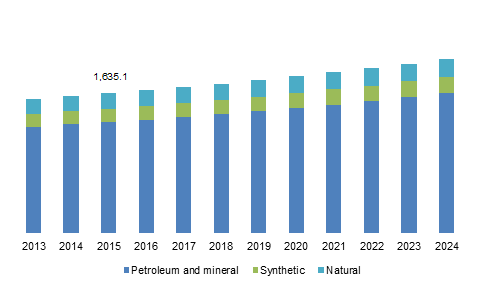 The candle-making industry has been one of the major and ancient drivers for wax market. While the traditional usage of candles as a chief source of light after sundown does not really exist anymore, the candle manufacturing sector still remains a multimillion dollar business. Aided by the presence of the internet and social media, the trend of manufacturing decorative and scented candles has taken shape, added a new dimension to the growth of the candle producing domain, which in consequence has impelled wax industry size from candle manufacturing. With the evolution of myriad candle types, candle manufacturing has witnessed numerous changes over the centuries. At present, candle manufacturers not only use paraffin and fossil-based wax but also synthetic, bio-based and natural wax, which adds to the multi-dimensional growth of wax industry.
Get a Sample Copy of this Report:@https://www.gminsights.com/request-sample/detail/2407
Besides candle manufacturing, the cosmetics domain also acts as a momentous driver for wax market. In a world that is becoming increasingly obsessed with self-image and beauty, cosmetics sector is set to witness massive growth in next few years, a factor that will positively impact wax industry share over 2017-2024. Rise in disposable incomes and an inclination toward beauty has spurred the demand for better skin and personal care products. Owing to drastically changing climatic conditions, consumers have also been demanding natural and ecofriendly cosmetics in the interest of health and environmental ramifications. These shifting trends, in consequence, will inevitably provide the much-needed boost to wax market expansion. Given how extensively wax is used in the manufacturing of lipsticks, mascaras, lip balms, lotions, eye pencils, and creams, the cosmetics and candle-making sectors are likely to vie with one another in terms of which domain would be most lucrative for impelling global wax market size.
It is prudent to mention that wax industry also receives significant stimulus through the use of wax in food packaging, since the product is an effective medium to create a protective barrier between food and deteriorating factors like moisture and humidity. It not only provides a preservative seal but also adds a glossy sheen on food items like fruits, nut seeds, and fertilizers. Wax coatings also help in delaying ripening, loss of internal moisture, and prolonging shelf life in general, thus expanding the scope of wax market from food packaging.
The FDA has approved the use of wax as an edible coating to be safe, non-toxic, and hypo-allergenic. In response, wax is majorly used to coat whole fruits like avocados, mangoes, pomegranates, melons, apples, and papayas and as a glazing agent for nuts. Indeed, this provides another growth avenue for wax market expansion from the food packaging domain.
Wax market is likely to face a major hindrance in the form of fluctuations in raw material supply and prices. With fossil fuels becoming scarce, wax products that depend solely on petroleum or crude oil for their production are becoming costlier. However, wax industry is rife with innovations related to the manufacture of synthetic waxes that use bio-based materials and are more eco-friendly than conventional wax products. With global economies becoming stronger by the day and the rising per capita income, wax market is estimated to garner significant profits over the ensuing years.
Author Name : Paroma Bhattacharya
With immense application scope across the automotive sector,
Non-Halogenated Flame Retardants Market
is undoubtedly anticipated to carve a positive growth chart over the coming years. Polymeric materials have been experiencing massive demand in automobiles since the past few years, driven by the deployment of polymers in vehicles as a substitute of steel to increase their aesthetic appeal, function ability, and fuel efficiency. The use of polymers results in reduction of vehicle weight almost up to 10% which ultimately results in fuel optimization. However, various toxicity concerns associated with the product may hamper the non-halogenated flame retardants market expansion over the years. To combat these restraints, market players have been heavily investing in R&D activities to manufacture environmentally viable polymers
. As per a report by Global Market Insights Inc., "Non-halogenated flame retardants market is poised to exceed a revenue of USD 3.4 billion by the end of 2024, with a projected CAGR of 8% over 2016-2024."
Europe Non Halogenated Flame Retardants Market size, by end use, 2013-2024 (USD Million)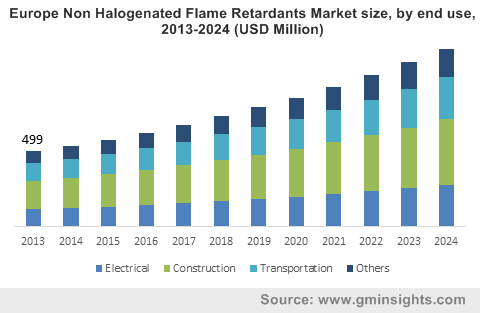 The construction industry is generating a substantial momentum worldwide. Statistics depict that the overall construction spending will cross over USD 13 trillion by 2023, a prime factor that will be responsible for non-halogenated flame retardants market growth, particularly across BRICS nations. Polymers amalgamated with chemically linked adhesives are extensively utilized as base materials in buildings, switchboard, wires, and cables to suppress fire.  With growing demand for fire safety materials in the building infrastructures, non-halogenated flame retardants market share from construction application is expected to hold a valuation of USD 1 billion by the end 2024.
Get a Sample Copy of this Report @ https://www.gminsights.com/request-sample/detail/730
Worldwide consumption of polyolefins has significantly increased lately, which is leaving a subsequent impact on non-halogenated flame retardants market. Halogen free polyolefins including LDPE, PE, PP, EVA, LLPE, and MDPE are widely deployed in the manufacturing of electric wires and cables and also in transportation and construction sector. On these grounds, polyolefins applications in the forthcoming years are projected to witness an appreciable growth at 7% CAGR over 2016-2024. Rapid industrial growth has led to an increasing demand for high-quality coatings, which substantially escalates non-halogenated flame retardants market demand from epoxy resin application. As per estimates, this application is forecast to witness gains at around 7% CAGR over 2016-2024.
Considering the geographical trends, Asia Pacific has always been a frontrunner in the global non-halogenated flame retardants industry. The expanding automotive production base is one of the prime factors responsible for the regional growth. In addition to this, the region is observing escalating spending across construction and packaging sectors, subject to the rise in disposable incomes in developing nations like India, China, and Japan. As per record, in 2015, 40% of APAC construction spending was centered around China. On these grounds, APAC global non-halogenated flame retardants market is predicted to grow at an annual rate of 8% over the coming seven years.
Worldwide non-halogenated flame retardants industry is highly consolidated with leading four companies covering 30% of the global share. Stringent regulatory compliance with regard to product toxicity and ecological effects enforced by renowned environmental agencies like REACH and WEEE is likely to add a renewed dynamism to non-halogenated flame retardants market in the years ahead. Industry players have been increasingly investing in research activities to broaden the product portfolio. Some of the key participants include Nabaltec, BASF Albermarle, Israel Chemicals, Chemtura, Clariant, and Italmatch Chemicals, and Huber.
Author Name : Satarupa De