S Band
In an age where information is power, the synthetic aperture radar (SAR) in space sector industry has permitted governments and organizations access to high resolution imagery for supporting advanced sensing and monitoring systems. With the ability to gather data efficiently even in the most challenging weathers, SAR is a significant tool for surveillance and remote detection especially in the tropical regions that are covered under clouds for most of the year. The growing adoption of SAR in environmental screening and military applications is particularly expected to bolster the global SAR in space sector market.
Synthetic Aperture Radar in Space Sector Market, By Frequency Band, 2017 & 2024 (USD Million)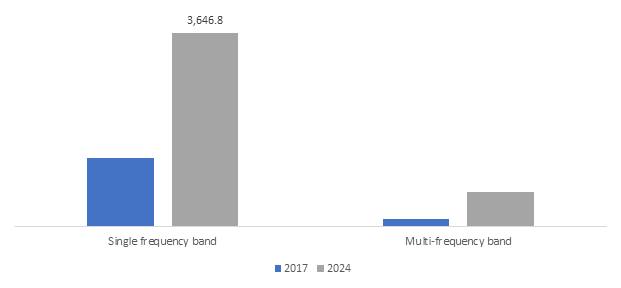 As per the United Nations Office for Outer Space Affairs (UNOOSA), around 357 objects were launched into space in 2017, indicating the progress of space tech worldwide. Advancements in satellite technology have opened avenues for the use of imaging tools to monitor tectonic movements, ocean currents, groundwater levels and forest conditions from outside the atmosphere. Touted as being a "cloudless" image sourcing technique, SAR has emerged as an ideal integration into satellites and in 2017 the SAR in space sector market earned more than USD 1.4 billion in remuneration globally.
In principle, synthetic aperture radars transmit microwave pulses through an antenna, which are directed toward the earth's surface. When the microwave energy is scattered back to the device, it is measured accordingly, and two or three-dimensional images are formed by using the time delay of the received signals. As microwave consists of electromagnetic radiations that have high cloud penetration, SAR satellites can provide images which, unlike conventional satellites, are not hindered by climatic conditions and also allow night-time operations. These advantages over optical imaging systems will deliver enormous growth to the SAR in space sector industry.
Get a Sample Copy of this Report @ https://www.gminsights.com/request-sample/detail/2670
Apart from the 24-hour data acquisition ability, other distinguished features of synthetic apertures which have propagated the SAR in space sector industry trends are high spatial resolution, unique data about surface roughness & physical structure and modern SAR satellites with exceptionally long operational life. Governments agencies are able to study deforestation patterns, tidal inundations, land-use in urban & rural areas and other landscape characteristics with continuous data availability for elongated periods.
As an active remote sensing device, SAR has displayed immense potential in gaining tactical high-ground over rival nations since it can supply high-quality reconnaissance data to the military. Allegedly, defense applications procured a major chunk of the global SAR in space sector market in 2017 and led the industry landscape.
However, the commercial significance of SAR in space sector is being increasingly realized, where exploration of natural resources and maritime navigation safety are examples of activities that can benefit by the deployment of SAR satellites.
Demonstrating the influence of SAR in space sector, China had launched its own first SAR satellite in August 2016, named Gaofen-3, having the highest number of imaging modes amongst all SAR satellites and boasted to have an accuracy to one meter in distance. It has a long lifespan and its data can allegedly be used in disaster prevention, ocean monitoring and maritime rights protection.
In another instance, Iceye, a space startup from Finland, launched its commercial satellite ICEYE-X1 in January this year, which was the world's first SAR satellite to be under 100kg. The information received from this microsatellite is deemed to be used for a wide range of activities that include maritime tracking, tracing oil spills, monitoring sea ice and other environmental issues. The company is also developing a constellation of SAR satellites to apply across the commercial zone, and already has an algorithm to extract data of marine vessels and their locations. These examples are indicative of the promising future prospects for the SAR in space sector industry, which is estimated to show 11.5% CAGR over 2018-2024.
The SAR in space sector market is constituted of space agencies, IT companies and start-ups working together to produce multi-satellite constellations, which utilize several SAR satellites flying together in a pattern to gather and transmit data. Such endeavors are becoming possible with spacecrafts and programs made for launching multiple satellites at a time, the most notable instance being the 2017 launch of 104 satellites by ISRO in single mission. Recently, the dynamics of the SAR in space sector industry has been impacted by the necessity to reduce the overall size of satellites in conjunction with improving the image resolutions and accuracy.
All in all, with the technology appetite increasing by the day, the overall industry has a slew of opportunities ahead in terms of profitability as well as innovations. Some of the renowned names comprising the competitive hierarchy of synthetic aperture radar (SAR) in space sector market include Harris Space and Intelligence Systems, Terra SAR-X, OptiSAR and startups like ICEYE and Capella Space.
Author Name : Pankaj Singh